Netflix's New True-Crime Series 'Rotten' Reveals the Food World's Grossest Secrets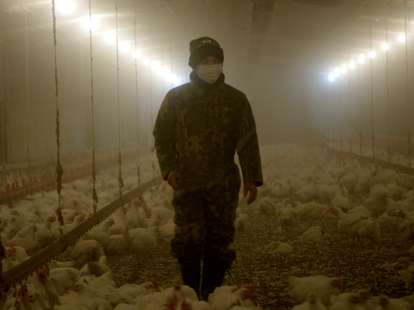 Streaming leviathan Netflix hasn't skimped on true crime as it has upped its output of original content. But for all the immersive intrigue surrounding Making a Murderer, The Keepers, and its other episodic docu-series, crime-based programming remains primarily a voyeuristic pleasure -- true stories and topics that, while scintillating, are still far removed from our daily lives. The danger and the atrocities are kept at a safe distance.
With Rotten, Netflix's new food-focused docu-series, brought to you by the folks behind Anthony Bourdain's No Reservations, the shocking revelations arrive like a punch to your gut. The six-episode season tackles corruption, crime, and controversy in the food industry, such as the alarming prevalence of fraudulent seafood in the United States and the strong-arming practices of Big Garlic (yes, there really is a "Big Garlic"). In other words, this is not a food series designed to make you salivate. There are no slow-mo tracking shots of braising while some French chef you've never heard of waxes poetic about the intrinsic joys of duck confit. This is a particularly unappetizing must-watch for everyone who eats food. So... everyone.
But before you set your brain to binge-mode, you probably have some questions. Don't worry. That's perfectly natural... unlike most store-bought honey.
Sadly, everyone's favorite bad-boy chef/TV personality has nothing to do with Rotten. But Zero Point Zero Inc., the production company behind Bourdain-centric ventures like Parts Unknown,No Reservations, and Mind of a Chef, is running the show here. You're going to want to look elsewhere if you're expecting a booze-soaked romp through a dream vacation destination. This stuff can get pretty bleak.
OK... so this is another "boring" food documentary, then?
Well, yes and no. While it doesn't have the liveliness or personality that comes with more light-hearted, chef-focused fodder, it's definitely not boring. The personalities on screen here aren't polished, glib, talking heads. They are farmers, scientists, and industry professionals -- more focused on outlining the facts of a dire situation than charming the camera. With a few exceptions (notably the philosophic New Mexican garlic god Stanley Crawford and a weirdly high-energy chicken farmer named Sunny Nguyen), no one is particularly captivating on their own.
But that's not the point. All the voices combine to create a tapestry that delivers on the show's most important point: quite simply, the way we get our food is inherently fucked. And while there isn't a ton of stylish, daring cinematography -- you won't be rewinding to marvel at some beautiful shots, or taking screenshots for your laptop's wallpaper -- it's visually proficient enough to push the narrative forward.
Is this all about "fake" food?
In the past couple years, you might have read about the rising prevalence of fake food -- like filler fish added to sushi, for example -- as exposés have been released taking on the supposed quality of culinary standards, like olive oil and Kobe beef. While the alarming and potentially deadly rise of cost-cutting "fraud" in the food industry is pretty much the centerpiece of two episodes (fishing and honey, separately) the show as a whole covers a much wider scope.
So, even if you've been fully briefed on the world of fake food, there's still a lot to be learned here. Much of the show's points hinge on the negative aspects of mega-corporations controlling our food supply, and by extension, our diet. Which goes far beyond some filler in our fishies.
The episodes also hit topics like the (frankly shocking) rise of peanut allergies in the United States, the cutthroat practices of chicken farmers, and how the reactionary raw-milk trend relates to the failings of and corruption in the mainstream dairy industry.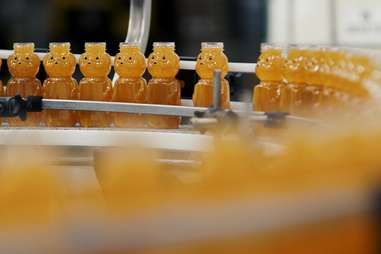 Aw man, is Rotten going to gross me out?
Well. Kind of. It's not like a viral pink slime video... but, without giving too much away here, the overall arc of almost every episode will certainly make you feel uneasy about the stuff you put in your mouth, every day.
It's more psychologically upsetting than gross-out shocking. Which might be worse, actually.
Is there any other reason I might not want to watch this show?
Hmm. While the information presented here -- in whole -- is objectively important and enough to make you tune in, the presentation does lack some oomph at times. Occasionally, the show will spend too much time playing up personal angles, like the small-town dairy farmer making local milk in the middle of PA., or the garlic farming-couple that has based their marriage on a mutual love of the leek, instead of digging deep into the issue at hand. Sure, I like to see the people that are doing food right... and hear their stories, but too often it diverts attention from the focus of an episode, instead of adding a clever segue into the major story, or providing a dose of personality to bring relief from all the horror.
Frequently, the "small-picture" and "big-picture" narratives don't do a lot for each other. Instead of weaving together to show two sides of a story, they kind of just crash against each other. It's almost jarring, sometimes... and borderline superfluous at others. If you HATED the casino portion of The Last Jedi, this might rub you the wrong way.
It almost makes you wish they spent an entire season on each topic -- though admittedly, that might get a little boring. All in all, this is a minor complaint, but a valid one.
So Rotten's just a massive downer?
Not necessarily -- a glimmer of hope is slotted into each episode. Essentially, the over-arching message of each episode, and the series in general, is that, while our food supply chain is mucked up, it's not irreparably so, and the solution (probably) lies in the hope that people will wake up and demand more quality and transparency from the people who provide and make their food. In essence, local is better. Big companies are bad.
Still, it's not a great choice for date night or to put the kids to sleep. Or even you to sleep. This is nightmare-inducing stuff at times.
But the episodes titles are so funny!
Yes. Specific props to the Warren Zevon nod with Episode 1, "Lawyers, Guns, and Honey."
Just tell me this: Should I watch it?
Yes. If you put food in your mouth, you should at least try to tune into one or two episodes. Everything in this series directly involves you and your consumption practices. In my own episode-reviewing opinion, the two standouts are Episode 2 ("The Peanut Problem") and the final episode (hilariously titled "Cod Is Dead"). Both give you a solid overview of the broad topics the series covers and will give you a general sense of whether or not you should continue watching the rest of the season.
This might not be a totally pleasant watch, but it is a necessary one. Just make sure you eat before you binge, OK?
Sign up here for our daily Thrillist email, and get your fix of the best in food/drink/fun.
Wil Fulton is a staff writer for Thrillist. If you told him he could only eat one food for the rest of his life, he would be confused and scared. Follow him: @wilfulton.