Netflix's 'Self Made' Celebrates the Life of America's First Black Female Millionaire
Madam CJ Walker's story as a natural hair-care icon is finally told in 'Self Made,' and we spoke to co-showrunner Elle Johnson about what it took.
Netflix's Self Made brings Madam CJ Walker's life as a savvy businesswoman, whose sharp instincts turned her into the first Black woman millionaire in the United States and grew a hair-care empire, to the screen. Though the story has been fictionalized here, Self Made drew inspiration from a Madam CJ Walker, aka Sarah Breedlove, biography written by journalist A'Leia Bundles, Sarah's own great-great-granddaughter. In the four-part miniseries that recently premiered on the streamer, Octavia Spencer stars as Sarah, beginning with the earliest days of her start-up hair line and ends with her triumphant legacy, as she moves through the world, her rivalry with (the composite character) Addie Monroe (Carmen Ejogo), her struggles with her husband (Blair Underwood) uncomfortable with her success, and her relationship with her bisexual daughter Lelia (Tiffany Haddish). The series also shines a light on the rich history of Black beauty culture during the 19th century, and cuts in fantasy sequences to bring Sarah's vision to life. Thrillist spoke with co-showrunner Elle Johnson about what it was like creating this series about a famous Black woman who was making waves during an era where her voice was constantly being underestimated. 
Thrillist: Why was it important to bring Sarah Walker, aka Madam CJ Walker's story to life? 
Elle Johnson: Because nobody outside of the black community had heard of her. And she's amazing because she is an iconic figure, not just for black women, but she should be for all people because of what she managed to accomplish. She is an incredible businesswoman. She was incredible at marketing, a forward thinker, and a philanthropist. She just did so many amazing things given that she was born two years after slavery -- and in a world that really gave her no credit for anything. Where she had to battle racism and sexism, she managed to achieve the American dream. I mean, she really made good on the promise that America makes to people, of you can do anything. She made good on that in a time where she really shouldn't have, but she managed to do that and that makes her story. An aspirational one, one that's very specific to black people and yet universal at the same time that everyone can really relate to and be uplifted by it. So, everyone should know about her. 
Why in this medium, a four-part mini-series, and not a film? 
Johnson: That's the medium that we felt most comfortable with. It was sold as a project to Netflix by the holders who optioned A'Leila Bundles' book. And Octavia Spencer got involved, and we felt very fortunate that we were able to get a limited series and not just a two-hour movie because her life is so epic. Truth be told, we could have used even more than two hours, or more than four episodes. But in terms of space and money, this is what we went for. It's a good template going forward for people who want to tell these kinds of untold stories within the African American community.
Netflix
Why do you focus mostly on Walker's adult life? Was that because of how much time you had or because of just a creative choice?
Johnson: Sarah's early life was filled with a lot of struggles. She alludes to it in the one speech where she kind of talks about how she was orphaned at 7, married at 14, pregnant at 15, withered by 20. Like, she had a lot of really traumatic things happen to her. And I think for us, we really wanted to make a series that was more aspirational, that didn't lean into what I feel like Hollywood in particular at times has gotten so comfortable with in representing black trauma. And that being the only story we get to tell. We wanted to lean into that there, you know, black people lived in many different ways and had their own communities.
She was born two years after slavery. We felt like this is something that we don't often get to see. It felt like we were so used to seeing stories that are either about slavery or the [Black] revolution, so we wanted to show something different. We also felt like the latter part of her life when she's building the company is really just an interesting period of time for us to see this woman in all of her complexities. We wanted to represent the character not just as an incredible businesswoman and philanthropist, but that she was a complex human being who had to deal with a variety of relationships, dealing with a husband who maybe at that time period didn't quite know how to deal with a woman who was as self-sufficient and successful as Sarah.

What I really enjoyed about the series was how it depicted black life in this post-slavery, pre-civil rights movement era, and the way it weaved in other historic Black figures like, Booker T. Washington and Sarah trying to get his endorsement, and W.E.B Du Bois. For a period piece, we don't get to see this side of Black history in film or TV that often. What was it like recreating all Black towns and businesses in the 19th century?
Johnson: Absolutely. I mean absolutely important to show because we wanted to give context to the world that she lives in. Because of segregation, black people had to run their own banks, have their own doctors, have their own schools. Like we had to have everything because we were segregated. And so, our communities were truly communities in a sense that they were self-sufficient and thriving. We also tried to touch on just a little bit the idea of the great migration and that people were leaving the South in droves because of lynching. They were moving to places like Indianapolis and then to Harlem.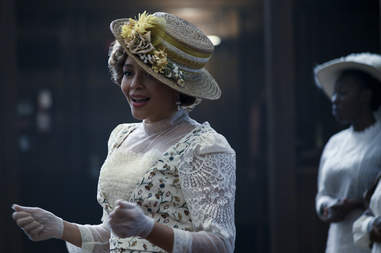 Carmen Ejogo as Addie Monroe

| Netflix
One thing I found interesting was the Addie Monroe character. There's a lot of tension between her and Walker, and it brings up issues around colorism and the hair politics of the time. Some would say, still happens today. Can you talk a little bit about her background and how she came to be the foil to Walker? And why was it important to show another Black woman who was also a businesswoman at the time?
Johnson: We pulled from a number of different sources. I think the main place that we looked was of course, a competitor of Madame, of CJ's named Anne Pope, who's a very well-known beauty culturalist in her own right. Her legacy is not as widespread as Madam CJ because Madam CJ was really business savvy and was kind of a marketing genius. She put her face on her tins! She did a lot of things that really promoted herself and made her legacy a little bit longer lasting. 
In creating this kind of composite character of Addie Monroe, we felt like we couldn't do a show that's essentially about black hair and black beauty without talking about colorism. You have to talk about that if you're going to explore the nature of black women trying to look a certain way and what the idea of beauty is, even in society today. We're still struggling with some of those restrictions on what's allowed to be considered beautiful.
I loved the b-roll shots of Black women greasing another Black woman's hair. A lot of hair footage doesn't show the hard work it takes for a woman's hair to be perfectly laid. It also shows the bonding nature that takes place when getting your hair done. Was that part of the thought process?
Johnson: We were really committed from the very beginning to showing Black hair being done. We really wanted to get up close and show the texture. We really wanted to show texture and not that kind of polished texture that you're talking about that you often see when Black hair is represented, and not the texture of today, but texture that would have been true to the time period. During our research, there's not a lot of photographs of Black people from this time period, but then the photographs that we did find -- we were just stunned to see the variety of hairstyles, natural hairstyles. 
As much as the natural hair community has flourished in the last decade and there are a lot more products on the market for Black hair in general, there's still a struggle of acceptance. Beauty and confidence are still tied to our looks, and certain looks still get more praised. What would you say to the younger generation who are looking for guidance?
Johnson: I'm in the same journey and, and you know, I've definitely gone through my entire life, either permanent or straightening, coloring it. We've put so much processed stuff in our hair to look in a way that is acceptable to the larger white society. And I think we're in a moment now where people are really embracing black hair and envious of it. And I feel like we need to keep pushing that, not just for society, but for ourselves and personally to really embrace how beautiful our hair is. I would say that part of the journey should be exploring who we really are, you know, and, and the freedom to actually be ourselves. Because I think within that journey, you'll find so many more possibilities when you allow yourself just to be who you are. That includes our hair. Just let it be. 
What would you say to white people who are going to watch this series? And should Black people care if they do watch it or not?
Johnson: I mean, that's a really great question because one of the things that we experienced in telling this story, there were a lot of Black women who worked on this, not just in their production but in our executive ranks. I feel like it's going to be an education for people. I also feel like part of this experience is how people really identify with this -- white women, Asian women, Latinx women, they will watch this and they're having the same kinds of struggles that black women are. Women in general are just held to an impossible standard that we all feel we're falling short of. There's something really universal in this struggle that Madame CJ had to discover her own beauty and to finally accept her own beauty. 
It's also just allowing people of color to tell their stories. You get to see the stories in a more truthful and authentic way. I mean, when you look at the series, I think one of the things that at the end of it will strike people as you'll realize how for the whole time, except for maybe a couple of scenes, we are in the black community. We are in the black community the whole time. And I think it's rare to see a show that doesn't force you to, you know, kind of unnaturally take the white perspective in order to bring a wider audience into her. We didn't do that.
Tiffany Haddish as Lelia Walker

| Netflix
Sexual fluidity is also a theme in this series. Sarah's only daughter, A'Lelia Walker, played by Tiffany Haddish, has relationships with both men and women. How was it showing queer relationships during a period of time where it was taboo?
Johnson: We felt like this was an opportunity to explore black women in all of our shades and the ways we move in the world. How many different ways black women exist in the world. So, with the A'Lelia character, we knew that we wanted to show her journey of her exploring her sexuality. We also wanted to show her relationship to a mother who was so powerful, and who really knew what she wanted out of life. She wanted to show her daughter how to find her own way. From the beginning we wanted to explore and felt was important to just represent all types of Black women.
Walker is just one of many Black women who deserve their stories to be told. If you had a chance to work on another series, are there any names or stories you'd love to bring to the forefront?
Johnson: There are so many! I keep thinking of Bessie Coleman, the first African American female pilot. I think there's another woman, I think her name is Bessie Stringfield who was a motorcycle rider, a woman who rode a motorcycle across the country for the Department of Defense. There's so many of these stories, it's ridiculous. They're just thousands of them and, and they're all fascinating and worthy to be told. The four-episode format is a great way to tell a historical story and get it made. And I'm hoping that there will be more of these stories told in this format as we go forward. 
But you know who should really have their story told? A'Lelia Walker! After Madam died, she went on to become what's known as The Joy Goddess of Harlem. She was a patron of the arts and she was a woman who helped many Black artists like Langston Hughes who helped start the Harlem Renaissance. She was one of the patrons. We often think that the people who supported that were white patrons, but she was a black patron of the arts.
Need help finding something to watch? Sign up here for our weekly Streamail newsletter to get streaming recommendations delivered straight to your inbox.
Bianca Clendenin is a Brooklyn-based writer, social media curator, and journalist originally from the Bronx. She's currently a supervising producer at NowThis, leading in their Instagram efforts.