What Netflix Streaming Looked Like When It Launched 10 Years Ago
Cole Saladino/Thrillist
Cole Saladino/Thrillist
On a cold December night in 2006, after chowing down on an "organic" turkey burger, jumping on MySpace to decry the Britney Spears-Kevin Federline breakup, and flipping back and forth between reruns of Wife Swap and Deal or No Deal, you decide to watch a movie. Maybe The Fast and the Furious: Tokyo Drift? You missed the Fast threequel because you couldn't resist a second showing of The Da Vinci Code -- gah, Tom Hanks outrunning assailants in a Smart Car, so good!
There's only one problem: You forgot to pop your Netflix envelope (Lost: Season 2, Disc 3) back in the mail, Blockbuster is already closed, and last time you checked, your grocery store's new Redbox kiosk only had 2 Fast 2 Furious. Fuck! If only Netflix could send you a movie through the television, life would be so much easier.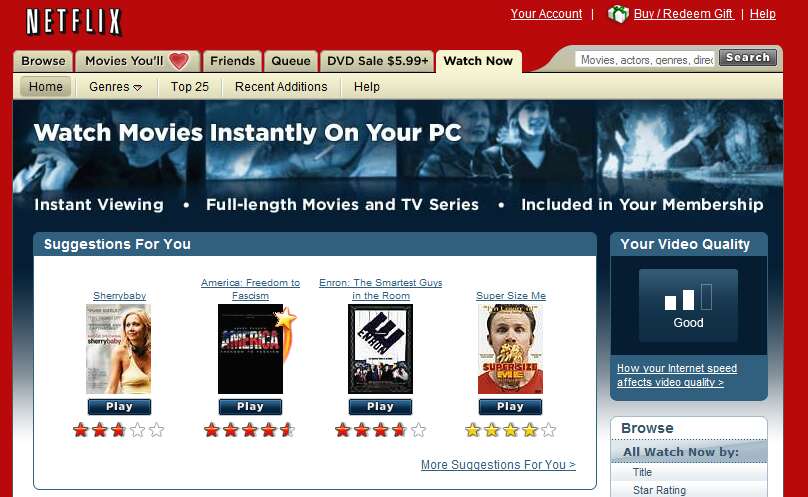 A month later, Netflix solved this low-stakes predicament with the deployment of "Watch Now," a tech product that allowed subscribers to instantly watch select movies and TV shows on Windows-enabled computers. The innovation fundamentally changed how we take in entertainment, making "streaming" synonymous with "watching." The gap between then and now is as vast as Henry Ford's Model T and Elon Musk's Tesla. In 2017, you can bring up Netflix on your Samsung TV's built-in app, load Season 1 of Orange Is the New Black, a Netflix original that only exists in the cloud, and binge five episodes without a connective hiccup. In 2007, Netflix's newfangled Watch Now had 1,000 titles and restricted use; a $5.99 disc plan earned a user six hours of streaming a month. The whole package had that one-step-up-from-GeoCities sheen.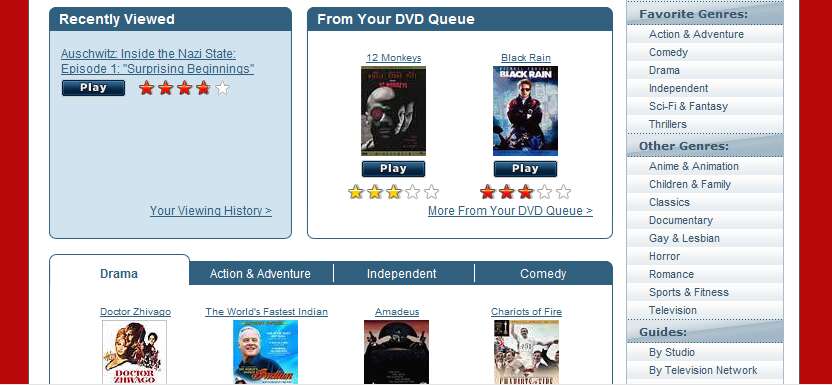 The computer was already a gateway to Vin Diesel's filmography when Netflix soft-launched Watch Now. The debut arrived a few months after the first wave of rentable movies off Amazon Video (while the iTunes Music Store was just weeks away from debuting its own movie store). Movielink, the joint streaming venture co-owned by Paramount, Sony, MGM, Universal, and Warner Bros., was ahead of its time, entering the 24-hour download fray in 2002. As James B. Ramo, the chief executive of Movielink, told The New York Times that year, internet-dwellers who dug up infinite movie titles using file-sharing services like Kazaa and Morpheus forced the movie industry's hand. ''Part of our job is to provide a legitimate outlet for people looking for video in the pirate community,'' he said. ''We consider the pirate services our competition.''
And then the monolith fell from the sky. "We named our company Netflix in 1998 because we believed internet-based movie rental represented the future, first as a means of improving service and selection, and then as a means of movie delivery," Netflix CEO Reed Hastings said during the initial launch. "While mainstream consumer adoption of online movie-watching will take a number of years due to content and technology hurdles, the time is right for Netflix to take the first step."
None of the early adopters compared to Netflix Watch Now, which jumped on the ubiquity of broadband internet to stream lower-quality video without download wait-time. The quality couldn't compare to Blu-ray discs or even standard-definition digital rentals, but did customers really need to see all the crevices in Ben Affleck's brow during off-the-cuff viewing of The Sum of All Fears? Clearly not; within two years, the low-resolution, hiccupy service trounced Movielink (acquired by the already-struggling Blockbuster in August 2007) and similar digital-rental hopefuls the same way the company did the video store landscape. Like the VHS-vs.-beta format wars of the late '70s, convenience, not quality, would steer the future of streaming. The comfort of instant gratification, after an arduous seven years of real-world turmoil, would cement "Netflixing" as an essential cultural component.
What Netflix couldn't provide in hyper-crisp picture it made up for in content. The meager 1,000-title library boasted 12 Angry Men (1957), 12 Monkeys (1995), 3 Women (1977), All Quiet on the Western Front (1930), The Bad and the Beautiful (1952), Badlands (1973), Battleship Potemkin (1925), Ben-Hur (1959), Beyond the Valley of the Dolls (1970), The Breakfast Club (1985), Bride of Frankenstein (1935), Casablanca (1942), A Clockwork Orange (1971), Clue (1985), Crumb (1994), The Day the Earth Stood Still (1951), Dressed to Kill (1980), Fahrenheit 451 (1966), Five Easy Pieces (1970), The Flight of the Phoenix (1965), Ghost in the Shell (1995), I'm Gonna Git You Sucka (1988), The Goodbye Girl (1977), The Hunt for Red October (1990), Jackass: The Movie (2002), Klute (1971), The Jerk (1979), La Cage aux Folles (1979), Lost in America (1985), Malcolm X (1992), Misery (1990), Network (1976), North by Northwest (1959), Once Upon a Time in America (1984), Once Upon a Time in China (1991), The Outlaw Josey Wales (1976), The Parallax View (1974), Point Blank (1967), Postcards from the Edge (1990), Real Genius (1985), Rio Bravo (1959), Run Lola Run (1998), Singin' in the Rain (1952), A Star Is Born (1937), Strange Brew (1983), A Streetcar Named Desire (1951), Time Bandits (1981), and When Harry Met Sally (1989).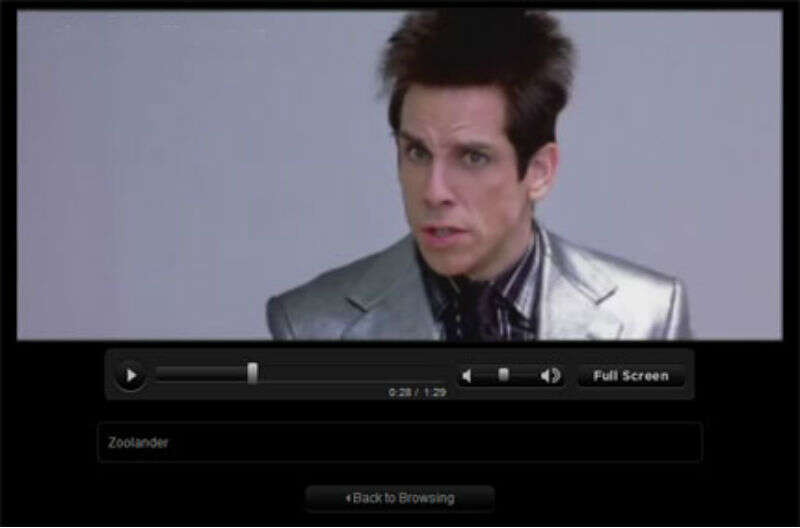 If Netflix was only going to launch Watch Now with 1% of its physical media library, it was going to be the best damn 1% money could buy. There was something for everyone; if you weren't looking for Hollywood classics, you could burn your 18-hour plan on Bloodsport 4, the 1973 Jimi Hendrix rock-doc, Zoolander, Gods and Generals, and a shit-ton of Doctor Who from the '60s, '70s, and '80s. There was prestige action (True Lies! Last Action Hero!), passable Sunday afternoon entertainment (Sylvester Stallone's Daylight! Waterworld!), and complete schlock (Cheerleader Ninjas?). There were a dozen Bollywood films, foreign films that never weaseled into the suburbs, 12 hours of massage therapy instructional video, and countless cult favorites -- you may not have sought out The Stuff to rent off Netflix, but why not give it a spin on Watch Now? That curation likely informed the company's future; Netflix 2017 has four seasons of the Kevin Spacey-led House of Cards, Netflix 2007 had the original 1990 House of Cards miniseries.
This was Netflix finally injecting the movie-watching experience with the internet's laissez-faire, everything-at-your-fingertips philosophy. If you wanted to finally rent Orgazmo without catching judgmental looks from rental store employees, you could. If you wanted to spend a chunk of weekend catching up on the British comedy sci-fi series Red Dwarf, you could. If you wanted to know why most of America skipped the Lisa Kudrow-Damon Wayans music-industry satire Marci X back in 2003, you could. The time cap prevented viewers from going "full binge," but that was only a hurdle, not a permanent obstacle. The floodgates were open.
How did you spend your early days of Netflix streaming? You can check by accessing your account, clicking "View History," then scrolling all the way back to the beginning. No, I'm not ashamed to have watched National Treasure: Book of Secrets and a documentary about a child art prodigy back to back.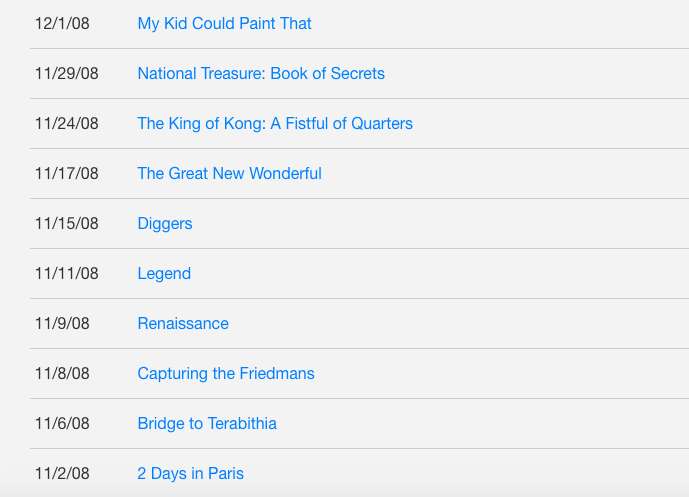 Not even Reed Hastings seemed to realize how seismic Watch Instantly, the cross-operating system upgrade of Watch Now, would be to the industry. "The market is microscopic," he deduced in his 2007 comments to the Times. "DVD is going to be a very big market for a very long time." Streaming was bigger; in September 2011, Netflix announced the division of the DVD-by-mail and Watch Instantly businesses. The new platform for disc service even earned its own name and site: Qwikster. Within one month, after enough raised eyebrows and ridicule, Hastings withdrew the decision and kept Netflix unified.
The secret being that there would always be priorities. Today disc customers must dig deep to find their queue-managing controls, housed over at the Netflix-owned "DVD.com," while streaming is front and center, the harbor for a fleet of original shows and movies. The back catalog isn't even as essential as it once was; thanks to lapsing rights and strategic deals, the streamable titles lean towards the recognizable and modern. As a sharp eye recently noted, of the nearly 4,500 movies and 2,000 TV shows, only 57 were produced before 1970. The Netflix that hustled to bring "Watch Now" to life is not the Netflix of today.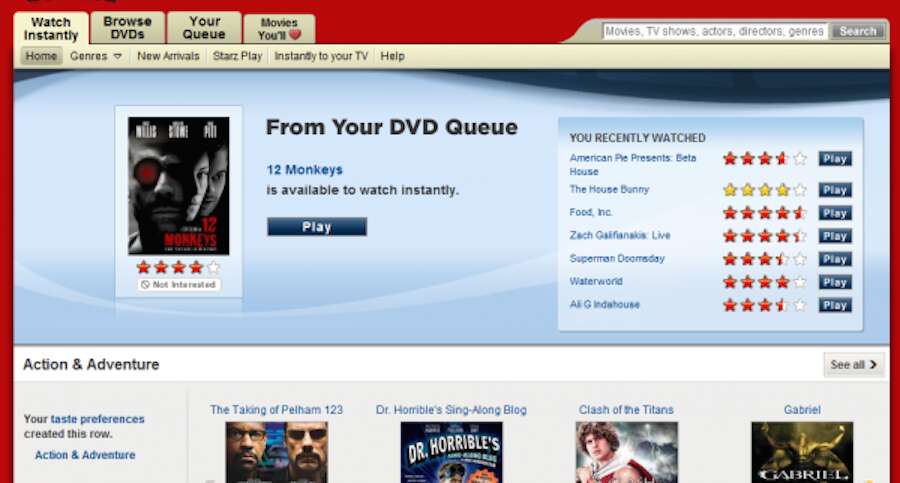 And the Netflix of today may not be the Netflix of tomorrow. In 2017, Netflix is set to spend $6 billion on original content. Brad Pitt and Will Smith will both star in original Netflix projects this year. A look at Netflix's release schedule finds a new series, new movie, or new acquisition each weekend. Virtual reality could be the next big technological leap -- the company already has it figured out, it's just waiting for you to catch up.
You did not watch The Fast and the Furious: Tokyo Drift on that cold December night in 2006, but you did when it came and went from Netflix in 2011. You watched many more shows and movies and specials in the years to come. You spent as much time scrolling through the options. And today, you wait, praying Furious 7appears on the platform. You didn't see it when it came out, you can't watch it on HBO GO because your parents changed their password, and you spent all your money on multiple showings of Inferno. Maybe rethink your life before Netflix's next big upgrade.
Sign up here for our daily Thrillist email, and get your fix of the best in food/drink/fun.
Matt Patches is a senior editor at Thrillist. He previously wrote for Grantland, Esquire.com, and Vulture. Find him on Twitter @misterpatches.