9 Simple Things That Would Make Netflix Way, Way Better
We really, really love Netflix. But after spending the past several years getting to know the app and its competitors like Hulu, Amazon Prime, and many, many more, we can't help but notice some glaring omissions in the streaming service's functionality.
We're dreamers, so we've compiled some suggestions for features Netflix really ought to have by now. Some have been accomplished by other platforms or third-party sites; others are things we find ourselves wishing for as we push into hour five of a weekend marathon. Ted Sarandos, take note.
My List organization
Many of us share Netflix profiles with significant others and friends who have different priorities of what they want to watch and when. Separate "My List" queues within the same profile would help with this, especially when using Netflix with Apple TVs, where switching profiles is a multi-step, multi-screen process. And with the ability to rename those lists, we could also store picks for different genres or themes -- think a movie "playlist" for a family trip, or your bucket list of famous movies you've always wanted to watch.
Clear cataloguing of what's new and what's expiring
Much as we love to compile lists about what's coming and going from Netflix for you every month, it makes no sense that this information isn't integrated into Netflix's own interface. This way you'd never miss a movie, and would be up on the hottest new stuff to the service. Better yet, every title should have an easily accessible expiration date, à la HBO GO, so you know how much time you have left to catch it.
In-app recommendations and reviews for friends
Back when Netflix Instant was some little-used feature whose finest offering was Pootie Tang, Netflix allowed subscribers to "friend" each other, which allowed you to share queues and reviews. In the early days of my subscription it was a great way to see the best of the platform's then-obscure offerings and learn more about my friends' tastes. For a time, these features transferred over to "Netflix Social," a Facebook add-on, but the company disabled its functionality after the app experienced low engagement.
Apparently, social functionality is among the company's lowest priorities: CPO Neil Hunt told Business Insider earlier this year, "We have experimented and explored, and it doesn't work," citing their prior failures of social integration. Perhaps the lack of social add-ons is meant to encourage IRL Netflix-and-chill hangs... For those merely wishing to exchange links, at least you can send specific titles from mobile device to mobile device.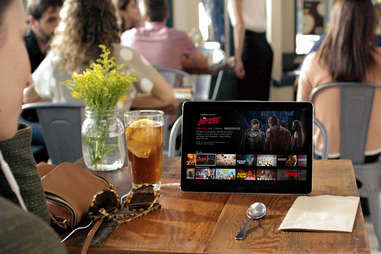 Binge-watch calculator
Some of us are very goal-oriented when it comes to our bingeing schedules; series with an overabundance of episodes can really get in the way. What if you're trying to pull off the superhuman task of watching every Gilmore Girls episode before the revival, broken into an efficient schedule? Or you're a Law & Order completist?
We propose a calendar-calculator hybrid that allows users to select the show they're trying to watch in full, how many hours they're willing to commit per day, and an algorithm that spits back how long it will take. Because sometimes sticking to a schedule is the motivation you need.
Commentary tracks
A tragic loss from the DVD era was special features -- most notably, the commentary tracks that directors, actors, writers, and various people associated with production would record. Why can't Netflix offer these as optional add-ons? Those of us who no longer own DVD players have few options for hearing reflections from our favorite writers, actors, and directors alongside their work, and we wouldn't want all their fun trivia to be a casualty of history.
Rentals at an extra fee
Not every title available to rent from Netflix's old-school DVD library is available to stream. Believe it or not, we'd be willing to pay an extra fee to stream them -- either as a rental or a purchase -- as iTunes and Amazon allow us to. Streaming permissions can be complicated, but clearly somebody else has figured it out.
Roulette mode
Hunt's paradox of choice is very real, and sometimes we just want to hand the decision-making reins over to somebody else. Third-party sites can play roulette for you... so why can't Netflix incorporate its own version into the platform? Better yet, what if Netflix could mimic linear TV and continually broadcast a random stream of titles that you could opt into watching?
More movies
It's no secret that Netflix's feature-length collection is shrinking, though the company's development execs have tried to distract you with an abundance of original series. We know rights don't come cheap, but perhaps the company should put more backing behind making more features. How many original indie movies do you think Netflix could have made with The Get Down's rumored $120 million budget?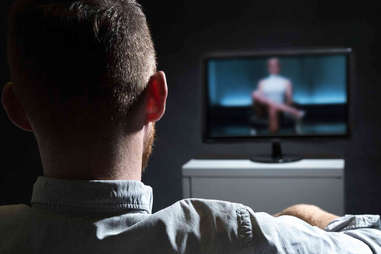 More accurate recommendations
It seems that Netflix's algorithms now respond to titles you merely watch -- whether it's for two minutes or two hours -- regardless of whether you actually liked them. In an ideal world, recommendations would be based on the things we've rated highly, not those we've simply clicked into by accident. "Because you watched Real Rob..." may mean you're a glutton for punishment, but not that you're at all interested in related titles. Call us when there's stuff to watch "Because you *LOVED* BoJack Horseman..." please!
Sign up here for our daily Thrillist email, and get your fix of the best in food/drink/fun.