All the Netflix Original Movies Coming Out This Summer
The streaming giant has some solid feature films scheduled over the next few months.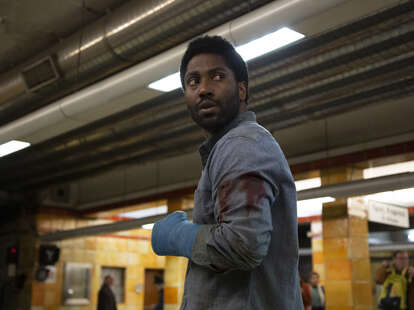 Yannis Drakoulidis/Netflix
Netflix made a huge promise back in January that it planned to release a major original movie every week in 2021. The streaming service has followed through on the plan thus far, and the company just announced that it's still committed to making good on that promise, at least through the summer months.
With a promotional video, Netflix unveiled the original movies it will release this summer, and also tweeted out each title you can look forward to, along with a few release dates. There's a little something for everybody, with action movies starring Jason Momoa and Liam Neeson, new horror movies, the final installment of the Kissing Booth trilogy, and more.
Of course, Netflix's track record with movies doesn't guarantee that any of these are great, and the plan is to release a movie a week doesn't necessarily mean a good movie per week—but the platform can boast a handful of gems so far this year. So what's in store this summer? Here's the rundown.
2. GOOD ON PAPER (JUNE 23)
3. THE ICE ROAD (JUNE 25)
4. AMERICA: THE MOTION PICTURE (JUNE 30)
5. THE LAST MERCENARY (JULY)
6. TROLLHUNTERS: RISE OF THE TITANS (JULY 21)
7. THE KISSING BOOTH 3 (AUGUST 11)
8. HE'S ALL THAT (AUGUST 27)
10. BOB ROSS: HAPPY ACCIDENTS, BETRAYAL & GREED (TBA)
11. FEAR STREET TRILOGY (TBA)
12. LA CASA DE LAS FLORES: LA PELICULA, AKA THE HOUSE OF FLOWERS: THE MOVIE (TBA)