'The Mitchells vs. the Machines' Is Netflix's Next Great Animated Movie
Makes sense, given that it's from the producers of 'Spider-Man: Into the Spider-Verse.'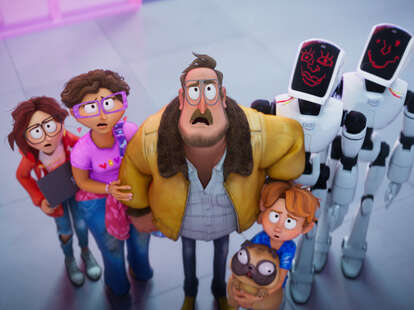 If Spider-Man: Into the Spider-Verse established Sony Pictures Animation as one of the most exciting studios making animated movies right now, The Mitchells vs. the Machines, now streaming exclusively on Netflix, solidifies that reputation. Like Spider-Verse, the movie is produced by The Lego Movie impresarios Phil Lord and Chris Miller. Like Spider-Verse, it's animated in an innovative hybrid of 2D and 3D styles that draws on outside influences, in this case, memes. Like Spider-Verse, it mashes up eye-popping and hilarious gags with an emotional story that will challenge your tear ducts. It's perhaps unfair to compare The Mitchells vs. the Machines this much to Spider-Verse, but I do so mainly to make it clear that it lives up to one of the best animated movies in recent history.
Directed and written by Mike Rianda and Jeff Rowe, both veterans of the early 2010s Disney Channel and XD series Gravity Falls, The Mitchells vs. the Machines takes its time introducing its central conflict of a robot apocalypse. First, we have to meet the Mitchells, who are far more important to the narrative than any evil AI. The action is narrated by Katie Mitchell (Abbi Jacobson), who has taken her misfit status and funneled it into a passion for filmmaking, creating a whole series of YouTube videos starring the family pug Monchi as a Dog Cop. (Monchi is "voiced" by celebrity animal Doug the Pug.) Her little brother, Aaron (Rianda), is a glorious weirdo obsessed with dinosaurs. Their mother, Linda (Maya Rudolph), is a teacher with a penchant for trying to make everything seem OK even when it's not, while their father, Rick (Danny McBride), has a can-do, fix-it spirit, but doesn't really understand Katie's passions and worries about her getting hurt by failure.
The emotional wall between Katie and her dad is what drives The Mitchells vs. the Machines. Both are stubbornly obsessed with their own worldview—for her, that involves movies; for him, it involves screwdrivers—but they're at an impasse in their relationship. They talk past each other, attempting to be sensitive, but just missing the mark. Rick isn't your stereotypical stern father, and Katie isn't your clichéd bratty teen, but they just can't get each other. Their closest cinematic parallels are Lady Bird and her mom in Greta Gerwig's Lady Bird.
ALSO READ: Why The Mitchells vs. the Machines Is a Major Moment for Animated Movies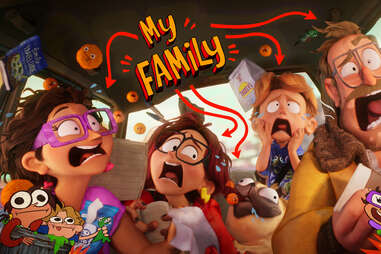 On the day Katie is supposed to leave for college, Rick makes a last-ditch effort at family bonding by canceling her plane ticket and orchestrating a cross-country family road trip, much to Katie's dismay. What starts out as your regular old disastrous sojourn turns into an apocalyptic nightmare when the Mitchells become the last humans who haven't been captured by the army of androids working for a vengeful AI (Olivia Colman), who feels spurned by her creator, a Zuckerberg type voiced by Eric André. This deeply awkward foursome, plus Monchi, must figure out a way to work through their issues while saving the world.
Even in their satire of a population glued to their phones, Rianda and Lowe operate from a love of internet culture that translates from Katie's perspective into visual flourishes, like the occasional insertion of clip of a screaming monkey or hand-drawn rainbows that look like they leaped out of a Lisa Frank notebook. There are also notable voice cameos from the members of one of the most web-centric celebrity couples, John Legend and Chrissy Teigen, as the Mitchells' too-perfect neighbors. While warning about the dangers of homogenized tech, the story also embraces the creative possibilities of online culture.
It's in the second half of the adventure that the jokes start flying even faster, including a series of gags involving Monchi that seem, in a good way, designed to be quoted incessantly. But what makes The Mitchells vs. the Machines truly special is that it never loses its focus on the ways in which Katie and Rick learn to communicate with one another. McBride, so often associated with the blowhards he plays on the likes of The Righteous Gemstones, gives a voice performance that's absolutely gutting, as a man who wants to protect his daughter from the pains of not achieving your dreams. Meanwhile, Jacobson gives a fully realized portrayal of a kid that's easily identifiable, one that's developed her distinctive personality through a mind that won't stop churning.
The Mitchells vs. the Machines builds to a climax that's as exhilarating as it is touching, successfully blending an all-out, wonderfully goofy action sequence with the kind of resonance it needs to hit its audience in the heart. It's the kind of movie you immediately want to watch again and again.