Fact: 'Toss a Coin to Your Witcher' Is the Biggest Banger of 2020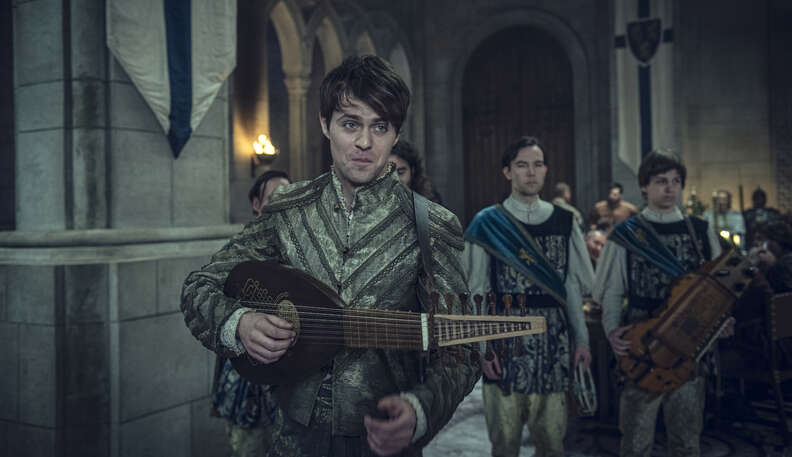 Jaskier, about to go off

| Katalin Vermes/Netflix
Jaskier, about to go off

| Katalin Vermes/Netflix
You wouldn't think that The Witcher, Netflix's original big-budget fantasy show based on a series of Polish books that inspired a bunch of video games, would be the thing that gave us the last true banger of 2019 -- or, alternatively, the first essential song to add to your "2020 Jams" playlist. And yet... I, like many inhabitants of this country, went home to my parents' house for the holiday break to unplug and get away from screens for a week or so, but there was one thing I couldn't escape: a little ditty called "Toss a Coin to Your Witcher."
OH VALLEY OF PLENTYYYYY, OH VALLEY OF PLENTYYYYY OH-OH-OHHH!
The song appears at the end of the second episode of The Witcher's somewhat convoluted yet addictive first season, after title character Geralt of Rivia befriends -- or, rather, is befriended by -- a starving artist bard named Jaskier, who makes it his mission to try to normalize his new buddy to the otherwise Witcher-negative public. And what better way to make people love a big, scary dude with white hair and a huge sword than by writing a catchy song about him?
The good news is Netflix just announced that the single version of "Toss a Coin to Your Witcher" is available on Spotify and Apple Music, with the entire soundtrack release, composed by Sonya Belousova and Giona Ostinelli, dropping this Friday, January 24. Before now, all we had was the clip above and a random Soundcloud drop from the composers.
None of us at Thrillist Entertainment can stop listening to it. I can't stop humming it at my desk. I can't stop singing it in the shower, while washing the dishes, while walking to the subway. A week ago, Twitter user kyle_reclaim posted a short video remixing the song, and it got so popular, thanks in part to a retweet from the show's official account, that he finished it that very night and uploaded the whole thing. It, obviously, bangs.
It's also bad! Its lyrics are illogical! Where is this valley of plenty? The Witcher's rate is usually more than a coin. And Jaskier's descriptions of Geralt's feats are deliberately confusing (much like, well, the rest of the entire show). "While the devil's horns / Minced our tender meat" -- what?? "He can't be bleat?" There's an elf on the shelf reference?? It's like a ten-year-old wrote it. "He wiped out your pest / Got kicked in his chest / He's a friend of humanity / So give him the rest." Giving rhymezone.com a real workout, I see.
Since the show premiered, "Toss a Coin to Your Witcher" has been written about pretty much everywhere, from CNN to gaming website Kotaku. Not even Jaskier himself, the actor Joey Batey, understands the phenomenon. "It's the most annoying thing I've ever heard, it's so catchy," he said in an interview with Men's Health. "Everyone's been listening to it for a week or so now, and humming it. I've had that in my head for eight months." Not even a Witcher could fight off this monstrous earworm.
Emma Stefansky is a staff entertainment writer at Thrillist. Follow her on Twitter @stefabsky.
Need help finding something to watch? Sign up here for our weekly Streamail newsletter to get streaming recommendations delivered straight to your inbox.