What could be more thrilling than sitting at home, safely plopped on your couch, staring into a screen? Watching a thriller, obviously, which gets your blood pumping, dilates your pupils, and causes your palms to sweat, all without the threat of actual bodily harm. That's the beauty of watching these thrillers on Netflix: You get to witness the pros play out psychological and physical drama, while you kick back after a long day or week of work. You're going to love these thrillers on Netflix.
Recommended Video
The Biggest Moments of the 'Game of Thrones' Season 8 Premiere
For his follow-up to his two action epics, The Raid and The Raid 2, director Gareth Evans dials back the hand-to-hand combat but still keeps a few buckets of blood handy in this grisly supernatural horror tale. Dan Stevens stars as Thomas Richardson, an early 20th century opium addict traveling to a cloudy island controlled by a secretive cult that's fallen on hard times. The zealous religious group is led by a bearded scold named Father Malcolm (Michael Sheen) who may or may not be leading his people astray. Beyond a few bursts of kinetic violence and some crank-filled torture sequences, Evans plays this story relatively down-the-middle, allowing the performances, the lofty themes, and the windswept vistas to do the talking. It's a cult movie that earns your devotion slowly, then all at once.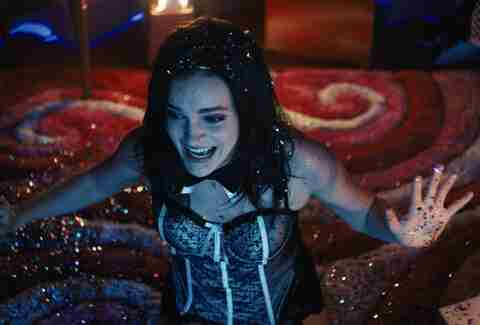 Cam (2018)
Unlike the Unfriended films or the indie hit Searching, this web thriller from director Daniel Goldhaber and screenwriter Isa Mazzei isn't locked into the visual confines of a computer screen. Though there's plenty of online screen time, allowing for subtle bits of commentary and satire, but the looser style allows the filmmakers to really explore the life and work conditions of their protagonist, rising cam girl Alice (Madeline Brewer) who logs online one day to find her identity stolen. Immersing ourselves in her life IRL and online, we follow the young woman on a terrifying, pop-art-like hunt for who or what is taking over not just her viewers, but her entire life.
Cape Fear (1991)
Martin Scorsese and Robert De Niro's collaborations are best when jacked up to all-out intensity and featuring an off-the-wall, frighteningly good performance from the legendary leading man. Cape Fear absolutely of this ballgame. In the thriller, De Niro plays Max Cady, a convicted rapist who, after spending 14 years in prison, has a vendetta against his former defense attorney, Sam Bowden (Nick Nolte). While Bowden clearly moved on from the case, his crazed client never did, considering the fact that the man who was supposed to represent him kept quiet about a piece of evidence that could have gotten him acquitted. So, as De Niro's character is determined to see through in the utmost of violent, terrifying portrayals, this man and his family have a whole lot of horror coming their way.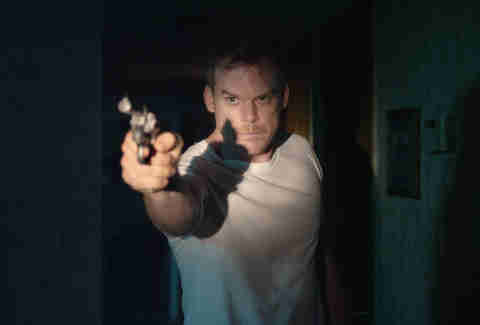 Cold in July (2014)
This grim Texas noir, adapted from Joe Lansdale's novel by filmmaker Jim Mickle (We Are What We Are, TV's Hap & Leonard), is a cat and mouse and cat game. After inadvertently shooting a home invader, Richard (Michael C. Hall) is tormented by the thief's father, Ben (Sam Shepard). Then Ben kidnaps Richard's son. Then... Cold in July twists and twists and twists. Intensified by a synthy score and prohibitive '80s technology, this is the movie to watch if you've seen the major titles on this list one too many times.
Dark Places (2015)
Libby Day's entire family was brutally murdered in the '80s, and her brother was convicted for the crime. Growing up to live a troubled life, refusing to rationalize what happened to her, the distant woman played by Charlize Theron is forced to reckon with the truth when a group of private investigators present evidence to her that may prove someone else was guilty for the crime. Adapted by the Gillian Flynn novel of the same name, the indie thriller may be a slow burn, but it shoves the relationship between women and violence to its forefront, unveiling a dark, unsuspecting story. 
The Departed (2006)
Don't let your annoying college roommate's affection for The Departed ruin the movie for you -- it's an enormously entertaining crime film. Leonardo DiCaprio's expert slow-boil performance as undercover cop Billy Costigan is a big reason for that and marked a major career step forward; he stood tall against the Martin Scorsese film's many big-name scenery chewers and kept his Boston accent under control. Just try to forgive the little rat at the end. 
Gerald's Game (2017)
Like his previous low-budget Netflix-released horror release, Hush -- a captivity thriller about a deaf woman fighting off a masked intruder -- Mike Flanagan's Stephen King adaptation of Gerald's Game wrings big scares from a small location. Sticking close to the grisly plot details of King's seemingly "unfilmable" novel, the movie chronicles the painstaking struggles of Jessie Burlingame (Carla Gugino) after she finds herself handcuffed to a bed in an isolated vacation home when her husband, the titular Gerald, dies from a heart attack while enacting his kinky sexual fantasies. She's trapped -- and that's it. The premise is clearly challenging to sustain for a whole movie, but Flanagan and Gugino turn the potentially one-note set-up into a forceful, thoughtful meditation on trauma, memory, and resilience in the face of near-certain doom.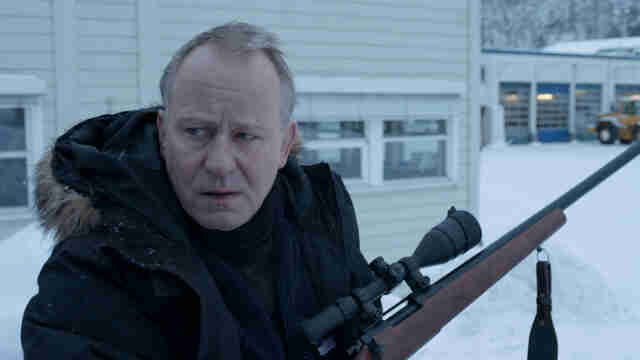 In Order of Disappearance (2014)
Norway knows how to thrill. In this snow-white black comedy, Stellan Skarsgård searches for the truth surrounding his son's recent death, eventually launching him into Taken mode against a local drug ring. Coen-esque touches and kick-ass takedowns make this the perfect material for Skarsgård, legendary actor Bruno Ganz, and Game of Thrones star Kristofer Hivju.
The Invitation (2016)
Have you ever spent an evening at a dinner party from which you couldn't wait to escape? If so, you'll probably appreciate the escalating tensions of Karyn Kusama's thriller that deals with old friends, creepy cults, and an offer that (literally) cannot be refused. A strong cast and a clever screenplay keep The Invitation interesting during the slow-burn setup. When the finish line's in sight, it's a satisfying run of thrills and scares. And don't you dare turn it off before the final shot.
The Lovely Bones (2009)
Peter Jackson's film adaptation of the 2002 novel of the same name stars Saoirse Ronan as a murdered 14-year-old girl who watches life on Earth continue to go on without her while she adjusts to life in heaven. Ronan gives a dazzling performance as she spends a good portion of the film navigating the heaven that she illustrates all on her own while struggling to keep an eye on her grief-stricken family and her murderer (Stanley Tucci), who has yet to be caught.
No Country for Old Men (2007)
Like a blast from Anton Chigurh's cattle gun, No Country for Old Men came out of nowhere. In 2007, it seemed like the Coen brothers had lost a step, sinking into an era of gentle self-parody. This Josh Brolin-starring neo-Western changed all that. Adapting Cormac McCarthy's brutal, uncompromising thriller, the filmmakers crafted their most purely suspenseful and terrifying film to date. The coin flip, the car crash, and Javier Bardem's haircut have all become parodied pop-cultural fixtures at this point. But the sense of dread the film evokes, amplified by Roger Deakins' shadowy photography, is impossible to shake. It's real. It's scary. And it's coming for you. 
Pulp Fiction (1994)
No other modern movie so effortlessly created its own language and mythology of cool, where mere objects evoke oceans of meaning. Many have tried, but only Quentin Tarantino could cut and paste his passions into a collage about two hit man seeking redemption for a mob boss. Both wickedly funny and surprisingly thoughtful, it's even better than you remember it being in the 1990s. Travolta still sizzles. The dialogue still pops. The soundtrack still sings. Forget the loftier films he'd make later in his career -- this is his masterpiece.
Se7en (1995)
Director David Fincher has a thing for serial killers. The man who helmed Zodiac and The Girl With the Dragon Tattoo, and who's executive producing Netflix's Mindhunter, got his first taste with Se7en, about two detectives (Brad Pitt and Morgan Freeman) on the hunt for a murderer obsessed with punishing those he perceives to embody the seven deadly sins. The famous final murder scene ("What's in the box?!") grabs all the attention, but it's a payoff earned by the dark, brooding character studies that Fincher builds over the course of the film, a style that would become a hallmark of his later work.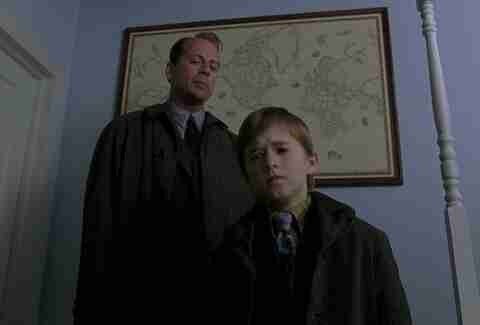 The Sixth Sense (1999)
In 1999, no one saw the twist coming. The fact that Bruce Willis is [two-decades-old spoiler alert] DEAD THE WHOLE MOVIE comes across as quaint now that M. Night Shyamalan has become Twist-Master General and tends to use them as shitty calling cards rather than meaningful plot devices. But wow, when Shyamalan made his breakthrough with The Sixth Sense, it felt like we'd witnessed something fresh and unsettling in the best ways possible.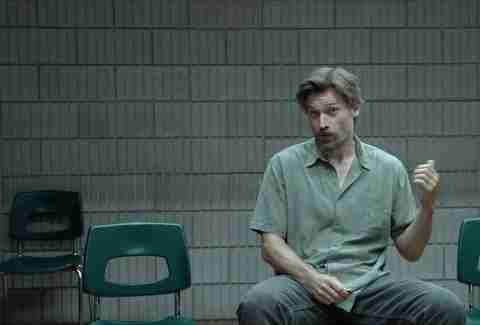 Small Crimes (2017)
It's always a little discombobulating to see your favorite Game of Thrones actors in movies that don't call on them to fight dragons, swing swords, or at least wear some armor. But that shouldn't stop you from checking out Small Crimes, a carefully paced thriller starring the Kingslayer Jaime Lannister himself, Nikolaj Coster-Waldau. As Joe Denton, a crooked cop turned ex-con, Coster-Waldau plays yet another character with a twisted moral compass, but here he's not part of some mythical narrative. He's just another conniving, scheming dirtbag in director E.L. Katz's Coen brothers-like moral universe. While some of the plot details are confusing -- Katz and co-writer Macon Blair skimp on the exposition so much that some of the dialogue can feel incomprehensible -- the mood of Midwestern dread and Coster-Waldau's patient, lived-in performance make this one worth checking out. Despite the lack of dragons.