What could be more thrilling than sitting at home, safely plopped on your couch, staring into a screen? Watching a thriller, obviously, which gets your blood pumping, dilates your pupils, and causes your palms to sweat, all without the threat of actual bodily harm. That's the beauty of watching these thrillers on Netflix: You get to witness the pros play out psychological and physical drama, while you kick back after a long day or week of work. You're going to love these thrillers on Netflix.
Recommended Video
Ghost Kitchen: Restaurant Gets Help From Community During Coronavirus Pandemic
For his follow-up to his two action epics, The Raid and The Raid 2, director Gareth Evans dials back the hand-to-hand combat but still keeps a few buckets of blood handy in this grisly supernatural horror tale. Dan Stevens stars as Thomas Richardson, an early 20th century opium addict traveling to a cloudy island controlled by a secretive cult that's fallen on hard times. The zealous religious group is led by a bearded scold named Father Malcolm (Michael Sheen) who may or may not be leading his people astray. Beyond a few bursts of kinetic violence and some crank-filled torture sequences, Evans plays this story relatively down-the-middle, allowing the performances, the lofty themes, and the windswept vistas to do the talking. It's a cult movie that earns your devotion slowly, then all at once.
Blue Ruin (2013)
Before he went punk with 2016's siege thriller Green Room, director Jeremy Saulnier delivered this low-budget, darkly comic hillbilly noir. When Dwight Evans (Macon Blair) discovers that the man who killed his parents is being released from prison, he returns home to Virginia to claims his revenge and things quickly spin out of control. Like the Coen Brothers' Blood Simple, this wise-ass morality tale will make you squirm. 
Burning (2018)
Some mysteries simmer; this one smolders. In his adaptation of a Haruki Murakami short story, writer and director Lee Chang-dong includes many elements of the acclaimed author's slyly mischievous style -- cats, jazz, cooking, and an alienated male writer protagonist all pop up -- but he also invests the material with his own dark humor, stray references to contemporary news, and an unyielding sense of curiosity. We follow aimless aspiring novelist Lee Jong-su (Yoo Ah-in) as he reconnects with Shin Hae-mi (Jeon Jong-seo), a young woman he grew up with, but the movie never lets you get too comfortable in one scene or setting. When Steven Yeun's Ben, a handsome rich guy with a beautiful apartment and a passion for burning down greenhouses, appears, the film shifts to an even more tremulous register. Can Ben be trusted? Yeun's performance is perfectly calibrated to entice and confuse, like he's a suave, pyromaniac version of Tyler Durden. Each frame keeps you guessing.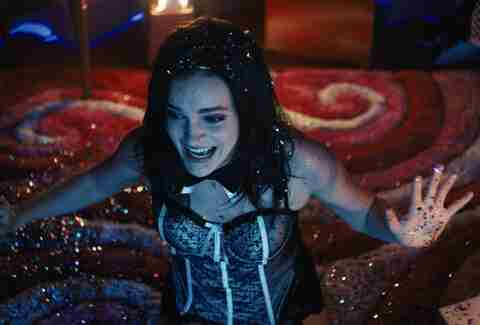 Cam (2018)
Unlike the Unfriended films or the indie hit Searching, this web thriller from director Daniel Goldhaber and screenwriter Isa Mazzei isn't locked into the visual confines of a computer screen. Though there's plenty of online screen time, allowing for subtle bits of commentary and satire, but the looser style allows the filmmakers to really explore the life and work conditions of their protagonist, rising cam girl Alice (Madeline Brewer) who logs online one day to find her identity stolen. Immersing ourselves in her life IRL and online, we follow the young woman on a terrifying, pop-art-like hunt for who or what is taking over not just her viewers, but her entire life.
Dark Places (2015)
Libby Day's entire family was brutally murdered in the '80s, and her brother was convicted for the crime. Growing up to live a troubled life, refusing to rationalize what happened to her, the distant woman played by Charlize Theron is forced to reckon with the truth when a group of private investigators present evidence to her that may prove someone else was guilty for the crime. Adapted by the Gillian Flynn novel of the same name, the indie thriller may be a slow burn, but it shoves the relationship between women and violence to its forefront, unveiling a dark, unsuspecting story. 
Donnie Brasco (1997)
Netflix has mob classics like Goodfellas and The Godfather, but we'd be amiss not to include Donnie Brasco in a mafia movie retrospective, too. Held down by the lead performances of Johnny Depp and Al Pacino, the gang movie tells the true story of FBI agent Joe Pistone (Depp) who went undercover as "Donnie Brasco" in '70s NYC to buddy up with hitman Lefty Ruggiero (Pacino) in order to infiltrate the mob. The film places you on the receiving end of Pistone's wire, closely and carefully documenting the ins and outs of crime life and the relationships that make it the unconventional "family" that it is. Fuhgetaboutit, this is a mob thriller must-see.
Drive (2011)
Don't let the college freshmen who watched Drive and then suddenly became cinephiles convince you to steer clear of this movie. Nicolas Winding Refn's noir about a Hollywood stuntman by day/getaway driver by night (Ryan Gosling) is very good. It's incredibly stylish, soaked in neon-lit cinematography documenting LA's gritty underbelly accompanied by a Chromatics soundtrack, and the mix-up Gosling gets into with his neighbor (Carey Mulligan) and her husband (Oscar Isaac) is executed in a way that feels appropriately elevated and melodramatic like an Old Hollywood thriller. Drive may have ushered in a certain kind of taste of 2010s indie filmmaking, but it feels like a classic.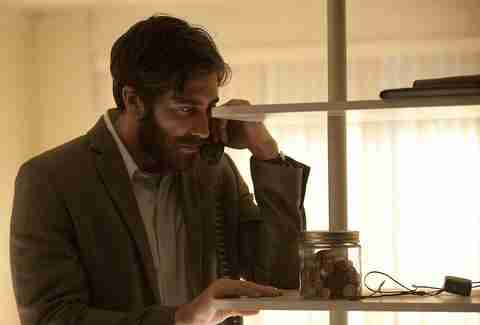 Enemy (2014)
Jake Gyllenhaal stars in Denis Villeneuve's (Arrival) creepy sci-fi thriller about a man who discovers he has a doppelganger. The double has been a literary trope for just about as long as people have been creating art (Enemy is based on Nobel laureate José Saramago's novel The Double), but Gyllenhaal's unnerving performance and Villeneuve's claustrophobic, monochromatic directing make Enemy a particularly sophisticated riff on a well-worn theme. It's a mind-bending exploration of identity, and the ending will leave you lying awake, puzzling over what it all means.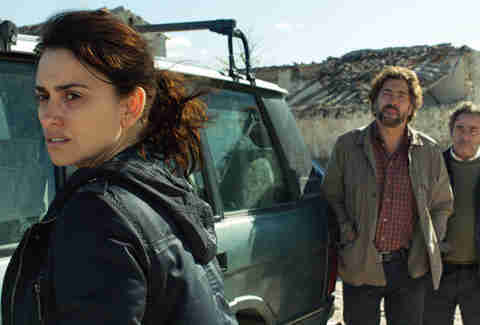 Everybody Knows (2018)
Asghar Farhadi's (A Separation) Everybody Knows closely examines a family in crisis to illustrate how damaging secrets can be when left to fester. The Spanish film stars Penélope Cruz as Laura, a woman returning to her small hometown outside of Madrid whose visit for a family wedding becomes a nightmare when her daughter disappears from the reception without a trace. Cruz acts opposite Javier Bardem's Paco, a lifelong friend who's just as obsessed as Laura with finding the whereabouts of her daughter. While Everybody Knows is certainly about solving the abduction before it's too late, the tension exists mostly in the home itself, as the family points fingers at one another and struggles to reckon with the past in the face of the present's tragedy. 
Extremely Wicked, Shockingly Evil and Vile (2019)
Director Joe Berlinger spent a lot of time exploring the psyche of Ted Bundy. The filmmaker directed the four-part Netflix docuseries, Conversations with a Killer: The Ted Bundy Tapes, based on recordings made while the serial killer was on death row, and he also tapped into his relationship with his longtime girlfriend Liz in this full-length film starring Zac Efron as the infamous criminal. In the film, drama is told from the perspective of Liz, who sees the cunning man as docile, refusing for years to accept the truth about her deceptive partner. While the film is largely a moody courtroom drama and an exploration of a serial killer's mind, Efron's portrayal will definitely send a shiver up your spine.
Gerald's Game (2017)
Like his previous low-budget Netflix-released horror release, Hush -- a captivity thriller about a deaf woman fighting off a masked intruder -- Mike Flanagan's Stephen King adaptation of Gerald's Game wrings big scares from a small location. Sticking close to the grisly plot details of King's seemingly "unfilmable" novel, the movie chronicles the painstaking struggles of Jessie Burlingame (Carla Gugino) after she finds herself handcuffed to a bed in an isolated vacation home when her husband, the titular Gerald, dies from a heart attack while enacting his kinky sexual fantasies. She's trapped -- and that's it. The premise is clearly challenging to sustain for a whole movie, but Flanagan and Gugino turn the potentially one-note set-up into a forceful, thoughtful meditation on trauma, memory, and resilience in the face of near-certain doom.
The Gift (2015)
In less daring hands, this psychological thriller may have telegraphed its legitimately disturbing ending and devolved into another direct-to-VOD movie you will never watch. But Australian writer-star-director Joel Edgerton goes all in with this tale about an alpha yuppie (Jason Bateman, exuding impish charm in a non-comedic role) struggling to deal with his forlorn wife (Rebecca Hall) and the relentless friendliness of a long-lost schoolmate (Edgerton).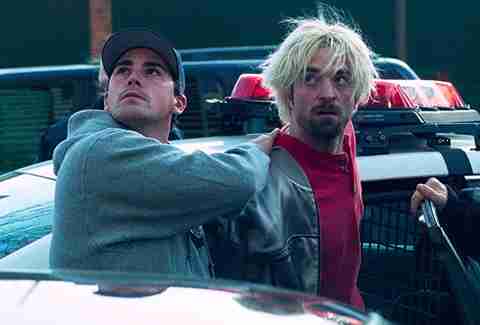 Good Time (2017)
In this greasy, cruel thriller from Uncut Gems directors the Safdie brothers, Robert Pattinson stars as Connie, a bank robber who races through Queens to find enough money to bail out his mentally disabled brother, who's locked up for their last botched job. Each suffocating second of Good Time, blistered by the neon backgrounds of Queens, New York and propelled by warped heartbeat of Oneothrix Point Never's synth score, finds Connie evading authorities by tripping into an even stickier situation.
Goodfellas (1990)
Revered by cineastes and dorm-poster-loving bros alike, Martin Scorsese's take on Nicholas Pileggi's Wiseguy unfolds like Alice in Wonderland, with youngster Henry Hill (Ray Liotta) plummeting down the mafia rabbit hole into a hell he could never have imagined. Performances by Robert de Niro and Joe Pesci are notorious, but it's the way that Scorsese's coked-up camerawork weaves through history that makes Goodfellas frightening, delirious, and darkly funny. What do you mean I'm funny?
Green Room (2015)
Green Room is a throaty, thrashing, spit-slinging punk tune belted through an invasion-movie microphone at max volume. It's nasty -- and near-perfect. As a band of 20-something rockstars recklessly defend against a neo-Nazi battalion equipped with machetes, shotguns, and snarling guard dogs, the movie blossoms into a savage coming-of-age tale, an Almost Famous for John Carpenter nuts. Anyone looking for similar mayhem should check out director Jeremy Saulnier's previous movie, the low-budget, darkly comic hillbilly noir, Blue Ruin, also streaming on Amazon.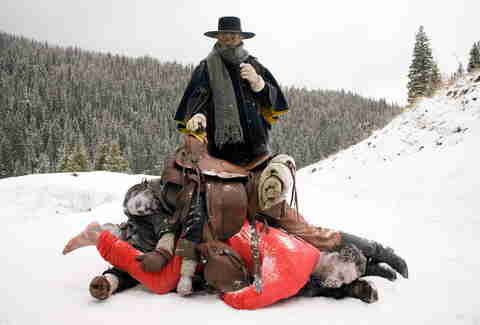 The Hateful Eight (2015)
Quentin Tarantino has something to say about race, violence, and American life and it's going to ruffle feathers. Like Django Unchained, the writer/director reflects modern times on the Old West, but with more scalpel-sliced dialogue, profane poetry, and gore. Stewed from bits of Agatha Christie, David Mamet, and Sam Peckinpah, The Hateful Eight traps a cast of blowhards (including Samuel L. Jackson as a Civil War veteran, Kurt Russell as a bounty hunter known as "The Hangman," and Jennifer Jason Leigh as a psychopathic gang member) in a blizzard-enveloped supply station. Tarantino ups the tension by shooting his suffocating space in "glorious 70mm." Treachery and moral compromise never looked so good. (Available with the Showtime add-on)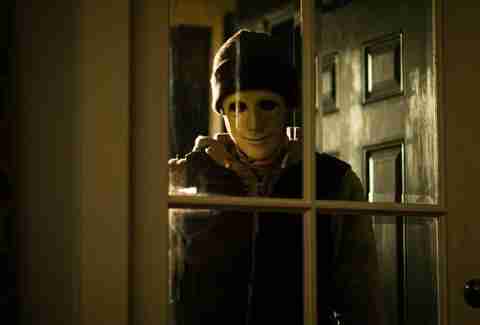 Hush (2016)
Hush is undeniable proof that a movie need not be startlingly unique or densely plotted to be a damn good time. In many ways we've heard this story before -- a solitary young woman must fend off a persistent stalker who is skulking around outside -- but thanks to director Mike Flanagan, a master of "home invasion" tropes, Hush turns out to be a slick, quick, and remarkable suspenseful tale. 
The Invitation (2016)
Have you ever spent an evening at a dinner party from which you couldn't wait to escape? If so, you'll probably appreciate the escalating tensions of Karyn Kusama's thriller that deals with old friends, creepy cults, and an offer that (literally) cannot be refused. A strong cast and a clever screenplay keep The Invitation interesting during the slow-burn setup. When the finish line's in sight, it's a satisfying run of thrills and scares. And don't you dare turn it off before the final shot.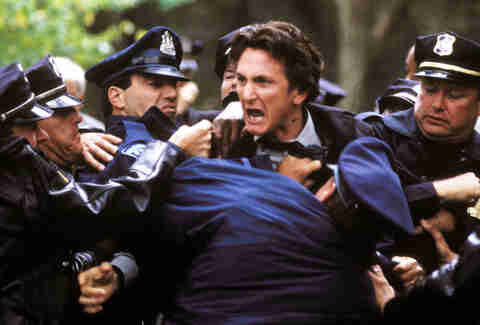 Mystic River (2003)
In the early 2000s, director Clint Eastwood was cranking out Oscar bait like it was his job, which it was, and Mystic River actually delivers the goods (not to mention actual Oscars for Sean Penn and Tim Robbins). Part mystery, part revenge narrative, part meditation on grief and trauma, Mystic River's complexity remains accessible as an exploration of the unbreakable links between childhood and adulthood. Even Sean Penn haters will be moved.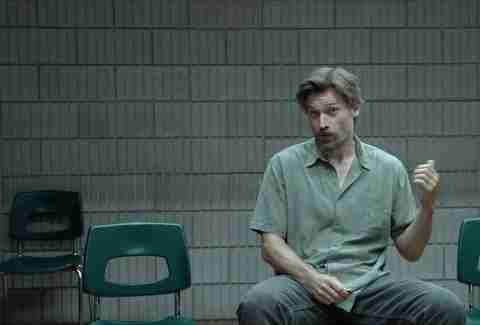 Small Crimes (2017)
It's always a little discombobulating to see your favorite Game of Thrones actors in movies that don't call on them to fight dragons, swing swords, or at least wear some armor. But that shouldn't stop you from checking out Small Crimes, a carefully paced thriller starring the Kingslayer Jaime Lannister himself, Nikolaj Coster-Waldau. As Joe Denton, a crooked cop turned ex-con, Coster-Waldau plays yet another character with a twisted moral compass, but here he's not part of some mythical narrative. He's just another conniving, scheming dirtbag in director E.L. Katz's Coen brothers-like moral universe. While some of the plot details are confusing -- Katz and co-writer Macon Blair skimp on the exposition so much that some of the dialogue can feel incomprehensible -- the mood of Midwestern dread and Coster-Waldau's patient, lived-in performance make this one worth checking out. Despite the lack of dragons.
Super Dark Times (2017)
Set in the '90s, this understated indie psychological horror flick takes as its subject the post-Columbine fear of outsider teenage boys that has only increased in the decades since. Super Dark Times is a suburban thriller that follows a group of teenagers' reckoning in the aftermath of an accident gone fatally wrong, and it's as eerie as they come. It wrestles with toxic masculinity and violence, but it's the film's looming mood and mounting intensity that will send shivers down your spine and make you question how those close to you would react in a crisis. 
Tinker Tailor Soldier Spy (2011)
If a season of 24 took place in the smoky, well-tailored underground of British intelligence crica 1973, it might look a little like this precision-made John le Carré adaptation from Let the Right One In director Tomas Alfredson. Even if you can't follow terse and tightly-woven mystery, the search for Soviet mole led by retired operative George Smiley (Gary Oldman), the ice-cold frames and stellar cast will suck you into the intrigue. It's very possible Oldman, Colin Firth, Tom Hardy, John Hurt, Toby Jones, Mark Strong, and Benedict Cumberbatch are reading pages of the British phone book, but egad, it's absorbing. A movie that rewards your full concentration.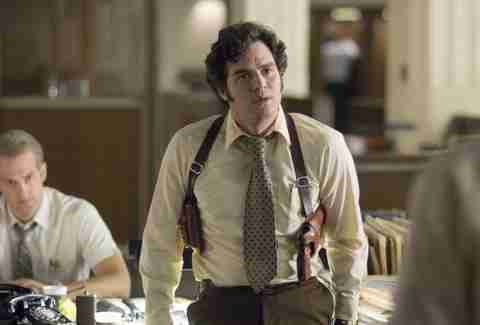 Zodiac (2007)
David Fincher's period drama is for obsessives. In telling the story of the Zodiac Killer, a serial murderer who captured the public imagination by sending letters and puzzles to the Bay Area press, the famously meticulous director zeroes in on the cops, journalists, and amateur code-breakers who made identifying the criminal their life's work. With Jake Gyllenhaal's cartoonist-turned-gumshoe Robert Graysmith at the center, and Robert Downey Jr.'s barfly reporter Paul Avery stumbling around the margins, the film stretches across time and space, becoming a rich study of how people search for meaning in life. Zodiac is a procedural thriller that makes digging through old manilla folders feel like a cosmic quest.
Need help finding something to watch? Sign up here for our weekly Streamail newsletter to get streaming recommendations delivered straight to your inbox.