We could crack wise that this category should be referred to as "Netflix and thrill," or that we're only writing about these kinds of movies because of the name of our website, or that none of these movies features Michael Jackson dancing iconically with a bunch of zombies.
Instead, we'll just say that the thriller category is one of Netflix's most vibrant, and always worth a look as you decide on what to watch on a given night. But since sifting through the section can be anything but thrilling, here are our recommendations for the most watchable stuff currently streaming on there.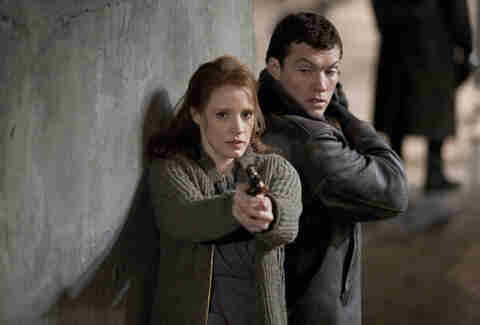 The Debt (2010)
Shakespeare in Love director John Madden's thriller is a spy story stretched across two timelines. In 1965, Mossad tasks agents Rachel (Jessica Chastain), David (Sam Worthington), and Stefan (Marton Csokas) with catching a Nazi war criminal. In 1997, we see the older spies (Helen Mirren, Ciarán Hinds, and Tom Wilkinson) celebrated for their accomplishments -- but not everything's what it seems. Winding through history, Madden's thriller grips until the title debt is paid. High-caliber performances from two generations of actors makes this one a must.
Basic Instinct (1992)
Has any movie ever done more for ice-based weapons? Nineties bad-boy director Paul Verhoeven (Showgirls, Total Recall) gave us this lurid tale of a damaged cop, played with real scumbag glee by Michael Douglas, investigating an icepick-wielding serial killer, but Sharon Stone is the real star of this show. Unlike the late-night premium cable schlock that attempted to steal its sleazy style, this pulp classic has a sense of humor and a Hitchcockian playfulness to go along with all the nudity, violence, and cheesy one-liners.
Nightcrawler (2014)
Jake Gyllenhaal gives a career-best performance in this nocturnal noir, playing the haunted, single-minded Lou Bloom, a scavenger of human suffering whose motives are as twisted and opaque as the seedy LA underworld he inhabits. That's news media for you! Be warned: if you're planning a trip to sunny California, writer-director Dan Gilroy's pitch-black satire will make you see the City of Angels in a whole new light.
Headhunters (2012)
Morten Tyldum's Headhunters is the perfect underappreciated nail-biter for genre purists. Written by Lars Gudmestad and Ulf Ryberg, this Norweigan-Danish import pits a corporate headhunter (Aksel Hennie) against a cunning mercenary-turned-tech exec (hello, Game of Thrones' Nikolaj Coster-Waldau!). The latter becomes the real hunter when Hennie's character steals a valuable piece of art to feed his debt-riddled, luxe lifestyle. It's the type of tense sprint that mixes eye-popping car stunts and executions with shocking hiding spots and betrayals. Its only drawback might be how cynical it'll leave you by the end. Trusting and liking all the morally corrupt characters here are tough, but, still, well worth the ride.
Killing Them Softly (2012)
Brad Pitt doesn't make conventional blockbusters anymore -- even World War Z had epidemic-movie ambitions -- so it's not surprising that this crime thriller is a little out there. Set during the financial crisis and presidential election of 2008, the film follows Pitt's hitman character as he makes sense of a poker heist gone wrong, leaving a trail of bodies and one-liners along the way. Mixed in with the carnage, you get lots of musings about the economy and American exceptionalism. It's not subtle -- there's a scene where Scoot McNairy and Ben Mendelsohn do heroin while the Velvet Underground's "Heroin" plays -- but, like a blunt object to the head, it gets the job done.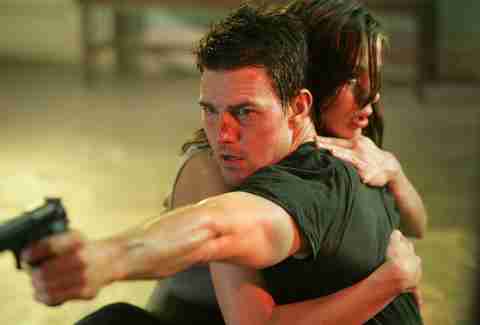 Mission: Impossible III (2006)
J.J. Abrams' trilogy-capper isn't as potboilery as Brian de Palma's 1996 original, but boasts more brains than the blustering Mission: Impossible II, making it the Netflix-ready action-thriller we can safely recommend. Focusing back on the original series' spycraft, Abrams' installment pits Ethan Hunt (Tom Cruise) and the Impossible Mission Force against Philip Seymour Hoffman, one of the most sinister blockbuster villains in recent memory.
The Guest (2014)
After writer/director Adam Wingard notched a semi-sleeper horror hit with 2011's You're Next, he'd earned a certain degree of goodwill among genre faithful and, apparently, with studio brass. How else to explain distribution for his atypical thriller The Guest through Time Warner subsidiary Picturehouse? Headlined by soon-to-be megastar Dan Stevens and kindred flick It Follows' lead scream queen Maika Monroe, The Guest introduces itself as a subtextual impostor drama, abruptly spins through a blender of '80s teen tropes, and ultimately reveals its true identity as an expertly self-conscious straight-to-video shoot-'em-up, before finally circling back on itself with a well-earned wink. To say anymore about the hell that Stevens' "David" unleashes on a small New Mexico town would not only spoil the fun, but possibly get you killed.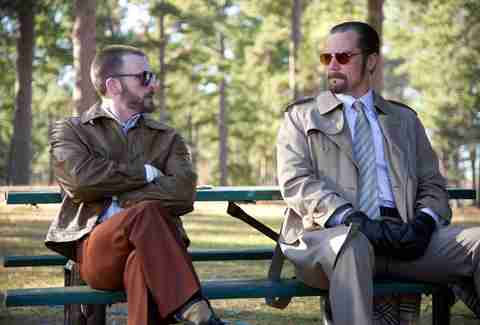 The Iceman (2013)
Michael Shannon gives a menacing turn here as Richard Kuklinski, the notorious real-life contract killer who murdered more than 100 people and earned the nickname "Iceman" for freezing his victims. Based on Anthony Bruno's Iceman book and HBO's Iceman Tapes, Ariel Vromen's film does an impressive job highlighting both of Kuklinski's personae: devoted family man at home, ruthless mobster in the underworld. Chris Evans, James Franco, Ray Liotta, and Winona Ryder also give memorable performances in this almost "too-crazy-to-be-real" bio-thriller. It plays like a good combo of this year's Infiltrator and last year's Black Mass.
Queen of the Earth (2015)
Some movies unsettle by getting under your skin; Queen of the Earth unsettles by messing with your brain. With its single setting and small cast, Alex Ross Perry's delicate tale of two women (Elisabeth Moss and Katherine Waterston) on a trip to a lake house has the broad outlines of a familiar Sundance chamber drama, but it quickly reveals itself to be something far more sinister and thought-provoking, a deep dive into paranoia and identity. Riffing on Robert Altman's 3 Women and the early films of Roman Polanski, the movie is the rare puzzle movie where you don't even mind that a few pieces are missing.
Devil (2010)
This is essentially a terrifying game of "one of these things is not like the others," with a few humans and one devil. Helmer John Erick Dowdle preys on your elevator-claustrophobia nightmares while -- thanks to the help of Brian Nelson and M. Night Shyamalan -- unraveling a gripping yarn tinged with Saw-esque retribution. Don't worry: it's more exciting and less gimmicky than Buried.
The American (2010)
WARNING: trailers sold George Clooney's Euro-thriller as a high-octane shoot-'em-up fueled by A-list talent. Whoops -- not even close (so apologies to anyone who felt burnt during its lackluster theatrical run). The American is a steamy slow-burn about an assassin's last job, as obsessed with Clooney's mysteriously handsome mug as it is the whodunnit mystery. By lingering on every move, fetishizing each step in a rifle build, The American turns its bursts of excitement into life-or-death action sequences. What didn't work in theaters will pair beautifully with your couch and three bottles of wine.
Man from Reno (2014)
Compared easily to everything from Hitchcock's Vertigo, No Country for Old Men, and classic detective noirs, Man from Reno is a moody mystery thriller shot on a budget. The subdued style only heightens the tension as crime novelist Aki (Ayako Fujitani) descends into the underbelly of San Francisco. Just when you think you've cracked the twisty plot, Man from Reno drives you back into the fog. This is modern pulp without the Tarantino-esque name-checking.
Sign up here for our daily Thrillist email, and get your fix of the best in food/drink/fun.
Other Stuff You'll Like In Stream On