Netflix Reveals Which Shows People *Actually* Binge-Watched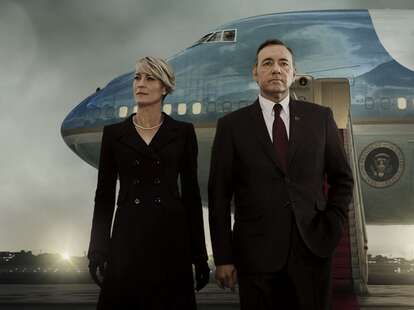 Netflix keeps its data cards notoriously close to the vest. Like other big-name streaming services, its viewership numbers and "ratings" -- especially for original programs like Love, House of Cards, and Making a Murderer -- are regarded as secrets, off-limits from the likes of entertainment media and consumers. Today, however, the red giant released a "Binge Scale," giving a peek at the kinds of shows users devour (read: really binge) and savor (read: don't really binge). In other words, it's still not a look at viewer numbers, but it does shed rare light on viewer behavior in relation to genre and title:
Netflix generated the results by analyzing how quickly people finished more than 100 TV titles in roughly 190 countries between last October and May. As detailed above, users spend more time with irreverent comedies, along with political, superhero, crime, and historical dramas. There's more urgency, however, when tackling dramatic comedies, sci-fi series, action-adventures, horrors, and thrillers. BoJack Horseman was most "savored," for example, while The Fall was most "devoured."
The global study, announced by press release, found that users could down any season, on average, in five days. But those who devoured a show typically watched for more than two hours a day over a period of roughly four days, and those on the opposite side of the scale opted for fewer hours and more days. "As the 'Binge Scale' indicates, the viewing experience of a series can range from the emotional to the thought-provoking," Cindy Holland, Netflix's VP of Original Content, said in a statement. "Netflix helps you to find a series to binge no matter your mood or occasion, and the freedom to watch that series at your own pace -- whether that's to appreciate the drama of Bloodline or power through Orange Is the New Black."
That's one nice byproduct the above info provides: a frequency-recommendation scale. Is the next show you want to hit one you want to rip through, or one you'd prefer to bask in? Others on the devour side include Dexter, Breaking Bad, American Horror Story, The Walking Dead, Prison Break, and Weeds; the savor side favors Arrested Development, Unbreakable Kimmy Schmidt, The West Wing, Peaky Blinders, Better Call Saul, and Marvel's properties.
Some selections might come as a surprise (we're looking at you, BoJack and AD), indicating, namely, that shorter episode-length doesn't always translate to faster season completion. It's true that "complex narratives, like that of House of Cards and Bloodline, are indulged at an unhurried pace," the broadcaster explained in its release. But "maybe less obvious are irreverent comedies like BoJack Horseman, Love, and Unbreakable Kimmy Schmidt. ... The societal commentary that powers their densely layered comedy paired with characters that are as flawed as they are entertaining allow them to be savored." Sure, Netflix shows can be consumed quicker than typical cable or broadcast gems, but, as the scale underlines, don't expect to binge all hit streaming series with the type of enthusiasm that craters your couch.
Sign up here for our daily Thrillist email, and get your fix of the best in food/drink/fun.

Sean Fitz-Gerald is a staff writer at Thrillist Entertainment. Find him on Twitter: @srkfitzgerald.