How the Ending of Netflix's 'Unorthodox' Depicts an Astonishing Act of Rebellion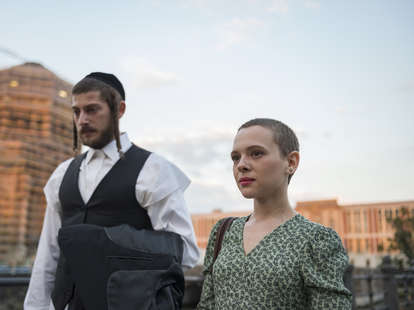 Netflix
Netflix
This post contains spoilers for Unorthodox.
In the middle of Netflix's miniseries Unorthodox, there's an extended sequence of a lavish wedding in the Hasidic Jewish tradition. It's shot beautifully and the characters on-screen are joyous, but there's a sense of dread hanging over it. The show, loosely adapted from a memoir by Deborah Feldman, follows Esty (the remarkable Shira Haas), a 19-year-old who flees her marriage and the restrictive Satmars in Brooklyn for Berlin, where she has a right to citizenship through her maternal grandparents. Co-written by Deutschland 83's Anna Winger, Unorthodox is a coming-of-age story that's not about a rejection of faith as much as it is about finding faith in new communities. When it finally reaches the shattering finale, there's a callback to that earlier wedding celebration that's an extraordinary and almost hidden inversion of what came before.
The narrative jumps back and forth in time, depicting Esty's early experiences in Germany in tandem with the events in New York that lead to her escape. So as we see Esty fall in with a crowd of worldly young musicians, we also see her married off to Yanky (Amit Rahav) and his subsequent anger when her vaginismus makes it appear as if she won't be able to immediately bear children, as is expected of her. Esty learns she is pregnant just as Yanky asks for a divorce, and takes that as her cue to get away.
In the final episode, the timelines converge as Esty auditions for a scholarship that could guarantee her a future pursuing music in Berlin. Having been told by one of her new friends that she doesn't have the skills as a pianist -- despite having taken secret lessons back in Brooklyn -- Esty chooses to sing. She first performs Schubert's "An die Musik," which she picks because it was a favorite of hers and her grandmothers. "An die Musik" is quite literally an ode to music, and is a fitting choice for Esty, for whom music is a lifeline. But her voice doesn't quite match it.
When she's asked to perform another piece, she momentarily looks at a loss. Then, in a strong chest voice, she starts to sing in Hebrew. The tune, which is never identified by name, is "Mi Bon Siach," heard at weddings when the bride and groom are under the chuppah. It's a melody that played when Esty and Yanky were getting married in the second episode, and Esty's choice of it resonates with both rebellion and irony. It's a song that should signify her bond to a man, but she's turning it into something that can extricate her from that bond, using a voice that she wouldn't have been able to use in her former world where women's singing is prohibited. In Haas' mouth, it almost becomes a torch song. Her eyes are closed as she lets it take over her body. Yanky watches her from a corner of the auditorium as she performs what is both a rejection and embrace of her past.
In the subsequent scene, another reversal: As Yanky begs her to come back, he takes a scissor to his peyot, the curls that Hasidim wear alongside their faces. In accordance with the tradition that married women should hide their hair from anyone besides their husbands, Esty had her head shaved. In that sequence, Haas has both trepidation and euphoria on her face. At that moment, shedding her hair represents a future. Now it's Yanky who is shearing his locks in an effort to win her over.
But she doesn't go back to him. She walks away and goes to a cafe where she opens a crinkled envelope containing the only belongings she brought with her to Berlin. She fiddles with a compass as she sees her friends approach from a distance, evidence that she's found an accepting family.
Unorthodox doesn't put a fine point on Esty's story. We never learn, for instance, whether she is granted the scholarship or what becomes of her and her unborn child in this unfamiliar city. The series is about a woman at a crossroads. And when it ends, after four gorgeous episodes, she's still in that place of transition, but pointing in a direction that signals comfort, security, and freedom.
Need help finding something to watch? Sign up here for our weekly Streamail newsletter to get streaming recommendations delivered straight to your inbox.