Netflix's 'Wormwood' Is a True Crime Binge-Watch with a Government Conspiracy Twist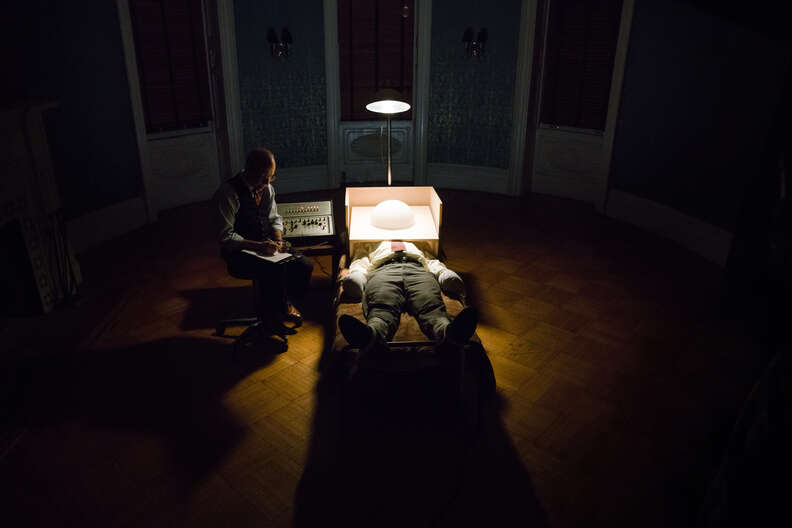 In 1953, a man died after plunging from his 13th-floor hotel window. Was it an accident? Suicide? Murder? Over the course of the last 64 years, each of these potential causes has been the government's given and/or history"s believed "truth." The man, Frank Olson, worked for the CIA as a biological warfare scientist. Eventually the organization admitted that Olson was part of the notorious "MKUltra" experiments which dealt with LSD and dreamt of mind control. Olson's negative reaction to the drug is allegedly what led him to take his own life. But while MKUltra has been a favorite topic for conspiracy theorists for decades (not to mention a basis for Netflix"s Stranger Things) the more apt theory for Olson's death is that the shady government program was not a factor but a red herring.
Errol Morris, the Oscar-winning documentarian behind such renowned films as The Fog of War and Gates of Heaven, explores the Olson case in a new, six-part Netflix miniseries Wormwood. The keystone of the episodic documentary is an interview with Frank's son Eric, while Morris dramatizes Frank"s final days in scenes starring acclaimed actor Peter Sarsgaard (Garden State). The docudrama format is nothing new, but typically the acted-out parts of such films and series employ no-name performers and are considered "reenactments" of how things truly happened. Just as in his true-crime classic The Thin Blue Line (also on Netflix), Morris is more interested here in showing possibilities rather than actualities.
The difference with Wormwood is that Morris' cast not only includes Sarsgaard, but famous faces Tim Blake Nelson and Bob Balaban as well as recognizable Netflix regulars like Molly Parker, Christian Camargo and Jimmi Simpson (all of House of Cards) and Michael Chernus (Orange is the New Black). The troupe elevates the dramatizations with their talent in a few lengthy moments, all of them just whiffs of what could have been a straight-yet-stylish Cold War thriller, though their benefit is mostly in how their familiarity draws viewers' attention more closely to these kinds of sequences than usual. This isn't an equal-measure hybrid -- the dramatization is still entirely in service to the traditional documentary half of the program -- but everything on screen, including also archival material and scenes from Hamlet to draw Shakespearean parallels, is an important piece of a meticulous cinematic collage meant to reflect the fragmented mind.
That's a fitting way of looking at the structure of Wormwood considering Eric Olson was himself a pioneer in the use of collage for therapy, and this miniseries seems in part to be a kind of remedy for his lifelong trauma and obsession over the mysterious death of his father. Above its own interests in getting to the bottom of why Frank Olson fell or jumped or was thrown 13 stories to the New York City sidewalk, Wormwood is focused on Eric and his neverending pursuit of the truth. It's the latest in a trend with documentaries about old true-crime cases and the person(s), typically of close relation to the deceased, who have devoted all their free time to a personal investigation of a murder (see The Witness and The Keepers, both also on Netflix).
Wormwood takes a while to get going and might overall feel too long for the story it's telling, but the four-hour running time is important in echoing the many years of scrutiny involved. Every couple of decades, through lawsuits and congressional hearings and exhumations and visits to the White House, there would be new, real-life plot twists and revelations. A lot of the time is also taken up by reiteration and reconfiguration, as Morris slowly but carefully gets us to see the obvious. The truth about Frank Olson's death is more easily deduced than proven, which makes this program feel relevant to current government conspiracy presumptions.
Throughout his career and his esteem as one of the greatest documentaries of all time, Morris has displayed a fascination with people and perception. His interview with Eric Olson, though not the only testimonial or interrogation, is central in a way that recalls his more one-on-one films (clips of Donald Rumsfeld help to particularly evoke his 2013 feature about the former Secretary of Defense, The Unknown Known, which could have been a proper title for this doc), while the dramatic scenes are reminiscent of The Thin Blue Line and Standard Operating Procedure. Though Wormwood might not be his greatest work, nor his most groundbreaking, it is a confluence of his methods, making it a sort of pinnacle effort in the evolution of his craft and of the true-crime genre in general.
Morris is best when he makes us question the accepted resolutions of a story and leaves us with alternative and often more certain conclusions (as in the revelation of the true killer at the end of The Thin Blue Line), even if those conclusions aren't established as fact. This time, among the many things he presents to viewers, including a portrait of Eric Olson and a crime drama with overtones of journalistic complexity, the filmmaker delivers implications of the unsettling probability that the government is even more conniving than the most paranoid citizen has ever previously imagined. That conspiracy theories could themselves be a cover-up conspiracy is Morris's most satisfyingly bitter ending yet.
Sign up here for our daily Thrillist email and subscribe here for our YouTube channel to get your fix of the best in food/drink/fun.
Christopher Campbell is a freelance film editor and critic, and the founder of the documentary review site Nonfics. Follow him for opinions of all sorts of movies @thefilmcynic.