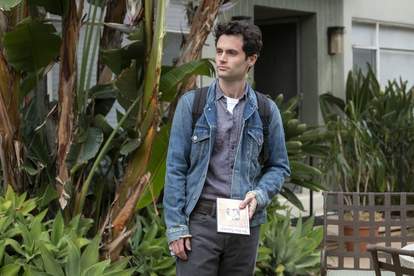 Everything We Know About Netflix's 'You' Season 3
After Netflix snatched You from Lifetime's clutches a year ago, the show about a murderous psychopath addicted to crushing on helpless women he meets (stalks) through America's greatest metropolises became a massive hit, spawning a second season and a new cast of characters, including a new lady for Joe (Penn Badgley) to obsess over named Love Quinn (Victoria Pedretti). If you've finished the second season, you know that Love saved Joe from going to prison because she, too, is a murderous psychopath -- holy shit!! -- and by the finale's denouement, the two expectant(!!) lovebirds were chilling in manicured suburban bliss. 
That is, until Joe peeps through his artfully cracked backyard fence and sees the charming back of what must be a charming head, just begging to be locked, along with its body, inside the murder aquarium that I would be surprised if Joe wasn't keeping in his basement. The final scene seemed like a definitive promise of more to come, which, naturally sparks many questions about the future of the show. We have some answers.
Has You been renewed?
Yes! Netflix announced January 14 that its creepily addictive show will be coming back for another season, which is bad news for every woman Joe Goldberg comes into contact with, but great for the rest of us. Bring it on. 
When does it hit Netflix?
There's no exact date, but Netflix did say that the show would drop sometime in 2021 -- perhaps around January, which is when everyone has been watching the show anyway, because of its post-Christmas release. 
Which book will it be based on?
The first two seasons of You were based on Caroline Kepnes' novel, also titled You, and its sequel, Hidden Bodies. She's currently working on a third one, but we don't know yet how much of the show will follow that book's plot. Bracing ourselves for a Game of Thrones Seasons 6-8 situation….
Who's Joe's new victim?
We don't know! As far as anyone has said, she hasn't been cast, and all we saw of her was some wavy hair and a sundress lounging on a backyard lawn, deep in the pages of some book Joe probably has at least one opinion about. 
Is Joe finally walking the straight and narrow after spending a season trying to rehabilitate himself?
Signs point to no.
Can we pleeeeease crush on Joe, who is objectively hot and also a narcissistic murderer, without it being problematic and creepy?
No!
Need help finding something to watch? Sign up here for our weekly Streamail newsletter to get streaming recommendations delivered straight to your inbox.
Emma Stefansky is a staff entertainment writer at Thrillist. Follow her on Twitter @stefabsky.