Everything We Know About Netflix's 'You' Season 3
Joe and his creepy, murderous ways are coming back very soon.
After Netflix snatched You from Lifetime's clutches in 2018, the show about a murderous psychopath addicted to crushing on helpless women he meets (stalks) through America's greatest metropolises became a massive hit, spawning a second season and a new cast of characters, including a new lady named Love Quinn (Victoria Pedretti) for Joe (Penn Badgley) to obsess over. If you've finished the second season, you know that Love saved Joe from going to prison because she, too, is a murderous psychopath—holy shit!!—and by the finale's denouement, the two expectant(!!) lovebirds were chilling in manicured suburban bliss.
That is, until Joe peeps through his artfully cracked backyard fence and sees the charming back of what must be a charming head, just begging to be locked, along with its body, inside the murder aquarium that I would be surprised if Joe wasn't keeping in his basement. The final scene seemed like a definitive promise of more to come, which, naturally, sparked many questions about the future of the show. We have some good news.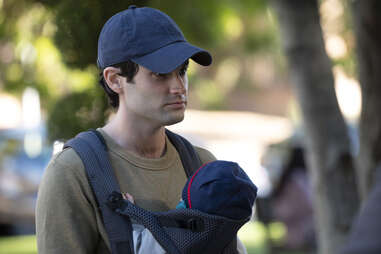 When does You Season 3 hit Netflix?
You, we're so excited to have you back. Netflix announced at the end of August that Season 3 of You will drop on Friday, October 15, just in time for spooky season, with an accompanying teaser that suggests that this season will be all about fatherhood—specifically, one father's mission to make sure his new son doesn't turn out to be as creepy as he is.
Is there a trailer for You Season 3?
Yes, and, (baby) boy, is it a doozy! The trailer starts off with Joe and Love welcoming their bouncing baby into the world, seemingly showing an all new, fatherly Joe. He's willing to do anything for that little bundle of joy—even move to "the soulless suburbs" and "marry the monster." Despite hating his toxic partner Love, the two seem set on trying to make some semblance of a normal marriage work and forget their murderous pasts, as one does. Obviously, that doesn't look like it'll be so easy: There's already a tease of Joe's latest creepy obsession with the woman next door and quite a bit of murder in the trailer! There's blood, body bags, and shots of them hiding the evidence—so the full works! Basically, it looks like we're in for the darkest season yet.
Which book will it be based on?
The third one, You Love Me, was recently published in April 2021. It's unclear how closely the new season will follow it, but based on what we know about the upcoming season so far, it seems pretty likely. The novel is said to follow Joe as he's moved on from Love (!?) and takes up a new job as a librarian where he (of course, unfortunately) meets and becomes obsessed with one of his coworkers, librarian and single mother Mary Kay. The plot description says Joe's committed to not meddling and not being obsessive, and wants to win her over "the old-fashioned way… by providing a shoulder to cry on." Knowing Joe, sounds unlikely!
It's possible that the series will depart from the books, but it sounds like we're in for a bit of a mash-up situation with ideas inspired by the source material informing Season 3.
Who is in the cast?
The show has confirmed that both Badgley and Pedretti will be returning, since both of their characters are happily alive at the end of Season 2.
We could also see some familiar faces returning—Season 2 did bring back Beck (Elizabeth Lail), after all, and she's extremely dead. "Ellie (Jenna Ortega) is still in Joe's life," showrunner and co-creator Sera Gamble told The Hollywood Reporter. "He's sending her money. She hates him, but he is sending her money. So that door remains open for us. And as you saw in Season 2, I mean Beck was dead and she came back. One of my favorite things to do is bring back a dead person to haunt you. So the door is wide open for everybody's favorite characters."
Dr. Nicky (John Stamos) even returned to Season 2 for one very pivotal moment. Anyone could pop back up in Season 3!
Someone we do know will be back and will see even more of is Saffron Burrows, who plays Love's mother, Dottie, and was previously billed as reoccurring, but has been upped to a series regular. Deadline reported her return in mid-November 2020, saying that, now that her son is gone, she's focusing all of her energy on her daughter and her bun in the oven.
Are there any new cast members?
Since Joe tends to get himself mixed up with a different crowd of poor, unsuspecting people each season, it's safe to assume he (and Love now!) will put up a front and terrify some new faces for round three. In October 2020, Deadline announced the first crop of new cast members, including Travis Van Winkle (The Last Ship, Instinct) and Shalita Grant (Search Party). Van Winkle is said to play Cary, "a wealthy, charismatic, and self-proclaimed 'Master of Self-Optimization' who runs his own supplement company and invites Joe into his inner circle."
That stereotypical, over-the-top kind of character definitely isn't unfamiliar to the world of You, and it sounds like that's the sort of person Grant is playing, too. She's said to take on Sherry, "a locally famous 'Momfluencer'" who appears warm to her followers but is actually quite cruel. According to Deadline, she supposedly clashes with Love and only "pretends" to welcome her into her exclusive circle.
Deadline named a few other You newbies in November 2020, including Shannon Chan-Kent (Woke) and Chris O'Shea (Madame Secretary) who are playing Kiki and Andrew, some of the gossipy parents in that circle. They also shared Kiki's husband Brandon, a wealthy tech investor, is played by Christopher Sean (Hawaii Five-0), and Bryan Safi (9-1-1) plays Andrew's attorney husband Jackson.
Some other interesting announcements made by Deadline include two new series regulars played by Dylan Arnold (Halloween) and Tati Gabrielle (Chilling Adventures of Sabrina). They said Arnold is taking on Theo, a troubled college student who has problems with his family and substance abuse, and Gabrielle will play Marienne, a self-aware librarian who won't put up with her privileged neighbors but faces her own struggles under her hard exterior. Ben Mehl (The Good Wife) will presumably appear opposite Gabrielle's Marienne a bit, as he's playing another librarian named Dante, who's also a veteran and happily married family man. It sounds like Marienne will be critical of the crew Joe and Love seem to be running with, and a character played by Crazy Ex-Girlfriend's Scott Michael Foster might be, as well. TVLine covered his casting in January 2021, saying he's portraying Ryan, a local TV reporter and recovering addict who tends to be controlling in his relationships of "anyone who gets in his way."
Additionally, it's announced that Mackenzie Astin (The Magicians) plays Gil, an innocent geology professor, Ayelet Zurer (Daredevil) portrays Dr. Chandra, a couple's therapist, and Jack Fisher (NCIS) will be a child version of Joe. While Season 2 gave us a little insight into his background, according to Deadline in Season 3 we'll learn even more of the makings of this serial killer, showing him in a boy's home where he's mistreated. (But remember: Try not to have too much sympathy for him!)
Basically, it sounds like we're in for yet another season of everybody on this show annoying the hell out of us—we can't wait.
Who's Joe's new victim?
At the end of Season 2, fans got a first look at the latest cutie in Joe's life: his new neighbor. It was only a quick glimpse, but enough to get fans excited for what's coming next by showing some wavy hair and a sundress lounging on a backyard lawn, deep in the pages of some book Joe probably has at least one opinion about. Fan theories about her identity swirled for months, but in November 2020 we finally got a little more insight into who she was.
Deadline shared that Michaela McManus (Aquarius, The Vampire Diaries) is joining the cast as Natalie, the (unfortunate) next door neighbor to Joe and "subject of his growing fascination." She's said to be very successful and married to a powerful man, but unhappy and not blind to the shallowness of her community. Deadline wrote that she leads a secret life and it's "one that Joe is willing to work hard to learn more about."
Is Joe finally walking the straight and narrow after spending a season trying to rehabilitate himself?
Signs point to no.
So, what will Season 3 be about?
Maybe this time around, Joe will figure out how to be a well-adjusted human being, now that he's settling into a familial suburban lifestyle with an expectant Love. Probably not, though. Based on that final shot of Joe casting his eyes on who will almost certainly be his next stalking victim, and the fact that he literally would've murdered Love if she hadn't revealed she's pregnant with his child, it seems like we're in for another wild, thrilling season—and now that the serial killer we love to hate has met his equally as problematic match, he could reach his breaking point.
If it's not the fact that projecting his desires onto relative strangers isn't working out for him, it might be that he lives with someone who could drive him to insanity. Showrunner Sera Gamble pointed out to The Hollywood Reporter that, with his new crush-worthy neighbor, the upcoming season is set up in a way where Joe is going to keep falling into his same old patterns, even if they've been nothing but failure. "Joe is still Joe in a way that's not going to be great for Joe," she said. If he wasn't angry enough already, this next presumptive heartbreak might be what does it.
That, or his nightmarish shacking up with Love. Based on the casting news for Season 3, it seems like the two will at least attempt to figure out how to fit into a seemingly normal life, with Love preparing for the arrival of their baby. Chances are, any attempt at non-murderous normalcy for these two won't go so well, so if they're not killing strangers, they could (literally and figuratively) kill each other. Penn Badgley even told TVLine, "Basically, it's set up for Season 3 in a way where [Joe and Love] would be each other's arch nemesis."
Whatever happens, it looks like it'll be set in a suburban setting where everything is not as sunny as it seems, only adding to the series' creepiness.