Everything We Know About Season 2 of Netflix's 'Never Have I Ever'
We needed more and it's coming soon.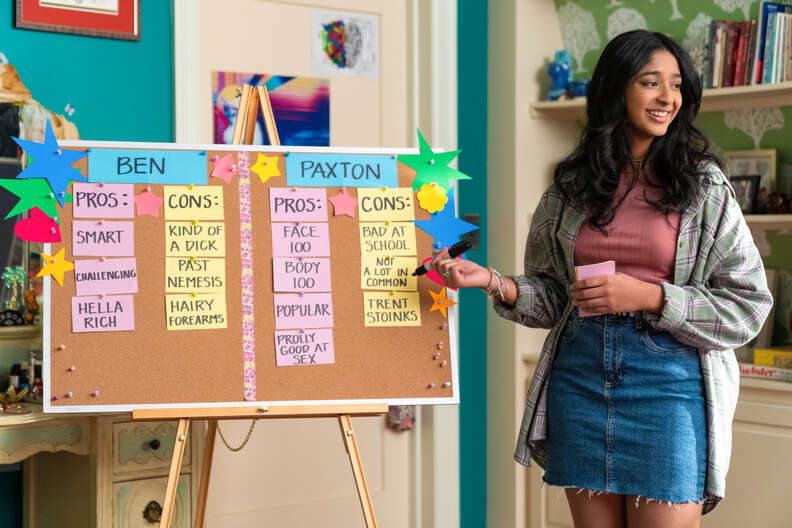 Netflix
Netflix
Those who binged Mindy Kaling's Never Have I Ever last April know that the ending of the first season also marks the beginning of a love triangle for our heroine Devi (Maitreyi Ramakrishnan). In the final moments of the finale, Devi is making out with her former nemesis Ben Gross (Jaren Lewison) while her former crush Paxton Hall-Yoshida (Darren Barnet) calls her to make amends.
Of course, Never Have I Ever is not only worth watching for the romantic plot. In its first 10 episodes, the series managed to balance a sweetly sad thread about Devi's grief over the death of her father with an astute exploration of her Indian identity and throw all that teen drama on top of that. So let's figure out what's next. In the meantime: Are you Team Ben or Team Paxton?
Will there be Never Have I Ever Season 2?
Yes! The cast made a very cute announcement that was posted to Instagram on July 1, 2020, that the show will indeed be coming back for more. The video also gives us a chance to check in on everyone during quarantine.

When does Season 2 premiere?
July 15 on Netflix.

Is there a Season 2 trailer?
Yes, and it promises a lot of drama when Devi decides to date both Ben and Paxton, assuming she's moving to India and won't have to deal with the fallout.
So, everything's working out great for Devi going forward, right?
Not so fast. Sure, Devi is kissing boys and has made at least temporary peace with her mother, but Kaling cautioned that it won't be entirely smooth sailing. "I feel like life is really hard for most people, and just because she has a promise of something good, doesn't mean that that's necessarily going to happen," she told Collider. "She's still a really flawed character who could mess things up. So we wanted to keep the door open for next season, to wait to see those two situations would pan out."
Talking with Variety, Ramakrishnan has more on her mind for her character than just boys. Describing her wishes for another season, Ramakrishnan said she wants Devi to make things right with her mom and friends, deal more thoroughly with her grief over her dead dad, and embrace her culture. "I think if Devi does those magic three, she might be a little bit more at peace with herself," she concluded.

Will John McEnroe be back as narrator?
One of the most odd and delightful elements of Never Have I Ever is that it is narrated by tennis legend John McEnroe—and he's coming back. He was totally game for it in an interview after the first season aired. "That'd be great," he told Entertainment Weekly. "I'm getting people I haven't heard from for years saying, 'I heard you on Never Have I Ever,' which has been nice. Also, people of different ages. Some of that has to do with us all being stuck in our houses but from all different walks of life, younger people and kids up to old farts like myself. It's been a nice combination..."
Another season also means more chances for other celebrities to drop in as narrators for standalone episodes, like Andy Samberg did when recounting the lonely life of Ben Gross. That said, plans recently hit a snag when it was reported that Chrissy Teigen had dropped out of doing a voiceover following the revelations that she had bullied Courtney Stodden online when they were just a teenager.
Will there be new characters?
For sure—the above video served as an introduction to Megan Suri, one of the new additions to the cast. It seems like Suri will not play Devi's new BFF, at least not immediately. Her character's "confidence and radiance" is an "immediate threat" to our heroine. Utkarsh Ambudkar has also been cast as the cool English teacher at Devi's high school, while P.J. Byrne will play a research assistant at Caltech who becomes a rival for Devi's cousin Kamala (Richa Moorjani). The biggest celebrity producers have tapped so far is Common as a "a suave and debonair dermatologist." He crosses paths with Devi's mom (Poorna Jagannathan) in her office building.
Need help finding something to watch? Sign up here for our weekly Streamail newsletter to get streaming recommendations delivered straight to your inbox.