You Can Now Watch One of the Best Movies of the Year at Home
'Never Rarely Sometimes Always' is a must-watch.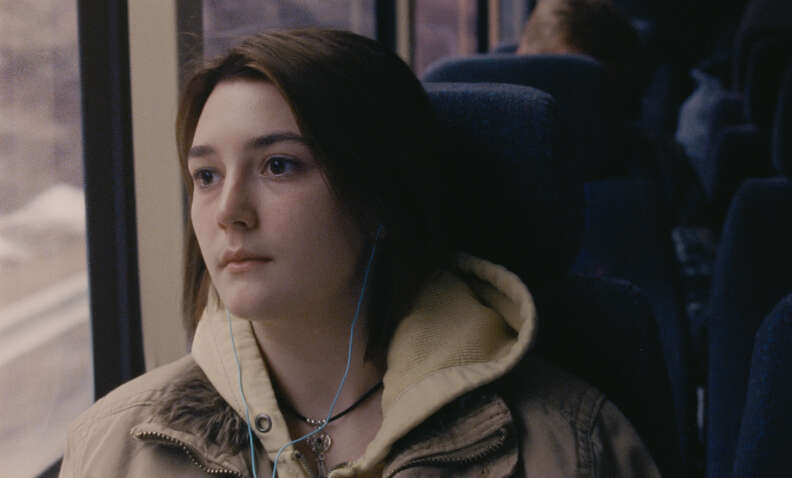 Focus Features
Focus Features
After watching the premiere of Eliza Hittman's austere and wrenching Never Rarely Sometimes Always at the Sundance Film Festival back in January, I was sure I'd seen what would inevitably be one of the best films of the year. In the drama, a pregnant teen Autumn (Sidney Flanigan) travels from her hometown in rural Pennsylvania to New York City to obtain a legal abortion. She's joined by her cousin Skylar (Talia Ryder) and they quietly brave the unfamiliar landscape with stoicism as trauma encircles them.
The movie was scheduled to be released March 13, right when theaters across the country began shutting down in order to comply with social distancing orders. Now, less than a month later, you can rent Never Rarely Sometimes Always on VOD for $9.99.
"My preference would obviously be to have had a robust theatrical release, but none of us knew when that would be possible. This seems like a reasonable alternative," Hittman says speaking by phone this week. She's in New York, where she apologizes for the steady stream of sirens over the line.
Universal, which owns the film's distributor Focus Features, was one of the first studios to announce that it would be making movies that were currently playing in theaters available at home. While The Hunt, The Invisible Man, and Emma. were among the first wave of titles, I was hoping that Never Rarely Sometimes Always would eventually be joining them -- and it did. It's a movie that shouldn't disappear. It's also one that transforms in the new landscape we're presently occupying.
With New York essentially shut down, Never Rarely Sometimes Always' portrait of a busy and often cold city takes on a new resonance. Barely articulating their plans, Autumn and Skylar get on a bus with an overly large suitcase and little else. As they bounce between Planned Parenthood locations in Brooklyn and Manhattan, they live as transients, their home base becoming the especially grim Port Authority. Hittman's two previous features, Beach Rats, streaming on Hulu, and It Felt Like Love, streaming on Prime, both take place in Brooklyn summers.
"I always knew that I wanted [Never Rarely] to take place in the winter, because I wanted the weather to be another obstacle," Hittman says. "In conceiving of it, I felt like somewhere along the way my logic became that Port Authority was as much of the city they ever got to experience and it becomes a microcosm for the city. It becomes a safe place for them to be at night until they are kicked out. They are not there to be tourists and that's the reality. They are there to find the right clinic. I don't think New York is such a pleasurable place to visit for everyone." The cumbersome luggage was a detail Hittman picked up from a magazine article that revealed women "always overpack" when they arrive in the city for abortions. "It became symbolic for the burden of having to take this journey alone," Hittman adds.
Hittman worked with Planned Parenthood throughout the process of writing Never Rarely. The depiction of Autumn's treatment by the organization is starkly realistic -- neither particularly glamorous nor bleak, but worlds away from the anti-abortion propaganda she's bombarded with when she visits a doctor back in Pennsylvania. In that sense, the film becomes a portrait of how limited healthcare is in the U.S., especially for women. "I was thinking about all the vulnerable people in this country who don't have access," Hittman says.
And while Autumn and Skylar don't speak much, we get a full sense of who they are through their little gestures. Autumn disappears into music. Skylar refreshes her makeup even in the most desperate of circumstances. "I felt it was really important to reinforce that there is such a deep stigma in this country around talking about things like teenage pregnancy and abortion that I felt like I always knew part of the rules and logic of the script was that they couldn't talk about it, but that they knew and could understand and support each other through this experience," Hittman says.
As for how people consume the film now in the privacy of their homes, Hittman just wants it to get to the same audience for which it was always intended: Young women. "First and foremost, I hope young women discover it, young women in this country who would identify with the main character, obviously. It's an ongoing conversation that we keep having about how we can reach them."
Need help finding something to watch? Sign up here for our weekly Streamail newsletter to get streaming recommendations delivered straight to your inbox.