Amazon Is Finally Coming to Your Apple TV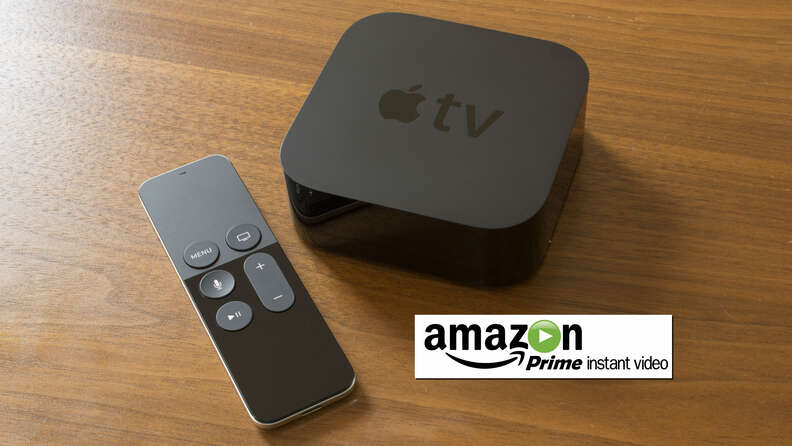 Apple/Amazon
Apple/Amazon
You might have missed it between the headline-grabbing campaign to overhaul the grocery industry and the monthly salvo of presidential tweets aimed at the Jeff Bezos-owned Washington Post, but Amazon Prime Video has quietly become a leading contender for the best streaming services money can buy. Despite Netflix's ubiquity in the on-demand entertainment world, Amazon's library touts a robust collection of movies, a well of classic TV, and a handful of originals that range from whatever to OK-maybe-you're-on-to-something.
And now it's even better than before: Amazon Video is officially coming to Apple TV. For some of us, this is bigger than an iPhone X announcement. Yes, really.
For a selection of users, jumping over to the Amazon platform to experience the better-than-expected content has always been something of a chore. If you're a Roku user, a laptop-in-bed stalwart, or a gamer (the latest XBox and Playstation consoles support Netflix and Amazon Prime), you're probably unaware of the plight of the Apple TV user, who requires either an additional device in order to stream Amazon on the TV, or shrugs off the platform completely because, man, flipping between plug-ins is a hassle!
In June, Apple and Amazon teased the microconsole addition at the annual WWDC event, and now it's official: Amazon's originals and movie library are coming to the Apple TV before the end of 2017. "Apple TV has changed the way we watch TV," Tim Cook said before the big reveal. Sure, but with a little help from the streaming services.
Apple also announced that a new, 4K-ready Apple TV would be available for order on September 15. For those who don't talk techie: 4K resolution offers four-times the number of pixels as HD resolution, and in the case of Apple's unit, sports "high dynamic range" visuals offering eye-popping color. Of course, to take advantage of such an innovation requires 4K movies or TV shows. Netflix, Apple's iTunes, and Amazon all have "ultra HD" options, so if you upgrade to the new unit, prepare for The Man in the High Castle to look absolutely sick. (And bonus: whatever movies you bought off iTunes will be automatically upgraded to 4K in tandem with the hardware hike.)
The company says the 4K Apple TV's new CPU will run twice as fast with the graphic interface of TV OS running at four-times the speed. The time-wasting days of flipping between Netflix and Amazon are over.
Pre-orders for the new Apple TVs start on September 15 and ship on September 22.
Matt Patches is the Executive Entertainment Editor of Thrillist. He previously wrote for Grantland, Esquire.com, and Vulture. Find him on Twitter @misterpatches.