Every New TV Show and Movie Hitting Disney+ in July
House of Mouse classics, new shows, and so much more.
Disney+ has quickly become the one-stop streamer for all things nostalgia and fandom. With classic and underrated movies and shows from the House of Mouse's sprawling library, as well as Disney's new franchise programming for Marvel and Star Wars, the streaming service has something for everyone. While Disney+ undoubtedly already has an expansive collection, similar to the likes of Netflix, Amazon, Hulu, and HBO Max, the streaming service drops a handful of new titles each month. Below, find everything coming soon in the new month, and what just arrived the month prior.
What's the best series coming to Disney+ in July?
Throughout July, new episodes of Ms. Marvel continue, leading up to the July 13th finale. And then because you're going to need another show to watch, Disney+'s original series High School Musical: The Musical: The Series is coming back for Season 3 at the end of the month. This season will be set at summer camp, but if you were hoping for former star Olivia Rodrigo's character Nini to play a major part in the season, we have bad news: She's stepped down to be just a guest star on the comedy. See what other movies and shows are becoming available below.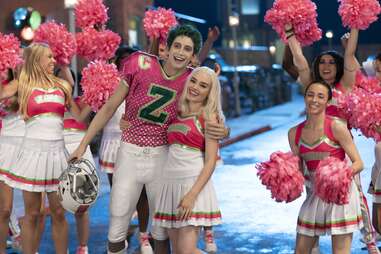 Full List of What's New on Disney+—July 2022
Available July 1
The Birth of Big Air
50 Shades of Sharks
The Good, the Bad, the Hungry
Hawaiian: The Legend of Eddie Aikau
Marvel Studios Assembled: The Making of Doctor Strange in the Multiverse of Madness (Disney+ special)
Raging Bull Shark
Slaying the Badger
World's Biggest Tiger Shark?
World's Biggest Great White?

Available July 4
America the Beautiful (Disney+ docuseries)

Available July 6
PJ Masks, Season 5

Available July 8
The Wonderful Summer of Mickey Mouse, Premiere (Disney+ series)

Available July 13
Chibi Tiny Tales, Season 1
Life Below Zero: Next Generation, Season 4
Ms. Marvel, Finale (Disney+ series)
Spidey and His Amazing Friends, Season 1

Available July 15
Explorer: The Deepest Cave
Zombies 3 (Disney+ movie)

Available July 20
​​Mira, Royal Detective, Season 2
Siempre Fui Yo (Disney+ series)
Tudo Igual... Só Que Não (Disney+ series)

Available July 27
High School Musical: The Musical: The Series, Season 3 premiere (Disney+ series)
Light & Magic (Disney+ series)
Full List of What's New on Disney+—June 2022
Available June 1
Club Mickey Mouse Malaysia, Season 4 (Disney+ series)
A Fan's Guide to Ms. Marvel (Disney+ special)
Glee, Seasons 1-6
Mickey Mouse Funhouse, Season 1

Available June 3
Mack Wrestles
Hollywood Stargirl (Disney+ movie)

Available June 8
Baymax Dreams, Seasons 1-2
Incredible Dr. Pol, Season 20
Ms. Marvel, Premiere (Disney+ series)
Ultra Violet & Black Scorpion, Season 1

Available June 10
Beyond Infinity: Buzz and the Journey to Lightyear (Disney+ special)

Available June 15
Disney Junior Ready For Preschool, Season 3
Family Reboot (Disney+ series)
grown-ish, Season 4
Life Below Zero: Next Generation, Season 3
Love, Victor, Seasons 1-3
T.O.T.S., Season 3
The Wonder Years, Season 1

Available June 17
Kings Ransom
Big Shot

Available June 22
G.O.A.T., Season 1
Obi-Wan Kenobi, Finale (Disney+ series)
Villains of Valley View, Season 1

Available June 24
Rise (Disney+ movie)
Trevor: The Musical (Disney+ movie)

Available June 29
Baymax! (Disney+ series)
Owl House, Season 2