Every New TV Show and Movie Hitting Disney+ in August
House of Mouse classics, new shows, and so much more.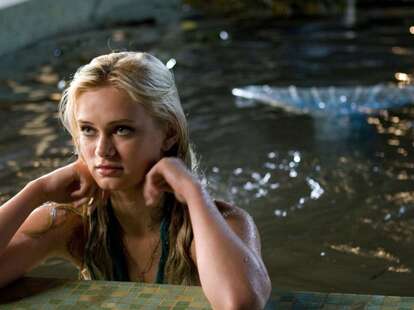 Disney+ has quickly become the one-stop streamer for all things nostalgia and fandom. With classic and underrated movies and shows from the House of Mouse's sprawling library, as well as Disney's new franchise programming for Marvel and Star Wars, the streaming service has something for everyone. While Disney+ undoubtedly already has an expansive collection, similar to the likes of Netflix, Amazon, Hulu, and HBO Max, the streaming service drops a handful of new titles each month. Below, find everything coming soon in the new month, and what just arrived the month prior.
What's the best show coming to Disney+ in August?
As always, Disney+ is making some beloved movies you grew up with available to stream in August. '90s kids will be able to rewatch
Mrs. Doubtfire
for the hundredth time, and TikTok teens obsessed with the '00s will be happy to know
Aquamarine
is hitting streaming. Of course, new stuff is headed to Disney+, too. If you didn't open up your wallet to rent the
live-action
movie
Cruella
when it was on Disney+ this spring and didn't make it to the theaters, you'll be able to watch it now with no additional charge. Marvel fans will also be excited to know that yet another show is on the way. Unlike other recent releases like
Loki
and
WandaVision
,
What If…?
is the first animated show from Marvel Studios, which reimagines major events from
MCU movies
. See what else you'll be watching in August below.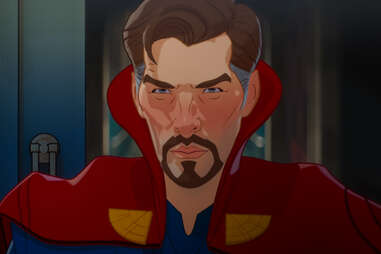 'What If...?'

| Marvel Studios
Full List of What's New on Disney+—August 2021
Available August 4
America's Funniest Home Videos: Animal Edition, Season 1
Cesar Millan: Better Human Better Dog, Season 1, Episodes "Fit For Service" and "One Brick At A Time"
Fancy Nancy, Season 2
Short Circuit, Season 2 premiere (Disney+ original)

Available August 6
Beverly Hills Chihuahua 2
Beverly Hills Chihuahua 3: Viva La Fiesta!
Gordon Ramsay: Uncharted, Season 3 Episode "Finland's Midnight Sun"
Killer Shark Vs. Killer Whale
Mrs. Doubtfire
The Mysterious Benedict Society, Season finale (Disney+ original)

Available August 11
Breaking Bobby Bones, Season 1
Cesar Millan: Better Human Better Dog, Season 1 Episodes "Front Of The Pack" and "Canine Quarantine"
Chicken Squad, Season 1
Gabby Duran & The Unsittables, Season 2
What If…?, Series premiere (Disney+ original)

Available August 13
Aquamarine
Shark Attack Files, Season 1 Episode "Sharks Gone Rogue"

Available August 18
Cesar Millan: Better Human Better Dog, Season 1 Episodes "Pack Attack" and "Blind Faith"
Diary of a Future President, Season 2 premiere (Disney+ original)
Dr. Oakley, Yukon Vet, Season 9
Growing Up Animal, Series premiere (Disney+ original)
Life Below Zero: Next Generation, Seasons 1-2
The Owl House, Season 2

Available August 20
Eragon
Available August 25
Cesar Millan: Better Human Better Dog, Season 1 Episodes "Twin Trouble" and "Dogs V Cats"
Dr. K's Exotic Animal ER, Season 9
Gigantosaurus, Season 2
Wicked Tuna, Season 10

Available August 27
Cruella
Dan in Real Life
Disney Princess Remixed: An Ultimate Princess Celebration
Underdog
'The Sandlot'

| 20th Century Fox
Full List of What's New on Disney+—July 2021
Available July 2
Breaking Bobby Bones, Season 1
Disney Junior Mickey Mouse Mixed-Up Adventures, Season 1
Gordon Ramsay: Uncharted, Season 3 Episode "Lush And Wild Puerto Rico"
Raven's Home, Season 4
The Sandlot
The Sandlot 2

Available July 7
Monsters at Work, Premiere (Disney+ original)

Available July 9
Black Widow, Disney+ with Premier Access
Disney Junior Minnie's Bow-Toons: Party Palace Pals, Season 1
Flicka
Gordon Ramsay: Uncharted, Season 3 Episode "The Great Smoky Mountains"
Miraculous World: Shanghai, The Legend Of Ladydragon
Orca Vs. Great White (AKA Killer Whale Vs. Shark)
Rogue Shark (AKA Rogue Jaws)
Shark Beach With Chris Hemsworth
When Sharks Attack, Season 7
World's Biggest Bullshark

Available July 14
Loki, Finale (Disney+ original)

Available July 16
The Croc That Ate Jaws
Gordon Ramsay: Uncharted, Season 3 Episode "Incredible Iceland"
Meet Spidey And His Amazing Friends, Season 1
Shark Attack Files, Season 1
Shark Attack: The Paige Winter Story
Shark Gangs
We Bought A Zoo
World's Deadliest Sharks

Available July 21
Behind the Attraction, Premiere (Disney+ original)
Turner & Hooch, Premiere (Disney+ original)

Available July 23
Disney Junior Mickey Mouse Funhouse, Season 1 Episode "Mickey The Brave!"
Gordon Ramsay: Uncharted, Season 3 Episode "Holy Mole Mexico"
Ice Age: The Meltdown
Playing With Sharks, Premiere (Disney+ original)
Stuntman, Premiere (Disney+ original)
Walking With Dinosaurs

Available July 28
Chip 'N' Dale: Park Life, Premiere (Disney+ original)
Turning the Tables with Robin Roberts, Premiere (Disney+ original)
The Wonderful World of Mickey Mouse, Batch 2 premiere (Disney+ original)

Available July 30
Built For Mars: The Perseverance Rover
Disney Junior T.O.T.S., Season 2
Garfield
Gordon Ramsay: Uncharted, Season 3 Episode "Michigan's Yooper Cuisine"
Jungle Cruise (Disney+ with Premier Access)
Sydney To The Max, Season 3