Last January, Netflix COO Ted Sarandos divulged that the streaming service would spend $6 billion on original programming in 2016. When asked at the 2016 Television Critics Association press tour whether 2017 would follow the trend, Sarandos boasted an even bigger game. "It'll go up," he told the press.
Where's the money going to? After slapping a price tag on the game plan, Netflix paraded stars and showrunners across the TCA stage to announce plans for the next year of programming, i.e., your 2016-17 bingeing schedule. Here's what the future holds:
Recommended Video
This Restaurant Reinvented the McGriddle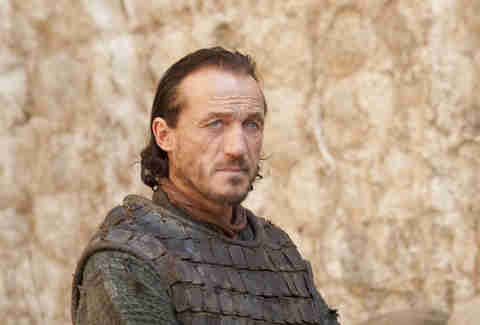 A Game of Thrones vet joins Black Mirror
Netflix revealed that Jerome Flynn, who plays Bronn on the HBO fantasy series, will topline an episode of Charlie Brooker's British anthology series. Six episodes of Black Mirror will hit the streaming platform on October 21. Six more will arrive in 2017. Netflix also revealed the first batch of episode breakdowns (commence dystopian speculation):
"San Junipero," starring Gugu Mbatha-Raw and Mackenzie Davis
"Shut Up and Dance," starring Jerome Flynn and Alex Lawther
"Nosedive," starring Bryce Dallas Howard, Alice Eve, and James Nrton
"Men Against Fire," starring Michael Kelley, Malachi Kirby, and Madeline Brewer
"Hated in the Nation," starring Kelly MacDonald
"Playtest," starring Wyatt Russell and Hannah John-Kamen
Pablo Escobar actor confirms he's done after Narcos Season 2
"This is definitely the last season for me," Wagner Moura said at the TCA panel. While Narcos Season 1 covered 15 years of the drug trade, Season 2 scales down to cover 18 months, and if you know anything about Escobar's life, you can understand why Moura's tapping out afterward. Producers couldn't confirm how they'd march into Season 3, only that they plan to. "There are other drug dealers that are forming alliances against Pablo, so there are multiple stories that we could tackle if we want to," executive producer Eric Newman said.
Chef's Table Season 3 will ship off to France
A third installment of the foodie-friendly series will premiere September 2, spotlighting Alain Passard of L'Arpege, Michel Troisgros of Maison Troisgros, and Alexandre Couillon of La Marine. Will we watch it? Oui. Oui will.
Mitch Hurwitz eyes Arrested Development Season 5 dates
"If it does happen, it looks like the shooting will start at the beginning of 2017," the writer-producer said at the panel. "We've got a lot of the stories broke and we're ready to go."
Earlier this year, Hurwitz sounded confident the fifth season would come together. "The actors want to do it, the studio wants to do it, Netflix wants to do it, I want to do it. It's just making it happen. There's no one resisting." He also told Esquire he recut the fourth season into 22 episodes "airable on TV." Something Arrested is definitely cooking.
Hurwitz also confirmed Lady Dynamite Season 2
No word on release date, but if you haven't caught up with Maria Bamford's comedic exploration of her experience with bipolar 2 disorder, get on it -- it's already one of 2016's best shows.
The Gilmore Girls revival will drop November 25
Lauren Graham, Alexis Bledel, Melissa McCarthy, Scott Patterson, and a handful of ex-boyfriends are back for the sequel series, subtitled A Year in the Life. Creator Amy Sherman-Palladino directed all four 90-minute installments, which each cover a season ("Fall," "Winter," "Spring," and "Summer") in the life of Lorelai and Rory Gilmore. You can watch the Gilmore Girls trailer right now.
Easy, from the director of Drinking Buddies, is set for the fall
Joe Swanberg's anthology series "explores diverse Chicago characters as they fumble through the modern maze of love, sex, technology and culture" and stars Orlando Bloom, Malin Akerman, Michael Chernus, Marc Maron, Elizabeth Reaser, Gugu Mbatha-Raw, Jake Johnson, Aya Cash, Dave Franco, Jane Adams, Hannibal Buress, and Kiersey Clemons. Easy arrives September 22.
Team Daredevil moves to The Defenders
Douglas Petrie and Marco Ramirez, the showrunners behind Daredevil Season 2, will officially take the reins on a limited series that will team their blind superhero with Jessica Jones, Luke Cage, and Iron Fist (whose own series will premiere in 2017). Oscar-nominated writer Drew Goddard (The Martian) will executive produce The Defenders. Netflix CCO Ted Sarandos would not reveal if Jon Bernthal would return as Punisher (take that as a "probably").
The Ranch's first season isn't over
Apparently there's more of Ashton Kutcher's Western sitcom then we thought. "Part two" of The Ranch will hit Netflix on October 7.
Speaking of sitcoms, the legendary Norman Lear has a new one
One Day at a Time, which reimagines Lear's 1975 comedy of the same name, recasts the roles with Cuban-American family members. The series lands January 6, 2017.
Chelsea Handler and Netflix are committed to Chelsea
News broke that the streaming service's first talk show would solider on in the late-night wars. Netflix ordered 90 more episodes for Season 2.
There's going to be a Making a Murderer for hostage situations
Captive, produced by Bourne Identity director Doug Liman, is a new documentary series focused on crisis situations and hostage negotiations. Premiere date: December 9. Reddit-goes-crazy-with-theories date: December 10.
Real Rob is coming back.
Really! No date was announced, but my god. My. God.
Sign up here for our daily Thrillist email, and get your fix of the best in food/drink/fun.