How's your new desk fan doing? Did your dad like that gift card? Cool, cool, great, but don't forget Amazon also maintains a whole library of movies and TV shows to binge.
For May, Prime boasts a handful of new originals and some noteworthy theatrical releases you might've missed. Make yourself at home.
Highlights
Manchester by the Sea (available 5/5)
Director Kenneth Lonergan's rumination on grief and invigoration is like a five-season series crammed into a movie-length runtime. Snug fit, but it works -- Manchester by the Sea lives up to the sweeping "you'll laugh, you'll cry" description of a bygone Hollywood era.
Jackie Brown (available 5/7)
Functioning as both a savvy blaxploitation riff and a tender tribute to director Quentin Tarantino's literary hero Elmore Leonard, Jackie Brown follows Pam Grier's flight attendant title character and a weary bondsman, played with a knowing twinkle in his eye by Robert Forster, as they slowly fall for each other while outsmarting an endless barrage of con men, wise guys, and dumbasses. While it may lack the flash and formal audacity of some of his bigger hits, it's undoubtedly Tarantino's most human movie, an empathetic character portrait from an artist who often gets unfairly pegged as a sadist.
I Love Dick: Season 1 (available 5/12)
To work out her rocky marriage and understand her emerging lust, Chris writes letters to psychosexual professor Dick, which she recites in the show as asides.Transparent creator Jill Soloway adapted the provocatively titled memoir/novel by Chris Kraus for her second Amazon original series. Kevin Bacon stars as Dick.
Moonlight (available 5/21)
Chronicling the boyhood years, teenage stretch, and muted adult life of Chiron, a black gay man making it in Miami, this triptych altarpiece is at once hyper-specific and cosmically universal. The most recent Best Picture Oscar winner, Moonlight is the real deal, a movie that will only grow and complicate as you wrestle with it.
A whole bunch of Bond movies
Load 'em up when you're in need of spy action escapism.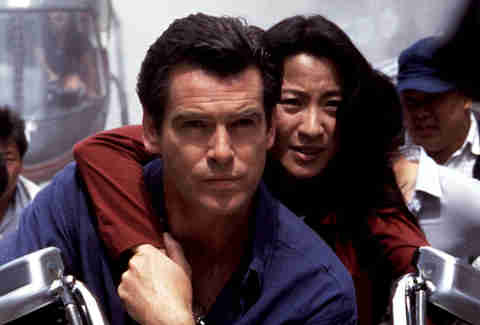 Everything else
Available 5/1
A Christmas Story (1983)
A View to a Kill (1985)
Amhi Jaato Amuchya Gava (1968)
Anolkhi (1973)
Arrowhead (1952)
Asha Jaoar Majhe (2014)
Bad Influence (1990)
Bait Shop (2008)
Bala Gau Kashi Angai (1977)
Cabin Fever (2003)
Cabin Fever 2 (2009)
Catacombs (2007)
Cecil B. Demented (2000)
Chuck & Buck (2000)
Daagdi Chaawl (2015)
Dark Blue (2003)
Devta (1978)
Dr. No (1963)
Fatal Instinct (1993)
For Your Eyes Only (1981)
From Russia with Love (1964)
Goldeneye (1995)
Gone with the Wind (1939)
Jyotibacha Navas (1975)
Khichdi (2010)
Law of the Lawless (1964)
License to Kill (1989)
Life Is Beautiful (1997)
Maximum Security (1990)
Monkey Shines: An Experiment in Fear (1988)
Moonraker (1979)
Mumbai Pune Mumbai 2 (2015)
Naked Gun 2½: The Smell of Fear (1991)
Naked Gun 33⅓: The Final Insult (1994)
Naked Gun from the Files of Police Squad (1988)
Nick of Time (1995)
No Way Out (1987)
On Her Majesty's Secret Service (1969)
Planes, Trains and Automobiles (1987)
Pride (2014)
Race for Your Life, Charlie Brown (1977)
Repo! The Genetic Opera (2008)
School Ties (1992)
Siddharth (2013)
Small Soldiers (1998)
Star Kid (1998)
Sucker Punch (2008)
Teenkahon (2014)
The Bad News Bears (1976)
The Doors (1991)
Thunderball (1965)
Tomorrow Never Dies (1997)
WellieWishers: Season 1
Winter's Bone (2010)
The Wizard of Oz (1939)
Available 5/2
Vikings: Season 4B
Available 5/3
Denial (2016)
Available 5/4
Youth in Oregon (2016)
A Fistful of Dollars (1967)
Available 5/6
The Ardennes (2015)
Available 5/12
A Hologram for the King (2016)
Available 5/19
Me Before You (2016)
Available 5/20
Teenage Mutant Ninja Turtles: Out of the Shadows (2016)
Available 5/21
Boardwalk Empire: Season 5
Paradise Lost 2: Revelations (2000)
Available 5/24
Seasons (2015)
Tomake Chai (2017)
Available 5/26
Dino Dana: Season 1 (Amazon original)
Available 5/27
Poldark: Season 2
Available 5/28
The Duel (2016)
Sign up here for our daily Thrillist email, and get your fix of the best in food/drink/fun.
Other Stuff You'll Like In Stream On