Every New Movie and TV Show Hitting Amazon Prime in July
Here's what to watch this month.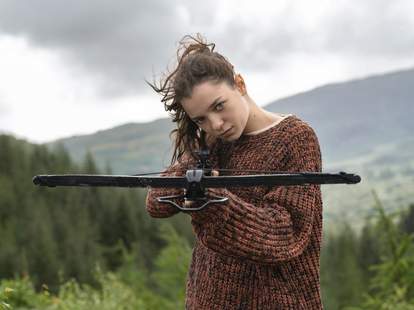 This July on Prime sees the return of a handful of original series, as well as new movies on top of old favorites. Hanna is now onto Season 2. The thriller series adapted from the 2011 movie about a teenaged assassin has expanded its scope from the original story -- the upcoming season has the young heroine searching for her captured friend who was put into a mysterious facility called The Meadows, which houses young people trained in a similar set of skills as her own. Another returning show is the mystery Absentia, this season following FBI agent Emily Byrne as she embarks on an international case. Or if you're in the mood for movies, the Cannes-premiered sci-fi movie Vivarium, starring Jesse Eisenberg and Imogen Poots as a house-hunting couple stuck in a labyrinthian suburbia, is making its streaming debut. These titles and many others are coming to sit alongside the rest of Prime's stand-out movies and shows in July.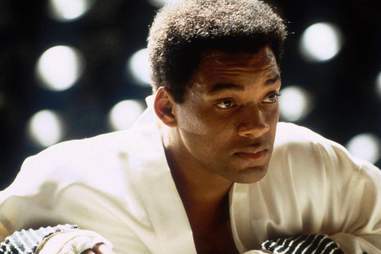 'Ali'

| Sony Pictures releasing
Everything coming in July
Available 7/1
The Adventures of Ozzie and Harriet, Season 1
Ali 
An Eye For An Eye 
Anaconda
Antiques Roadshow, Season 17 
Arthur, Season 1
Bates Around the World, Season 1
Beyond the Pole, Season 1 
Big Fish 
The Bounty
Bug 
Buried 
Cold War
The Devil's Rejects 
Edge Of Darkness
The Eye
The Eye 2 
Flashback 
The Forbidden Kingdom
Frankie Drake Mysteries, Season 1
Hidden, Season 1 
Hitch 
Hollowman 
The Inevitable Defeat Of Mister & Pete 
Instinto, Season 1
Iron Eagle IV - On The Attack 
Lego City Adventures, Season 1
Lone Ranger, Season 1
Megamind 
Midnight In Paris 
Modus, Season 1 
Nick And Norah's Infinite Playlist 
Panic Room
Phase IV 
Pineapple Express 
Public Enemy, Season 1
Rabbit Hole 
Sliver 
Spanglish 
Starting Out In The Evening
Suits, Season 9
52 Pick-Up 
Available 7/3
Hanna, Season 2 (Amazon original)
 
Available 7/6
The Fosters, Seasons 1-5
 
Available 7/7
The Tourist 
Available 7/11
Vivarium 
 
Available 7/15
Shakuntala Devi: The Human Computer 
The Weekend 
 
Available 7/17
Absentia, Season 3 (Amazon original)
 
Available 7/19
Marianne & Leonard: Words Of Love 
 
Available 7/24
Radioactive (Amazon original movie)
If You Give a Mouse a Cookie (Amazon original)
Jim Gaffigan: Pale Tourist (Amazon original comedy special)
 
Available 7/27
Good Deeds
 
Available 7/29
Animal Kingdom, Season 4
'Knives Out'

| Lionsgate
Everything that arrived in June
Available 6/1
Air Warriors, Season 1
Annie Oakley, Season 1
The Black Death: The World's Most Devastating Plague
The Cookout
Dirty Dancing
Dirty Dancing: Havana Nights
Doc Martin, Season 1
Dragnet, Season 1
Fair Game
Finding Your Roots, Season 1
Forsyte Saga, Season 1
Frankenstein and the Monster From Hell
Futureworld
Grown Ups
Growing Up McGhee, Season 1
How to Train Your Dragon
Incident at Loch Ness
Joyride
Kingpin
The L Word, Season 1
The L Word: Generation Q, Season 1
Liar, Season 1
Nate and Hayes
The Natural
Professor T, Season 1
Roadkill Garages, Season 1
The Saint, Season 1
Saint and Sinners, Season 1
Sex Drive
Shrek Forever After
Super Why, Season 1
SWV Reunited, Season 1
Trade
Wackey Races, Season 1
Work in Progress, Season 1
Wristcutters: A Love Story
You Don't Mess With the Zohan
Available 6/3
Takers
Available 6/5
Gina Brillon: The Floor Is Lava (Amazon original special)
Available 6/7
Equilibrium
Available 6/12
Child's Play
Knives Out
Available 6/15
The U.S. vs. John Lennon
Available 6/18
Crawl
Available 6/19
7500
Available 6/21
Life in Pieces, Seasons 1-4
Available 6/26
Pete the Cat, Season 2, Part 1 (Amazon original)
Available 6/27
Guns Akimbo
Available 6/30
The Gallows Act II
Mission: Impossible - Ghost Protocol 
One For The Money
Spy Kids
Spy Kids 3: Game Over
Where the Wild Things Are
Need help finding something to watch? Sign up here for our weekly Streamail newsletter to get streaming recommendations delivered straight to your inbox.
Follow the Thrillist Entertainment editors on Twitter @ThrillistEnt.