Every New Movie and TV Show Hitting Amazon Prime in September
Here's what's new and notable on Prime Video this month.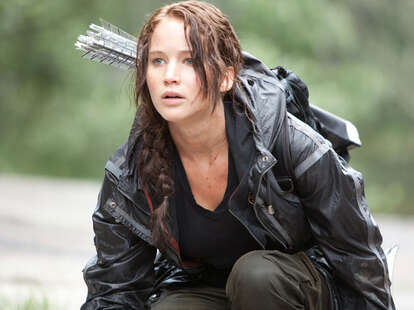 Every month, Amazon Prime adds new movies and shows to its already pretty massive library, and every month, we're here to highlight the most notable addition(s) so you can have something great to stream immediately. What's the best thing hitting Amazon Prime this month? Read on, then scroll down for the full list of new titles and in case you missed what arrived last month, we're including that down below as well.
What's the best movie coming to Amazon in September?
If it's been awhile since you marathoned all of the Hunger Games movies, September might just be the time to do it because the entire series is coming to Prime, via its free-with-ads platform IMDb. Gems like Searching, The Social Network, Sorry to Bother You, and the classic, more-relevant-than-ever Spike Lee joint Do The Right Thing also come to streaming. If you're looking for something new, though, Amazon is reviving the erotic thriller with The Voyeurs. The movie, which premieres next month, acts as an homage to the genre and follows a young couple (Justice Smith and Sydney Sweeney) as they creep on their neighbors' sex life. You can check out all of those movies, as well as the fourth and final season of Goliath, the streamer's gritty procedural starring Billy Bob Thornton. See what else is coming to Prime below.
Full List of What's New on Amazon Prime—September 2021
*Indicates titles streaming on IMDb TV (free with ads)
Available September 1
The A-Team
The A-Team (Extended Cut)
The Alamo
Alpha and Omega 3: The Great Wolf Games*
American Hustle*
American Me
Ancient Civilizations of North America, Season 1
Apollo 13
Arachnophobia
Armageddon
The Artist*
As Good As It Gets
August Creek
Banacek, Seasons 1-2*
The Bastards of Pizzofalcone, Season 1
Begin Again*
The Best Man
Big Mommas: Like Father, Like Son
Biutiful*
The Blood Pact, Season 1
The Boy
Bring It on Again*
Can't Hardly Wait
Cedar Rapids*
Cirque Du Freak: The Vampire's Assistant
Closer
Clue*
Craig Ross Jr.'s Monogamy, Season 1
Creepshow
Daddy Day Care
Daredevil
Daredevil (Director's Cut)
Death At A Funeral
The Descent
Die Hard*
Die Hard 2*
Die Hard: With a Vengeance*
Do The Right Thing
Escape Plan*
Exodus: Gods and Kings*
A Feeling Home
(500) Days Of Summer
The Flintstones, Season 1
Forensic Factor, Season 1
Grown Ups
Heist
The Host
The House Bunny*
How to Be a Latin Lover*
The Hunger Games*
The Hunger Games: Catching Fire*
The Hunger Games: Mocking Jay Part 1*
The Hunger Games: Mocking Jay Part 2*
I'll Always Know What You Did Last Summer
I Am Bolt
I Am Duran
I Know What You Did Last Summer
I Still Know What You Did Last Summer
Interrogation*
Jennifer's Body
The Karate Kid
The Kids Are All Right
Killers*
The Killing, Season 1
L.A. Confidential*
Land Girls, Season 1
The Last Of The Mohicans
Latino Americans, Season 1
Mail Call, Season 1
Marley & Me*
McCloud, Seasons 1-7*
Monster Family*
Mortdecai*
Mystery Men*
Nacho Libre
Native Peoples of North America, Season 1
Need for Speed*
New Tricks, Seasons 1-12*
No Good Deed*
Notorious*
The Omen
Open Range
Planet Of The Apes
Predators
Republic of Doyle, Season 1
The Return of Sam McCloud*
Robin Hood*
The Rockford Files, Seasons 1-6*
Romeo + Juliet
Rudy
Sicko
Sleepless In Seattle
The Social Network
Soul Food
Spy Who Dumped Me*
Stuart Little
Stuart Little 2
Super Troopers 2*
This Means War*
Traffic
12 Rounds*
21 Grams
The Unborn
The Unborn (Unrated)
Undercover Brother*
Victor Frankenstein*
The Walk*
We'll Meet Again, Season 1
What's Your Number?*
Year One
Young Frankenstein

Available September 3
Cinderella (Amazon movie)

Available September 10
LuLaRich (Amazon original)
Pretty Hard Cases, Season 1 (IMDb TV original)
The Voyeurs (Amazon movie)

Available September 12
Desperado

Available September 14
Searching*

Available September 15
Weeds, Seasons 1-8*

Available September 16
As Above, So Below*

Available September 17
America Traitor: The Trial of Axis Sally
Do, Re & Me, Season 1 (Amazon original)
Everybody's Talking About Jamie (Amazon movie)
The Mad Women's Ball (Amazon movie)

Available September 24
Goliath, Season 4 (Amazon original)

Available September 25
Despicable Me 2*

Available September 27
Sorry to Bother You*
Full List of What's New on Amazon Prime—August 2021
Available August 1
Addison, Season 1
Aliens
All About Steve
Alpha and Omega*
American Pie Presents: Band Camp*
American Pie Presents: Beta House*
American Pie Presents: The Book of Love*
American Pie Presents: The Naked Mile
Anaconda
Annie
Apollo 13*
Attack The Block
Bannan, Season 1
Be Cool, Scooby Doo, Season 1
Beyond, Seasons 1-2*
Borat
The Bridge, Season 1
Catch Me If You Can
Center Stage
Chesapeake Shores, Season 1
City Confidential, Season 1
Code Black, Seasons 1-3*
Daredevil*
Delicious, Season 1
Detroit*
Die Hard 2: Die Harder
Dirt Every Day, Season 1
Dominion, Seasons 1-2*
Dr. Quinn, Medicine Woman, Seasons 1-6*
Eagle Eye*
Elektra
Escape From Alcatraz
Fast Times At Ridgemont High
500 Days of Summer*
Frankie Drake Mysteries, Season 1
Freedomland
The French Chef with Julia Child, Season 1
Garden State*
Ghost Busters*
Ghost Busters II*
The Great Debaters
The Green Hornet*
Here We Go Again, Season 1
How the Earth Was Made, Season 1
How to Train Your Dragon*
Hook
In Her Shoes
In Their Own Words, Season 1
The Insider
The Iron Lady
Jaws: The Revenge
Jaws
Jaws 2
Jaws 3
Knowing
La Bamba
Lara Croft Tomb Raider: The Cradle of Life*
The Legend Of Zorro
The Lincoln Lawyer
Long Shot*
MacGyver, Seasons 1-5*
Machete
Made Of Honor
Major Payne*
Max Payne
Moneyball
Mud
My Best Friend's Wedding
The Natural
No Good Deed*
The Nordic Murders, Season 1
Only the Brave*
Patriot Games
Pearl Harbor
Perry Mason, Seasons 1-9
Predator
Predator 2
The Road to El Dorado*
The Roommate
Scorpion, Seasons 1-4*
Seabiscuit
Sea Raiders, Season 1
Secret Window
Shrek Forever After
Sideways
Slither
Something's Gotta Give
Soul Surfer
Spotlight*
The Taking Of Pelham 1 2 3
21
Tyler Perry's The Family That Preys
Waiting to Exhale*
Walk the Line*
Water For Elephants
What's Love Got to Do with It*
Winners of the West, Season 1
The Wolf of Wall Street*
You, Me And Dupree

Available August 6
Luck Bryan: My Dirt Road Diary (IMDb TV original)*
S.O.Z Soldiers or Zombies, Season 1 (Amazon original)
The Tent Mender*
Val (Amazon original movie)

Available August 12
100% Wolf: Legend of the Moonstone, Season 1

Available August 13
Evangelion: 3.0+1.01 Thrice Upon a Time (Amazon exclusive)
Modern Love, Season 2 (Amazon original)

Available August 16
Evan Almighty
In Bruges
La La Land*

Available August 17
The Skeleton Twins

Available August 20
Annette (Amazon original movie)

Available August 27
The Courier
Pete the Cat Back to School Operetta (Amazon original special)

Available August 28
Alpha*

Available August 29
Killer Among Us