Every New Movie and TV Show Hitting Amazon Prime in May
Here's what to watch next month.
Have you gotten a chance to see Saint Maud, what's been lauded as one of the best horror movies of the year? If not, you're in luck: The A24 movie about a pious nurse who might actually be communicating with the Devil finally arrives to streaming on Prime this May. Plus, Amazon is dropping a handful of its own originals, too, like Moonlight director Barry Jenkins' first TV series The Underground Railroad, which adapts Colson Whitehead's Pulitzer Prize-winning novel. A new anthology titled Solos, featuring performances from Morgan Freeman, Anne Hathaway, Helen Mirren, and others, is also on the way, as is a dark teen show called Panic based on the bestselling novel of the same name. You can check out those, plus movies like the Alien series, M. Night Shyamalan hits The Sixth Sense and Unbreakable, and Mr. and Mrs. Smith in preparation for the upcoming Phoebe Waller-Bridge and Donald Glover reboot for Prime. See what else you can watch in April below.
*Indicates titles streaming on IMDb TV (free with ads)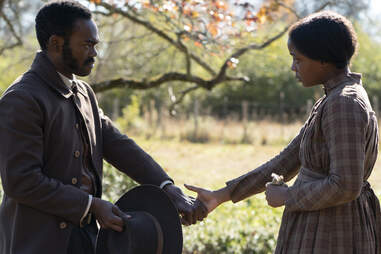 'The Underground Railroad'

| Amazon Studios
Everything coming in May
Available 5/1
The Age of Adaline
Alien*
Alien: Resurrection
Aliens
Alien 3
Almost Famous
Angels & Demons
Bad Company*
Baggage Claim*
Battle Of The Sexes*
Beloved*
The Best Of Me*
Betrayed
Bound
The Da Vinci Code
The Dalton Girls
The Day The Earth Stood Still*
Dear White People*
Deuce Bigalow: Male Gigolo
Dinosaur 13
Fascination
Flight
Flightplan
For Love Of The Game*
The French Connection
Georgia Rule
The Green Hornet
Green Zone
Gunsight Ridge
The Haunting in Connecticut 2: Ghosts of Georgia
Hidalgo
The Hot Chick*
How Stella Got Her Groove Back
In The Line Of Fire*
The Indian in the Cupboard
Indignation*
Jumper*
Jumping The Broom
Knowing
The Ladykillers
The Land Before Time*
Leatherheads
Legion*
Madea's Family Reunion*
Madea's Witness Protection*
The Men Who Stare At Goats
Mr. & Mrs. Smith*
Nanny Mcphee
Nanny McPhee Returns
The Night Before*
Nim's Island*
Notting Hill*
The November Man*
Obsessed*
One Fine Day
Open Range*
The Outsider
Priest
Reign Of Fire
Resident Evil: Apocalypse
Resident Evil
Rio
Road To Perdition*
Roman J. Israel, Esq*
Sahara
Saving Silverman*
Scent Of A Woman
The Seagull*
The Secret Life Of Bees
See No Evil, Hear No Evil
Shattered
Show Dogs*
The Sixth Sense
Soul Food*
Star Trek*
State Of Play*
The Sweetest Thing
The Tooth Fairy*
The Tourist*
The Towering Inferno
Two For The Money
Tyler Perry's Madea's Big Happy Family*
Unbreakable
Vantage Point
Warm Bodies*
What Happens In Vegas*
Your Highness*
Available 5/2
Snowpiercer*
Available 5/4
The Lady In The Van*
Available 5/5
Skyfall
Available 5/7
The Boy From Medellín (Amazon documentary)
Breach
Available 5/8
Hotel Artemis*
Available 5/9
Robot & Frank
Available 5/10
American Ultra*
Available 5/13
Saint Maud
Available 5/14
The Underground Railroad, Season 1 (Amazon original)
Available 5/15
Morning Glory*
Available 5/19
Red Dawn
Trumbo
Available 5/21
P!nk: All I Know So Far (Amazon original documentary)
Solos, Limited series (Amazon original)
Available 5/28
Panic, Season 1 (Amazon original)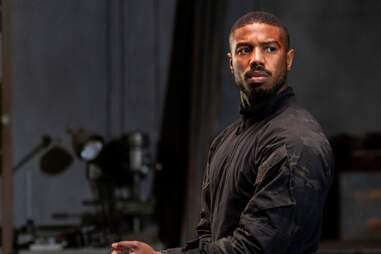 'Without Remorse'

| Amazon Studios
Everything that arrived in April
Available 4/1
Aber Bergen, Season 1
About A Boy*
The Abyss
The Adventures of Napkin Man, Season 1
After the First 48, Season 1
Aloha*
American Pastoral*
Anaconda*
Anna Karenina
Anne+, Season 1
Art of Falling in Love
Because I Said So
Bob Roberts
The Bone Collector*
Brüno
Burn After Reading*
Captain Kronos: Vampire Hunter
Chato's Land
Cheech & Chong's Still Smokin'
Cohen And Tate
Couples Therapy, Season 1
Creepshow, Season 1
Daddy's Little Girls*
The Dead Zone
Dear John*
Devil In A Blue Dress
The Devil's Double
Did You Hear About The Morgans?
Dirty Rotten Scoundrels
Engine Masters, Season 1
Evan Almighty
For Colored Girls*
Forgetting Sarah Marshall
Four Rooms*
Four Weddings And A Funeral
Frankie & Alice
Fun Size*
Garfield & Friends, Season 1
G.I. Joe: The Rose of Cobra*
The Gift
Girl Most Likely*
Girl With A Pearl Earring
Good Luck Chuck*
The Great Debaters*
Gunfighters Of Abilene
Hancock
The Happening
Head Of State
A Hologram For The King
How To Train Your Dragon
The Hunting Party
Ice Road Truckers, Season 1
Inception
Jacqueline and Jilly, Season 1
Johnny English
Keeping Faith, Season 1
Kung Fu Panda (Dwa)*
Lady In A Cage
Larry Crowne
League Of Extraordinary Gentlemen
The Lincoln Lawyer
Lords of Dogtown
Love in Harmony Valley
Madea's Big Happy Family
Madea Goes To Jail
Mad Max
The Man Who Could Cheat Death
Master And Commander: The Far Side Of The World
Men Of Honor
Midnight Sun*
Milk
Minority Report
Moneyball*
Monster's Ball Moonrise Kingdom
Motel Hell
Mud*
My Cousin Vinny
New In Town
October Sky*
Open Range
The Pawnbroker
Platoon
The Program
Rectify, Season 1
The Replacement Killers
The Restaurant, Season 1
Road To Perdition*
The Royal Tenenbaums*
Salt*
Seeking A Friend For The End Of The World*
Shaft
Shooter
A Simple Plan
The 6th Day
The Skull
Sleeping With The Enemy
Smiley Face Killers
So I Married An Axe Murderer
A Soldier's Story*
Something's Gotta Give*
Step Up Revolution*
The Sting*
The Sting II*
The Sum Of All Fears
Surf's Up*
Survivor's Remorse, Seasons 1-4
That Thing You Do!
Tombstone*
Tyler Perry's Madea's Tough Love*
Untraceable
Valerie
Waiting To Exhale
What About Bob?
What Women Want*

Available 4/2
Moment of Truth*
Unhinged

Available 4/3
Blair Witch

Available 4/7
The Answer Man
Girl From Monaco
High-Rise
The Priest
Pulse
Ragnarok
Trollhunter

Available 4/8
Bleed For This*

Available 4/9
THEM (Amazon original)
Noah*

Available 4/10
G.I. Joe: Retaliation*

Available 4/12
Paranormal Activity 4
Spontaneous

Available 4/14
Burden
Cézanne Et Moi
Terror's Advocate

Available 4/15
Frank Of Ireland, Season 1 (Amazon original)

Available 4/16
Cirque Du Freak: The Vampire's Assistant*
Somewhere
Wander

Available 4/18
Side Effects*

Available 4/20
Carol*

Available 4/21
The Hero Of Color City
Merantau
Muay Thai Giant
Venus And Serena

Available 4/26
The Artist

Available 4/28
Arrival
Barry Munday
The Commune
Harlem Aria
Kiltro
The Warlords

Available 4/30
Tom Clancy's Without Remorse (Amazon original movie)