Every New Movie and TV Show Coming to HBO Max in April
Here are all what's joining an already impressive library this month.
If you've been desperate for a new series to obsess over, look no further than HBO Max this April. A handful of HBO originals premiere this month, including the Kate Winslet-starring limited detective series Mare of Easttown, The Nevers, a new Victorian era fantasy series, and the HBO Max adaptation of Alissa Nutting's novel Made For Love about a woman (Cristin Milioti) trying to escape her tech mogul husband who's put a tracking device on her. In addition, the HBO comedy series A Black Lady Sketch Show returns for its second season, the underrated first season of The Other Two becomes available (which will drop its second season on HBO Max later this year), and Fran Drescher's iconic sitcom The Nanny gets a streaming home on HBO Max. The action-packed movie adaptation of the video game Mortal Kombat will also be free to stream on the platform the same day it hits theaters, and you'll be able to revisit the original Space Jam before the sequel arrives this summer. See what else you'll be watching in April below.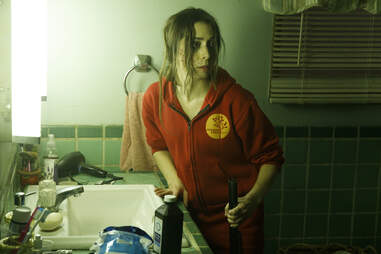 'Made For Love'

| John P. Johnson/HBO Max
Everything coming in April
Available 4/1
Abandon
Adam's Rib
All Is Lost
Assume the Position with Mr. Wuhl
Barbarosa
Black Dynamite
Blindness
The Bodyguard
Boogie Nights
Bringing Up Baby
The Butcher's Wife
Caddyshack
The Collection
The Color Purple
Dante's Peak
Dark Shadows
Dead Silence
Dirty Harry
The Eagle Has Landed
Early Man
Easy Rider
Ella Enchanted
The Evil That Men Do
Eye For An Eye
Fear
Genera+ion, Season 1 Part 1 finale
Ghost Rider
Goodfellas
The Great Pottery Throwdown, Season 4 premiere (Max original)
Green Lantern
Hardball
Happy Endings
Haywire
In & Out
Kicking & Screaming
King Arthur: Legend Of The Sword
Lassiter
Leatherface Texas Chainsaw Massacre III
Let's Go To Prison
The Longest Yard
Made For Love, Series premiere (Max original)
Man Up
The Mask of Zorro
The Man With The Iron Fists
Missing In Action
Missing In Action 2 - The Beginning
My Super Ex-Girlfriend
The Nanny
The Natural
Now, Voyager
One Day
Police Academy 2: Their First Assignment
Police Academy 3: Back In Training
Police Academy 4: Citizens On Patrol
Police Academy 5: Assignment: Miami Beach
Police Academy 6: City Under Siege
Police Academy: Mission To Moscow
Primal Fear
Reasonable Doubt
Red Dawn
The Return
Risky Business
Roger & Me
A Shock To The System
Mr. Smith Goes to Washington
Sneakers
Space Jam
Speed 2 Cruise Control
Spellbound
Stuart Little
The Shack
The Texas Chainsaw Massacre: The Beginning
Tyler Perry's Madea's Big Happy Family
Wanderlust
The Warriors
The Watch
White Noise
The Wild Life
Within
Wolves At The Door

Available 4/2
On the Spectrum

Available 4/3
Ted

Available 4/4
Q: Into The Storm, Docuseries finale (HBO original docuseries)

Available 4/5
Hard, Season 2 finale (HBO original)

Available 4/6
Genndy Tartokovsky's Primal, Season 1B

Available 4/7
Exterminate All The Brutes, Docuseries premiere (HBO original docuseries)
South Side, Season 1

Available 4/9
Intemperie (aka Out In The Open)
The Other Two, Season 1
A Tiny Audience, Season 2 finale (HBO original)

Available 4/10
The New Mutants

Available 4/11
The Nevers, Series premiere (HBO original)

Available 4/13
Our Towns (HBO original documentary)

Available 4/15
Infinity Train, Season 4 premiere (Max original)

Available 4/16
Mortal Kombat, Warner Bros. film premiere

Available 4/17
The Dark Knight Rises

Available 4/18
Mare of Easttown, Limited series premiere (HBO original)

Available 4/20
Real Sports with Bryant Gumbel (HBO original)

Available 4/22
First Ladies
1, 2, 3 All Eyes On Me
Princess Cut
Rizo

Available 4/23
A Black Lady Sketch Show, Season 2 premiere (HBO original)
El Robo Del Siglo (Aka Heist Of The Century)

Available 4/24
Dreamgirls

Available 4/26
The Artist

Available 4/29
Looney Tunes Cartoons, Season 1D

April TBA
The Big Shot with Bethenny, Premiere (Max original)
Ellen's Next Great Designer, Premiere (Max original)
Generation Hustle, Premiere (Max original)
Piano Y Mujer
Pray, Obey, Kill, Docuseries premiere (HBO original docuseries)
Wahl Street, Docuseries premiere (Max original docuseries)
'Zack Snyder's Justice League'

| HBO Max
Everything that arrived in March
Available 3/1
Adventureland
Assault On Precinct 13 (1976)
Assault On Precinct 13 (2005)
Bandits
Barefoot
Blade
The Brothers Grimm
Bowfinger
Cesar Chavez
Charlotte's Web
CHiPs
Constantine
The Doors
Dr. Dolittle 2
Dream House
Driving Miss Daisy
Eulogy
Fierce People
Final Analysis
Final Space, Seasons 1-2
Finding Neverland
Gloria
Going In Style
Gone
Hard, Season 2 premiere (HBO original)
Hellbenders
Henry Poole Is Here
House Arrest
Immigration Tango
Jungle Master
Just Before I Go
The King's Speech
Leonard Cohen: I'm Your Man
Live By Night
The Lost Boys
Machine Gun Preacher
Malice*
Man On A Ledge
Miss Sharon Jones!
A Mouse Tale
No Se Aceptan Devoluciones (AKA Instructions Not Included)
Ocean's Eleven
Ocean's Thirteen
Ocean's Twelve
One More Time
Our Brand Is Crisis
Parental Guidance
Pitch Perfect
Princess Kaiulani
The Quiet Ones
The Raven
Red Dragon
Repentance
The River Wild
School Dance
Secretary
Shadows
Stand Up Guys
Super Capers
10 Years
Tim Burton's Corpse Bride
The Undocumented Lawyer
Unforgettable
The Voices
Veronica Mars
Wedding Crashers
Wiener Dog Internationals

Available 3/3
Hunter x Hunter

Available 3/4
Persona: The Dark Truth Behind Personality Tests (Max documentary)

Available 3/5
No Matarás (AKA Cross The Line)
Re:ZERO - Starting Life in Another World, Season 2

Available 3/6
Lost Resort
Rocky
Rocky Balboa
Rocky II
Rocky III
Rocky IV
Rocky V
12 oz. Mouse, Season 3

Available 3/8
The Investigation, Limited series finale (HBO original)

Available 3/9
Ballmastrx: 9009, Season 2
COVID Diaries NYC (HBO documentary)

Available 3/10
YOLO: Crystal Fantasy

Available 3/11
Genera+ion, Season 1A premiere (Max original)
South ParQ Vaccination Special
Tig n' Seek, Season 1B premiere

Available 3/12
Isabel
Nuestras Madres (AKA Our Mothers)
Tigtone, Season 2

Available 3/13
Speed
Three Busy Debras

Available 3/14
Allen v. Farrow, Docuseries finale (HBO original docuseries)
Messy Goes to Okido

Available 3/15
Infomercials

Available 3/16
Food Wars! Shokugeki no Soma, Season 5

Available 3/17
Superman: The Animated Series

Available 3/18
Zack Snyder's Justice League (Max original film premiere)

Available 3/19
A Tiny Audience, Season 2 premiere (HBO original)

Available 3/20
Beverly Hills Cop
Beverly Hills Cop II
Beverly Hills Cop III

Available 3/22
Beartown, Limited series finale (HBO original)

Available 3/23
Real Sports With Bryant Gumbel (HBO original)

Available 3/26
Hotel Coppelia

Available 3/27
Tina (HBO documentary)

Available 3/30
The Last Cruise (HBO documentary)

Available 3/31
Godzilla vs. Kong, Warner Bros. film premiere