Every New Movie and TV Show Coming to HBO Max in June
Here's what's being added to HBO Max's already impressive library this month.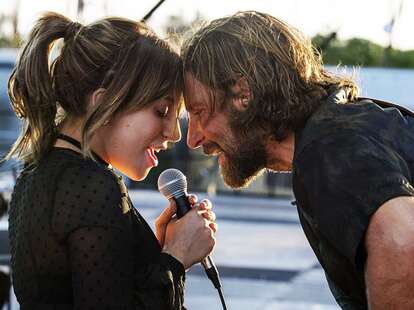 HBO Max has quickly become a favorite streaming service among many, with its library of HBO programming, all-new Max originals, and movies that pull from the legendary Warner Bros. collection and others. With all of the great stuff available, chances are you'll always find something to watch on HBO Max—but like every other streaming platform, it keeps it fresh with new offerings becoming available every month. To help plan out what to watch in the month ahead, below you can find everything hitting HBO Max next month, and what became available in the month before.
ALSO READ: Our guide to every original show and movie coming to HBO Max in 2022
What is the best series coming to HBO Max in June?
With summer coming up and the nicer weather outside, staying in to watch TV might not be at the top of your list. HBO Max does have some appointment viewing in store for June, though. A new A24-produced limited series version of Olivier Assayas' 1996 film Irma Vep is on the way. The filmmaker is interestingly at the helm of the remake, with Alicia Vikander stepping into the Maggie Cheung character as a disillusioned actress who's leading a new production of Les Vampires. Oh, and a little show called Westworld comes back for Season 4. There's good movies to watch, too, with critically acclaimed titles from last year, like Paul Schrader's The Card Counter and Roadrunner: A Film About Anthony Bourdain, debuting on streaming and popular movies like A Star Is Born, Crouching Tiger, Hidden Dragon, 13 Going on 30, and 300 becoming available, as well. See what else you can watch below.
Full List of What's New on HBO Max—June 2022
Available June 1
Abduction
Across the Universe
The Adventures of Mark Twain
The Amazing Panda Adventure
Angels & Demons
The Ant Bully
Assassination Nation
Babylon A.D.
The Bank Job
Beach Rats
Bee Movie
Blue Bayou
Border
Colossal
Caro Comes Ou
Chef
The Con Is On
Crouching Tiger, Hidden Dragon
Damsel
Dark Passage
Day Breakers
The Da Vinci Code
Domino
Extraction
The Firm
First Blood
The Grand Budapest Hotel
Gridiron Gang
Guess Who
Hairspray
The Harvey Girls
Highlander
Horsemen
How Do You Know
How They Got Over
How to Survive a Plague
The Holiday
I Know What You Did Last Summer
I Still Know What You Did Last Summer
I'll Always Know What You Did Last Summer
I'll See You In My Dreams
The Importance of Being Earnest
The Incredible Burt Wonderstone
John Grisham's the Rainmaker
Klute
The Last Movie Star
Life Partners
Macbeth
Major League II
Major League: Back to the Minors
The Mask
McQueen
My Boss's Daughter
My Days of Mercy
My Dead Dad
The One I love
Papi
Paris Is Burning
Rambo III
Rambo First Blood Part II
Religulous
Remember Me
Ride Along
Ride the High Country
Sabotage
Sleepers
Soul Surfer
A Star is Born
Stepmom
Suite Francaise
The Taking of Pelham 123
13 Going on 30
300
Total Recall
Unfinished Song
Un padre no tan padre
W.
Watchmen
What Happens In Vegas (Extended Version)
The World According to Garp
The Vanishing of Sidney Hall

Available June 3
On My Way with Irina Rimes (Max documentary)
Nudo Mixteco

Available June 6
Doctor Who, Season 13
​​Irma Vep, Limited series premiere (HBO limited series)
Total Dramarama, Season S3A

Available June 8
The Janes, Premiere (HBO docuseries)

Available June 9
Amsterdam, Premiere (Max series)
Roadrunner: A Film About Anthony Bourdain (Max documentary)
Summer Camp Island, Season 6 premiere (Max series)

Available June 10
The Card Counter
Naomi
Odo, Season 3
Victor and Valentino, Season 3B

Available June 15
La Unidad, Season 2

Available June 16
Father of the Bride (Max film)

Available June 17
Lucas the Spider, Season 1B
Las Mejores Familias (AKA The Best Families)
Non-Stop

Available June 19
Tom and Jerry Cowboy Up!

Available June 20
Birdgirl, Season 2

Available June 22
All American: Homecoming
Chernobyl: The Lost Tapes (HBO documentary)

Available June 23
Little Ellen, Season 3 premiere (Max series)
Menudo: Forever Young (Max documentary)
Wellington Paranormal, Season 3

Available June 24
Bing, Season 1B
Rich & Shameless, Season 1
Tuca & Bertie, Season 2

Available June 26
Westworld, Season 4 premiere (HBO series)

Available June 30
Julia
PCC O Poder Segredo, Premiere (Max series)
Naked Mole Rat Gets Dressed: The Underground, Premiere (Max series)

June TBA
The Dog House: UK, Season 3 premiere (Max series)
Endangered (HBO documentary)
Gordita Chronicles, Premiere (Max series)
Full List of What's New on HBO Max—May 2022
Available May 1
Assassins
At Close Range
An Autumn Afternoon
The Big Sleep
Back To School
Bottle Rocket
Calladita
Chitty Chitty Bang Bang
Child 44
Chungking Express
The Color Purple
Conan The Barbarian
Devil in A Blue Dress
Dodes 'Ka-Den
Domino
Downhill
Dragnet Girl
Early Spring
Early Summer
The End of Summer
Equinox Flower
Eraser
Fallen Angels
Floating Weeds
47 Ronin
FRIDA
The Fugitive
Furry Vengeance
Gang Related
Good Morning
Hard Rain
Hart's War
High and Low
Jimmy Neutron Boy Genius
Julie
Killers
Language Lessons
Love and Baseball
The Machine That Kills Bad People
Masters Of The Universe
The Missing
The New Guy
North Dallas Forty
Not Easily Broken
The Perks of Being a Wallflower
Poseidon
Red Beard
Ringo and His Golden Pistol
Rugrats Go Wild
Rugrats In Paris: The Movie
The Rugrats Movie
The Sapphires
Sense and Sensibility
Sliding Doors
St. Elmo's Fire
The Stepford Wives
Street Fighter: The Legend of Chun-Li (Extended Version)
Terminator 2: Judgment Day (Director's Cut)
Tokyo Twilight
Top Secret!
Transporter 3
Unbroken
Underworld
Underworld: Awakening
Underworld: Rise of the Lycans
Welcome to the Dollhouse
W.E.
What To Expect When You're Expecting
The Wild Thornberrys Movie
Yellowface: Asian Whitewashing and Racism in Hollywood
You, Me and Dupree
Young Adult
Zathura: A Space Adventure

Available May 3
Spring Awakening: Those You've Know (HBO documentary)

Available May 5
Las Bravas F.C., Premiere (Max series)
Queen Stars Brazil, Premiere (Max reality series)
The Staircase, Limited series premiere (Max series)

Available May 6
Dear Evan Hansen
Entre Nos: Carmen and Alfred
La Afinadora De Árboles

Available May 7
We Baby Bears, Season 1 Part C

Available May 9
Get Hard

Available May 10
Catwoman: Hunted
The Matrix: Resurrections
Sesame Street Mecha Builders, Season 1 Part A
Robot Chicken, Season 11 Part B

Available May 12
Hacks, Season 2 premiere (Max series)
Who's By Your Side, Premiere (Max series)

Available May 13
Hank Zipzer
Old
Smalls, Season 4

Available May 15
The Time Traveler's Wife, Series premiere (HBO series)

Available May 17
The Mule
Sesame Street Mecha Builders, Season 1 Part B

Available May 20
George Carlin's American Dream (HBO documentary)
Identidad Tomada
PAUSE with Sam Jay, Season 2 premiere (HBO series)

Available May 22
Fast Foodies, Season 2

Available May 23
Teen Titans Go!, Season 7 Part B

Available May 26
Navalny
That Damn Michael Che, Season 2 premiere (Max series)
Tig n' Seek, Season 4 premiere (Max series)

Available May 27
Blippi Special
Blippi Visits
Blippi Wonders
Blippi: Learn With Blippi
Ghost, Seasons 1-2
Stath Lets Flats

Available May 29
The Misery Index, Season 3 Part B

Available May 31
Miami Vice