Every New Movie and TV Show Coming to HBO Max in December
Here's what's being added to HBO Max's already impressive library this month.
HBO Max has quickly become a favorite streaming service among many, with its library of HBO programming, all-new Max originals, and movies that pull from the legendary Warner Bros. collection and others. With all of the great stuff available, chances are you'll always find something to watch on HBO Max—but like every other streaming platform, it keeps it fresh with new offerings becoming available every month. To help plan out what to watch in the month ahead, below you can find everything hitting HBO Max next month, and what became available in the month before.
What is the best movie coming to HBO Max in December?
HBO Max has been releasing major Warner Bros. films all year long, but they've saved the one you've really been anxious to see for last. This December, The Matrix Resurrections finally gets a release, seeing Keanu Reeves and Carrie-Anne Moss reprising their iconic roles as Neo and Trinity. That's definitely the main attraction on HBO Max next month, but lots of exciting TV is on the way, too—like the Olivia Coleman-starring dark comedy Landscapers, an adaptation of Emily St. John Mandel's novel Station Eleven, and a continuation of Sex and the City (without Samantha) called And Just Like That…. Good movies galore also land on streaming, including thrillers like Jackie Brown, No Country for Old Men, and Se7en, and others. See what else you can watch below.
Full List of What's New on HBO Max—December 2021
Available December 1
Adrienne (HBO documentary)
All I See Is You
All Rise, Seasons 1 and 2
The Answer Man
Blade II
Bolero
Breakdown
Changing Lanes
Chicago
Cloud Atlas
Control Room
Crazy, Stupid, Love.
Days Of Thunder
Dragged Across Concrete
Enough Said
Finding Jesus: Faith, Fact, Forgery
Frontera
The Good Doctor
The Haunting In Connecticut
The Hobbit: An Unexpected Journey
Interview with the Vampire
The Incredible Burt Wonderstone
The Italian Job
Jack The Giant Slayer
Jackie Brown
Jupiter Ascending
The Lawnmower Man
Lawnmower Man 2: Beyond Cyberspace
Limbo
Little Monsters
The Mask
Max Steel
Miss Congeniality
Mortal Kombat
Mortal Kombat: Battle of the Realms
The Muppets Take Manhattan
No Country For Old Men
Percy Jackson Sea Of Monsters
A Perfect Murder
Pope: The Most Powerful Man In History
Pulse
R.I.P.D.
Rubber
Runner Runner
Se7en
Shark Night 3D
Surrogates
Troll Hunter
The Truman Show
12 Strong
20 Feet From Stardom
Two For The Money
Two Lovers
Viva
War On Everyone
The Wedding Singer
The Wolfpack
World's Greatest Dad
The Wrecking Crew!
XXX

Available December 2
Gossip Girl, Season 1 finale (Max original)
Music Box: Listening to Kenny G (HBO documentary)
Odo, Series premiere (Max series)
Perfect Life (Vida Perfecta), Season 2 premiere (Max series)
Santa Inc., Premiere (Max series)
Space Jam: A New Legacy

Available December 3
Breathe the Night
Craig of the Creek, Season 3
Hood River
Mike & Molly
Yerba Buena

Available December 4
At the Ready
Drew Michael: Red Blue Green. (HBO comedy special)
The Last O.G., Seasons 1-3

Available December 5
Kamikaze, Season 1 finale (Max original)

Available December 6
The Forever Prisoner (HBO documentary)
Landscapers, Limited series premiere (HBO series)

Available December 7
The Slow Hustle (HBO documentary)

Available December 9
And Just Like That…, Series premiere (Max series)
Music Box: Mr. Saturday Night (HBO documentary)
The Sex Lives of College Girls, Season 1 finale (Max series)
Summer Camp Island, Season 5 premiere (Max series)
​​A Thousand Fangs (aka Mil Colmillos), Series premiere (Max series)

Available December 10
Dafne and the Rest (aka Todo lo Otro) , Series premiere (Max series)
DC's Stargirl, Season 2

Available December 12
Succession, Season 3 finale (HBO series)

Available December 14
The Murders at Starved Rock, Premiere (HBO docuseries)

Available December 15
Ron's Gone Wrong
What's New Scooby-Doo?

Available December 16
The Cut (aka O Grande Look), Series premiere (Max series)
Diego, The Last Goodbye (Diego, el último adiós) (Max documentary)
Finding Magic Mike, Series premiere (Max series)
The Fungies, Season 3 premiere (Max series)
Music Box: Juice Wrld: Into the Abyss (HBO documentary)
2nd Annual HA Festival: The Art of Comedy (Max comedy special)
Station Eleven, Series premiere (Max series)

Available December 17
A Forbidden Orange, Series premiere (Max series)

Available December 20
You Keep the Kids (Mama o Papa)  

Available December 21
Real Sports with Bryant Gumbel, Season finale (HBO series)

Available December 22
After the Sunset
The Matrix Resurrections, Warner Bros. film premiere

Available December 23
Beforeigners, Season 2 premiere (Max series)
40 Means Nothing (aka 40 No es Nada), Series premiere (Max series)
The Suicide Squad

Available December 24
Black Jesus

Available December 26
Curb Your Enthusiasm, Season 11 finale (HBO series)
Insecure, Season 5 finale (HBO series)

Available December 30
Young Justice, Season 4 Part A finale (Max series)

Available December 31
How to With John Wilson, Season 2 finale (HBO series)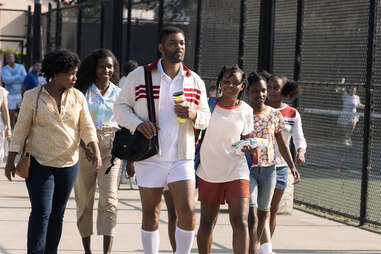 Full List of What's New on HBO Max—November 2021
Available November 1
Adult Beginners
Aftermath
Area Chica Infierno Grande (aka Hell In The Goal Area)
The Bourne Identity
The Bourne Legacy
The Bourne Supremacy
The Brady Bunch Movie
Bully
Caddyshack
The Care Bears Movie
City Of Ghosts
The Conspirator
A Clockwork Orange
Company Business
Cry Wolf
Cymbeline
Dead Heat
Disturbing Behavior
Doom
Dressed To Kill (Extended Version)
Equilibrium
Eyes Wide Shut
Executive Decision
Extremely Loud & Incredibly Close
Full Metal Jacket
Godsend
A Good Day To Die Hard
Hangin' with Mr. Cooper
Hotel Rwanda
In the House
Lady In White
Love And A .45
Moonstruck
Murphy's Law
Never Let Me Go
New Year's Eve
The 90 Day Plan
The Parent 'Hood
Practical Magic
The Presidio
Pride & Prejudice
The Purge
The Queen
The Rules Of Attraction
Rush
Showtime
Something New
Spark: A Space Tail
Still Waiting
Summer School
The French Lieutenant's Woman
The Next Three Days
The Transporter
The Wolverine
Thelma & Louise
Transporter 2
Unleashed (Director's Cut)
A Very Brady Sequel
Waiting...
Weightless
What's The Worst That Could Happen?
Witness
Wildcats
Wristcutters: A Love Story

Available November 2
Single Mother By Choice
Son of Monarchs
Tokyo Revengers

Available November 3
This is Not a War Story

Available November 4
Aida Rodriguez: Fighting Words, Premiere (Max comedy special)
Frayed, Season 2 premiere (Max series)
Gen:Lock, Season 2 premiere (Max series)
Head of the Class, Premiere (Max series)
Rap Battlefield, Premiere (Max series)

Available November 5
Las Niñas (aka Schoolgirls)

Available November 6
Land
The Story of Late Night

Available November 8
Dawson's Creek
Noblesse

Available November 9
Billy on the Street, Seasons 2-5
Dear Rider: The Jake Burton Story (HBO documentary)

Available November 11
A Thousand Fangs (aka Mil Colmillos), Premiere (Max original)
Doom Patrol, Season 3 finale (Max original)
Love Life, Season 2 finale (Max original)
My Sesame Street Friends, Season 2 premiere (Max original)
Reign of Superwomen (Max documentary)
Selena + Chef, Season 3 finale (Max original)
Sesame Street, Season 52 premiere
Sesame Street, 2021 Library
South Side, Season 2 premiere (Max original)

Available November 12
Back on the Record with Bob Costas, Season finale (HBO series)
A Cinderella Story: Starstruck

Available November 13
Boogie
Darwin's Yearbook
Final Space, Season 3
United Shades of America, Season 6

Available November 14
Kamikaze, Premiere (Max series)
Last Week Tonight with John Oliver, Season 8 finale (HBO series)

Available November 15
TSUKIMICHI -Moonlit Fantasy-

Available November 18
A Choice Of Weapons: Inspired By Gordon Parks (HBO documentary)
Craftopia, Season 2B premiere (Max series)
Comedy Chingonas, Premiere (Max series)
Music Box: Jagged (HBO documentary)
The Sex Lives of College Girls, Premiere (Max series)
Sort of (CBC), Premiere (Max series)
Tom and Jerry in New York, Season 2 premiere (Max series)

Available November 19
The Killing of Kenneth Chamberlain
King Richard, Warner Bros. film premiere
Real Time with Bill Maher, Season 19 finale (HBO series)
Stath Lets Flats, Season 3

Available November 20
2021 Rock & Roll Hall of Fame Induction Ceremony (HBO special)

Available November 23
Black and Missing, Premiere (HBO docuseries)
Real Sports with Bryant Gumbel (HBO series)

Available November 25
The Cut (aka O Grande Look), Premiere (Max series)
8-Bit Christmas (Max film)
Gossip Girl, Season 1 Part B premiere (Max series)
Looney Tunes Cartoons, Season 3
La Pasión de Maradona (Max film)
Music Box: DMX: Don't Try to Understand (HBO documentary)

Available November 26
How to With John Wilson, Season 2 premiere (HBO series)
Inside Man

Available November 28
Anna Karenina
Axios, Season 4 finale (HBO series)

Available November 29
We're Here, Season 2 finale (HBO series)

Available November 30
Life of Crime 1984-2020 (HBO documentary)