Every New Movie and TV Show Coming to HBO Max in September
Here's what's being added to HBO Max's already impressive library this month.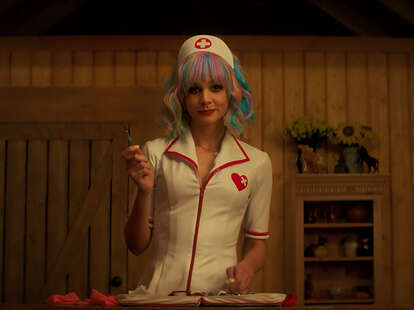 HBO Max has quickly become a favorite streaming service among many, with its library of HBO programming, all-new Max originals, and movies that pull from the legendary Warner Bros. collection and others. With all of the great stuff available, chances are you'll always find something to watch on HBO Max—but like every other streaming platform, it keeps it fresh with new offerings becoming available every month. To help plan out what to watch in the month ahead, below you can find everything hitting HBO Max next month, and what became available in the month before.
What is the best movie coming to HBO Max in September 2021?
This September, get ready to enjoy some big blockbusters on HBO Max. Not only are all of the Harry Potter movies returning to the streaming service, Cloverfield, Mad Max: Fury Road, and this year's great video game movie adaptation of Mortal Kombat land on streaming. You should also be sure to check out the Oscar-winning Promising Young Woman, which hit theaters and VOD very early in 2021. Some new, big movies are on the way as well, like Saw and Conjuring filmmaker James Wan's new horror movie Malignant, about a woman (Annabelle Wallis) haunted by her childhood imaginary friend, and Clint Eastwood's latest western Cry Macho. As for TV, the Oscar Isaac and Jessica Chastain-starring remake of Ingar Bergmann's miniseries Scenes From a Marriage is HBO's latest prestige viewing addition. See what else you'll be watching this September below.
Full List of What's New on HBO Max—September 2021
Available September 1
The Animal
Army Of Darkness
The Benchwarmers
Bodas de Oro – aka The Anniversary
The Cell 2
Cloverfield
Dead Again
Deck the Halls
Detour
Drinking Buddies
Epic Movie
Event Horizon
The Evil Dead
Evil Dead 2
Flawless
The Forgotten
Fun Size
The Gallows
The Good German
The Good Heart
The Goonies
Green Lantern
Harry Potter and the Chamber of Secrets
Harry Potter and the Deathly Hallows: Part 1
Harry Potter and the Deathly Hallows: Part 2
Harry Potter and the Goblet of Fire
Harry Potter and the Half-Blood Prince
Harry Potter and the Order of the Phoenix
Harry Potter and the Prisoner of Azkaban
Harry Potter and the Sorcerer's Stone
A Hijacking
Impostor
Inheritance
In the Heart of the Sea
Kany Garcia: Soy Yo En Vivo
King Kong
Lady in the Water
Meet Me in St. Louis
Mr. Nobody
My Golden Days
Nanny McPhee
Oblivion
On the Town
Ouija: Origin of Evil
Paulie
The Poet Of Havana
Prime
Prince Avalanche
Reik En Vivo Desde El Auditorio Nacional
Rent
Romeo Santos The King Stays King: Live At Madison Square Garden
Santana – Corazon: Live From Mexico, Live It To Believe It
Seeking a Friend for the End of the World
Severance
Showdown In Little Tokyo
The Song Remains the Same
Taken 2
Thalia Viva Tour En Vivo
That's Entertainment!
That's Entertainment! II
That's Entertainment! III
Transformers
Undisputed
Vanilla Sky
View from the Top
What They Had
What Women Want
Yandel: Legacy – De Lider A Leyenda Tour

Available September 2
Adventure Time: Distant Lands – Wizard City (Max original)
Sweet Life: Los Angeles, Season finale (Max original)

Available September 3
Amaraica
At Last
Bittu
Coffee Shop Names
Liberty Kid

Available September 4
News of the World

Available September 7
Hard Knocks '21: The Dallas Cowboys, Season finale (HBO original)

Available September 8
Nasciturus

Available September 9
Mad Max: Fury Road
Mortal Kombat
Sweet Life: Los Angeles, Reunion special (Max original)

Available September 10
Elliott from Earth, Season 1
Malignant, Warner Bros. film premiere

Available September 11
Ben 10, Season 4C
NYC Epicenters 9/11→2021½, Docuesries finale (HBO docuseries)
Walker, Season 1

Available September 12
Scenes From a Marriage, Limited series premiere (HBO original)

Available September 13
Care Bears: Unlock the Magic
I'm Sorry
Little Ellen, Series premiere (Max original)

Available September 15
A La Calle
The Good, The Bad, and the Ugly

Available September 16
Tig n' Seek, Season 3 premiere (Max original)

Available September 17
Apple & Onion, Season 2B
Cry Macho, Warner Bros. film premiere
El Cuartito
Superman & Lois, Season 1

Available September 18
The People v. The Klan

Available September 20
Hard, Season 3 finale (HBO original)
Total Dramarama

Available September 21
Real Sports with Bryant Gumbel

Available September 23
Ahir Shah: Dots (Max original comedy special)
Doom Patrol, Season 3 premiere (Max original)
The Other Two, Season 2 finale (Max original)

Available September 25
Promising Young Woman

Available September 26
Nuclear Family, Docuseries premiere (HBO docuseries)

Available September 27
Huesped Americano (aka The American Guest), Series premiere (HBO original)
Little Sky
Neh
Unmothered

Available September 29
Entre Hombres (Amongst Men) (series premiere)

Available September 30
The Not-Too-Late Show with Elmo, Season 2 premiere (Max original)
Ten-Year-Old Tom, Series premiere (Max original)
Those Who Wish Me Dead
The Way Down, Series premiere (Max original)
Yabba-Dabba Dinosaurs, Series premiere (Max original)
Full List of What's New on HBO Max—August 2021
Available August 1
The Accidental Spy
The Adventures of Sharkboy and Lavagirl
Americano
Anna to the Infinite Power
Backtrack
Basic Instinct
Basic Instinct 2: Risk Addiction (Extended Version)
Best in Show
Betrayal at Attica
The Betrayed
The Birdcage
Black Death
Blue Ruin
Brown Sugar
Changeling
Chasing Mavericks
Collateral
Constantine
Deep Cover
The Devil's Double
Dirty Rotten Scoundrels
Dolphin Tale
The Double
Empire of the Sun
The End
Envy
Epic
Extranjero (aka Foreigner)
For Your Consideration
Freejack
The Fugitive
Ghosts of Mississippi
The Great Gatsby
The Great Gatsby
Gun Shy
Hangman
Heaven Can Wait
Hitchcock
Horror of Dracula
How to Deal
Hudson Hawk
Humpday
Imperium
Inception
Joe
Johnny English Reborn
Julia
Last Action Hero
The Lincoln Lawyer
Malcolm X
Man Down
The Man in the Iron Mask
Mean Streets
A Mighty Wind
Mr. Soul!
New in Town
9/11: Fifteen Years Later, 2016
Nobody Walks
Nurse 3D
One Hour Photo
The Out-of-Towners
Popeye
The Pope of Greenwich Village
The Prince
The Reader
Red
Red Riding Hood
Requiem for a Dream
Scary Movie
The Score
Sex and the City
Sex and the City 2
The Shawshank Redemption
Spawn
The Spirit
The Square
Stand and Deliver
Tango & Cash
Teen Titans: Trouble in Tokyo
Thirteen Ghosts
2 Days in the Valley
Vice
A Walk Among the Tombstones
War
Woodstock (Director's Cut)
You've Got Mail

Available August 2
Small Town News: KPVM Pahrump, Docuseries finale (HBO original)

Available August 3
Lois & Clark: The New Adventures of Superman
Obama: In Pursuit of a More Perfect Union, Documentary premiere (HBO documentary)

Available August 5
Furry Friends Forever: Elmo Gets A Puppy, Special premiere (Max original)
The Suicide Squad, Warner Bros. film premiere

Available August 6
Sin Aliento (aka Breathless)

Available August 7
All My Life

Available August 8
A Different World

Available August 10
Hard Knocks '21: Dallas Cowboys, Series premiere (HBO original)

Available August 12
FBOY Island, Season finale (Max original)
The Hype, Series premiere (Max original)
Titans, Season 3 premiere (Max original)

Available August 14
Jurassic Park
Jurassic Park III
The Lost World: Jurassic Park

Available August 15
The White Lotus, Limited series finale (HBO original)

Available August 16
Hard, Season 3 premiere (HBO original)
Top Gear, Season 29

Available August 17
Godzilla vs. Kong

Available August 19
Eyes on the Prize: Hallowed Ground, Documentary special premiere (Max original)
Looney Tunes Cartoons Back to School Special, Special premiere (Max original)
Marlon Wayans: You Know What It Is, Special premiere (Max original)
Sweet Life: Los Angeles, Series premiere (Max original)

Available August 20
Half Brothers
Reefa
Reminiscence, Warner Bros. film premiere

Available August 22
100 Foot Wave, Docuseries finale (HBO original)
San Andreas

Available August 24
Real Sports with Bryant Gumbel
Stanley Tucci: Searching for Italy

Available August 25
Lincoln: Divided We Stand

Available August 26
The Other Two, Season 2 premiere (Max original)

Available August 28
Magic Mike XXL