Every New TV Show and Movie Hitting Hulu in July
The new goods.
Hulu is doing fine work in the movie department as it continues to compete with the likes of Netflix, Amazon, HBO Max and all the rest for streaming supremacy. If you want to explore the catalog in more depth, every month brings dozens of fresh titles to the platform, from new originals and movies to classics, underrated gems, and even network TV as it currently airs. Below, you can find everything that's in store for the new month, and even what arrived the month prior.
What's the best movie coming to Hulu in July?
Just in time for Independence Day, you can tune into a rewatch of the Will Smith classic (you guessed it!) Independence Day, which hits streaming right before the July 4th weekend. In addition to the blockbuster, you can also check out popular comedies like Sorry to Bother You, Talladega Nights, and Working Girl, among others. If you're looking for new releases to watch, though, the thrilling indie horror movie Hatching arrives, and so does the charming Bob's Burgers Movie. Plus, the Zoey Deutch and Dylan O'brien led dark comedy Not Okay hits Hulu this month, and it looks like a totally absurd must-watch. See what other movies and shows are becoming available below.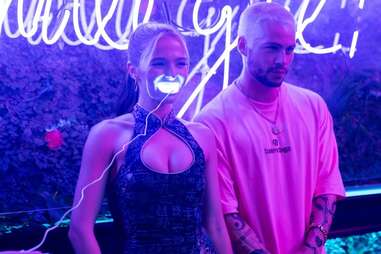 Full List of What's New on Hulu—July 2022
Available July 1
The Amazing Race, Season 32
Any Given Sunday
Are You the One?, Season 1
Because I Said So
Big Trouble in Little China
Billboard Dad
Black Ink Crew, Seasons 5-6
Black Knight
Bogus
Bohemian Rhapsody
Bride Wars
Cadillac Records
The Challenge, Season 34
Closed Circuit
Contraband
Death Race
The Descendants
The Expendables
The Expendables 2
The Expendables 3
Feud, Season 1
First Knight
Ghost Rider
Godsend
The Gospel According to Andre
Heist
Hysteria
Independence Day
Insidious
John Dies at the End
Joy Ride
Jumanji
Knock Knock
Kung Fu Hustle
The Last Circus
The Last Days on Mars
Legend of the Guardians: The Owls of Ga'hoole
The Librarian: Return to King Solomon's Mines
The Librarian: Curse of the Judas Chalice
Little Richard
Love & Hip-Hop Atlanta, Seasons 4-5
Maid in Manhattan
The Man Who Knew Too Little
Mary Shelley's Frankenstein
Milk
Money Train
Nim's Island
127 Hours
Passport to Paris
Poseidon
Post Grad
The Princess (Hulu movie)
Que Pena Tu Vida
Rachel Getting Married
Radio
The Replacement Killers
RuPaul's Drag Race, Season 9
School Daze
Sexy Beast
The Sitter
Sorry to Bother You
Step Up
Step Up 2 the Streets
Step Up 3D
Survivor, Seasons 38-39
Switching Goals
Talladega Nights: The Ballad of Ricky Bobby
Taxi
Te Presento A Laura
That's My Boy
The Tourist
Urban Legend
Urban Legends: The Final Cut
Urban Legends: Bloody Mary
The Watch
What's Love Got To Do With It
Working Girl

Available July 2
Asking For It

Available July 5
Ginger's Tale

Available July 6
Maggie (Hulu series)

Available July 7
How a Realist Hero Rebuilt the Kingdom, Season 1
ULTRASOUND

Available July 8
Generation Gap, Premiere
MINAMATA
Press Your Luck, Season 4 premiere
Rehearsals (Hazarot), Season 1

Available July 9
GOLD

Available July 10
Killing Eve, Season 4

Available July 11
Celebrity Family Feud, Season 8
Curious George
The Final Straw, Premiere
The $100,000 Pyramid, Season 6
Real Housewives of Potomac, Season 6
Who Do You Think You Are?, Premiere

Available July 12
The Bachelorette, Season 19 premiere
The Bob's Burgers Movie
Claim to Fame, Premiere
Missing, Season 1

Available July 13
The Case Study of Vanitas, Season 1
Solar Opposites, Season 3 (Hulu series)
What We Do in the Shadows, Season 4 premiere

Available July 14
Everything's Trash, Premiere
ROOM 203
Victoria's Secret: Angels and Demons (Hulu docuseries)

Available July 15
The Bachelorette, Season 10
Centurion
Cooks vs. Cons, Season 1
Cutthroat Kitchen, Season 14
Deadly Women, Season 13
Filth
Hobo With a Shotgun
I'm Still Here
Murder Comes to Town, Seasons 1-3
Obsession: Dark Desires, Seasons 4-5
Ragnarok
Sex, Guaranteed
Venus and Serena
Viva

Available July 17
The Hater

Available July 18
The Cursed

Available July 19
Aftershock (Hulu series)

Available July 21
American Horror Stories, Season 2 premiere
Grown-ish, Season 5 premiere
Milkwater
You Are Not My Mother

Available July 22
All My Friends Hate Me

Available July 24
Topside

Available July 25
King Arthur: Legend of the Sword

Available July 26
Santa Evita, Premiere (Hulu series)

Available July 29
The Americans, Seasons 1-6
Hatching
Not Okay (Hulu movie)

Available July 31
Client 9
A Day to Die
Full List of What's New on Hulu—June 2022
Available June 1
Alien
Aliens
Alien 3
Alien: Resurrection
Alien v. Predator
Alien v. Predator: Requiem
The American
America's Got Talent, Season 17 premiere
Bewitched
Bridesmaids
Burn After Reading
Cabin Fever
Compadres
Country Strong
Dancing With Myself, Premiere
The Devil Wears Prada
Dick
Die Hard
Die Hard 2
Die Hard With A Vengeance
The Dilemma
Disturbing the Peace
Don Jon
An Education
Fantasy Island, Season 2 premiere
The Fifth Element
50 First Dates
Fred Claus
Freddy Got Fingered
Get Low
The Girl Next Door
Glee
Go For It
A Good Day to Die Hard
Gridiron Gang
Happy Feet
Happy Feet Two
In the Line of Fire
The Last Tourist
Lego Masters, Season 3 premiere
Lemon
Live Free or Die Hard
Martha Marcy May Marlene
Masterminds
Muppets From Space
Napoleon Dynamite
New Year's Eve
The Nutty Professor
Nutty Professor II: The Klumps
Pineapple Express
Predator
Predator II
Predators
The Professional
Prometheus
Push
Reign Over Me
Results
Robots
RV
The 6th Day
Slumdog Millionaire
The Smurfs
There's Something About Mary
30 Minutes or Less
Tomcats
Try Harder!
Tyler Perry's Meet the Browns
Untraceable
Vacancy
The Wedding Planner
Weekend at Bernie's
When a Stranger Calls
White God
Your Highness

Available June 2
The Croods: Family Tree, Season 3 (Hulu series)
The Orville: New Horizons, Premiere (Hulu series)

Available June 3
The Duff
Fire Island (Hulu movie)

Available June 5
Intrigo: Dear Agnes

Available June 6
Hotel Hell

Available June 7
The Accursed
Between Me and My Mind
American Ninja Warrior, Season 14 premiere
Queens of Pain
Vida, Seasons 1-2

Available June 8
Killer Cases, Season 2

Available June 9
The Dog Knight
Indemnity

Available June 10
Undercover Boss, Seasons 8-10

Available June 11
Here Before
Warhunt

Available June 12
Intrigo: Samaria

Available June 13
The Free Fall
The Worst Person in the World

Available June 15
Accused: Guilty or Innocent?, Season 2
Alone, Season 8
American Pickers, Season 1
Ancient Aliens, Season 17
Assembly Required, Season 1
Backroad Truckers, Season 1
The Burning Plain
Crime Beat, Season 1 and 3A
Dance Moms, Seasons 3-4
Dirty Rotten Cleaners, Season 1
Duck Dynasty, Season 1-2 and 4
Europa Report
Frontera
The Good Doctor
Hoarders, Season 5, 7-9, and 13
I Melt With You
Kids Behind Bars: Life or Parole, Season 2
Leave it to Geege, Season 1
Love, Victor, Season 3 (Hulu series)
Lost Car Rescue, Season 1
Married at First Sight, Season 13
Married at First Sight: Couples' Cam, Season 3
Mountain Men, Seasons 7-9
Pawn Stars, Season 18
Obsessed With the Babysitter
Roman to the Rescue, Season 1C
Scary Movie 5
Secrets of a Gold Digger Killer
Two Lovers
The Wrecking Crew
World's Greatest Dad

Available June 16
Bonnaroo Music & Arts Festival: Day 1 Livestream

Available June 17
Bonnaroo Music & Arts Festival: Day 2 Livestream
FX's The Old Man, Premiere (FX on Hulu series)
Good Luck To You, Leo Grande (Hulu movie)

Available June 18
Bonnaroo Music & Arts Festival: Day 3 Livestream
The Ledge
Ted K

Available June 19
Bonnaroo Music & Arts Festival: Day 4 Livestream

Available June 22
Motherland: Fort Salem, Premiere

Available June 23
FX's The Bear (FX on Hulu series)
The Burning Sea

Available June 25
Big Gold Brick
Gasoline Alley

Available June 26
The Desperate Hour F.K.A. Lakewood

Available June 28
Only Murders in the Building, Season 2

Available June 30
Flawless
Madagascar: A Little Wild, Season 8 (Hulu series)
Prince Avalanche