Hulu is doing fine work in the movie department as it continues to compete with the likes of Netflix and Amazon for streaming supremacy. If you want to explore the catalog in more depth, the new month brings dozens of fresh titles to the platform. Binge away!
Recommended Video
Here's Every Oscar Nominee, From Worst to Best
Highlights
Taxi Driver (available 4/1)
Travis Bickle (a young Bobby De Niro) comes back from the Vietnam War and, having some trouble acclimating to daily life, slowly unravels while fending off brutal insomnia by picking up work as a... taxi driver... in New York City. Eventually he snaps, shaves his hair into a mohawk and goes on a murderous rampage while still managing to squeeze in one of the most New York lines ever captured on film ("You talkin' to me?"). It's not exactly a heartwarmer -- Jodie Foster plays a 12-year-old prostitute -- but Martin Scorsese's 1976 Taxi Driver is a movie in the cinematic canon that you'd be legitimately missing out on if you didn't watch it.
The Handmaid's Tale Season 2 Premiere (Available 4/25)
Hulu's Emmy-winning show based on Margaret Atwood's 1985 novel is back this month. Maybe because it's going beyond the pages of the book and wading into original content territory, but Season 2 looks spookier than ever as Offred (Elisabeth Moss) attempts her escape from her perilously misogynistic lifestyle in Gilead. Does she succeed? Will she find her daughter? Will Gilead face revolt? Who's gonna die? (Someone's gonna die.) Only Watchers of Hulu will find out.
Loving Vincent (available 4/19)
This Oscar-nominated, Golden Globe-winning biography of Vincent Van Gough's troubled life was a collaborative effort of 125 oil painters working in his Post-Impressionist style to produce the first-ever animated film to utilize painted canvas. Put that shit in an art museum.
Wayne's World 2 (available 4/1)
In a world of bad sequels, Wayne's World 2 does not disappoint. This time around, Wayne and Garth are compelled by the spirit of Jim Morrison to organize a music festival ("If you book them, they will come") while Cassandra is wooed by her new producer, Bobby Cahn (Christopher Walken). Does Aerosmith show up to the gig? Will Wayne stop Cassandra from marrying Bobby? Obviously, yes, but that shouldn't stop you from watching this classic from '93 anyway.
The Carmichael Show (available 4/30)
Season 3 -- the final season -- of the most underrated live-audience, multi-camera sitcom that's come out of the last five years hits Hulu this month.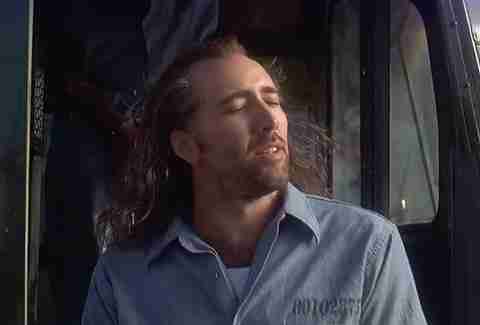 Everything else:
Available 4/1
60 Days In: Complete Season 3
American Pickers: Complete Seasons 15 & 16
Ancient Aliens: Complete Season 12
Counting Cars: Complete Season 6B
Fixer Upper: Complete Season 4
Flea Market Flip: Complete Season 4
Flip or Flop: Complete Season 6
Gangland Undercover: Complete Season 1
House Hunters: Complete Season 108
House Hunters Renovation: Complete Season 8
Intervention: Complete Seasons 15 & 16
Leah Remini: Scientology and the Aftermath: Complete Season 2
Project Runway: Complete Season 15
Property Brothers: Complete Season 9
Property Brothers: Buying & Selling: Complete Seasons 1 & 4
Worst Cooks in America: Complete Season 8
30 Beats (2012)
5 Days of War (2010)
50/50 (2011)
52 Pick-Up (1986)
A Simple Plan (1998)
Accepted (2006)
Barbie A Fashion Fairytale (2010)
Barbie and the Diamond Castle (2008)
Basic Instinct (1992)
The Beaver (2011)
The Big Wedding (2013)
Carrie (1976)
Red State (2012)
Con Air (1997)
The Conspirator (2011)
Cool Runnings (1993)
Danny Roane: First Time Director (2007)
Death Becomes Her (1992)
Desperately Seeking Susan (1985)
The Dogs of War (1981)
Drugstore Cowboy (1989)
Eagle Vs. Shark (2007)
Eight Millimeter (1999)
Eye for an Eye (1996)
Fathers and Daughters (2015)
Flashback (1990)
The Flowers of War (2011)
The Foot Fist Way (2008)
For A Few Dollars More (1967)
Fred: The Movie (2010)
Fred: Night of the Living Fred (2011)
Fred 3: Camp Fred (2012)
Friday The 13th (1980)
Funny About Love (1990)
Gamer (2009)
The Giant King (2015)
Hellbenders 3D (2012)
Honey (2003)
Honey 2 (2011)
I Am a Teacher (2016)
The Inbetweeners (2011)
Internal Affairs (1990)
The Jackal (1997)
Jane Eyre (2011)
K2 (1991)
Ladybugs (1992)
Land Before Time IV: Journey Through the Mists (1996)
Land Before Time Sing Along (1997)
Land Before Time Sing Along 2 (1999)
Land Before Time V: The Mysterious Island (1997)
Land Before Time VI: The Secret of Saurus Rock (1998)
Land Before Time VII: The Stone of Cold Fire (2000)
Lawrence of Arabia (1962)
Leftovers (2017)
Life Stinks (1991)
Man in the Moon (1991)
Map of the Human Heart (1992)
Marathon Man (1976)
The Marc Pease Experience (2009)
Married to the Mob (1988)
The Men Who Stare at Goats (2009)
Miami Blues (1990)
Mystery Team (2009)
Paranormal Activity (2007)
The Phantom (1996)
Prancer (1989)
Project Nim (2011)
Quigley Down Under (1990)
The Rage: Carrie 2 (1999)
Roxanne (1987)
Salsa (1988)
Sex, Drugs, Rock & Roll (2010)
Shanghai Surprise (1986)
She's Having A Baby (1988)
Small Soldiers (1998)
Snake Eyes (1998)
Spaceballs (1987)
Stand Up Guys (2012)
Standing in the Shadows of Motown (2002)
Stories We Tell (2012)
Superstar (1999)
The Switch (2010)
Tenderness (2009)
Texas Chainsaw Massacre II (1986)
Texas Killing Fields (2011)
The Thomas Crown Affair (1999)
Throw Momma from the Train (1987)
Thunder Soul (2010)
Trading Mom (1994)
Tumbledown (2015)
Up In Smoke (1978)
Uptown Girls (2003)
U-571 (2000)
Warpath (1951)
The Winning Season (2010)
Wishmaster (1997)
Wishmaster 2: Evil Never Dies (1999)
Wishmaster 3: Beyond the Gates of Hell (2001)
Wishmaster 4: The Prophecy Fulfilled (2002)
You Don't Mess with the Zohan (2008)
Available 4/2
Black Sails: Complete Season 4
Famous In Love: Season 2 Premiere
Jesus Christ Superstar Live in Concert: Special
Life Partners (2014)
Available 4/3
The Crossing: Series Premiere
Available 4/4
National Treasure: Kiri: Complete Season 2 Premiere Hulu Original Series
So B It (2016)

Available 4/6
Dina (2017)
Available 4/7
My Hero Academia (Subbed): Season 3 Premiere
Available 4/9
Take My Nose… Please! (2017)
Available 4/10
Preacher: Complete Season 2
Hours (2013)
Available 4/11
New Girl: Season 7 Premiere
Augie (2017)
Available 4/12
I Can Do Bad All by Myself (2009)
Available 4/13
Rellik: Series Premiere (Cinemax Series)
Available 4/14
Dealt (2017)
Available 4/15
A Teacher (2013)
American Gangster (2007)
Boys and Girls (2000)
Fame (2009)
Hollow in the Land (2018)
Howl (2010)
In the Bedroom (2001)
Life is Beautiful (1997)
Master of Disguise (2002)
Off Label (2012)
Shut Up and Play the Hits (2012)
Slumber (2018)
The Importance of Being Earnest (2002)
The Messenger (2009)
Available 4/16
The Relationtrip (2017)
Available 4/18
Tragedy Girls (2017)
Available 4/19
Love Island: Complete Seasons 1 - 3
The Only Way Is Essex: Complete Season 21
Available 4/20
Z for Zachariah (2015)
Available 4/22
Westworld: Season 2 Premiere (HBO Series)
Available 4/24
Vikings: Complete Season 5
Available 4/26
Into the Night: Portraits of Life and Death (2017)
Available 4/27
Tiny Shoulders: Rethinking Barbie: Hulu Original Documentary
Available 4/28
78/52: Hitchcock's Shower Scene (2017)
Available 4/29
Permanent (2017)
Available 4/30
Unsolved Mysteries: Complete Seasons 9-14
A Thousand Junkies (2017)
Sign up here for our daily Thrillist email and subscribe here for our YouTube channel to get your fix of the best in food/drink/fun.