Every New TV Show and Movie Hitting Hulu in August
The new goods.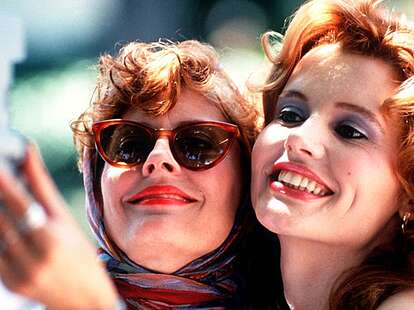 Hulu is doing fine work in the movie department as it continues to compete with the likes of Netflix, Amazon, HBO Max and all the rest for streaming supremacy. If you want to explore the catalog in more depth, every month brings dozens of fresh titles to the platform, from new originals and movies to classics, underrated gems, and even network TV as it currently airs. Below, you can find everything that's in store for the new month, and even what arrived the month prior.
What's the best show coming to Hulu in August?
Summer's staying hot on Hulu this August with summer favorites like
Thelma & Louise
and teen screams like
The Grudge
and
I Know What You Did Last Summer
hitting streaming. The streamer is really bringing the heat with new originals, though, like the comedy
Vacation Friends
that stars John Cena, Lil Rel Howery, and Yvonne Orji. Upcoming series
Nine Perfect Strangers
is definitely one to watch—especially if you were into
Big Little Lies
. The show is an adaptation of another one of
BLL
author Liane Moriarty's novels about a wellness retreat run by a mysterious woman, played none other than Nicole Kidman. You'll also want to add
Only Murders in the Building
to your watch list. The show finds comedy legends Steve Martin and Martin Short teaming up with Selena Gomez to play true-crime obsessed neighbors on a real murder case. See what other
movies
and
shows
are becoming available below.
'Nine Perfect Strangers'

| Vince Valitutti/Hulu
Full List of What's New on Hulu—August 2021
Available August 1
All About E
Alpha & Omega
Are We There Yet?
As Good as It Gets
Attack The Block
The Baby-Sitters Club
Bagdad Cafe
The Beast Within
Black Swan
Blood Games
Blood On Satan's Claw
Bram Stoker's Dracula
Cherry Pop
Christina's House
Contagion
Every Breath You Take
The Final Girls
First Knight
Fish Don't Blink
Fred Claus
Freelancers
French Postcards
From Prada To Nada
Garbo Talks
Getting Go: The Go Doc Project
The Girl King
The Grudge
Gulliver's Travels
Gunfight at the O.K. Corral
Hamilton's Pharmacopia, Season 3
The Hawaiians
Heart Of Midnight
Heartbreakers
Henry Gamble's Birthday Party
Henry V
Hondo
The Hot Chick
The Hunter
I Know What You Did Last Summer
I Love You, Don't Touch Me!
It's Kind Of A Funny Story
Jack and Jill
The Killing Streets
King Arthur
Kingpin
The Legend of Bagger Vance
Liz in September
Mad Max
Miami Blues
Mirror Mirror
Mud
My Bloody Valentine
Naz & Maalik
Planes, Trains and Automobiles
Plaza Suite
Roadhouse 66
Romy and Michele's High School Reunion
Rudy
Shane
Shark Tale
Some Kind of Wonderful
The Sons of Katie Elder
Special Effects
Spellbinder
10 to Midnight
Thelma & Louise
The Thin Red Line
30 Days Of Night
30 Minutes Or Less
Those People
Toy Soldiers
Transcendence
21
Under The Tuscan Sun
The Vatican Tapes
Watchmen

Available August 4
The Devil You Know, Seasons 1-2

Available August 5
Princess Cyd

Available August 6
Madagascar: A Little Wild, Season 4 (Hulu original)

Available August 8
The Party

Available August 9
Reservation Dogs, Series premiere (FX on Hulu)

Available August 10
Together Together

Available August 11
AWOL
Fantasy Island, Series premiere

Available August 12
The Force
Held
Homeroom (Hulu original)
The Virtuoso
The Waiting Room

Available August 13
Brooklyn Nine-Nine, Season 8 premiere

Available August 15
The Hate U Give
Silo

Available August 17
Bachelor in Paradise, Season 7 premiere
The Skeleton Twins

Available August 18
The Marijuana Conspiracy
Nine Perfect Strangers, Series premiere (Hulu original)
Unsane

Available August 19
Blast Beat
Jungleland

Available August 21
We Broke Up

Available August 23
The Ultimate Surfer, Series premiere

Available August 24
Temptation: Confessions of a Marriage Counselor

Available August 26
American Horror Story, Season 10 premiere
Archer, Season 12 premiere
Disobedience
Feral State
Love and Monsters

Available August 27
Chaos Walking
Vacation Friends (Hulu original movie)

Available August 28
Four Good Days

Available August 29
Horizon Line

Available August 30
9/11: One Day in America, Series premiere
Spell

Available August 31
Only Murders in the Building, Series premiere (Hulu original)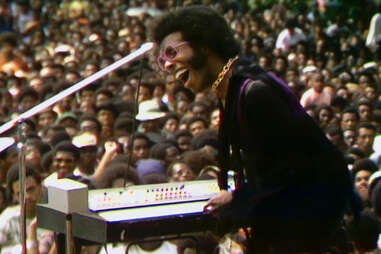 'Summer of Soul'

| 20th Century Fox/Hulu
Full List of What's New on Hulu—July 2021
Available July 1
The Adventures of Hercules
Almost Human
Alpha & Omega: Legend Of The Saw Toothed
American Gun
An Acceptable Loss
Australia
Bad Teacher
Band Aid
Beats, Thymes & Life: The Travels Of A Tribe Called Quest
Beetlejuice
The Best Man
Better Living Through Chemistry
Big Fish
Bitter Harvest
Blue Sky
Bohemian Rhapsody
Breakdown
Bruno
Caddyshack
Caddyshack II
Candyman 3: Day of the Dead
Carnage Park
Caveman
Chaplin
Chuck
The Chumscrubber
A Ciambra
Citizen Jane: Battle for the City
Cliffhanger
The Condemned
Confessions Of A Shopaholic
The Conversation
Coyote Ugly
The Cured
Dangerous Minds
Dealin' With Idiots
Dealt
Dear White People
Donnybrook
Dumb & Dumber
Dumb & Dumber: When Harry Met Lloyd
Elaine Stritch: Shoot Me
Eliminators
Enemy at the Gates
The Face of Love
Factotum
Fargo
The Feels
Fired Up!
Foxfire
Frank Serpico
Frankenstein and the Monster from Hell
Free To Run
From Paris with Love
Galaxy Quest
The Gift
Gimme the Loot
The Girl With The Dragon Tattoo
Gorp
Graduation
Grandma
Hellions
Hideaway
House of the Dead
House of the Dead 2
The House That Jack Built
Housesitter
I Daniel Blake
I Do...Until I Don't
I Remember You
Ice Age
In The Cut
Indignation
Intermission
Intolerable Cruelty
Johnny English
Knowing
The Ladies Man
Last Days Here
Let's be Evil
Manic
The Mask
Maximum Risk
Mercury Rising
The Mighty Ones, Season 2 (Hulu original)
Morning Glory
Mystic Pizza
The Natural
Ode to Joy
127 Hours
Open Range
Open Water
Open Water 2: Adrift
Passage to Mars
Personal Shopper
The Polar Express
Rabid Dogs
Rebel in the Rye
Reno 911!: Miami: The Movie
Revolutionary Road
Robocop
Robocop 2
Robocop 3
Rookie of the Year
RuPaul's Drag Race, Season 7
Seabiscuit
78/52: Hitchcock's Shower Scene
Shelley
Sightseers
68
Sleeping With The Enemy
Sleepwalkers
Soldier Boyz
Something's Gotta Give
Somewhere
Sorority Row
Space Jam
Stand by Me
Star Trek IV: The Voyage Home
Star Trek: First Contact
Stephen King's Graveyard Shift
The Stepfather
Stonewall
Stray
Sunshine
Super Troopers
Sweet Virginia
Taffin
Take Every Wave
Take Shelter
Taken
The Terminator
They Came Together
Thunderheart
Timeline
Tooth Fairy
28 Days Later
28 Weeks Later
Twisted
Underworld
Underworld Awakening
Underworld Evolution
Underworld: Rise Of The Lycans
Universal Soldier
The Unknown Girl
Walking Tall
Whip It
White Nights
William Shakespeare's Romeo + Juliet
Wolves

Available July 2
Summer of Soul (Hulu documentary)
Bill & Ted Face the Music

Available July 3
Dreamcatcher
Flower of Evil, Season 1
I'll Go To You When The Weather Is Fine, Season 1
More Than Friends, Season 1

Available July 4
Leave No Trace

Available July 8
My Wife and Kids, Seasons 1-5
Murdoch Mysteries, Season 13
Papillon

Available July 9
Barb and Star go to Vista Del Mar
Grown-ish, Season 4 premiere
In a World…
Moffie
This Way Up, Season 2

Available July 10
47 Meters Down

Available July 12
Love Island UK, Season 7 premiere

Available July 14
Cleopatra in Space, Season 1
My All-American

Available July 15
American Horror Stories, Two-episode limited series premiere (FX on Hulu)
The Act of Killing
Amira & Sam
Borgman
Bullhead
Cheap Thrills
The Complex: Lockdown
The Congress
The Connection
Enforcement
Exit Plan
A Field in England
The Final Member
The FP
I Declare War
The Keeping Room
Men & Chicken
Mood Indigo
Pieta
R100
Raiders! The Story of the Greatest Fan Film Ever Made
20,000 Days on Earth
Wrong

Available July 16
McCartney 3, 2, 1, Docuseries premiere (Hulu original)

Available July 17
Horimiya, Season 1

Available July 22
Olympic Dreams featuring Jonas Brothers

Available July 26
The Artist

Available July 29
The Resort