Hulu is doing fine work in the movie department as it continues to compete with the likes of Netflix and Amazon for streaming supremacy. If you want to explore the catalog in more depth, the new month brings dozens of fresh titles to the platform. Binge away! 
Recommended Video
This Restaurant Gives Brunch a Punjabi Twist
Highlights
Reprisal (Hulu original) (available 12/6)
All 10 episodes of this neo-noir hit Hulu in December. The crime drama follows the brutal revenge plot of a femme fatale played by Abigail Spencer, who's presumed dead after a gang tries to kill her.
Marvel's Runaways, Season 3 premiere (Hulu original) (available 12/13)
The Runaways have one last chance to save the world, as the teen superhero series is coming to an end with its third and final season. In the last installment, the Runaways are searching for their friends who were captured at the end of Season 2, and gearing up to face off with the ruler of the dark realm who's built up an army in hopes of taking over this world. 
Fast and the Furious movies (available 12/1 and 12/16)
If you plan on staying in as the holidays approach and the weather gets colder, a handful of Fast and the Furious movies will be available on Hulu for your binge-watching-pleasure. The Fast and the Furious, 2 Fast 2 Furious, and Tokyo Drift all hit the streamer on December 1, and if that's not enough Diesel and souped up cars for you, you can return on the 16th for 2009's Fast & Furious.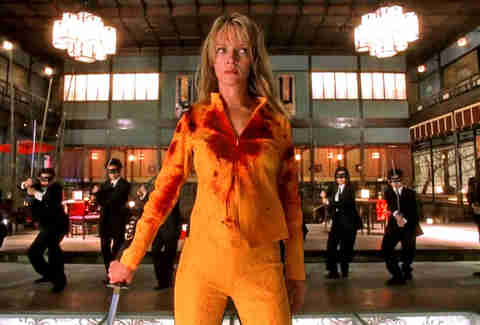 Everything else
Available 12/1
2 Fast 2 Furious 
28 Weeks Later 
A Better Life 
A Fairly Odd Movie: Grow Up, Timmy Turner! 
Airheads 
Almost Famous 
The Aviator 
Behind Enemy Lines 
Bug 
Ca$h 
Cheri 
Downhill Racer 
Escape from Mr. Lemoncello's Library
The Fast and the Furious 
The Fast and the Furious: Tokyo Drift 
Footloose 
Gintama, Season 1 
Half-Shell Heroes: Blast to the Past 
Hamlet 
Havana Motor Club 
Heartbreakers 
Hellboy II: The Golden Army
In Secret 
Just Married
Kill Bill: Volume 1 
Kill Bill: Volume 2 
Legend of the Drunken Master
LOL 
The Massively Mixed-Up Middle School Mystery
Meet Joe Black 
Nobody's Fool
Out of Time 
The Pawnbroker 
Phase IV
Prancer  
Rags 
Road House 
Secretary 
Set Up 
Some Kind of Wonderful
Sorority Row 
The Spirit
Splitting Adam 
Swindle 
Transporter 2 
Unikitty, Season 2A (Cartoon Network)
Wall Street
The Winning Season 
 
Available 12/2
 This One's For the Ladies
 
Available 12/3
The Great Christmas Light Fight, Season 7 premiere
Making It, Season 2 premiere 
My Boss's Daughter 
Vanderpump Rules, Season 7 
Younger, Season 6 
 
Available 12/4       
Brad Paisley Thinks He's Special
CMA Country Christmas
Fruits Basket, Season 1
 
Available 12/5        
How to Train Your Dragon: Homecoming 
How to Train Your Dragon: Snoggletog Log 
Killers Anonymous 
The Moody's, Series premiere 
 
Available 12/6
Burden of Truth, Season 2 
Into The Dark: A Nasty Piece of Work (Hulu Original)
The Push 
Reprisal, Season 1 premiere (Hulu Original)
Top Chef, Season 16
 
Available 12/8
From Paris with Love 
 
Available 12/9
Miss Universe 2019
 
Available 12/11
Ellen's Greatest Night of Giveaways, Series premiere 
Fast Color 
Sherman's Showcase, Season 1 
 
Available 12/12
Blackfish 
 
Available 12/13
Bumblebee
Depraved
The Great American Baking Show, Season 5 premiere (ABC)
Marvel's Runaways, Season 3 premiere (Hulu Original)
The Sounds of Silence 
 
Available 12/16
American Gangster
Fast & Furious 
Wild Rose 
 
Available 12/17
Holidays with the Houghs
Mighty Magisworlds, Season 2B 
 
Available 12/18
The Kid 
Killing Eve, Season 2
Live in Front of a Studio Audience: All in the Family and Good Times
 
Available 12/19
Cold Case Hammarskjold
Mix, Season 1
 
Available 12/20
Miss America Pageant
Loro 
 
Available 12/23
Pawn Sacrifice
 
Available 12/24
Black Jesus, Season 3 
 
Available 12/27
Into The Dark: Midnight Kiss (Hulu Original)
The Day Shall Come 
 
Available 12/28
Better Things, Season 3
 
Available 12/29
Preacher, Season 4 
  
Available 12/30
Anesthesia 
Flirty Dancing, Series premiere
OK K.O., Let's Be Heroes!, Season 2B 
The Orville, Season 2 
Running with the Devil
Transformers: Dark of the Moon
What Men Want 
Wonder Park
Everything that arrived in November
Available 11/1
A Fairly Odd Christmas 
A Simple Plan 
Albert 
America's Cutest, Seasons 2-3 
Big Top Pee-Wee 
Chinatown 
The Counterfeit Traitor 
Dinner for Schmucks
Double Jeopardy 
The Englishman Who Went Up a Hill but Came Down a Mountain 
Escape from Alcatraz 
Everything You Always Wanted to Know About Sex, but were Afraid to Ask 
Fantastic Four 
Fatal Attraction 
Fever Pitch 
Fire with Fire 
The Firm 
Flashdance 
Freddy Vs Jason 
Freddy's Dead: The Final Nightmare
Freelancers 
Fun with Dick and Jane 
Giada's Holiday Handbook, Seasons 1-3
Gloria 
Head of State 
Holiday Baking Championship, Seasons 1-4 
Home for the Holidays 
I Heart Huckabees 
In Enemy Hands 
Interview with a Vampire 
Into The Dark: Pilgrim (Hulu Original)
Kids Baking Championship, Season 4
Kingpin 
Light Sleeper 
Love Island: Australia, Season 1
Madea's Big Happy Family 
Madea's Witness Protection 
Magic Mike 
The Mexican
The Nightingale
Overlord
The Pink Panther 2 
Reds
The Ring 
Santa Hunters 
Sex Sent Me to the ER, Seasons 1-2 
Shall We Dance?
Sinbad: Legend of the Seven Seas 
Soapdish
Spy Next Door 
Summers Moon 
Terminator 3: Rise of the Machines 
Terminator Salvation 
Tim Burton's Corpse Bride 
Tiny Christmas 
Too Cute!, Seasons 2-3 
The Two Jakes 
Under the Tuscan Sun 
Undisputed 
Waiting… 
You Laugh but It's True 
 
Available 11/4
Denial
 
Available 11/5
Framing John Delorean 
 
Available 11/6        
Long Time Coming: A 1955 Baseball Story 
The Biggest Little Farm
 
Available 11/7
Texas Chainsaw 3D
Available 11/9
You're the Worst, Season 5 
 
Available 11/13
Anna and the Apocalypse 
Ugly Dolls 
 
Available 11/14
Instant Family 
Veronica Mars 
Available 11/15
Dollface, Season 1 premiere (Hulu original)
Creed II 
Wings of the Dove
 
Available 11/18
Booksmart 
The Tomorrow Man 
 
Available 11/19
Apple Tree Yard, Season 1 
Margaret Atwood: A Word After a Word After a Word is Power 
The Quiet One 
 
Available 11/20
Some Kind of Beautiful 
 
Available 11/22
The Accident, Season 1 premiere (Hulu original)
Holly Hobbie, Season 2 premiere (Hulu original)
Vita & Virginia 
 
Available 11/24
Ice Age: A Mammoth Christmas 
 
Available 11/25
Love & Mercy 
 
Available 11/26
NOS4A2, Season 1 
Astronaut
 
Available 11/27
Meeting Gorbachev 
 
Available 11/28
Mike Wallace is Here