Hulu is doing fine work in the movie department as it continues to compete with the likes of Netflix and Amazon for streaming supremacy. If you want to explore the catalog in more depth, the new month brings dozens of fresh titles to the platform. Binge away! 
Highlights
Castle Rock, Season 2 premiere (Hulu original) (available 10/23)
The horror series inspired by Stephen King's work is back for Season 2. The latest installment sees new cast members like Lizzy Caplan taking on the role of Misery's Annie Wilkes, with Eighth Grade breakout star Elsie Fisher playing her daughter. The season will focus on a feud that erupts between the two of them and another mysterious group in Castle Rock. 
Little Monsters (Hulu original film) (available 10/11)
October will see Hulu release several original horror movies to snag viewers in the calendar's spookiest month. One of them, Little Monsters, stars Lupita Nyong'o as a kindergarten teacher fending off zombies that unleash chaos on her class during a field trip. She's joined by Alexander England and Josh Gad, who fight for her affection while fighting off the undead in this horror-comedy. 
Looking For Alaska, Season 1 (Hulu original) (available 10/18)
There have been talks basically since it was published in 2005 that a film adaptation of John Green's popular novel Looking For Alaska was in the works -- instead, we'll finally see it in the form of a Hulu original series. The teen drama follows a a boy named Miles "Pudge" Halter (Charlie Plummer) and his new friendships once he arrives at boarding school, particularly one with Alaska Young (Kristine Froseth). The two predictably begin having feelings for each other, but tragedy hits their school and throws a wrench in everything.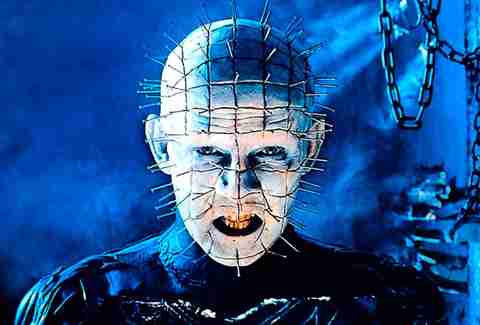 Everything else
Available 10/1
A Fairly Odd Summer 
The Accused 
The Adventures of Buckaroo Banzai Across the 8th Dimension 
A.I. Artificial Intelligence 
Alien Encounters, Seasons 2-3
American Beauty 
American Pickers, Season 19
An American Haunting
Basketball Wives LA, Seasons 1-5 
Be Cool 
Beautiful Creatures 
Big Time Movie 
Biography: The Trump Dynasty, Season 1
Blade 
Blade 2 
Blade: Trinity
Blue Jasmine
Blurt 
Born This Way, Seasons 3-4 
Boyz N' The Hood 
Brooklyn's Finest 
Cadillac Man 
Children of the Snow, Season 1
Cloverfield 
The Conspirator 
Constantine 
Crash 
Days of Thunder 
The Dead Files, Seasons 7-8 
Dead Heat 
Detroit: Comeback City, Season 1 
Diana Vreeland: The Eye Has to Travel
Diners, Drive Ins and Dives, Season 26  
The Dude Perfect Show, Seasons 1-2
Eagle Vs. Shark 
Election
Event Horizon 
Face/Off 
The First 48 Presents: Homicide Squad Atlanta, Season 1 
Fixer Upper: Behind the Design, Season 1 
Fled 
Forces of Nature 
Get Shorty
Ghost World 
Guy's Grocery Games, Season 11
Halloween Baking Championship, Seasons 1-3 
Halloween Wars, Seasons 4-7 
Halloween Wars: Special 
The Haunting 
The Haunting in Connecticut 
Hellraiser 
Hellraiser III: Hell on Earth
Hellraiser IV: Bloodline 
Hey Arnold! The Jungle Movie
High Noon 
The Hills, Seasons 1-6 
Hoosiers
House Hunters, Seasons 110-111 
The Hunted
I Am Frankie, Seasons 1-2 
I Spit on Your Grave 
I Spit on Your Grave 2 
I Spit on Your Grave 3 
Impostor 
Into the Blue 
Kalifornia 
Kids Halloween Baking Championship: Special 
The Killer Next Door 
Larry the Cable Guy: Health Inspector 
Little Black Book
Love Crimes
Leah Remini: Scientology and the Aftermath, Season 3 
Major League II 
Many Shades of Jane, Season 1
Miami Group Murder 
Mousehunt 
Much Ado About Nothing 
Mountain Men, Seasons 3-4 
Murder in the Heartland, Season 1 
My 600-lb Life, Season 7 
The Naked Gun: From the Files of Police Squad! 
The Naked Gun 2 1/2 : The Smell of Fear
Naked Gun 33 1/3: The Final Insult 
Never Back Down
No Way Out 
North Dallas Forty 
One Direction: This Is Us 
The Orphanage 
OutDaughtered, Season 4 
Paradise Run, Seasons 1-2 
Paranormal Lockdown UK, Season 1 
Patriot Games 
The Peacemaker 
Permanent Midnight
Pieces of April 
The Pirates! Band of Misfits
Platoon 
Play it Again, Sam
Project Nim
Property Virgins, Seasons 16-17 
Rain Man 
The Rap Game, Season 5 
Rent 
Sailor Moon, Season 4 
Saturday Night Fever
Saw 
Saw 2 
Saw 6 
School Ties 
Set Up 
Sixteen Candles 
Snakes on a Plane
Sneakerheadz
Split Decisions 
Stargate 
Storage Wars, Season 12 
Surf's Up 
The Talented Mr. Ripley 
Tales from the Darkside: The Movie 
Total Recall 
Trading Mom 
True Colors 
True Grit 
Up in the Air 
Vampire in Brooklyn 
Varsity Blues 
Wes Craven Presents: Dracula 2000
What Lies Beneath 
Winter's Bone 
Witness 
The Wrestler
UFO Conspiracies, Season 1 
60 Days In, Season 5 
Available 10/2
Amazing Grace 
 
Available 10/3
Almost Family, Series premiere 
 
Available 10/4         
Into The Dark: Uncanny Annie, Episode premiere (Hulu original)
Light as a Feather, Season 2, Part 2 (Hulu original)
Pegasus: Pony with a Broken Wing
Saints & Sinners, Season 4 
The Real Housewives of Atlanta, Season 11 
 
Available 10/5 
Drunk History, Season 6B 
 
Available 10/7
Kids Say the Darndest Things, Series premiere
Missing Link
The Real Housewives of New Jersey, Season 9
 
Available 10/9
Megan Leavey
 
Available 10/11
The Bravest Knight, Season 1B (Hulu original)
Little Monsters (Hulu original film)
Trespassers  
Available 10/13
The Last Face 
 
Available 10/14
Letterkenny, Season 7 (Hulu original)
Little Woods
 
Available 10/17
Toni Morrison: The Pieces I Am 
 
Available 10/18
Looking For Alaska, Season 1 (Hulu original)
Wounds (Hulu original film)
 
Available 10/20
Catfish: The TV Show, Season 7D 
The Ladybug 
 
Available 10/21
Fairy Tail, Season 9C
 
Available 10/22
Benjamin 
 
Available 10/23
Castle Rock, Season 2 premiere (Hulu original)
 
Available 10/25
Zomboat!, Series premiere
 
Available 10/26
Killing Zoe
Everything that arrived in September
Available 9/1
27 Dresses
50 First Dates 
A Dog and Pony Show 
A Guy Thing 
A.R.C.H.I.E 2: Mission Impawsible 
After the Screaming Stops 
Against the Wild 2 
All Dogs Go to Heaven 2 
The Amityville Horror 
An Everlasting Piece 
Banking on Bitcoin 
Basic Instinct 
Bigfoot Country 
Blown Away
Breaking Away 
Chuggington, Seasons 1-5 
The Chumscrubber 
The Cokeville Miracle 
The Cooler
The Dark Half
Demolition Man 
Destiny Turns on the Radio
Disturbing Behavior 
Doctor Dolittle
The Edge
Emma 
Evil Dead 
Evil Dead II 
Exposed 
Failure to Launch 
Far from Home 
Ferngully: The Last Rainforest 
The First Monday in May 
Firstborn
Flashback 
From Mexico with Love
The Ghost and the Darkness 
The Goonies 
Heist
Hercules
High-Rise 
I, Frankenstein 
Invasion of the Body Snatchers 
Jersey Girl 
Juno 
The Last Exorcism
Lethal Weapon 
Lethal Weapon 2 
Lethal Weapon 3 
Lethal Weapon 4 
Liar, Liar 
Lost in Space 
Man on a Ledge 
The Matrix
The Matrix Reloaded 
The Matrix Revolutions 
Miami Vice 
The Midnight Meat Train 
The Monster Squad 
Mommie Dearest 
Monsters at Large 
Mr. Mom 
The Object of Beauty 
Ocean's Eleven 
Ocean's Twelve 
Ocean's Thirteen
Open Season 
Open Season 2 
Open Season 3 
Open Season: Scared Silly
The Perfect Weapon 
The Portrait if a Lady 
Pinocchio 
Playing it Cool 
Poltergeist II: The Other Side 
Pretty in Pink 
Pumpkinhead 
Pumpkinhead II: Blood Wings 
Ravenous 
Red Dog: True Blue
Requiem for a Dream 
Revolutionary Road
Robo-Dog: Airborne 
Sacred Ground 
Saving Christmas 
Secretary 
She's All That 
Sliver 
Sucker Punch
Suicide Kings 
Top of the Food Chain
Training Day 
Turtle Tale 
Unbreakable 
Universal Soldier 
Wayne's World 2 
Wild Card 
 
Available 9/2
Anthropoid 
Matriarch
Untouchable, Documentary premiere (Hulu Original)
 
Available 9/3         
Bolden 
We Die Young 
 
Available 9/4
Kicking and Screaming 
The Purge, Season 1 
Wu-Tang: An American Saga, Series premiere (Hulu Original)
 
Available 9/6
Into The Dark: Pure, Episode 12 season finale (Hulu Original)
 
Available 9/9
Hotel Mumbai 
Wise Man's Grandchild, Season 1 (DUBBED)
Available 9/10
Curious George: A Royal Monkey 
 
Available 9/14
Pocahontas 
 
Available 9/16
Curious George 
The Powerpuff Girls, Season 3B 
 
Available 9/17
Dancing with the Stars, Season 28 premiere 
 
Available 9/19
Aniara 
Crypto 
 
Available 9/20
Afterlost, Season 1 (DUBBED)
 
Available 9/21
Dream Corp LLC., Season 2 
Robihachi, Complete Season 1 (DUBBED) 
 
Available 9/24
9-1-1, Season 3 premiere 
American Horror Story: Apocalypse, Season 8 
Bluff City Law, Series premiere 
The Good Doctor, Season 3 premiere 
Prodigal Son, Series premiere 
The Voice, Season 17 premiere 
Available 9/25
Black-ish, Season 6 premiere
Bless This Mess, Season 2 premiere 
The Conners, Season 2 premiere
Emergence, Series premiere 
Empire, Season 6 premiere
Mixed-ish, Series premiere 
New Amsterdam, Season 2 premiere
The Resident, Season 3 premiere 
This Is Us, Season 4 premiere 
 
Available 9/26
Chicago Fire, Season 8 premiere 
Chicago Med, Season 5 premiere
Chicago P.D., Season 7 premiere 
The Goldbergs, Season 7 premiere
The Masked Singer, Season 2 premiere
Modern Family, Season 11 premiere 
Schooled, Season 2 premiere 
Single Parents, Season 2 premiere 
South Park, Season 23 premiere 
Stumptown, Series premiere 
 
Available 9/27
A Million Little Things, Season 2 premiere 
Grey's Anatomy, Season 16 premiere 
The Good Place, Season 4 premiere 
How to Get Away With Murder, Season 6 premiere 
Law & Order: SVU, Season 21 Premiere
Perfect Harmony, Series Premiere 
Sunnyside, Series Premiere
Superstore, Season 5 premiere
 
Available 9/28
American Housewife, Season 4 premiere
Fresh Off the Boat, Season 6 premiere 
Rango
 
Available 9/30
American Dad!, Season 13
America's Funniest Home Videos, Season 30 premiere 
Bless the Harts, Series premiere 
Bob's Burgers, Season 10 premiere 
Family Guy, Season 10 premiere 
Primal Fear 
The Rookie, Season 2 premiere 
Shark Tank, Season 11 premiere 
The Simpsons, Season 31 premiere
Teen Spirit