Every New Movie and TV Show Hitting Netflix in December
It's a new month. You're going to need something to watch.
What is the best movie coming to Netflix in December?
December on Netflix means, not only is the streaming service rolling out its extensive slate of holiday-themed programming, it's time for its movies with awards buzz to drop. Jane Campion's western The Power of the Dog, starring Benedict Cumberbatch, Kirsten Dunst, and Jesse Plemons arrives at the start of the month, and Maggie Gyllenhaal's directorial debut, The Lost Daughter, featuring Olivia Coleman and Dakota Johnson arrives at the end of the month. The new Adam McKay comedy, Don't Look Up, which stars literally dozens of celebrities and is fronted by Leonardo DiCaprio and Jennifer Lawrence, also hits streaming just in time for Christmas Eve. Plus, you can fill out your holiday season binge-watching by checking out new seasons of Cobra Kai, Emily in Paris, Queer Eye, and The Witcher. You can also check out movies hitting streaming like the Korean hit Oldboy, the '90s neo-noir Wild Things, and the Final Destination series, and so much more.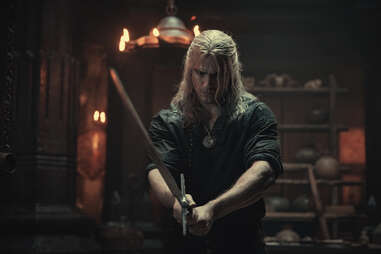 Full List of What's New on Netflix—December 2021
Available December 1
Are You The One, Season 3
Blood and Bone
Body of Lies
Bordertown: Mural Murders
Chloe
Chocolat
Closer
Death at a Funeral
Dr. Seuss' The Cat in the Hat
The Final Destination
Final Destination 3
Final Destination 5
Fool's Gold
The Fourth Kind
Ink Master, Season 3
Ink Master, Season 4
JoJo's Bizarre Adventure: STONE OCEAN (Netflix anime)
Kayko and Kokosh, Seasons 1-2 (Netflix series)
Knight Rider 2000
Knight Rider, Seasons 1-4
Law Abiding Citizen
The Legend of Zorro
Life
Looper
Lost in Space, Season 3 (Netflix series)
The Mask of Zorro
Minority Report
Pet Sematary
The Power of the Dog (Netflix film)
Premonition
Sabrina
Soul Surfer
Stepmom
Stuart Little 2
Sucker Punch
Think Like a Man
Tremors
We Were Soldiers
Wild Things
Wyatt Earp

Available December 2
The Alpinist
Coyotes (Netflix series)
Escalona, Season 1
Single All the Way (Netflix film)
The Whole Truth (Netflix film)

Available December 3
Cobalt Blue (Netflix film)
Coming Out Colton (Netflix series)
The Great British Baking Show: Holidays, Season 4 (Netflix series)
Jurassic World Camp Cretaceous, Season 4 (Netflix series)
Mixtape (Netflix film)
Money Heist, Part 5 Volume 2
Money Heist: From Tokyo to Berlin, Volume 2 (Netflix docuseries)
Shaun the Sheep: The Flight Before Christmas (Netflix film)

Available December 5
JAPAN SINKS: People of Hope, Season 1 (episode 8)

Available December 6
David and the Elves (Netflix film)
Voir (Netflix docuseries)

Available December 7
Centaurworld, Season 2 (Netflix series)
Go Dog Go, Season 2 (Netflix series)
Nicole Byer: BBW (Big Beautiful Weirdo) (Netflix comedy special)

Available December 8
Carolin Kebekus: The Last Christmas Special (Netflix comedy special)

Available December 9
Asakusa Kid (Netflix film)
Bathtubs Over Broadway
Bonus Family, Season 4 (Netflix series)
The Family That Sings Together: The Camargos (Netflix docuseries)

Available December 10
Anonymously Yours (Netflix film)
Aranyak (Netflix series)
Back to the Outback (Netflix film)
How To Ruin Christmas: The Funeral (Netflix series)
Twentysomethings: Austin (Netflix reality series)
Saturday Morning All Star Hits! (Netflix series)
The Shack
Still Out of My League (Netflix film)
Two (Netflix film)
The Unforgivable (Netflix film)

Available December 11
Fast Color
The Hungry and the Hairy (Netflix series)

Available December 12
JAPAN SINKS: People of Hope, Season 1 (episode 9)

Available December 13
Eye in the Sky

Available December 14
The Future Diary (Netflix reality series)
Russell Howard: Lubricant (Netflix comedy special)
StarBeam: Beaming in the New Year (Netflix special)

Available December 15
Black Ink Crew New York, Seasons 3-4
The Challenge, Season 12 and Season 25
Elite Short Stories: Phillipe Caye Felipe (Netflix series)
The Giver
The Hand of God (Netflix film)
Masha and the Bear: Nursery Rhymes, Season 1 Part 2
Masha and the Bear, Season 5
Selling Tampa (Netflix reality series)
Teen Mom 2, Seasons 3-4

Available December 16
Aggretsuko, Season 4 (Netflix anime)
A California Christmas: City Lights (Netflix film)
Darkest Hour
A Naija Christmas (Netflix film)
Puff: Wonders of the Reef (Netflix documentary)

Available December 17
Fast & Furious Spy Racers, Season 6: Homecoming (Netflix series)
The Witcher, Season 2 (Netflix series)

Available December 18
Bulgasal: Immortal Souls (Netflix series)
Oldboy

Available December 19
What Happened in Oslo (Netflix series)

Available December 20
Elite Short Stories: Samuel Omar (Netflix series)

Available December 21
Jim Gaffigan: Comedy Monster (Netflix comedy special)
Grumpy Christmas (Netflix film)

Available December 22
Emily in Paris, Season 2 (Netflix series)

Available December 23
Elite Short Stories: Patrick (Netflix series)

Available December 24
Don't Look Up (Netflix film)
Minnal Murali (Netflix film)
1000 Miles from Christmas (Netflix film)
The Silent Sea (Netflix series)
STAND BY ME Doraemon 2 (Netflix film)
Vicky and Her Mystery (Netflix film)
Zach Stone is Gonna Be Famous

Available December 25
Jimmy Carr: His Dark Material (Netflix comedy special)
Single's Inferno (Netflix series)
Stories of a Generation - with Pope Francis (Netflix documentary)

Available December 26
Lulli (Netflix film)

Available December 28
Word Party Presents: Math! (Netflix series)

Available December 29
Anxious People (Netflix series)
Crime Scene: The Times Square Killer (Netflix docuseries)

Available December 30
Kitz (Netflix series)
Hilda and the Mountain King (Netflix film)

Available December 31
Cobra Kai, Season 4 (Netflix series)
The Lost Daughter (Netflix film)
Queer Eye, Season 6 (Netflix reality series)
Stay Close (Netflix series)
Seal Team (Netflix film)

December TBA
Decoupled (Netflix series)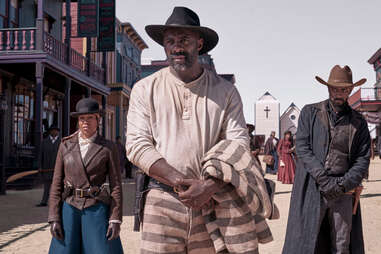 Full List of What's New on Netflix—November 2021
Available November 1
Addams Family Values
American Gangster
An Elf's Story: The Elf on the Shelf
Angry Birds, Season 4 - Slingshot Stories
Bella and the Bulldogs, Season 2
The Big Wedding
Bram Stoker's Dracula
The Claus Family (Netflix film)
Elf Pets: Santa's St. Bernards Save Christmas
First Knight
Forged in Fire, Season 7
Gather
The General's Daughter
It Follows
Johnny Mnemonic
JoJo's Bizarre Adventure: Golden Wind
Last Action Hero
Moneyball
Montford: The Chickasaw Rancher
My Dad's Christmas Date
The Nightingale
A River Runs Through It
60 Days In, Season 6
Snakes on a Plane
Stripes
Tagged
Te Ata
Texas Rangers
Total Recall
21 Jump Street

Available November 2
Camp Confidential: America's Secret Nazis (Netflix documentary)
Ridley Jones, Season 2 (Netflix series)

Available November 3
The Harder They Fall (Netflix film)
Lords of Scam (Netflix documentary)

Available November 4
Catching Killers (Netflix documentary)

Available November 5
A Cop Movie (Netflix documentary)
Big Mouth, Season 5 (Netflix series)
The Club (Netflix series)
Glória (Netflix series)
Love Hard (Netflix film)
Meenakshi Sundareshwar (Netflix film)
Narcos: Mexico, Season 3 (Netflix series)
The Unlikely Murderer (Netflix series)
We Couldn't Become Adults (Netflix film)
Yara (Netflix film)
Zero to Hero (Netflix film)

Available November 6
Arcane (Netflix series)

Available November 7
Father Christmas is Back (Netflix film)

Available November 9
Swap Shop (Netflix series)
Your Life Is a Joke (Netflix comedy special)

Available November 10
Animal (Netflix documentary)
Gentefied, Season 2 (Netflix series)
Happiness Ever After (Netflix series)
Passing (Netflix film)

Available November 11
Love Never Lies (Netflix series)

Available November 12
Legacies, Season 3
Red Notice (Netflix film)

Available November 14
Mariah Carey's All I Want For Christmas Is You

Available November 15
America's Next Top Model, Season 21
America's Next Top Model, Season 22
Kuroko's Basketball: Last Game
Lies and Deceit (Netflix series)
Snowbound for Christmas
Survivor, Season 16
Survivor, Season 37

Available November 16
Johnny Test's Ultimate Meatloaf Quest (Netflix series)
StoryBots: Laugh, Learn, Sing (Netflix series)

Available November 17
Christmas Flow (Netflix series)
Prayers for the Stolen (Netflix film)
The Queen of Flow, Season 2 (Netflix series)
Supergirl, Season 6
Tear Along the Dotted Line (Netflix series)
Tiger King 2 (Netflix docuseries)

Available November 18
Carlos Ballarta: False Prophet (Netflix comedy special)
Dogs in Space (Netflix series)
Lead Me Home (Netflix documentary)
The Princess Switch 3: Romancing the Star (Netflix film)

Available November 19
Blown Away: Christmas (Netflix series)
Cowboy Bebop (Netflix series)
Dhamaka (Netflix film)
Extinct (Netflix series)
Hellbound (Netflix series)
Love Me Instead (Netflix film)
The Mind, Explained, Season 2 (Netflix docuseries)
Procession (Netflix documentary)
tick, tick...BOOM! (Netflix film)

Available November 20
New World (Netflix series)

Available November 22
Outlaws (Netflix film)
Vita & Virginia

Available November 23
Masters of the Universe: Revelation, Part 2 (Netflix series)
Reasonable Doubt: A Tale of Two Kidnappings (Netflix documentary)
Waffles + Mochi's Holiday Feast (Netflix special)

Available November 24
A Boy Called Christmas (Netflix film)
Bruised (Netflix film)
Robin Robin (Netflix film)
Selling Sunset, Season 4 (Netflix series)
True Story (Netflix series)

Available November 25
F is for Family, Season 5 (Netflix series)
Super Crooks (Netflix series)

Available November 26
A Castle For Christmas (Netflix film)
Dig Deeper: The Disappearance of Birgit Meier (Netflix documentary)
Green Snake (Netflix film)
Light the Night (Netflix series)
School of Chocolate (Netflix series)
Spoiled Brats (Netflix film)

Available November 28
Elves (Netflix series)

Available November 29
14 Peaks: Nothing is Impossible (Netflix documentary)

Available November 30
Charlie's Colorforms City: Classic Tales with a Twist (Netflix series)
Charlie's Colorforms City: Snowy Stories (Netflix special)
Charlie's Colorforms City: The Lost Valentines Musical (Netflix special)
Coming Home in the Dark
More the Merrier (Netflix film)
The Summit of the Gods (Netflix film)