Every New Movie and TV Show Hitting Netflix in August
It's a new month. You're going to need something to watch.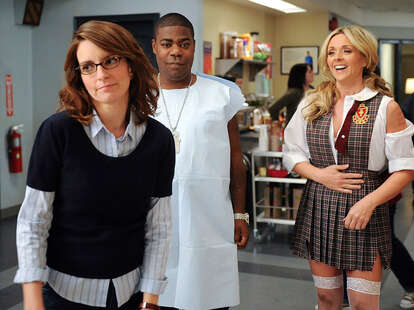 A new month means a new crop of licensed and original movies and shows arriving on Netflix, which helps take the sting out of saying farewell to many others. Below, see the full list of titles hitting Netflix starting on the 1st of the month, but first, let's take a quick tour through the highlights.
If you seek a new TV show to binge, Netflix has some intense options in August. We highly recommend Clickbait, a perfectly ludicrious and absolutely binge-friendly limited series about a man (Adrian Grenier) who suddenly disappears and turns up as a hostage in a viral video that reveals a dark secret that disrupts the lives of his sister (Zoe Kazan) and wife (Betty Gabriel). We're also excited to check out Brand New Cherry Flavor, an adaptation of Todd Grimson's horror novel about an aspiring filmmaker (played by Rosa Salazar) who moves to Hollywood and gets wrapped up in the occult. On the movie thriller front, Netflix originals Beckett (starring John David Washington) and Sweet Girl (starring Jason Momoa) premiere.
For those looking for something more light-hearted, try The Chair, a new dramedy written by Amanda Peet and produced by Game of Thrones showrunners David Benioff and D.B. Weiss that stars Sandra Oh as a single mother newly installed as the head of a college English department. Also: Paris Hilton's now has her own cooking show, and 30 Rock and Friday Night Lights hit the platform, as do the movie classics Ferris Bueller's Day Off, Magnolia, and The Net. Happy streaming.
ALSO READ: Our curated guides to the best Netflix original movies of 2021, the best movies currently streaming on Netflix and the best TV shows on Netflix right now
Jason Momoa in 'Sweet Girl'

| Netflix
Full List of What's New on Netflix—August 2021
Available August 1
Beethoven
Beethoven's 2nd
Beowulf
Catch Me If You Can
Darwin's Game
Deep Blue Sea
The Edge of Seventeen
Ferris Bueller's Day Off
Five Feet Apart
Friday Night Lights, Seasons 1-5
Good Luck Chuck
The Haunting in Connecticut 2: Ghosts of Georgia
Hunter X Hunter, Seasons 5-6
Inception
The Lincoln Lawyer
The Losers
The Machinist
Magnolia
Major Payne
My Girl
My Girl 2
The Net
The Original Kings of Comedy
Pineapple Express
Poms
Seabiscuit
Space Cowboys
Team America: World Police
30 Rock, Seasons 1-7

Available August 3
Pray Away (Netflix documentary)
Shiny_Flakes: The Teenage Drug Lord (Netflix documentary)
Top Secret UFO Projects: Declassified (Netflix docuseries)

Available August 4
Aftermath
American Masters: Inventing David Geffen
Cocaine Cowboys: The Kings of Miami (Netflix documentary)
Control Z, Season 2 (Netflix original)
Car Masters: Rust to Riches, Season 3 (Netflix original)
Cooking With Paris (Netflix original)

Available August 6
Hit & Run (Netflix original)
Navarasa (Netflix original)
The Swarm (Netflix film)
Vivo (Netflix film)

Available August 8
SHAMAN KING (Netflix anime)

Available August 10
Gabby's Dollhouse, Season 2 (Netflix original)
Phil Wang: Philly Philly Wang Wang (Netflix comedy special)
UNTOLD: Malice at the Palace (Netflix docuseries)

Available August 11
Bake Squad (Netflix original)
The Kissing Booth 3 (Netflix film)
La diosa del asalto
Misha and the Wolves (Netflix documentary)

Available August 12
AlRawabi School for Girls (Netflix original)
Lokillo: Nothing's the Same (Netflix comedy special)
Monster Hunter: Legends of the Guild (Netflix anime)

Available August 13
Beckett (Netflix film)
Brand New Cherry Flavor (Netflix original)
Fast & Furious Spy Racers, Season 5: South Pacific (Netflix original)
Gone for Good (Netflix original)
The Kingdom (Netflix original)
Valeria, Season 2 (Netflix original)

Available August 15
Mother Goose Club, Seasons 3-4
Rascal Does Not Dream of Bunny Girl Senpai, Season 1
Winx Club, Season 6

Available August 16
Walk of Shame
Available August 17
Go! Go! Cory Carson, Season 5 (Netflix original)
UNTOLD: Deal with the Devil (Netflix docuseries)

Available August 18
The Defeated (Netflix original)
Memories of a Murderer: The Nilsen Tapes (Netflix documentary)
Out of My League (Netflix film)
The Secret Diary of an Exchange Student (Netflix original)
Available August 19
Like Crazy
Available August 20
The Chair (Netflix original)
Everything Will Be Fine (Netflix original)
The Loud House Movie (Netflix film)
Sweet Girl (Netflix film)

Available August 23
The Witcher: Nightmare of the Wolf (Netflix anime)

Available August 24
Oggy Oggy (Netflix original)
UNTOLD: Caitlyn Jenner (Netflix docuseries)

Available August 25
Bob Ross: Happy Accidents, Betrayal & Greed (Netflix documentary)
Clickbait (Netflix series)
John of God: The Crimes of a Spiritual Healer (Netflix documentary)
Motel Makeover (Netflix original)
The November Man
The Old Ways
Open Your Eyes (Netflix original)
Post Mortem: No One Dies in Skarnes (Netflix original)
Rainbow High, Part 2
Really Love
The River Runner
Tayo the Little Bus, Season 4
The Water Man

Available August 26
EDENS ZERO (Netflix anime)
Family Reunion, Part 4 (Netflix original)

Available August 27
He's All That (Netflix film)
I Heart Arlo (Netflix original)
Titletown High (Netflix original)

Available August 28
Bread Barbershop, Season 2
Hometown Cha-Cha-Cha (Netflix original)

Available August 31
Sparking Joy (Netflix original)
UNTOLD: Crime and Penalties (Netflix original)

August TBA
Comedy Premium League (Netflix original)
D.P. (Netflix original)
'Fear Street Part 1: 1994'

| Netflix
Full List of What's New on Netflix—July 2021
Available July 1
Air Force One
Audible (Netflix documentary)
Austin Powers in Goldmember
Austin Powers: International Man of Mystery
Austin Powers: The Spy Who Shagged Me
The Best of Enemies
Boogie Nights
Born to Play
Bureau of Magical Things, Season 1
Charlie's Angels
Congo
Dennis the Menace
Dynasty Warriors (Netflix film)
The Game
Generation 56K (Netflix original)
Hampstead
The Karate Kid
The Karate Kid Part II
The Karate Kid Part III
Kung Fu Panda
Kung Fu Panda 2
Life as We Know It
Love Actually
Mary Magdalene
Memoirs of a Geisha
Midnight Run
Mobile Suit Gundam Hathaway (Netflix anime)
Mortal Kombat
No Strings Attached
Not Another Teen Movie
Ophelia
Sailor Moon Crystal, Seasons 1-3
She's Out of My League
Spanglish
Star Trek
The Strangers
Stuart Little
Supermarket Sweep, Season 1
Sword of Trust
Talladega Nights: The Ballad of Ricky Bobby
Terminator 2: Judgment Day
Underworld
Underworld: Awakening
Underworld: Rise of the Lycans
What Dreams May Come
Why Do Fools Fall in Love
Young Royals (Netflix original)
Zathura: A Space Adventure

Available July 2
Big Timber (Netflix original)
The 8th Night (Netflix film)
Fear Street Part 1: 1994 (Netflix film)
Haseen Dillruba
Mortel, Season 2 (Netflix original)
Snowpiercer

Available July 3
Grey's Anatomy, Season 17

Available July 4
We The People (Netflix original)

Available July 5
You Are My Spring (Netflix original)

Available July 6
I Think You Should Leave with Tim Robinson, Season 2 (Netflix original)

Available July 7
Brick Mansions
Cat People (Netflix documentary)
Dogs, Season 2 (Netflix docuseries)
Major Grom: Plague Doctor (Netflix film)
The Mire: '97 (Netflix original)
This Little Love of Mine
The War Next-door (Netflix original)

Available July 8
Eliza Matsunaga: Once Upon a Crime (Netflix documentary)
Home Again
Midnight Sun
Resident Evil: Infinite Darkness (Netflix anime)

Available July 9
Atypical, Season 4 (Netflix original)
Biohackers, Season 2 (Netflix original)
The Cook of Castamar (Netflix original)
Fear Street Part 2: 1978 (Netflix film)
How I Became a Superhero (Netflix film)
Last Summer (Netflix film)
Lee Su-geun: The Sense Coach (Netflix comedy special)
Virgin River, Season 3 (Netflix original)

Available July 10
American Ultra
Available July 13
Ridley Jones (Netflix original)

Available July 14
A Classic Horror Story (Netflix film)
The Guide to the Perfect Family (Netflix film)
Gunpowder Milkshake (Netflix film)
Heist (Netflix documentary)
My Unorthodox Life (Netflix original)
Private Network: Who Killed Manuel Buendía? (Netflix documentary)

Available July 15
A Perfect Fit (Netflix film)
BEASTARS, Season 2 (Netflix anime)
Emicida: AmarElo - Live in São Paulo (Netflix documentary)
My Amanda (Netflix film)
Never Have I Ever, Season 2 (Netflix original)

Available July 16
The Beguiled
Deep (Netflix film)
Explained, Season 3 (Netflix docuseries)
Fear Street Part 3: 1666 (Netflix film)
Johnny Test (Netflix original)
Twilight
The Twilight Saga: New Moon
The Twilight Saga: Eclipse
The Twilight Saga: Breaking Dawn: Part 1
The Twilight Saga: Breaking Dawn: Part 2

Available July 17
Cosmic Sin
Available July 20
Milkwater
Available July 21
Chernobyl 1986 (Netflix film)
The Movies That Made Us, Season 2 (Netflix docuseries)
One on One with Kirk Cameron, Season 1
Sexy Beasts (Netflix original)
Too Hot to Handle: Brazil (Netflix original)
Trollhunters: Rise of the Titans (Netflix original)

Available July 22
9 to 5: The Story of a Movement
Words Bubble Up Like Soda Pop (Netflix anime)

Available July 23
A Second Chance: Rivals! (Netflix original)
Brankrolled (Netflix original)
Blood Red Sky (Netflix film)
Feels Like Ishq (Netflix original)
Kingdom: Ashin of the North (Netflix film)
The Last Letter From Your Lover (Netflix film)
Masters of the Universe: Revelation (Netflix original)
Sky Rojo, Season 2 (Netflix original)

Available July 24
Charmed, Season 3
Django Unchained

Available July 26
The Walking Dead, Season 10
Wynonna Earp, Season 4

Available July 27
All American, Season 3
How to Sell Drugs Online (Fast), Season 3 (Netflix original)
Mighty Express, Season 4 (Netflix original)
The Operative

Available July 28
Bartkowiak (Netflix film)
Fantastic Fungi
The Flash, Season 7
The Snitch Cartel: Origins (Netflix original)
Tattoo Redo (Netflix original)
Too Hot to Handle: Brazil (Netflix original)

Available July 29
Resort to Love (Netflix film)
Transformers: War for Cybertron: Kingdom (Netflix anime)

Available July 30
Centaurworld (Netflix original)
Glow Up, Season 3 (Netflix original)
The Last Mercenary (Netflix film)
Myth & Mogul: John DeLorean (Netflix documentary)
Outer Banks, Season 2 (Netflix original)

Available July 31
The Vault