A new month means a new slew of movies and shows being added to Netflix (and bidding farewell to many others). The full list of titles arriving is below, but first, let's look at the most intriguing programming hitting the streaming service this month. If you want more viewing options, check out the best movies on Netflix and the best TV shows on Netflix.
Recommended Video
Surviving Marvel's 59-Hour Movie Marathon
The Top 5
1. Someone Great (Netflix film) (available 4/18)
In this romantic comedy from Jennifer Kaytin Robinson (Sweet/Vicious), Gina Rodriguez plays a career woman who gets the gig of her dream across the country. After a difficult breakup with her boyfriend (Lakeith Stanfield) of nine years, decides to have one last hurrah in NYC with her best friends. Someone Great looks like a sweet, friends-night-in type of movie about the challenges of letting go in order to grow. It's got all the treacly makings of the rom-com format that Netflix has revived over the past couple years, but the casting suggests something deeper might be at work here. 
2. Chilling Adventures of Sabrina: Part 2 (Netflix original) (available 4/5)
In Season 1 of Roberto Aguirre-Sacasa's (Riverdale) deliciously wicked series about a half-mortal/half-witch teen, the titular character signed her name in the Book of the Beast to embrace her occult side. In Season 2, the heroine looks fully in touch with her dark side, which should make for even more campy horror! But the second season isn't set to be all fun charms and seances; she and the Spellman family are even more in the throws of keeping their loved ones and the mortal world safe from The Dark Lord and Madame Satan's bidding. Spooky!
3. The Silence (Netflix film) (available 4/12)
Not to be confused with Bird Box or A Quiet Place, The Silence is yet another contemporary horror film about terrifying creatures with super-heightened senses. In The Silence, when the world comes under attack by creatures who search for humans with their dramatic ability to hear, a deaf teenage girl named Ally (Kieran Shipka) and her family (Stanley Tucci, Miranda Otto) attempt to find shelter. But what seems like a safe haven proves to be an even greater threat, as a cult-like group conspires to exploit Ally. The film comes from Annabelle director John R. Leonetti, so expect a creepy take on family relationships.
4. Black Summer (Netflix original) (available 4/11)
A spin-off of the apocalyptic series Z Nation, Black Summer acts as a prequel to the popular thriller chronicling the start of the zombie invasion and end of the world. The series focuses on a group of strangers who form an alliance to work together for protection, while focusing on a woman (Jamie King) who's looking for her missing daughter. 
5. The Perfect Date (Netflix film) (available 4/12)
The internet's boyfriend -- and star of To All The Boys I'v Loved Before and Sierra Burgess is a Loser -- Noah Centineo is back for another starring role in a Netflix rom-com. In The Perfect Date, he plays a high schooler named Brooks set on saving up for college, and does so by developing an app in which people can pay him for a night to be their date. Sounds a lot like an escort service. Of course, along the way he meets his dream girl (Riverdale's Camila Mendes), and things start to get complicated with his longtime friend (Laura Marano) who gave him the idea in the first place. It may not be the next To All the Boys…, but fans will be abuzz about more Centineo nonetheless. 
Everything else
Available 4/1
ULTRAMAN (Netflix anime)
Across The Line
All the President's Men
Bonnie and Clyde
Deliverance
Divine Secrets of the Ya-Ya Sisterhood
Evolution
Freddy vs. Jason
Friday the 13th
I Am Legend
Lakeview Terrace
Monster House
Obsessed
Penelope
Pineapple Express
Pokémon the Series: Sun & Moon: S2
P.S. I Love You
Snatch
Spy Kids
Texas Chainsaw Massacre 3D
The Bone Collector
The Fifth Element
The Golden Compass
The Sisterhood of the Traveling Pants
The Sisterhood of the Traveling Pants 2
Valkyrie
Available 4/2
Kevin Hart: Irresponsible (Netflix original)
Available 4/3
Suzzanna: Buried Alive (Netflix film)
Available 4/5
Chilling Adventures of Sabrina: Part 2 (Netflix original)
In The Shadows
Legacies, Season 1
Out Planet (Netflix original)
Persona: Collection (Netflix original)
Roman Empire: Caligula: The Mad Emperor (Netflix original)
Spirit Riding Free, Season 8 (Netflix original)
Tijuana (Netflix original)
Unicorn Store (Netflix film)
Available 4/9
Trolls: The Beat Goes On!, Season 6 (Netflix original)
Available 4/10
New Girl, Season 7
You vs. Wild (Netflix original)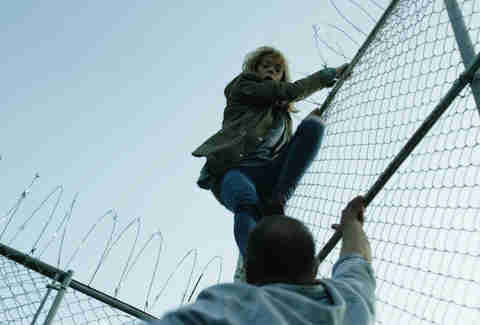 Available 4/11
Black Summer (Netflix original)
Available 4/12
A Land Imagined (Netflix film)
Band Aid
Huge in France (Netflix original)
Mighty Little Bheem (Netflix original)
The Perfect Date (Netflix film)
The Silence (Netflix film)
Special (Netflix original)
Who Would You Take to a Deserted Island? (Netflix film)
Available 4/15
Luis Miguel - The Series, Season 1
No Good Nick (Netflix original)
The New Romantic
Available 4/16
Super Monsters Forever Friends (Netflix original)
Available 4/18
My First First Love (Netflix original)
Available 4/19
A Fortunate Man (Netflix film)
Brené Brown: The Call to Courage (Netflix original)
Cuckoo, Season 5 (Netflix original)
I, Daniel Blake
Music Teacher (Netflix film)
Rilakkuma and Kaoru (Netflix anime)
Samantha!, Season 2 (Netflix original)
Someone Great (Netflix film)
Available 4/20
Grass is Greener (Netflix original)
Available 4/22
Pinky Malinky, Part 2 (Netflix original)
Selection Day, New episodes (Netflix original)
Available 4/23
I Think You Should Leave with Tim Robinson (Netflix original)
Available 4/24
Bonding (Netflix original)
Available 4/25
The Hateful Eight: Extended Version
The Ugly Truth
Available 4/26
The Protector, Season 2 (Netflix original)
ReMastered: Devil at the Crossroads (Netflix original)
She-Ra and the Princesses of Power, Season 2 (Netflix original)
Street Food (Netflix original)
The Sapphires
Yankee (Netflix original)
Available 4/27
American Honey
Available 4/28
Señora Acero, Season 5
Available 4/29
Burning
The Imitation Game
Available 4/30
Anthony Jeselnik: Fire in the Maternity Ward (Netflix original)
Baki: Part 2 (Netflix anime)
Ingress: The Animation (Netflix anime)
Everything that arrived in March
Available 3/1
A Clockwork Orange
Apollo 13
The Boy Who Harnessed the Wind (Netflix film)
Budapest (Netflix film)
Cricket Fever: Mumbai Indians (Netflix original)
Crouching Tiger, Hidden Dragon
Disney's Saving Mr. Banks
Emma
The Hurt Locker
Junebug
Larva Island, Season 2 (Netflix original)
Losers (Netflix original)
Music and Lyrics
Nick and Norah's Infinite Playlist
Northern Rescue (Netflix original)
The Notebook
River's Edge (Netflix film)
Stuart Little
Sweeney Todd: The Demon Barber of Fleet Street
Tyson
Wet Hot American Summer
Winter's Bone
Your Son (Netflix film)
Available 3/2
Romance is a Bonus Book (Netflix original)
Available 3/3
Patriot Act with Hasan Minhaj, Volume 2 (Netflix original)
Available 3/5
Disney's Christopher Robin
Available 3/6
Secret City: Under the Eagle, Season 2 (Netflix original)
Available 3/7
Doubt
The Order (Netflix original)
Available 3/8
After Life (Netflix original)
Bangkok Love Stories: Hey You! (Netflix original)
Bangkok Love Stories: Innocence (Netflix original)
Blue Jasmine
Formula 1: Drive to Survive (Netflix original)
Hunter X Hunter, Seasons 1-3
Immortals (Netflix original)
The Jane Austen Book Club
Juanita (Netflix film)
Lady J (Netflix film)
Shadow (Netflix original)
Spy Kids 2: The Island of Lost Dreams
Walk. Ride. Rodeo (Netflix film)
Available 3/12
Jimmy Carr: The Best of Ultimate Gold Greatest Hits (Netflix original)
Terrace House: Opening New Doors, Part 6 (Netflix original)
Available 3/13
Triple Frontier (Netflix film)
Available 3/15
A Separation
Arrested Development, Season 5 B (Netflix original)
Burn Out (Netflix film)
Dry Martina (Netflix film)
Girl (Netflix film)
If I Hadn't Met You (Netflix original)
Kung Fu Hustle
Las muñecas de la mafia, Season 2 (Netflix original)
Love, Death & Robots (Netflix original)
Paskal (Netflix film)
Queer Eye, Season 3 (Netflix original)
Robozuna, Season 2 (Netflix original)
The Lives of Others
Turn Up Charlie (Netflix original)
YooHoo to the Rescue (Netflix original)
Available 3/16
Green Door (Netflix original)
Available 3/19
Amy Schumer Growing (Netflix original)
Available 3/21
Antoine Griezmann: The Making of a Legend (Netflix original)
Available 3/22
Carlo & Malik (Netflix original)
Charlie's Colorforms City (Netflix original)
Delhi Crime (Netflix original)
Historia de un crimen: Colosio (Netflix original)
Mirage (Netflix film)
Most Beautiful Thing (Netflix original)
The OA, Season 2 (Netflix original)
ReMastered: The Miami Showband Massacre (Netflix original)
Selling Sunset (Netflix original)
The Dirt (Netflix film)
Available 3/26
Nate Bargatze: The Tennessee Kid (Netflix original)
Available 3/28
Ainori Love Wagon: Asian Journey, Season 2 (Netflix original)
Available 3/29
15 August (Netflix film)
Bayoneta (Netflix film)
The Highwaymen (Netflix film)
The Legend of Cocaine Island (Netflix original)
Osmosis (Netflix original)
Santa Clarita Diet, Season 3 (Netflix original)
Traitors (Netflix original)
Tucker and Dale vs. Evil
Available 3/30
How to Get Away with Murder, Season 5
Available 3/31
The Burial of Kojo
El sabor de las margaritas (Netflix original)
Trailer Park Boys: The Animated Series (Netflix original)
March TBD
On My Block, Season 2 (Netflix original)