Every New Movie and TV Show Hitting Netflix in June
It's a new month. You're going to need something to watch.
A new month means a new crop of licensed and original movies and shows arriving on Netflix, which helps take the sting out of saying farewell to many others. Below, see the full list of titles hitting Netflix starting on the 1st of the month, as well as a couple highlights to check out. Happy streaming!
ALSO READ: Our guide to everything coming to Netflix in 2022
What is the best show coming to Netflix in June?
The weather is heating up, and so is Netflix's summertime slate. New seasons of a handful of popular shows are coming soon, like The Umbrella Academy and Peaky Blinders, and a sexy, new vampire show called First Kill is on the way—so make sure to pencil in some binge-watch time into your summer plans. The streamer is also dropping old seasons of popular '90s and early '00s Nickelodeon shows, so get ready to bring on the nostalgia. As for movies, a Chris Hemsworth-starring sci-fi movie called Spiderhead premieres, and lots of action movies hit streaming like some of the Mission: Impossible movies and The Amazing Spider-Man, and many old favorites like Anchorman, Steel Magnolias, Titanic, and more. See what other movies and shows are coming to Netflix below.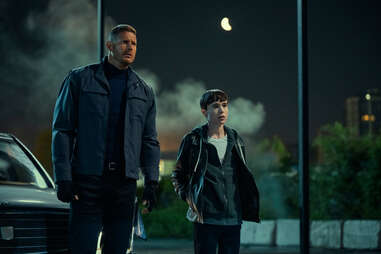 Full List of What's New on Netflix—June 2022
Available June 1
The Amazing Spider-Man
Anchorman: The Legend of Ron Burgundy
The Boy
Dear John
The Departed
Dumb and Dumber
Edge of Seventeen
Eraser
The Fighter
The Girl Next Door
His Dark Materials: The Golden Compass
The Hurt Locker
Lean on Me
Léon: The Professional
Life as We Know It
Mission: Impossible
Mission: Impossible - Ghost Protocol
Mission: Impossible II
Mr Bean's Holiday
National Lampoon's Christmas Vacation
The Players Club
Soul Plane
Steel Magnolias
Titanic
Troy
Vegas Vacation
We Are Marshall

Available June 2
Borgen - Power & Glory (Netflix series)
The DUFF
Yuri Marçal: Honest Mistake (Netflix comedy special)

Available June 3
As the Crow Flies (Netflix series)
Floor Is Lava, Season 2 (Netflix series)
Interceptor (Netflix film)
Mr. Good: Cop or Crook? (Netflix documentary)
The Perfect Mother (Netflix series)
Surviving Summer (Netflix series)
Two Summers (Netflix series)

Available June 5
Straight Up

Available June 6
Action Pack, Season 2 (Netflix series)
Bill Burr Presents: Friends Who Kill (Netflix comedy special)

Available June 7
That's My Time with David Letterman (Netflix comedy special)

Available June 8
Baby Fever (Netflix series)
Gladbeck: The Hostage Crisis (Netflix documentary)
Hustle (Netflix film)
Keep Sweet: Pray and Obey (Netflix documentary)

Available June 9
Rhythm + Flow France (Netflix series)
Stand Out: An LGBTQ+ Celebration (Netflix comedy special)

Available June 10
Chickenhare and the Hamster of Darkness (Netflix film)
Closet Monster
Dirty Daddy: The Bob Saget Tribute (Netflix comedy special)
First Kill (Netflix series)
Intimacy (Netflix series)
Peaky Blinders, Season 6 (Netflix series)
Top Gear, Seasons 27-28
Trees of Peace (Netflix film)
Vice

Available June 11
Amy Schumer's Parental Advisory (Netflix comedy special)

Available June 13
Charlie's Colorforms City: Mighty Movie Adventures (Netflix series)
Charlie's Colorforms City: Miss Weather and Friends (Netflix series)
Pete Davidson Presents: The Best Friends (Netflix comedy special)
Who We Are: A Chronicle of Racism in America

Available June 14
Jane & Lily: Ladies Night Live (Netflix comedy special)
Halftime (Netflix documentary)
The Mole, Seasons 3-4

Available June 15
Centauro (Netflix film)
Front Cover
God's Favorite Idiot (Netflix series)
Heart Parade (Netflix film)
Iron Chef: Quest for an Iron Legend (Netflix series)
Maldivas (Netflix series)
Web of Make Believe: Death, Lies and the Internet (Netflix documentary)
The Wrath of God (Netflix film)

Available June 16
Dead End: Paranormal Park (Netflix series)
Karma's World Music Videos, Season 2 (Netflix series)
Love & Anarchy, Season 2 (Netflix series)
Sing, Dance, Act: Kabuki featuring Toma Ikuta (Netflix documentary)
Snoop Dogg's F*cn Around Comedy Special (Netflix comedy special)
Won't You Be My Neighbor?

Available June 17
The Martha Mitchell Effect (Netflix documentary)
Rainbow High, Season 2
She, Season 2 (Netflix series)
Spiderhead (Netflix film)
The War Next-door, Season 2 (Netflix series)
You Don't Know Me (Netflix series)

Available June 18
Alchemy of Souls (Netflix series)
Charmed, Season 4
SPRIGGAN (Netflix anime)

Available June 19
Civil (Netflix documentary)
It

Available June 20
Doom Of Love (Netflix film)
Philomena

Available June 21
All That, Seasons 2-3
The Future Of (Netflix documentary)
Joel Kim Booster: Psychosexual (Netflix comedy special)
Kenan and Kel, Seasons 1-2
Ned's Declassified School Survival Guide, Seasons 1-2
Zoey 101, Seasons 1-2

Available June 22
Bruna Louise: Demolition (Netflix comedy special)
The Hidden Lives of Pets (Netflix documentary)
Love & Gelato (Netflix film)
The Mist
ONE PIECE, New Episodes
Sing 2
Snowflake Mountain (Netflix series)
The Umbrella Academy, Season 3 (Netflix series)

Available June 23
First Class (Netflix series)
Queen (Netflix series)

Available June 24
Angry Birds: Summer Madness, Season 2 (Netflix series)
Legacies, Season 4
The Man from Toronto (Netflix film)
Man Vs Bee (Netflix series)
Money Heist: Korea - Joint Economic Area (Netflix series)

Available June 25
Grey's Anatomy, Season 18

Available June 26
Best of the Fest (Netflix comedy special)

Available June 27
Cafe Minamdang (Netflix series)
Chip and Potato: Chip's Holiday (Netflix series)

Available June 28
Blasted (Netflix film)
Cristela Alonzo: Middle Classy (Netflix comedy special)

Available June 29
BEAUTY (Netflix film)
Extraordinary Attorney Woo (Netflix series)
Pirate Gold of Adak Island (Netflix series)
The Upshaws, Season 2 Part 1 (Netflix series)

Available June 30
BASTARD‼ -Heavy Metal, Dark Fantasy (Netflix anime)
Mandela: Long Walk to Freedom
Sharkdog, Season 2 (Netflix series)
Full List of What's New on Netflix—May 2022
Available May 1
Are You the One?, Season 6
Blippi Wonders, Season 1
Corpse Bride
Crazy, Stupid, Love.
Den of Thieves
Dirty Harry
Empire State
Forrest Gump
40-Love
42
The Gentlemen
Harold & Kumar Go to White Castle
Hello, My Name Is Doris
Jackass: The Movie
Jackass 2.5
Jackass 3.5
John Q
The Lake House
Menace II Society
Once Upon a Time in America
Rambo
Rambo: Last Blood
A River Runs Through It
Road to Perdition
Seven Years in Tibet
Soul Surfer
Summerland
3 Ninjas: Kick Back
U.S. Marshals
War of the Worlds
When Harry Met Sally
You've Got Mail

Available May 2
Octonauts: Above & Beyond, Season 2 (Netflix series)

Available May 3
Hold Your Breath: The Ice Dive (Netflix documentary)

Available May 4
The Circle, Season 4 (Netflix reality series)
El marginal, Season 5
40 Years Young
Meltdown: Three Mile Island
Summertime, Season 3

Available May 5
Blood Sisters (Netflix series)
Clark (Netflix series)
The Pentaverate (Netflix series)
Thomas & Friends: All Engines Go, Season 1
Wild Babies (Netflix documentary)

Available May 6
Along for the Ride (Netflix film)
Like a Rolling Stone: The Life & Times of Ben Fong-Torres
Marmaduke (Netflix film)
The Sound of Magic (Netflix series)
Thar (Netflix film)
The Takedown (Netflix film)
Welcome to Eden (Netflix series)

Available May 8
Christina P: Mom Genes (Netflix comedy special)

Available May 9
Ghost in the Shell: SAC_2045 Sustainable War (Netflix anime)

Available May 10
Brotherhood, Season 2 (Netflix series)
42 Days of Darkness (Netflix series)
The Getaway King (Netflix film)
Operation Mincemeat (Netflix film)
Our Father (Netflix documentary)
Outlander, Season 5

Available May 12
Maverix (Netflix series)
Savage Beauty (Netflix series)

Available May 13
Bling Empire, Season 2 (Netflix reality series)
The Life and Movies of Erşan Kuneri (Netflix docuseries)
The Lincoln Lawyer (Netflix series)
New Heights (Netflix series)
Senior Year (Netflix film)

Available May 14
Borrego

Available May 15
PJ Masks, Season 4

Available May 16
Blippi's Adventures
Servant of the People, Season 2-3
Vampire in the Garden (Netflix anime)

Available May 17
The Future Diary, Season 2 (Netflix reality series)

Available May 18
Cyber Hell: Exposing an Internet Horror (Netflix documentary)
Love on the Spectrum U.S. (Netflix reality series)
The Perfect Family (Netflix film)
Toscana (Netflix series)
Who Killed Sara?, Season 3 (Netflix series)

Available May 19
A Perfect Pairing (Netflix film)
The Boss Baby: Back in the Crib (Netflix series)
The G Word with Adam Conover (Netflix docuseries)
Insiders, Season 2 (Netflix reality series)
The Photographer: Murder in Pinamar (Netflix documentary)
Rodrigo Sant'Anna: I've Arrived (Netflix comedy special)

Available May 20
Ben Is Back
F*ck Love Too (Netflix film)
Jackass 4.5
Love, Death & Robots, Volume 3 (Netflix series)
Wrong Side of the Tracks (Netflix series)

Available May 22
ONE PIECE, New episodes

Available May 23
Ghost in the Shell: SAC_2045, Season 2 (Netflix anime)
Godspeed (Netflix film)
Sea of Love (Netflix series)
Welcome to Wedding Hell (Netflix series)

Available May 25
Larva Pendant (Netflix film)
Somebody Feed Phil, Season 5 (Netflix reality series)

Available May 26
Insiders, Season 2 (Netflix reality series)
My Little Pony: Make Your Mark (Netflix series)
Pokémon Master Journeys: The Series, Part 3 (Netflix series)

Available May 27
Stranger Things 4, Volume 1 (Netflix series)

Available May 30
Mighty Little Bheem: I Love Taj Mahal (Netflix series)

Available May 31
Rise of the Teenage Mutant Ninja Turtles, Season 1
Teenage Mutant Ninja Turtles, Season 1