This Is How the 'Roseanne' Revival Will Deal with Dan's Death and Donald Trump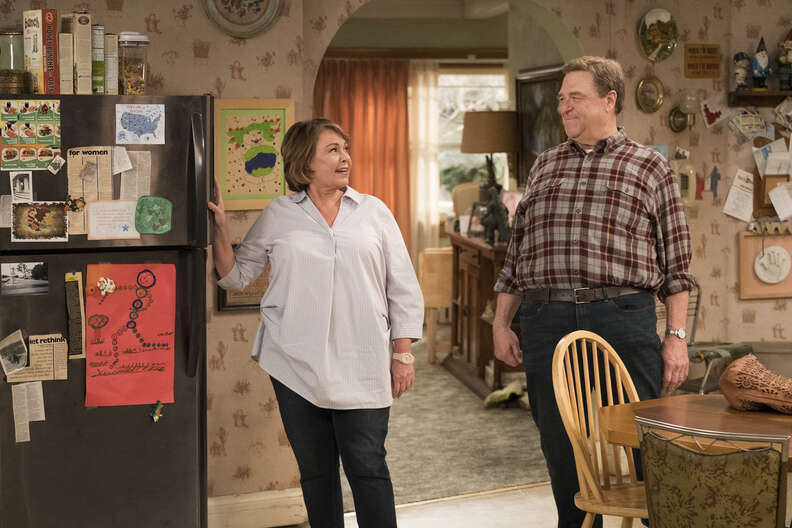 In the last five years, revivals of hit TV shows like Full House and Will & Grace have made their nostalgic fans happy, and made struggling networks and lucrative streaming services even happier. In NBC's case, they regained a much-needed hit. With Fuller House, Netflix reaped the rewards of ABC's TGIF cornerstone.
Roseanne may have seemed an unlikely candidate for revival, given the finality of its ninth-season ending, but nevertheless, Roseanne Barr rounded up John Goodman, Oscar-nominee Laurie Metcalf, Sara Gilbert, Lecy Goranson, and Michael Fishman for nine new episodes. Thrillist spoke with showrunner Bruce Helford (who wrote for and produced the original series) about what to expect from the revival.
Resurrecting John Goodman's Dan
Critics would be fair to say that Roseanne jumped the shark in its final season. The Conners won the lottery, creating some new storylines for the new rich, and in the end, it turns out Dan (Goodman) died. In the finale, Roseanne says she poured herself into writing to deal with Dan's death. Any moments involving post-heart-attack Dan were explained as being Roseanne's dreams.
Now, Helford explains, Dan's death was actually part of her book. Sorry for the misunderstanding.
"She killed off Dan in the book but in reality he wasn't dead," Helford said. "Certain things were a dream. Her having another kid and Jackie (Metcalf) having another kid are real. [Dan] did have a heart problem. He survived it. That's why he's lost the weight. He's eating healthy. We saw him eating a carrot."
We would also accept the explanation: Do you want to see a Roseanne revival without John Goodman? Neither do we.
"The only way that Dan died was in the book and he says to her, 'You shouldn't have killed off the best character,'" Helford said. "We didn't want to completely throw everything out the window from what the audience saw and loved, but we've adjusted certain things to make for a good show to bring back."
What to expect from the new episodes
The Conners were the working class family for the '80s and '90s. Families like the Conners today have all new problems, plus all the same old ones like making ends meet and keeping food on the table.
One new episode deals with aging and the medical issues that come with it.
"We start talking about her knee problem, and she's taking painkillers," Helford said. "That's actually in the first episode."
Becky (Goranson) is a widow (in real life, Glenn Quinn, who played Mark, passed away in 2002). To make money, she offers to be a surrogate. The woman hiring her is none other than Sarah "Second Becky" Chalke.
"The surrogacy leads to some revelations for Becky about her life," Helford said. "That one came out naturally. Tom [Werner] wanted to do a show about surrogacy because he had read this really interesting article. Then I was like, 'That should be Sarah Chalke!' That was the most natural way of bringing her into it. Lecy had seniority as Becky."
Darlene (Sarah Gilbert) has two children. Johnny Galecki is expected to show up as David at some point, but he's not in Darlene's life when she moves back home. The show's second episode deals with Darlene's son wearing flamboyant clothes to school. Although he is not gay or gender fluid, it is still a challenge for Roseanne and Dan to understand.
"It's not really gender fluidity technically, but it is now a fact of life with the Conners that that's who he is," Helford said. "There's also an episode that deals with Darlene's daughter, Harris, in more detail."
Roseanne Conner now has three more children around to sass, but she's not as hard on her grandkids as she is on her three adult children.
"Roseanne really wants to be the fun grandma," Helford said. "She doesn't want to have to do the shit work anymore. She doesn't want to have to scold or discipline. We do an episode dealing with that. She just wants to enjoy her grandkids. That was one thing for Roseanne when we met. She goes, 'I've got to have grandkids on the show. I really love my grandkids and I want to have that represented. I want to have grandkids I can play with on the show.'"
Jackie and Roseanne's mom is still around for an episode, too.
"We will be bringing back Estelle Parsons, their mom which is going to create some stuff for them," Helford said.
Sadly, nine episodes will only take us through May, so there won't be a Conner Halloween episode.
"We make a nod to Halloween," Helford said. "I won't say how, but there won't be a Halloween episode. There is a nod to the halcyon days of Roseanne Halloween."
Some of the Conners voted for Trump
Barr was an outspoken, opinionated woman during Roseanne's original run, but now fans have access to her daily thoughts on social media, including her support of Donald Trump. Don't expect the revival to silence its star. Roseanne Conner also voted for Trump.
It makes sense for the Conners. They voted for the guy who promised jobs. As for where those jobs are a year later, the show doesn't ask those political questions.
"The show doesn't stay on the political aspects," Helford said. "It stays more on the interfamily aspect of everything. As those things come up, everybody's got their positions but it's much more about the internal family dealings, even as that was. It was ultimately about the fact that Roseanne had made Jackie doubt her decisions and she ended up voting for Jill Stein. That's more where it goes."
Perhaps Roseanne Conner has a more tempered support than the actual Barr.
"She's still who she is, but her positions are definitely not typical of a person who has given carte blanche to whatever Trump does," Helford said. "She's not that kind of person. There are things she believes, doesn't believe, agrees, doesn't agree."
They rehired the writers of Roseanne's best seasons
Helford was head writer of the original Roseanne's fifth season, when the show was at its peak. Both Barr and Metcalf won Emmys for that season and the show won its second Peabody. Hired to run the new Roseanne, Helford's job was to reassemble as close to the original team as possible.
"I put together a group of people from the original staff, Bruce Rasmussen, Dave Caplan, Sid Youngers, Betsy Borns, Norm MacDonald, [and] brought in Wanda Sykes," Helford said. "Whitney Cummings joined us, Morgan Murphy and a couple other newcomers. So it was a mixture of vets and people who would bring a fresh perspective to it."
Roseanne always had a huge writers room because Barr was a stand-up. She would often fill the room with fresh blood from the clubs.
"There was a period where we had 16 writers my season there," Helford said. "We're down to about eight or nine people which I think is about right. In the old days, Roseanne would hire a lot of stand-ups; she wanted me or whoever the head writer was to groom into becoming storytellers for the future of the show. We had a lot more people, usually a good seven stand-ups who were not writer writers who were just learning."
If you include Helford and Barr herself, that's seven of the original writers here to ensure Roseanne 2018 still feels like Roseanne circa 1993. And the ninth episode leaves room for another season.
"I'll only say this," Helford said. "Nothing is wrapped up neatly, but it's satisfying."
Roseanne premieres again on ABC Tuesday, March 27.
Sign up here for our daily Thrillist email and subscribe here for our YouTube channel to get your fix of the best in food/drink/fun.
Fred Topel has been an entertainment journalist since 1999. He is a member of the Television Critics Association and a Rotten Tomatoes Tomatometer critic. Follow him @FranchiseFred.