A steady stream of new TV shows and returning favorites will be hitting the small screen this year -- an overwhelming amount of television, let's be honest. To keep you sane as you set about diligently programming your VCR or other newfangled recording device, we've compiled this ridiculously comprehensive list of just about every major television premiere date announced so far, many of which we're excited about and will surely make it onto our list of the best TV shows of 2019. Here's what's slated to hit TV this year -- a schedule we'll be updating frequently, so keep checking back.
Note: ** in front of a title indicates new shows.
Recommended Video
Binge Watch These Sexy Movies on Netflix
February 15
**Larry Charles' Dangerous World of Comedy (Netflix)
In this reality series, iconic comedy writer/director/producer Larry Charles (Borat, Bruno) travels the world to find humor in unsuspecting, sometimes dangerous places.
**Lorena (Amazon Prime)
Lorena Bobbitt took the media by storm in the early '90s when she was on trial for taking her husband's abuse into her own hands by mutilating his genitals -- but now her story is set to be heard unlike ever before in a new four-part docuseries produced by Jordan Peele. Watch the trailer.
**Proven Innocent (Fox)
A new courtroom drama about one law firm's fight to defend a fellow lawyer who was wrongfully convicted of murder. Watch the trailer.
**The Umbrella Academy (Netflix)
Based on the comic created by Gerard Way of My Chemical Romance fame, The Umbrella Academy is about 43 babies randomly and miraculously born to unconnected women in 1989, some of which are later taken in by a man who trains them in what he calls the Umbrella Academy, hoping they'll one day save the world from apocalypse. Eventually becoming estranged, the children reunite as adults upon their adoptive father's death, and attempt to discover the mystery of their existence. Watch the trailer.
February 17
Last Week With John Oliver (HBO)
Political commentator and comedian John Oliver is back for the sixth season of his weekly satirical news series.
February 19
At Home With Amy Sedaris (TruTV)
Amy Sedaris' wild homemaking show for the unconventional returns with another impressive roster of guests like Susan Sarandon, Justin Theroux, Fred Armisen, Michael Shannon, and many others to join her for offbeat crafts and cooking. Watch the trailer.
February 20
Documentary Now! (IFC)
Documentary Now! may just be the most niche series out there, given that it's dedicated to parodying documentaries. Its third season features a send-up of Marina Abramovic: The Artist Is Present starring Cate Blanchett and another of Wild Wild Country with Owen Wilson and Michael Keaton, as well as a number of other spoofs. Watch the trailer.
February 21
Desus & Mero (Showtime)
From hosts of the Bodega Boys podcast to pop culture TV series hosts, comedy duo Desus Nice and The Kid Mero are back for a second season of their tag-teamed, daily news program.
**Flack (Pop)
Anna Paquin stars in this dramedy about a publicist working tirelessly to keep her clients lives free of scandals while she, herself, begins to unravel. Watch the trailer.
The Oath (Sony Crackle)
The 50 Cent-produced crime series, which stars Ryan Kwanten and Katrina Law, returns for Season 2.
February 22
**The Giant Beast That Is the Global Economy (Amazon Prime)
Kal Penn hosts this reality series and is joined by guests like Rashida Jones and Zach Galifianakis to explain the (often insane) ins and outs of the economy. The series comes from Adam McKay (The Big Short, Vice), Will Ferrell, and Adam Davidson of The New Yorker. Watch the trailer.
**Workin' Moms (Netflix)
Catherine Reitman (It's Always Sunny in Philadelphia) created and stars in this new heartfelt comedy about a group of 30-somethings, each juggling the work/life balance of motherhood, love, and trying to keep sane.
February 25
**The Enemy Within (NBC)
This spy thriller finds an FBI agent at his wit's end on an impossible case, turning to a former CIA operative now imprisoned for going against the American government as his last resort to help track down the criminals he's searching for. Watch the trailer.
The Voice (NBC)
John Legend joins the judges panel in the latest season of the popular singing competition series.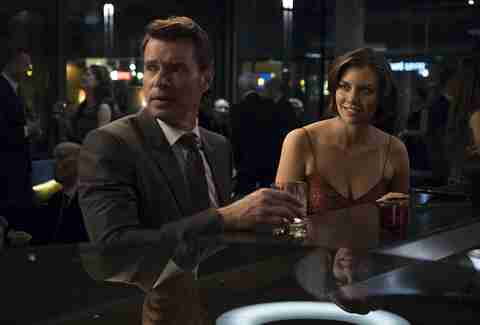 February 27
**Ministry of Evil: The Twisted Cult of Tony Alamo (Sundance TV)
A new five-part docuseries about born-again Christians Tony and Susan Alamo who became televangelists and cult leaders tracked down by the FBI in the '70s.
**Whiskey Cavalier (ABC)
This crime series balances a dramatic and comedic tone as it follows the undercover adventures of two CIA operatives, Whiskey Cavalier and Fiery Tribune, who often bump heads and fall in and out of love on their missions together. Watch the trailer.
February 28
Better Things (FX)
The Pamela Adlon led comedy about a single mother juggling the chaos of both parenting and working in Hollywood returns for its third season. Watch the trailer.
March 1
**The Widow (Amazon Prime)
Kate Beckinsale plays Georgia Wells, a woman in search of her presumably dead husband, in this thriller series. While three years ago it was said her husband was killed in a plane crash over the Democratic Republic of Congo, she believes she sees him in the background of a news report, sending her on a frenzy to Congo to find out the truth.
March 3
American Idol (ABC)
The once iconic reality competition is being rebooted… again.
**Cosmos: Possible Worlds (Fox)
Neil deGrasse Tyson returns as the host for the third season of this cosmological docuseries. Watch the trailer.
**Leaving Neverland (HBO)
A two-part documentary that premiered to controversy at Sundance is set to air on March 3 and 4 on HBO, chronicling two men's sexual abuse allegations against Michael Jackson.
March 7
A.P. Bio (NBC)
Glenn Howerton is back as the inappropriate, irritable Harvard professor turned Toledo high school teacher in the second season of this comedy series.
March 10
American Gods (Starz)
Neil Gaiman's novel adaptation American Gods is returning to Starz for Season 2. Old gods are warring with new gods -- but they're all American gods! -- and Shadow Moon (Ricky Whittle) and Mr. Wednesday (Ian McShane) are still caught in the middle of the godly beef. Watch the trailer.
**Now Apocalypse (Starz)
This drugged-out, sexed-up, coming-of-age, end-of-the-world drama about young adults in a surreal L.A. is produced by Steven Soderbergh, created by veteran indie director Gregg Araki, and co-written with sex columnist Karley Sciortino. Watch the trailer.
March 11
**Manhunt (Acorn TV)
This British miniseries, which aired to critical acclaim in the UK on ITV already, is based on the true case surrounding the death of a French student, and the manhunt against murderer Levi Bellfield that erupted in during the investigation. Watch the trailer.
March 12
**The Village (NBC)
Likely inspired by the success of This Is Us' interconnected storytelling, The Village takes that concept and places it in a Brooklyn apartment building, examining the lives and relationships of its tenants.
March 14
The Good Fight (CBS)
Thrillist's favorite TV show of 2018 featuring Christine Baranski as a fed-up prosecutor in a legal drama returns for its third season. Michael Sheen is set to be added to the cast as a Roger Stone-like character as the series continues to echo the current political climate.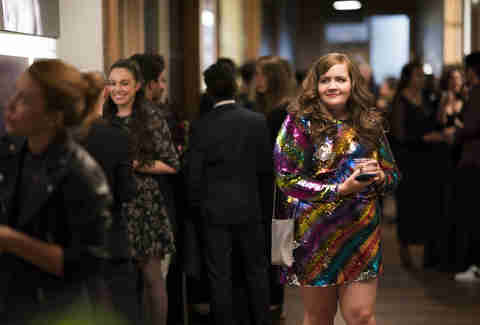 March 15
Catastrophe (Amazon)
The fourth and final season shoudl wrap up the international adventures of Rob and Sharon.
Queer Eye (Netflix)
In a bold twist for Season 3, the gang heads to Kansas City.
**Shrill (Hulu)
Aidy Bryant stars in a new series from Lorne Michaels and Elizabeth Banks about a woman whose comfortable in her own skin and navigating single adulthood in every way from her demanding career to a slew of shitty boyfriends.
**Turn Up Charlie (Netflix)
Idris Elba also DJs. If you didn't know, now you know. Idris Elba also happens to play a DJ named Charlie in this new comedy about a struggling electronic artist who takes a gig as a manny to pay the bills… and also grow out of his phase as a lifelong bachelor.
March 17
Billions (Showtime)
Season 3 ended with a major schism between Taylor Mason (Asia Kate Dillon) and Bobby Axelrod (Damian Lewis), and a new alliance between Axe, Chuck (Paul Giamatti) and Wendy (Maggie Siff), which sets up a curious new dynamic of the old guard consolidating their billions to keep the new crop from getting any billions for themselves. Watch the trailer.
March 18
**The Fix (ABC)
After escaping her life in LA for the peace and quiet of Oregon, a prosecutor who once lost a high-profile case must go back to face the killer whose haunted her for years once he resurfaces. Watch the trailer.
March 20
**The Act (Hulu)
Hulu enters the prestige true-crime game with this anthology series, the first season of which will adapt Buzzfeed's viral Munchausen-syndrome-by-proxy long-read about Dee Dee Blanchard (Patricia Arquette) and her daughter, Gypsy Rose Blanchard (Joey King).
March 22
**Delhi Crime (Netflix)
Following its debut at Sundance Film Festival, Netflix picked up the distribution rights about this anthology crime drama set in India. The first season of this based-on-true-crime series is based on a brutal 2012 investigation into the gang rape of a young woman.
March 24
Into the Badlands (AMC)
The martial arts series returns for eight final episodes this March. Watch the trailer.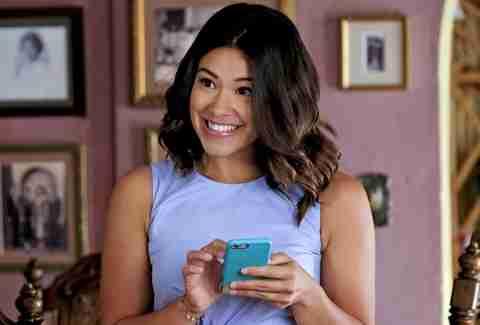 March 27
Jane the Virgin (The CW)
This heartwarming, hilarious telenovela about a romance novelist who was mistakenly artificially inseminated is about to come to a close in its final season. Among a handful of other melodramatic concerns in her life, now the heroine must reckon with the return of her previously lost love... and finally settle fans' debate between Rafael and Michael.
**What We Do in the Shadows (FX)
Taika Waititi and Jemaine Clement's charmingly bizarre 2014 mockumentary about a group of vampires living together in New Zealand gets reworked for TV and transferred to America. Watch the trailer.
March 28
**Abby's (NBC)
Michael Shur's latest workplace comedy is set in a bar -- well, a makeshift bar run out of a woman's backyard -- and the shenanigans that goes on there among bartenders and their patrons. Watch the trailer.
March 29
Santa Clarita Diet (Netflix)
The Timothy Olyphant-Drew Barrymore team-up returns for its third season.
March 31
**Mrs. Wilson (PBS)
This Masterpiece series executive produced by Ruth Wilson and starring the actress is about her own grandmother's true story as a series of secrets unravel following the death of her husband. Watch the trailer.
Veep (HBO)
Selina Meyer is back for one final season.
March TBD
**Hanna (Amazon)
An adaption of the 2011 Joe Wright movie about a girl raised in the wilderness by her father to be an assassin. While the full series will not air on Amazon until sometime in March, the first episode of the drama hit Amazon for 24 hours following the Super Bowl. Watch the trailer.
April 1
**The Twilight Zone (CBS All Access)
Excitement for Jordan Peele's Twilight Zone reboot has been swirling since the second it was announced back in 2017, and as more of the details emerge like the great castings and Peele as our new Rod Serling, it only confirms our assumptions that this will easily be one of the most enchanting series of the year. Watch the teaser.
April 2
The Last O.G. (TBS)
This Tracy Morgan and Tiffany Haddish led comedy about an ex-convict assimilating to contemporary life is back for its second season.
April 3
Brockmire (IFC)
Season 3 of this sports comedy picks back up three months after Hank Azaria's self-destructive baseball announcer Jim Brockmire's stint in rehab.
April 4
**In the Dark (The CW)
Ben Stiller has a knack for crime dramas, as following Escape From Dannemora, the star along with Corinne Kingsbury and Michael Showalter are executively producing a new investigative series. In the Dark finds a blind, young woman at a loss after her friend is murdered and she is the only key witness, deemed unhelpful by the police, forcing her to solve the case on her own.
**Unspeakable (Sundance TV)
This drama follows the tragic medical emergency that broke out in Canada in the '80s when thousands of people were accidentally infected with blood carrying HIV and Hepatitis C. Watch the trailer.
April 5
Chilling Adventures of Sabrina (Netflix)
The dark, witchy drama is already back for its second season, just a little over six months after its initial premiere, finding the titular witch (Kiernan Shipka) uncovering the truth behind her family's mysterious, supernatural past. Watch the trailer.
**Our Planet (Netflix)
It's Netflix's own version of Planet Earth! And it's narrated by Sir David Attenborough! Watch the trailer.
April 7
The Chi (Showtime)
The drama from Lena Waithe (Master of None) about four strangers whose lives become interconnected in the South Side of Chicago returns for its second season this spring -- finding the four main characters, Brandon, Emmett, Kevin, and Ronnie dealing with familial traumas and the effects of incarceration. Watch the trailer.
Killing Eve (BBC America)
The riveting Sandra Oh spy drama following her character Eve, an MI5 security officer, and Jodie Comer's assassin Villanelle's equal obsession with one another is back for Season 2. Watch the teaser.
Unforgotten (PBS)
Nicola Walker and Sanjeev Bhaskar return to solve a third cold case.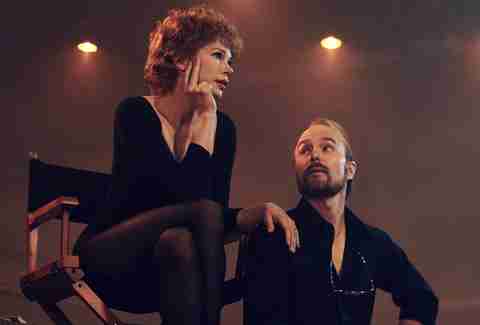 April 9
**Fosse/Verdon (FX)
Sam Rockwell and Michelle Williams star in this show about director-choreographer Fosse and dancer Verdon. Watch the teaser.
April 14
Game of Thrones (HBO)
This scrappy little show will take its small but devoted following along for six more episodes before it disappears into the dustbin of cult television history. Kidding, obviously, people are going to be freaking out and speculating aplenty for a month and a half as they eagerly await the result of the battle for the Iron Throne. Watch the teaser.
**Les Misérables (PBS)
PBS's Masterpiece is taking Victor Hugo's classic from the clutches of musical theater and returning it to its realistic roots, with an all-star cast to boot. Jean Valjean (Dominic West), Fantine (Lily Collins) and Javert (David Oyelowo) won't be doing any singing over this six-episode miniseries currently airing on the BBC in the U.K., and that's an exciting change. Watch the trailer.
April 19
**Ramy (Hulu)
From arthouse distributor A24 comes one of its first TV ventures, Ramy, a drama created and produced by Rami Youssef, who also stars in the series as a millennial, first generation Egyptian-American navigating his Muslim faith in his New Jersey neighborhood. 
April 27
The Son (AMC)
The Pierce Brosnan-led western is back for its second season, which will also be its last. 
April 30
**NOS4A2 (AMC)
OK, bear with the title on this one, because it's pronounced "Nosferatu," as in the blood-sucking vampire and lord of the night. Based on Joe Hill's 2013 novel, the series tracks a young artist (Ashleigh Cummings) as she tries to prevent a vampire (Zachary Quinto) from abducting and sucking the life out of children.
May 1
**The Name of the Rose (Sundance TV)
An adaptation of the popular Umberto Eco novel of the same name about a friar investigating a string of mysterious murders in a 14th century Italian monastery. 
May 2
iZombie (The CW)
After years of zombie Olivia Moore using her undead skills to help the police solve murders, this comedic horror series is coming to an end with its fifth and final season.
May 10
**Wu-Tang: Of Mics and Men (Showtime)
From filmmaker Sacha Jenkins comes a four-party docuseries on hip-hop legends Wu-Tang Clan, chronicling their adolescent friendships in New York in the '70s and '80s to their breakout success and legacy. The doc is set to feature interviews with all living members of the group, as well as never-before-seen archival footage. Watch the trailer.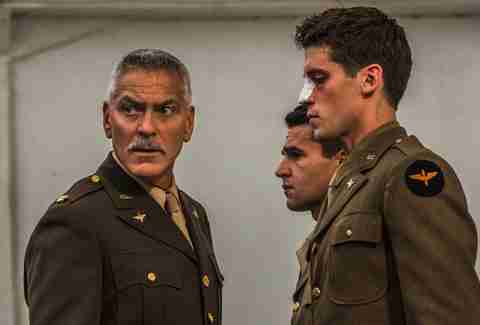 May 17
**Catch-22 (Hulu)
A big-budget adaptation of the Joseph Heller novel exec-produced and co-starring George Clooney, along with Kyle Chandler, Hugh Laurie, and many more is headed to Hulu. Watch the trailer.
May 31
**Good Omens (Amazon)
Neil Gaiman alert! The co-author of the 1990 novel of the same name will serve as showrunner for this six-episode series about angels, demons and the end of the world. It's set in 2018, which sounds about right. Watch the trailer.
May TBD
**Chernobyl (HBO)
A five-part miniseries dramatization of the 1986 nuclear explosion in the Soviet Union.
**Swamp Thing (DC Universe)
Based on popular DC comic book characters, Swamp Thing is about a young woman who returns to her hometown in Louisiana to look into the cause of what seems to be a deadly virus infecting the swamps… until she learns something a bit more supernatural may be lurking in the water.
Spring TBD
Line of Duty (Acorn TV)
Fans of Netflix's Manhunt should binge the first four seasons of this addictive crime thriller before Season 5 drops sometime this spring, as both shows were created by Jed Mercurio and Keeley Hawes turns up in both.
June 2
Luther (BBC America)
A full-length film is being drawn from the popular Idris Elba starring detective drama following DCI John Luther's investigation into a string of murders in London. 
June 5
The Handmaid's Tale (Hulu)
Hulu's lauded adaptation of Margaret Atwood's dystopian novel is set to return for a third season, possibly seeing the women of Gilead starting a revolution. Watch the trailer.
June 16
**City on a Hill (Showtime)
Ben Affleck and Matt Damon are putting content back in Boston with this fictionalized account of the "Boston Miracle," a turning point in the city's efforts to push back against institutionalized corruption. Kevin Bacon appears as a no-good, old-school FBI agent paired up with Aldis Hodge's straight-and-narrow assistant district attorney to work on a case to take down armored car robbers that shakes the city's entire criminal justice system. Watch the trailer.
June 17
**Grand Hotel (ABC)
Based on a popular Spanish series, Eva Longoria executive produces a shock factor, soap-like drama about what scandals go on at a family-owned hotel in Miami Beach.
June TBA
Big Little Lies (HBO)
As if anything could top Season 1, the highly anticipated second season also touts Meryl Streep.
**Los Espookys (HBO)
A new comedy series set in Mexico City following a friend group with a unique fascination in horror movies and monsters.
July 4
Stranger Things (Netflix)
Darkness is still looming in Hawkins, Indiana -- even in the summer of 1985 where we are set to revisit the Hawkins AV Club, Eleven, and their Upside Down fighting friends for the highly anticipated return of Stranger Things 3.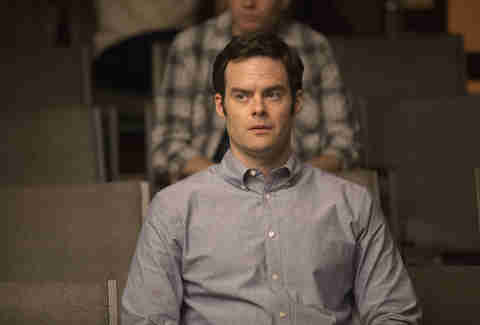 2019 TBD
**Armistead Maupin's Tales of the City (Netflix)
A 10-episode reboot of the Laura Linney starring series about a woman named Mary Ann Singleton and her interesting friendships upon moving to San Francisco in the '70s. While revisiting Linney's character, the series will also focus on her daughter, played by Ellen Page, in contemporary times. 
Barry (HBO)
The assassin-turned-actor returns for another season of killing it on and off stage. Watch the teaser.
Black Mirror (Netflix)
Even though "Bandersnatch" came out, a fifth season is still on tap.
**Central Park Five (Netflix)
Ava DuVernay's mini-series dramatization of the frenzied story of the Central Park Five, five teens from Harlem who were wrongly convicted -- twice -- for the rape of a jogger in Central Park, and spent years in prison for it.
**Devs (FX)
Alex Garland's movies, like Annihilation and Ex Machina, are chilling sci-fi creations, and now he moves into the world of TV with FX's Devs. Set to star Maniac's Sonoya Mizuno, it follows a young woman who thinks the tech company she works for (run by Nick Offerman) may be somehow involved in the death of her boyfriend.
**Deadwood movie (HBO)
It only took 13 years, but fans will finally get a long awaited follow-up about the travails of Al Swearingen and friends.
**The Gilded Age (NBC)
Writer and executive producer Julian Fellowes, of Downton Abbey and Gosford Park fame, teams up with NBC for a 10-episode drama set in the capitalist free-for-all of 1880s New York City. Expect it to dissect manners, morals, and a wide divide between new money and old in a breezy, bingeable way.
**The L Word Sequel (Showtime)
15 years after the original premiere of Showtime's LGBTQ drama The L Word, a spin-off series from Marja-Lewis Ryan is being launched with series creator Ilene Chaiken signed on to executive produce. Along with a batch of new queer characters, classic cast members Jennifer Beals, Katherine Moennig, and Leisha Hailey will reprise their roles in the LA-based show about a group of friends navigating love and heartbreak. 
The OA (Netflix)
Brit Marling and Zal Batmanglij's very odd sci-fi series about a blind woman named Prairie (Marling) who went missing and comes home years later with the ability to see is set to return for Season 2. Expect more otherworldly mysteries uncovered, a lot more of those movements. Watch the teaser.
**Too Old to Die Young (Amazon)
this Amazon Original from Nicolas Winding Refn (Drive) tells the story of a "grieving police officer who, along with the man who shot his partner, finds himself in an underworld filled with working-class hit men, Yakuza soldiers, cartel assassins sent from Mexico, Russian mafia captains and gangs of teen killers." Miles Teller and Billy Baldwin star -- boy, oh, boy!
**Undone (Amazon)
BoJack Horseman creator Raphael Bob-Waksberg is taking his talents to Amazon, where he'll produce an adult animated series about a woman who, after a car accident, finds she has the ability to time travel, which she uses to investigate her father's death. 
Veronica Mars (Hulu)
Veronica Mars tried to re-capture the magic that made it a canceled-too-soon cult sensation in the '00s when creator Rob Thomas and star Bell pumped out a Kickstarter-funded movie in 2014. The film was mildly received but now creator Thomas is getting a real chance to resuscitate his no-longer-a-teen detective. Bell has said that the new episodes will be "a much darker world," but we can only assume there will still be loving banter between Veronica and her dad (Enrico Colantoni), and the requisite sparks with Logan (Jason Dohring).
**Watchmen (HBO)
Damon Lindelof (The Leftovers) is bringing Alan Moore's sci-fi comic book Watchmen to the small screen, but rather than adapting the 12 issues verbatim, it's said to be a "remix" of the original content.
**Wine Country (Netflix)
Amy Poehler is making her directorial debut with this upcoming Netflix movie that also features all of her incredibly funny Saturday Night Live pals, including Tina Fey, Maya Rudolph, Ana Gasteyer, and Rachel Dratch. It's based on a real life vacation they all took, and watching it with a bottle of Pinot seems like an ideal way to spend an evening.
Stay tuned for more updates as more premiere dates are announced.
EARLIER 2019 PREMIERES
January 14
**The Passage (FOX)
Based on the virus-infected, post-apocalyptic book series from Justin Cronin, this Ridley Scott-produced series adapts the books for the small screen, focusing on a father (Mark-Paul Gosselaar) and his daughter who is the test subject of a government agency plan to eliminate all disease. So many creepy things! Watch the trailer.
January 15
Corporate (Comedy Central)
This bleak comedy about office drones and the evil powers that be at the conglomerate where they work will definitely make you laugh. The show, now entering its second season, will also make you want to call in sick, so make sure to polish off your best go-to excuse for your boss. Watch the trailer.
January 16
**Deadly Class (Syfy)
From Avengers: Infinity War's Russo Brothers comes this anti-superhero high school series, based on the comic-book series of the same name, starring breakout rom-com star Condor in full tattoo sleeves, Benedict Wong as a no-nonsense headmaster, and Henry Rollins doing... something. Marcus (Wadsworth) joins King's Dominion Atelier of the Deadly Arts to study with the next generation of sarcastic assassins. Watch the trailer.
Schitt's Creek (Pop)
It's Season 5 of the cult comedy that your friends always tweeting about -- the one about a formerly rich family now living in a motel after losing their fortune (aka the one that stars Catherine O'Hara and Eugene Levy). Watch the trailer.
**Wayne (YouTube Premium)
Executive-produced by the writers of Deadpool and Deadpool 2, Wayne tells the story of a teenager's quest to find an old Trans Am that was stolen from his dad before he died. Watch the trailer.
January 17
**A Discovery of Witches (Sundance Now)
The hit British adaptation of Deborah Harkness' All Souls trilogy makes its way to American shores this January. It tracks the story of a reluctant alliance between a witch (Palmer) and a vampire (Goode), who must unravel the secrets of a mysterious book. Watch the trailer.
Star Trek: Discovery (CBS All Access)
The second season of this Star Trek prequel dabbles in the apocalypse as the crew of the USS Discovery encounters the warning shots of a suspicious new space creature, the Red Angel, that wants to end sentient life across the universe. Fun! Oh, and we meet a young, emo Spock. Watch the trailer.
January 18
**Carmen Sandiego (Netflix)
Millennials' favorite geography CD-ROM, board game, and '90s series Where in the World Is Carmen Sandiego? is getting a revamp as an animated Netflix series. Starring Gina Rodriguez as the voice of the titular criminal and Finn Wolfhard (Stranger Things, It) as her accomplice, the series is set to give more context into her thieving background. Watch the trailer.
Grace and Frankie (Netflix)
Dynamic comedy duo Jane Fonda and Lily Tomlin return as the titular characters in this family comedy about two women who discover late in life their husbands are romantically involved.
Marvel's The Punisher (Netflix)
One of Netflix's remaining Marvel series, this military thriller is set to return for its second season. Watch the trailer.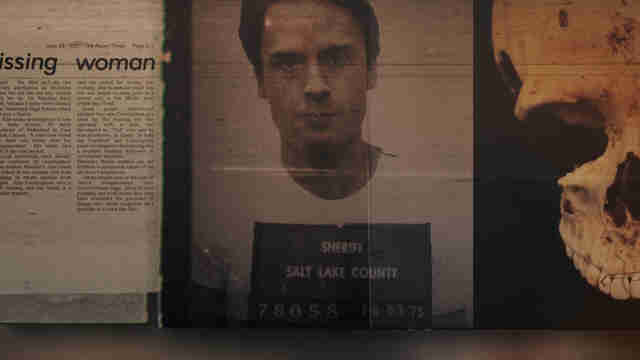 January 20
**Black Monday (Showtime)
This cynical, comedic look at the market crash in 1987 stars Don Cheadle and Andrew Rannells as a group of newbies attempting to take Wall Street by storm during the tumultuous period. Watch the trailer.
Crashing (HBO)
The Pete Holmes-led comedy about a dude trying to break into comedy after he learns his wife is cheating on him is now onto its third season. Watch the trailer.
High Maintenance (HBO)
More eclectic NYC clients put in calls for "The Guy" in this weed deliveryman series from Ben Sinclair. Watch the trailer.
SMILF (Showtime)
Frankie Shaw's comedy about a young, struggling single mother is back for its second season. Watch the trailer.
January 24
Broad City (Comedy Central)
Ilana Glazer and Abbi Jacobson's hilarious New York City-based comedy has one final season wrapping up their unconditional love friendship storylines. Yaas, queens! Watch the trailer.
**Conversations with a Killer: The Ted Bundy Tapes (Netflix)
While you may think you know everything there is to know about Ted Bundy, one of history's most infamous serial killers, this documentary digs through his own, archival accounts to give more insight into who he was. Watch the trailer.
January 25
**Black Earth Rising (Netflix)
The American debut of the BBC series of a woman, played by Michaela Coel, who was orphaned during the Rwandan genocide and later raised by an adoptive mother in London. Now as an adult, her lawyer mother takes on a case surrounding the crimes of an African militia leader that causes her to examine her past and where she came from more closely. Watch the trailer.
**Kingdom (Netflix)
A prince sets out to save his kingdom once it falls ill to a mysterious plague, while trying to uncover the truth what evil is causing the disaster in this Korean drama. Watch the trailer.
Unbreakable Kimmy Schmidt (Netflix)
The final six episodes of Tina Fey's oddball sitcom about a woman who was once trapped in an underground cult arrive this January. Will Ellie Kemper's endearing Kimmy finally find love and adjust to New York City in the 21st century? We can only hope! Watch the trailer.
January 27
**Rent: Live (FOX)
The latest live musical to hit TV is set to be an adaptation of Rent, the New York City story about a group of bohemians during the AIDS crisis, starring the likes of Vanessa Hudgens, Tinashe, Jordan Fisher, and more. Watch the trailer.
January 28
**I Am the Night (TNT)
A miniseries based on writer Fauna Hodel's autobiography, telling the story of a teenage girl who was left at a Nevada casino as a baby and connects with an investigative reporter (Chris Pine) in her young adulthood to uncover the seemingly seedy history of her birth mother's past. Very mysterious! Watch the trailer.
February 1
**The ABC Murders (Amazon Prime)
John Malkovich stars as in an adaptation of a classic Agatha Christie novel about a retired detective receiving menacing letters from an anonymous source threatening to plague London with a series of murders. Watch the trailer. 
**Russian Doll (Netflix)
Natasha Lyonne teams with Amy Poehler and the writer-director of Bachelorette to put a druggie, New York, female spin on a Groundhog Day-style narrative. It's the show that will answer the question: What happens if you repeatedly die and repeatedly wake up in an Alphabet City bathroom with a very strange door during a party with Harry Nilsson playing? Watch the trailer.
February 3
**The World's Best (CBS)
Airing after the Super Bowl, this new reality competition hosted by James Corden and judged by Drew Barrymore, RuPaul, and Faith Hill, as well as a panel of entertainment industry experts, seeks talent from around the world to find the next best performance act. Watch the trailer.
February 4
**Elvis Goes There (Epix)
Famous film critic Elvis Mitchell joins popular filmmakers like Guillermo Del Toro, Sofia Coppola, and many others on trips across the globe to their personal favorite locales and the places that have touched their lives and inherently influenced their work in this docuseries. 
February 8
One Day at a Time (Netflix)
The sincere family sitcom starring Rita Moreno and Justina Machado returns for Season 3 as the three generation Alvarez family continues navigate loss and life together. Watch the trailer. 
**PEN15 (Hulu)
Comedians Maya Erskine and Anna Konkle are going back to middle school, playing 13-year-old versions of themselves (yes, as grown women) in a classroom surrounded by actual adolescents in this Lonely Island comedy series. Watch the trailer.
**White Dragon (Amazon Prime)
This eight-part miniseries follows a man played by John Simm whose life is rattled once his wife is killed in car crash in Hong Kong. As he travels across the world from London to identify her body, he finds that she may have lived a much different life than he had imagined, and takes to investigating her mysterious death. Watch the trailer.
February 12
**Boomerang (BET)
A spin-off of the popular 1992 Eddie Murphy starred comedy of the same name, this sequel series picks up to follow the lives of the characters' from the flick's children who are now all grown up.
**Miracle Workers (TBS)
Steve Buscemi plays God in this supernatural comedy in which an angel at the bottom of the totem pole must work a miracle in order to prevent the Earth's destruction. Let's see if Harry Potter can pull it off. Watch the trailer.
February 13
**Weird City (YouTube Premium)
This new anthology from Jordan Peele features unique and hilarious sci-fi inspired stories, with the likes of Awkwafina, Michael Cera, Laverne Cox, and many others joining in. Watch the trailer.
February 14
**Dating Around (Netflix)
Netflix is diving head first into the wild world of reality dating TV with their first-ever dating show… which sounds a lot like the MTV aughts' legend Next. In the series, one single goes on five dates, picking only one person to win a second date -- so, a lot like Next, but maybe more in the vein of cuteness rather than raunch.