What's the Next Movie in the Marvel Cinematic Universe?
Marvel Studios
Marvel Studios
The arrival of Spider-Man: Far From Home in theaters this July signaled the end of an industry-changing 23-movie cycle that Marvel Studios began back in 2008 with Iron Man and The Incredible Hulk. The Marvel Cinematic Universe those movies spawned is undeniably popular and absurdly profitable, with multiple billion-dollar-grossing movies, including Avengers: Endgame, the most profitable movie of all time.
The end of this "phase" of Marvel films -- the name the studio has given to its cycles of movies that tell a larger story -- just means there are more exciting possibilities for what's next. Marvel Studios President Kevin Feige unveiled the next step in the MCU at San Diego Comic-Con 2019, so we now have a clearer sense of what's coming in Marvel's Phase Four and beyond.
In August 2019, Feige announced additional Disney+ series and new casting information at D23, the annual Disney convention in Anaheim, California. Phase Four might not last as long as Phase Three, but unlike previous Marvel Phases, Phase Four will include episodic series released on Disney's Netflix-killer platform Disney+ (coming to you in November 2019). It will also be the first Phase not to feature an Avengers movie, and the first phase not to have a Captain America movie (although we have The Falcon and the Winter Soldier, which is basically a Captain America movie given its cast). All told, Phase Four consists of eight TV shows that will debut on Disney+ and five theatrically released films (plus the upcoming third Spider-Man, which we assume will be part of Phase Four).
This next phase looks like it will unspool over two to three short years (Phase Three took four years to complete), so we'll be on to the next thing with the two additional announced-but-unclaimed release dates Disney has saved for Marvel in 2022.
Here's everything we know:
Next up: Black Widow (film)
Release date: May 1, 2020
Cast: Scarlett Johansson, David Harbour, Florence Pugh, Rachel Weisz, and O.T. Fagbenle
The next time we dip into the Marvel Cinematic Universe, it will be for Scarlett Johansson's long overdue solo hero film: Black Widow. The movie will be set before the events of Avengers: Infinity War, and apparently a chunk of it will take place in Budapest -- as frequently referenced by old buddies Hawkeye and Natasha Romanoff. Although this movie is already in production and some photos have leaked of the confirmed villain (Taskmaster), we don't know who's playing him. Taskmaster is a mimic who is able to adapt to any fighting style and copy it for himself, a fine adversary for Black Widow's fisticuffs combat. David Harbour will be playing Red Guardian, Russia's non-chemically-enhanced answer to Captain America, and Florence Pugh features as the assassin Yelena.
The Falcon and the Winter Soldier (Disney+ series)
Release date: Fall 2020
Cast: Sebastian Stan, Anthony Mackie, Daniel Brühl, Emily VanCamp, Wyatt Russell
The first of the Marvel Cinematic Universe's officially non-cinema offerings on the Disney+ streaming service is The Falcon and the Winter Soldier, in which Anthony Mackie's Sam Wilson and Sebastian Stan's Bucky Barnes grapple with the realities of Captain America's legacy after the events of Avengers: Endgame. Making a surprise return to the MCU is Daniel Brühl's Baron Zemo, last seen in Captain America: Civil War, who will be playing a villain for the show. Emily VanCamp is back as Sharon Carter (last seen in Captain America: The Winter Soldier) and actor Wyatt Russell will be introduced as the hero US Agent John Walker, an "official," government-sanctioned version of Captain America. It seems like The Falcon and Winter Soldier might be both on the run from the government and battling Zemo, but no synopsis has been provided.
The Eternals (film)
Release date: November 6th, 2020
Cast: Angelina Jolie, Salma Hayek, Richard Madden, Kit Harrington, Kumail Nanjiani, Brian Tyree Henry, Lia McHugh, Don Lee, and Lauren Ridloff
A bunch of super-powered human-hybrids created by the Celestials (or "Space Gods" as they're called in the early comic appearances) to "protect" humans from the Deviants, another super-powered group of human-hybrids, the Eternals have a lot to unpack for general audiences when they arrive in theaters. Salma Hayek plays Ajax, their leader, while Angelina Jolie plays Thena, a character who's usually portrayed as more of a hot-headed youngster. South Korean actor Ma Dong-seok has been cast to make his North American film debut as Gilgamesh, which suggests the Eternals could be fighting other Eternals in this movie... look, it's complicated. At D23, Kit Harrington (Jon Snow) was added to the cast as Dane Harrington, a hero from the Marvel Comics called the Black Knight who is a good swordsman and has a romantic history with Gemma Chan's Eternal Sersi. Yeah, Kit Harrington is going to be saying "Cersei" again, but they're two totally different spellings.
Shang-Chi and the Legend of the Ten Rings (film)
Release date: February 12, 2021
Cast: Simu Liu, Tony Leung, Awkwafina
Liu will be joining the Marvel Cinematic Universe as the legendary martial artist Shang-Chi, making Legend of the Ten Rings Marvel's first MCU movie with an Asian lead. Shang-Chi will be taking on Chinese actor Tony Leung, who will be playing The Mandarin -- the "real one," not the one played by Ben Kingsley's character Trevor in Iron Man 3. The Mandarin will take his rightful place as the head of the Ten Rings crime syndicate, the same guys who kidnapped Tony Stark in Iron Man way back in 2008. Since then, Stark's gone and the fake Mandarin has been imprisoned.
WandaVision (Disney+ series)
Release date: Spring 2021
Cast: Elizabeth Olsen, Paul Bettany, Kat Dennings, Randall Park, Kathryn Hahn, Teyonah Parris
"Wait," you might be thinking, "didn't Vision die in Infinity War, never to come back or be restored?" Yes, you're correct, Vision is dead, but that isn't stopping Paul Bettany from reprising his role with Elizabeth Olsen's Wanda, AKA Scarlet Witch. In the comic books, Scarlet Witch's powers have allowed her to bend reality to her will if she gets emotional enough. It looks like this series will have something of a 1950s vibe, yet will still be set after the events of Avengers: Endgame. At D23, comparisons were made between this series and The Dick Van Dyke Show, which could suggest we're looking to Tom King's recent Vision comic book run, which saw the android trying to start a family in suburbia. This series is going to feature a grown-up Monica Rambeau (the little girl from Captain Marvel), Darcy (Kat Dennings) from the Thor franchise, and Randall Park's agent Jimmy Woo (last seen in Ant-Man and the Wasp).
WandaVision will also lead directly to the next movie in Phase Four...
Doctor Strange in the Multiverse of Madness (film)
Release date: May 7, 2021
Cast: Benedict Cumberbatch, Elizabeth Olsen
Director Scott Derrickson returns to the world of Doctor Strange for the sequel, set after Endgame and WandaVision. Derrickson has mentioned wanting to make a horror-themed Marvel movie, and Doctor Strange in the Multiverse of Madness sounds like that entry to do just that. For some reason, Scarlet Witch is along for the ride as a co-lead (but no Vision that we know of... and no other heroes... that we know of... yet). We don't know who the villain is or what threat they'll be facing. Presumably we'll get more details next year.
Loki (Disney+ series)
Release date: Spring 2021
Cast: Tom Hiddleston
After the release of the Doctor Strange sequel, we'll return to Loki as played by Tom Hiddleston. But this is not the Loki who we saw lose his mother in Thor: The Dark World and impersonate his father in Thor: Ragnarok. That version of Loki was killed by Thanos at the beginning of Avengers: Infinity War. This version of Loki is the one who escaped with the Tesseract after the Battle of New York. Remember seeing him blink out of existence in Avengers: Endgame? This series follows that vengeful iteration of the trickster god on whatever adventures he had next.
What If…? (Disney+ animated series)
Release date: Summer 2021
Cast: Jeffrey Wright as The Watcher, Michael B. Jordan as Killmonger, Sebastian Stan as Bucky Barnes, Josh Brolin as Thanos, Mark Ruffalo as Bruce Banner/The Hulk, Tom Hiddleston as Loki, Samuel L. Jackson as Nick Fury, Chris Hemsworth as Thor, Hayley Atwell as Agent Peggy Carter, Chadwick Boseman as Black Panther, Karen Gillan as Nebula, Jeremy Renner as Hawkeye, Paul Rudd as Ant-Man, Michael Douglas as Hank Pym, Neal McDonough as Dum Dum Dugan, Dominic Cooper as Howard Stark, Sean Gunn as Kraglin, Natalie Portman as Jane Foster, Taika Waititi as Korg, Toby Jones as Arnim Zola, Djimon Hounsou as Korath, Jeff Goldblum as Grandmaster, and Michael Rooker as Yondu.
What If…? is the Marvel Cinematic Universe's first animated entry, even though the premise of the series means canon is out the window. There's no continuity, as Jeffrey Wright plays The Watcher (one of those big-headed aliens with Stan Lee in Guardians of the Galaxy Vol. 2), who observes the events of the MCU Multiverse. We'll get to see animated stories from alternate Marvel dimensions; for example, Sebastian Stan, Haley Atwell, and Neal McDonough will reprise their Captain America: The First Avenger roles for a segment wondering what would have happened if Peggy Carter got injected with the super-soldier serum. As you can see from the announced cast, there will be plenty of fun or potentially weird storylines to pursue in the What If…? series.
Untitled Third Spider-Man (film)
Release date: July 16, 2021
Cast: Tom Holland
Good news! After a summer 2019 spat between Sony and Marvel Studios that seemingly booted Tom Holland's Spider-Man out of the MCU for good, the two companies managed to reach a deal that will see them collaborate on a third Spider-Man film. Additionally, the agreement ensures that Holland will make an appearance in a future Marvel Studios film. Other than the fact that Holland will star, details are pretty sparse. But hey, at least it's happening!
Hawkeye (Disney+ series)
Release date: Fall 2021
Cast: Jeremy Renner
Jeremy Renner is back in the role of both Hawkeye and Ronin (from Endgame) for this Disney+ series that's loosely based on Matt Fraction's Hawkeye comic book series. We don't know if they'll go as far as having a Pizza Dog in the series, but we will get to meet Kate Bishop (still not cast), the female Hawkeye, and see how Clint Barton trains her to become a superhero with no powers except great archery skills. Also teased is learning more about Barton's time as Ronin, which is less intriguing, but hey! Gotta fill a whole season of TV with something.

Thor: Love and Thunder (film)
Release date: November 5, 2021
Cast: Chris Hemsworth, Natalie Portman, Taika Waititi
Thor is getting an unprecedented fourth film in the Marvel Cinematic Universe with Thor: Love and Thunder. The announcement at San Diego Comic Con 2019 made big waves by announcing that Natalie Portman would return to the franchise as Jane Foster after sitting Thor: Ragnarok out (with the rest of Earth), and that Jane Foster will wield Mjölnir, becoming a Thunder God. This follows a switch that happened in the MCU when Jane Foster took up the mantle of Thor; she doesn't suddenly become Loki's sister, but she does get all Thor's powers.
Ms. Marvel (Disney+ series)
Release date: Late 2021 or Early 2022
Cast: Unannounced
Ms. Marvel is one of the success stories of the past decade of comic book sales, so it makes sense that she'll be getting her own series. Kamala Khan is a Pakistani-American teenager living in New Jersey who reads comic books and loves the real-life hero Carol Danvers (Captain Marvel). When she's exposed to Terrigen Mist (long story) she develops powers because she's an Inhuman -- she can stretch and make her body smaller and bigger. She'll presumably make her way to the big screen soon after her introduction into the MCU, though nothing has been confirmed.
Moon Knight (Disney+ series)
Release date: 2022
Cast: Unannounced
Moon Knight is a hero given powers by the Egyptiian moon god Khonshu, but his main draw is that he's a wealthy guy with multiple personality disorder who fights crime. Sort of like a Batman who's traumatized by more than seeing his parents shot in an alley. There hasn't been a cast or release date announced.
She-Hulk (Disney+ series)
Release date: 2022
Cast: Unannounced
Apparently the deal Marvel Studios made with Universal excludes solo Hulk movies without giving Universal more say and more profits. That doesn't seem to have dissuaded either company from letting Kevin Feigie announce at D23 that She-Hulk would be coming to Disney+. She-Hulk is Jessica Walters, a cousin of Bruce Banner who receives a blood transfusion with some Hulk blood in it and becomes big, green, and strong. Unlike her cousin, She-Hulk keeps her wits about her and is constantly big and green without transitioning. She's also one of Marvel comics' best lawyers, so you might think of this series as Hulk meets Ally McBeal.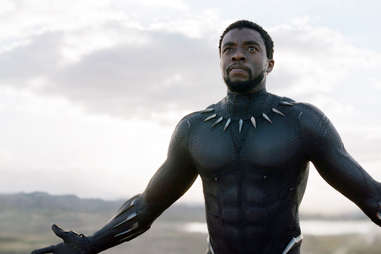 Black Panther 2 (film)
Release date: May 6, 2022
Cast: Chadwick Boseman
Announced by director Ryan Coogler and Kevin Feige and D23, the sequel to Black Panther has very little detail surrounding it. There are rumors that the villain of Black Panther 2 will represent a new direction in the MCU by introducing Namor, a mutant. There are also rumors that Michael B. Jordan might somehow return to play Erik Killmonger. All we know for sure it that it's coming to theaters in May 2022, so we'll probably know more by at least Comic-Con 2021. To be clear, this is slated to be a part of Phase Five.
Other confirmed movies:
Blade
Guardians of the Galaxy Vol. 3
Other movies that aren't confirmed but are heavily rumored:
Captain Marvel 2
Nova
Fantastic Four
X-Men