In 'The Northman,' Nicole Kidman Is Finally Wild Again
Robert Eggers' Viking revenge epic taps into Kidman's weird side, where she does all her best work.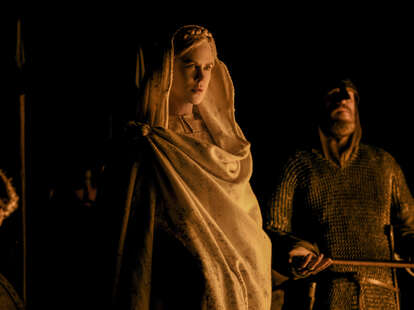 At her best, Nicole Kidman is untamed. She's a perky weather girl willing to murder if it means achieving her TV dreams (To Die For). She's crawling around her bedroom floor stoned, taunting her husband about sexual fantasies that don't involve him (Eyed Wide Shut). She's yelling in a train station (The Hours) or bathing with a young boy who claims to be her reincarnated spouse (Birth) or climbing a rotting tree (Margot at the Wedding) or urinating on Zac Efron's jellyfish sting (The Paperboy) or hunting down an affable bear in hopes of taxidermying the hell out of him (Paddington).
Lately, however, Kidman has mostly kept her freak flag at half-mast. Big Little Lies, Lion, The Upside, Boy Erased, Bombshell, The Undoing, Being the Ricardos—by Nicole Kidman standards, this is middle-of-the-road stuff, glossy and docile. Even Nine Perfect Strangers, in which she played a Russian grifter-guru who runs a wellness center where she dopes clients without their knowledge, resulted in a relatively subdued turn. And in her episode of Apple TV+'s new anthology series Roar, a deliciously extreme premise (woman eats photographs) somehow results in the tamest performance of her career. Someone should sue for malfeasance.
Kidman, with her classic Hollywood glamour, can play refined like the best of them (see: The Others, The Beguiled). But when she loosens her physique and gets that madcap glint in her eyes, her charm becomes napalm; you never know when she must erupt next.
Thankfully, that's where The Northman comes in. Robert Eggers' third feature, following his immaculate indie breakouts The Witch and The Lighthouse, is a Viking spin on Hamlet, casting Alexander Skarsgård as a warrior prince seeking revenge on his two-faced uncle Fjölnir (Claes Bang) for having killed his father (Ethan Hawke) and abducted his mother (Kidman) when he was a boy. (Technically, Eggers is adapting the legend that inspired Shakespeare's tragedy.) Kidman is the movie's queen, in more ways than one. As Gudrún, she is introduced as poised, supple, and uneasy about the idea of her 10-year-old son being trained in the art of war. In theory, her subsequent kidnapping would render Gudrún a damsel in distress—a Gertrude without agency. But when Skarsgård's adult Amleth shows up to rescue Gudrún and assume his rightful place on the throne, he has no idea what version of his former protector awaits him.
There's no need to describe the Northman plot's minutiae in order to write an appreciation of Kidman's performance, but consider this a spoiler warning. Gudrún, you see, is no victim. If anything, she is pleased to be rid of her late husband, under whom she was constrained—not that innocent Amleth could have known that when he vowed to free her. Next to Fjölnir, she holds her own, insofar as any woman can hold her own opposite a brutish 10th-century Scandinavian usurper. Kidman, with her flowing Cate-Blanchett-in-Lord-of-the-Rings goddess hair, is full of glares and come-ons that defy the helplessness Amleth expects to find when he boards a slave ship headed for Fjölnir and Gudrún's Icelandic village.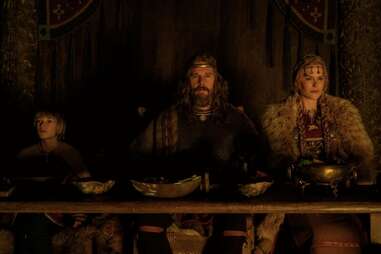 Kidman's performance sneaks up on you. She is muted in the movie's first half and wild in its second, as if Gudrún's shackles have been unclasped. Amleth greets her in the dead of night, raising a foreboding silver blade to her throat. "Your sword is long," she coos, the first in a series of barbed flirtations that suggest Gudrún might sooner rip her son's clothes off than console him. Their exchanges result in a few things worth noting: a dark revelation that reframes Amleth's entire childhood, the pronouncement that Gudrún does not see Fjölnir as some foe to be vanquished, and—most importantly—a long, witchy cackle so decadent it sounds like mania incarnate. (Kidman has portrayed witches before, in Practical Magic and Bewitched, but they were nice witches. Someone needs to write her a demented witch, or maybe a trippy oracle like the one Björk plays in The Northman.)
Kidman has done phenomenal work in many of her recent prestige projects, especially Big Little Lies, which happened to co-star Skarsgård (this time as her husband). But staid actorly dramas are a waste of Kidman's strengths; why watch her fret over her wartime lover in Cold Mountain when you can see her coldly tell her daughter she "can't wait to watch life tear you apart" in Stoker? Kidman's ability to strip away the elegance she exudes off-screen deepens our relationship to her on-screen. She could, at any moment, unleash the liberation seen in those infamous paparazzi photos taken the day she finalized her divorce from Tom Cruise.
The simplicity Eggers and co-writer Sjón (Dancer in the Dark) bring to The Northman benefits Kidman and the other performers. Despite the extensive Viking research that went into the movie, what results is a straightforward, if somewhat hallucinogenic, revenge epic largely unburned by esoteric trivia. And so when Kidman lets her outlandish crackle fly, it's almost shocking in its grotesquerie, her entire body flailing forward as she menaces Amleth. What kind of mother would do that to her firstborn? One played by Nicole Kidman.
Matthew Jacobs is an entertainment editor at Thrillist. Follow him on Twitter @tarantallegra.