'NOS4A2' Is the Creepy, Soul-Eating Demon Show You Need This Summer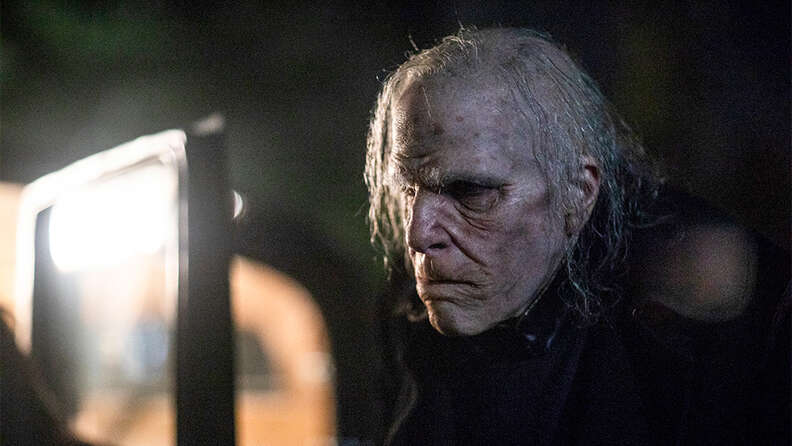 Talking about NOS4A2, AMC's new supernatural horror series about an immortal man, Charlie Manx (Zachary Quinto), who preys on the souls of children, you probably won't get too far into the conversation before someone points out the odd spelling of the title.
"It's a joke," executive producer Jami O'Brien explained during the 2019 TCA Winter Press Tour, describing the word as it appears on the vanity plate of The Wraith, Manx's creepily old vehicle. "Manx describes it as a joke that his wife played on him. Because he's an immortal person, he's been around for a long time. In his backstory, ages ago, he was at Nosferatu, the movie, and his wife said to him, 'That guy reminds me of you.' And so that's why he got the vanity plate NOS4A2."
It's a symbol of the dark humor that permeates the novel the series is based on: NOS4A2, written by Joe Hill, which won the Bram Stoker Award for Best Novel in 2013. Beyond his deranged license plate, Charlie Manx, depending on where we check in with the man in the series, appears either as a man who's 35 or 135 years of age. But what happens when Manx is confronted with a young woman who discovers she may have the psychic ability to stop him from his ghoulish tendencies? That's the underlying question Hill's book answers, and the series will explore in depth, if it continues beyond its first season.
With NOS4A2, AMC is aiming to bring viewers into a genre world a bit different from the signature southern aesthetic from shows like The Walking Dead and Preacher. Yes, the New England environment of the series brings an eerie, even bleak tone, to the show, but it's offset with an element of campy humor that is a welcome addition to the genre.
As O'Brien rightfully points out, the show is inspired by the work of Joe Hill -- Stephen King's son -- and, as she puts it, "the material is definitely standing on the shoulders" of the renowned Master of Horror.
"[Joe] definitely has his own voice," she continues. "And he definitely has a kind of reverence and irreverence for his father's work. There's kind of a tradition there that he both embraces and then flips, and has a little fun with it, which we do as well."
There are so many interesting tidbits that make NOS4A2 a horror genre outlier, worthy of AMC's summer lineup -- and one of these elements has to be Christmasland, the imaginary paradise where Manx stores each and every one of his victims. We couldn't help but ask: How exactly do you make Christmas uniquely scary? Apparently, having the holiday take place during the summertime is a good start. O'Brien shared an anecdote Hill shared with her during their first ever conversation: There's nothing scarier than a candy cane in July.
For fans familiar with Quinto's TV work, the concept of the actor once again taking on a villainous character with supernatural abilities may be enough to draw them to the series. But according to Quinto, Charlie Manx and Silar, the character he played on NBC's Heroes, are vastly different in nature. And while he points out it's been half a decade since he was a lead on a series -- referencing his performance as the titular slapper Harry in NBC's short-lived series The Slap -- Quinto admits he was a bit hesitant in taking on the role.
"I was resistant at the beginning, because of the similarities of the genre and the character," he admitted. "But then I read the script and I had a number of conversations with Jami O'Brien and Kari Skogland, who directed the first two episodes. And I felt like there was such a unique complexity to this world and a really incredible collaborative spirit around the project. And so it drew me in. And also the physical transformation that I was able to engage and embrace with this is something that I was really excited about."
The metamorphosis of Charlie Manx is one of the highlights of the series, to be sure. In this day and age of digital effects, the AMC series does things a bit old school with its practical effects and heavy prosthetic makeup. Quinto revealed to us that he'd been actively looking for a role that embodied such a physical, and emotional, transformation.
"One of the first things I said to all the producers, was, 'I really feel like one of the only ways that we can accomplish this is if we get Joel Harlow,' an incredibly talented special effects makeup artist. I worked with him on the last two Star Trek films. And I just knew that if I was going to undertake a challenge like this, that I needed to do it in the hands of someone that I can trust implicitly -- someone who is really the best of the best. And once he was available and interested, it became a whole different conversation, because when you're immersing yourself in the character that exists behind layers of glue and silicone and makeup, you have to be able to trust that, you know, your inner life is going to be expressible. And with Joel, I knew it would be and I certainly wasn't wrong."
As Quinto explained it, they broke down Manx's aging process into five different stages with the first one being the closest to his real age and the fifth depicting him at 135-years-old. "It allowed me to go and create a physical vocabulary for what those phases were."
It's obvious that Quinto is the big "get" for the series -- his villain is one of the anchors of the story that will hopefully bring audiences along for the ride. And when you look at the actor's body of work, it quickly becomes clear that he's often drawn to characters of a darker, sinister ilk. But as he explains it, he doesn't portray these with any evil intention, instead, using compassion, understanding and love as a point of entry for these roles. The same can be said for Charlie Manx, who he describes as "a little bit more challenging."
"What is the source of trauma that set this character on a path that leads him to where he ends up?" Quinto asked. "For Manx, his childhood was marked by unfathomable trauma. I was really fortunate to have the novel by Joe Hill and also the graphic novel, The Wraith, as guides into that trauma and childhood. Manx was this incredibly isolated, neglected child who was exposed to horrible violence and exploitation as a kid. And it's interesting that he evolves into an adult who both exploits and manipulates the vulnerabilities of other children. He does genuinely believe that he's giving these kids a better life and a better opportunity for themselves that they wouldn't have otherwise -- and that's a warped and twisted way to look at it. But it's the only way that he can look at it and still do what he does."
Childhood trauma is a connective theme throughout NOS4A2, and one that not only draws Manx to his victims, but eventually positions the inevitable confrontation between him and his biggest threat, 18-year-old Vic McQueen, played by the supremely talented Ashleigh Cummings. Not only was the actress drawn to the nuanced way in which Hill originally wrote this character, the elements of the show's New England classist environment, along with the layered effects of trauma, laid out an engrossing path for her traverse.
"In terms of the class struggle, that was something Jami really brought to the show. She kind of deepened the groove that Joe had sort of explored in the book," Cummings says. "I think it works on a literal level, and this is not a story that we often see. But also, metaphorically, it really served as a metaphor for me, regarding Vic's feeling of isolation, and entrapment, and inability to escape, both the world that she lives in and also her mental processing.
"There are so many characters in here, which you could attribute a certain evilness to," she continued. "But understanding trauma allows for empathy, and I think that allows for an actual solution to problems, as opposed to assigning labels. And I think, obviously, trauma plays a huge part in defining a person's psychology and who they turn out to be. So we do explore that a little in various characters. We understand that people are multidimensional and complex. It's not just one thing."