The 'Black Mirror' Episode 'Nosedive' Shows How Uber's Rating System Could Destroy You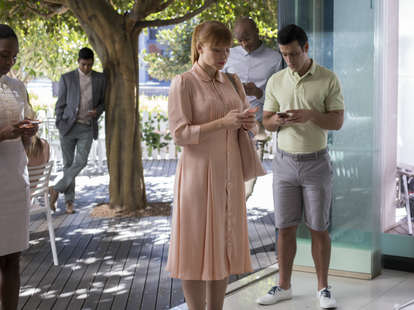 We're breaking down Season 3 of Black Mirror, which is now streaming on Netflix. You can read our interview with series creator Charlie Brooker and sift through our recaps and analyses of other new episodes "Shut Up and Dance," "Men Against Fire," and "Hated in the Nation." Here, we take a look at "Nosedive."
Uber riders know all about the five-star scale that has them rate their drivers -- and vice versa. Also found in different forms on eBay, Amazon, and other major websites and apps, the simplistic system exists as a means for people to sum up their feelings about certain humans, products, and businesses. It's this very system that Black Mirror's Season 3 premiere targets, deriding its vagaries and the potential damages it can inflict upon unsuspecting users.
Penned by Rashida Jones and Michael Schur (from a story by Charlie Brooker), and helmed by Joe Wright (Atonement, Hanna), "Nosedive" stars Bryce Dallas Howard as a shallow young woman living in a world where five-star ratings are used for everything. Want to get into that chic housing development? Better be a 4.5-star human or above. Want to make that co-worker pay for ruining your elevator ride? You can -- but your own rating might fall if she returns fire. Karma is no longer just a bitch; it's your life.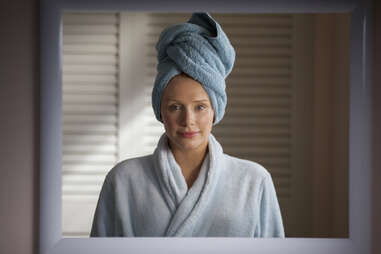 When we first meet Howard's character, Lacie, she's a 4.2, her laser-focused gaze set on qualifying for a Prime Influencer Program so she can nab a fat discount on her next apartment. Like everyone else, Lacie's lot in life is tethered to a nameless social media platform that allows colleagues, family members, friends, and anonymous passersby to rate each other.
She has a long way to go to reach the promised land of the 4.5.
Lacie's plan to quickly move the bar on her status hinges on being relentlessly and exceedingly charming. Good deeds, she figures, guarantee five-star votes, and getting enough of them over a short span of time should goose the weighted average of her life's interactions upward. Unfortunately for Lacie, randomly terrible days still happen.
Lacie's mission seems to receive the boost it needs when her 4.8-rated childhood BFF Naomi (Alice Eve) makes an out-of-the-blue request. Even though she hasn't spoken to Naomi in years, Lacie agrees to be her maid of honor and starts crafting a speech that will jerk tears, tug heartstrings, and elicit five-star ratings from high-ranking wedding guests.
But after Lacie receives one star from her brother as she rushes off to catch the flight to Naomi's nuptials, and another downvote from a woman she bumps into on her walk to the taxi, and yet another from the cabdriver forced to listen to a disingenuous conversation with Naomi during the ride to the airport, we see how quickly a life that requires the approval of others can fall apart.
Visually and tonally, "Nosedive" has the same vibe as "Fifteen Million Merits," the Season 1 episode that confined its characters to a monotonous, slave-like existence in a far-flung dreamscape. Both are Black Mirror thought experiments that imagine how current cultural phenomena might play out in the future, only taken to an extreme nightmare scenario.
Not everyone in "Nosedive" buys into the system, luckily. There's Cherry Jones, who plays a happily low-ranked truck driver. And there's Ryan (James Norton), Lacie's anti-establishment brother, who calls her desired apartment complex "fake-smile jail cells" and says, "High 4's like Naomi, I bet they're suicidal on the inside."
Though the pastel-blasted setting of this episode won't feel familiar, its subject matter should. Reputation-based apps like Uber and Peeple, dubbed "Yelp for People," are already here. And Ryan's tirade might call to mind the dramatic internet exit of Essena O'Neill, the former Australian model who made headlines last year for deleting and skewering her main social accounts.
"I've spent [the] majority of my teenage life being addicted to social media, social approval, social status and my physical appearance," wrote O'Neill last October. Social media's current structure relies on "contrived images and edited clips ranked against each other. It's a system based on social approval, likes, validation in views, success in followers. It's perfectly orchestrated self-absorbed judgement."
That orchestration consumes Lacie and Naomi, because in their world, almost everyone is a public figure, trying to quantify and bolster their reputation. Proponents of such approval, like Naomi, might say, Hey, my score holds me accountable for my actions and encourages me to be my best self. But opponents, like Ryan, would have to counter: It turns you into a fake PR robot, one who's obsessed with image and who bases relationships solely on the potential for personal gain.
"Nosedive" favors the latter stance and, as Lacie plummets from near perfection to an ironic freedom, shows why striving to be that picture-perfect robot can be so unrewarding.
Sign up here for our daily Thrillist email, and get your fix of the best in food/drink/fun.