How Scammers, TikTokers, and Satires Inspired 'Not Okay'
Writer-director Quinn Shephard explains everything that informed her new dark comedy about an Instagram ruse gone very wrong.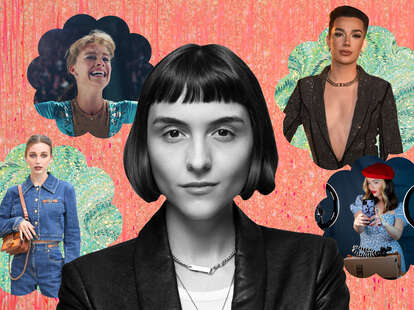 Design by Maitane Romagosa for Thrillist / Photo by Brigitte Lacombe
Design by Maitane Romagosa for Thrillist / Photo by Brigitte Lacombe
Not Okay is one of the most online movies to date. Writer-director Quinn Shephard's new film may not be a thriller set on a screen or depicting an online challenge, but it does have a BuzzFeed-meets-Vice-like workplace, cameos from vloggers, TikTok fashion, influencer parties, doom-scrolling, and tragedies sprinkled across news feeds. The dark comedy (now streaming on Hulu) understands the ways in which the internet downloads itself offline and into our realities, and the anxieties that can come with that.
Shephard's movie revolves around Zoey Deutch's character Danni, a 20-something Brooklynite who feels so hopelessly alone and unsatisfied with herself that she turns to her Instagram following for attention. Putting her photo-editor skills to use, she fabricates a trip to a writing seminar in Paris, which seems like the perfect scam until Paris is struck by a terrorist attack while Danni is supposedly there. Rather than logging off, Danni doubles down on her newfound "influencer" status, making for a satire that's as hilarious as it is terrifying in its indictment of whiteness and privilege.
In many ways, Not Okay feels like something you'd come across the second you open up an app. Danni's scammer story might be the latest fad to go viral, Mia Isaac's teenage activist character Rowan could be someone you follow, and a news item about the latest tragedy would appear alongside their posts. To create such striking realness in the film, as well as a colorfulness and a sharp sense of humor and tension, Shephard looked to her own social media and beyond. While she says the idea for the movie was like a "strange lightning-bolt moment" that "hit [her] as a concept out of nowhere," she wanted to do as much research for it as possible. Shephard explored scammers and people who fake survival stories, consuming whatever article, podcast, or documentary she could, reading books like Jon Ronson's So You've Been Publicly Shamed, and much more. To understand how the very logged-on world of Not Okay came together, we spoke to the filmmaker about everything that inspired it, from her favorite films to real-life influencers.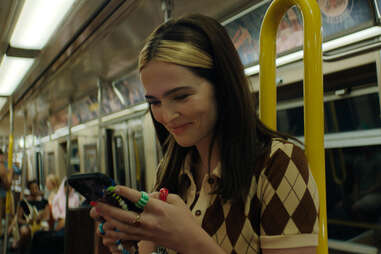 Scammers and our toxic internet consumption
Danni's Instagram scam—originally coming from a place of depression and attention-seeking—doesn't seem all that high-stakes to begin with. But because her thoughtless choices are coupled with real-world implications, like terrorism geopolitics and personal trauma, things quickly spiral out of control and become harmful. The basis for that came directly from the writer-director's own social media feeds.
I started working on Not Okay in 2018. The "summer of scam" was definitely on the top of my mind—a lot of those think pieces in The Cut, like Caroline Calloway and the Anna Delvey story—but so were these YouTube documentaries with Jeffree Star and James Charles, like pre-Shane Dawson cancellation YouTube.
That was all going on when I was first coming up with the concept for this—as was the chaos in America. There were also a lot of really horrible, not-amusing things going on, like rises in school shootings and Trump. It was definitely seeing that bizarre mashup [in our culture] that I was like, "No one would ever think to put these two things in a movie together, but that's actually the reality that we live in every single day when we check our phones." You go on Twitter and it's a headline about James Charles next to a headline about a mass shooting—and that's what we've all accepted as our reality. So I was like, "If I really challenged myself to make a film about that, how would that feel?"
Influencers and microtrend TikTok fashion
The movie's colorful fashion—featuring Y2K-inspired looks, loud, geometric prints, and playful makeup—draws heavily from influencer style and the way that TikTok has popularized microtrends. Danni's wardrobe is essentially whatever is "in" that month, at least according to what she sees on her phone. In fact, the style is so on-point that, leading up to the film's release, TikTokkers have brought attention to how "dated" the movie's clothes look. Based on her influencer-heavy research, it's a joke that Shephard and her costume designer Sarah Laux are very much in on.
It was really defining for Danni as a character that she doesn't know what she wants or what she likes on an organic level. She's looking to be told what she likes by her phone and the culture around her. I wanted her style to always feel like she was digesting everything around her and throwing it all together, rather than coming from a genuine place. We pulled from so many different places for inspiration because we were like, "So much media saturation does distill down to a million little microtrends."
The costume designer [Sarah Laux] and I had a joke that Danni was an Emma Chamberlain fan—so I've seen pretty much every Emma Chamberlain video. I really was like, "I have to immerse myself!" I spent a lot of time on TikTok. I followed all the Instagram cool girls on this one account so that I could keep sending my costume designer photos and microtrends. I also deep dived on Devon Lee Carlson, Bella Hadid, Tana Mongeau, and James Charles. It was interesting to think about how all of the big influences distilled down to Danni. Like, she'll take a colorful eye shadow from one person, but then a T-shirt from another, and then this dress from this designer who always dresses the Kardashians.
We also spent a lot of time talking about what era she would be influenced by, and we both immediately felt it was Y2K. It wasn't just because it's on-trend—we both felt like Danni has an unwillingness to grow up, and it would be really fun for her to gravitate towards candy-colored rings and chains on her phone, and it was this idea of, "She likes stuff that's almost childlike and colorful, because she feels so gray and bleak all the time on the inside that she's looking at things from when she was happy when she was 12." There's this nostalgia for middle school that she has that definitely inspires some of her color palette.
We knew when we were making the movie that [the microtrends would date it]. We were like, "Microtrends are in for a month." When we did the Lisa Says Gah peace-sign pants, we were like, "These will not be a thing when the movie comes out!" But isn't that kind of the point, because right now, it's so funny? You go to thrift stores or yard sales and see last summer's microtrends, which is a major issue that we're making things cool for a month and then we're getting rid of them. The irony is that Danni's closet would just be stocked full of SHEIN knockoffs of every microtrend—mixed with expensive stuff because her parents were rich. We thought it was funny that she's still wearing the things that were hyper-internet a couple months ago.
Complex, unlikable characters
When Not Okay begins, it includes a content warning that advises the audience they're about to be confronted with an "unlikable female protagonist." It's a biting joke with which to kick off the film. It was important to Shephard, though, to explore the complexities of that label, painting Danni as both somewhat relatable and also unforgivable.
One book that Zoey and Mia [Isaac] both read that I love as a reference for this is Kylie Reid's Such a Fun Age. It's about slightly different topics, but also has a lot of parallels. It follows two women in the dynamic of a white woman who hires a young woman of color to watch her kids, and it's told from both of their perspectives. It's such a brilliant and uncomfortable indictment of privilege. It was something I wanted us to all read and talk about before we did the film, because you don't start out feeling polarized in the white woman's perspective. As a white woman reading it, you go in being like, "I understand her." The point is that it's so uncomfortable in its relatability.
With this, I wanted Danni to feel relatable and not like a Nightcrawler or an American Psycho kind of protagonist—specifically because I wanted people to feel uncomfortable in how they relate to Danni and to make them be like, "All right, cool. How do I do some work on myself so that I am not Danni?" because that's sort of the goal. If you make someone a psychopath, it's really easy to go, "I'm never going to be like this. This could never be me."
That being said, a lot of the best examples of satire filmmaking with unlikable protagonists have been men, just because I think there's a real fear around financing and distributing films like this with women at the center. It's something I have never stopped hearing with the movie, and it was great to have [the cast and crew] on board with a character like Danni to make a statement.
There have been a lot of great films that really embrace and attack culture through unlikable men, but [only a few with women that came up in conversation around Not Okay.] I, Tonya was one of the best examples. That was a really big visual inspiration, but I love the way that film handled her character. Election, too, came up a lot, but only to help people understand, "Yes, there was a successful movie with an unlikable woman in it."
Korean thrillers
Shephard wanted to create a feeling of tension within Not Okay, even down to the cinematography. She looked to many movies for references, but some that stood out to her the most were from Korean filmmakers like Bong Joon Ho, Park Chan-wook, and others.
I was really impacted by Korean thrillers for this. It seems like a strange reference, but there is a fear to the movie. It's funny that some critics are saying that it's almost a modern-day horror movie, because I wanted there to be a lot of tension and a lot of visual humor. Old Boy, for instance, has that where there's actually a lot of framing that makes you laugh, but it also has tension. Obviously, I love Parasite.
I also looked at a lot of Chung-hoon Chung cinematography. Even in some of his American work, like Me and Earl and the Dying Girl, there's so much ingenuity in the cinematography. I went through a phase a couple years ago where I was watching a ton of Korean thrillers, and there's a very specific kind of cinematography that I responded to.
Dark comedies and her favorite films
Not Okay is a very funny movie, largely because you're laughing through the secondhand embarrassment of Danni's cringe-worthy decisions. It's also a very dark movie, never holding back in its exploration of thoughtless influencer culture, clout-chasing, and legitimate trauma. It makes sense that some of the movies that stuck with Shephard when making the film were iconic dark comedies and satires.
I love bold satires and dark comedies. I grew up being impacted by films like American Beauty, Heathers, and Election. Those were some of my favorite films when I was younger. As for modern films, I love stuff like Sorry to Bother You, Blindspotting, and The Square, which is a Norwegian film that is one of the best social satires. It also has one of the tensest and most incredible cinematic scenes that I've ever seen.
In television, I was really inspired by Fleabag and I May Destroy You, which are two of my favorite shows. It's so incredible how Michaela Coel allows you to talk about consent and rape, and laugh at the same time. It is a huge feat, and so personal and so beautiful. PEN15, too, which is maybe a strange reference for this, but cringe comedy and how it's personal to girlhood—that show is always a reference for me.
But Do the Right Thing was a big reference for me, and Network, which is an older film, but has a lot of social commentary in it. I feel like I walk away from satire with more of a clear-cut, "Shit, I really feel impacted by this because I let myself get tricked into comfort by the movie." Like, Do the Right Thing starts out and you are happy watching that movie, but by the end, you're crying and like, "Holy shit."
Those kinds of movies are just always what I really responded to. I think you're drawn to the films that reflect the way that you process things in the world, and I try my best to process darkness with humor. There's something about satire where the humor almost allows you to get more inside the reality of issues. I have always loved the genre because I feel like I try to be very analytical and critical of the world around me—even my own actions, what I'm doing, how I feel, and how that's been impacted by outside forces. Satire has just always been a great way to deconstruct the social climate, and I think, through humor, it allows you to digest it more.
This interview was edited and condensed for clarity.