'Now That's What I Call Music' Albums Still Exist, and This Lucky Guy Picks the Songs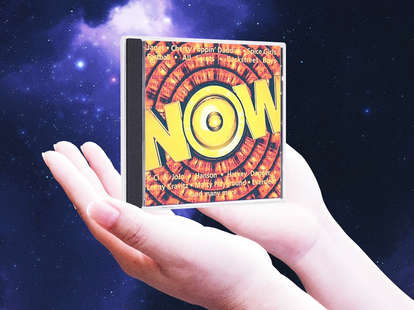 Evan Lockhart/Thrillist/Universal Music Group
For channel-surfers in the late '90s and early '00s, adsfortheNow That's What I Call Music series were a comforting part of any commercial break. But for the millions of people who purchased that first collection in 1998 by calling a 1-800 number or buying a CD in a store, the compilation -- which was spun off from a popular UK series of the same name -- was a perennial carpool favorite, the mix you threw on when you felt the urge to hear Hanson and Radiohead in a single drive-time.
That was then -- and this, as the mellifluous voice in the commercials would say, is now.
On May 5, Sony and Universal will release the 62nd entry in the long-running compilation series; the collection will include tracks from contemporary pop stars like The Chainsmokers, Lady Gaga, Shawn Mendes, and more. Though the record industry has transformed since the first collection -- you can stream Now records on Spotify and Apple Music, for example -- the Now series remains committed to the same goal it's always had: providing a snapshot of what's popular in music at a given point in time.
But how does it do that? Who's responsible for determining the track listing? Who is this mysterious "I" who is exclaiming "Now That's What I Call Music"? Well, now this is what I call an interview with Jeff Moskow, the guy who has made the magic happen since Now 4. To help celebrate the latest entry in the series, I asked the Philadelphia-born ex-DJ to walk us through how a Now compilation gets made and to share the secret sauce that keeps listeners coming back for more.
Step 1: Selecting the tracks
When I call the friendly Philadelphia native on a Wednesday afternoon, he's exactly where you'd expect a lifelong music obsessive to be: in a record store. Walking through the stacks of Gold Million Records in Bryn Mawr, Pennsylvania, he eyes vintage LPs by acts like Curtis Mayfield, the Chi-Lites, Sade, the Doobie Brothers, and Marvin Gaye. "I'm not necessarily here looking for something specific," he says of his mid-day excursion. "It's just -- gosh -- there's so much that catches my eye because I'm so into everything, which really dovetails back beautifully into why I work for Now. I don't make judgments about, 'Oh, I'm only going to compile this or compile that.' If it's a hit, we want it."
That's the populist spirit that has guided the Now series for nearly two decades of pop-music trend cycles -- everything from the shiny boy-band pop of *NSYNC, to the grunge-lite rock of 3 Doors Down, to the shirt-removing hip-hop of Petey Pablo has turned up in various volumes -- and Moskow has been there at almost every turn. When he first began working on the Now series, the selection process was mostly centered around the Billboard Hot 100 chart, which carefully tracked the most popular songs in the country by monitoring radio airplay. But like Billboard itself, the Now series has updated its methods for the streaming era, incorporating the multiple digital platforms fans now discover, share, and listen to music on.
"There's now a number of charts that I look at," Moskow explains. "But it's also streaming data and how songs are performing and what artists are registering on a broader cultural level, like who are the artists on the Billboard artist chart -- not just what songs do they have. Who had the biggest social following? Who has the most video views? All these things are metrics that we have to look at when selecting this repertoire."
There's a particular emphasis placed on trying to find the "culturally biggest songs." He mentions "Panda" by Desiigner as an example of a track that he was especially happy to land for Now 59. But in addition to reading the charts, there's also a bit of prognostication involved. For example, on Now 57 he placed "Cake by the Ocean" by DNCE and "My House" by Flo Rida on the compilation before they became monster radio hits, but, luckily, by the time the record dropped they were massive songs.
Step 2: Clearing the songs
Once he's developed a strong list of songs for the compilation, the next step is to work on licensing the tracks with other record labels, which Moskow says are very supportive of the Now series because it helps expose their artists to a new audience. Moskow describes the labels as the "gatekeepers" in the licensing process. But even if the label is willing to play ball, the artists still need to want to be a part of Now as well.
"You really have two levels of artist," he says. "You have the artist who is a new hit artist that's thrilled to be on Now -- a lot of them grew up with the brand -- and they're really excited to be part of something that's represented pop culture for all of their lives. And then you have the more mature artists -- which doesn't mean older, just that they've been doing it longer. They're maybe a little more pensive about what they choose to participate in."
As certain songs get cleared and others occasionally don't, Moskow will continue to modify his list, isolating it down to a list of top priorities. The urgency of whether a particular song makes it on the compilation depends on factors ranging from radio play, streaming data, and star power. This finalization process typically occurs a month or so away from when the record officially drops.
Step 3: Sequencing the album
Of all the parts of the process, Moskow is most hesitant to talk about his obsessive love of sequencing. "This is the part that usually makes people's eyes glaze over," he warns. But he swears that the right track-list order is the secret ingredient that has kept Now at the top of the compilation game for so long. He compares the song selection process to making a mixtape for someone: You want the songs to take the listener on a musical journey. This stuff matters so much to him, he says, that he's spent two days with his engineer discussing a quarter of a second between tracks.
But unlike most mixtapes, this one isn't supposed to be reflective of the creator's taste. Instead, the ideal Now record serves as a mirror to the culture that can include pop, hip-hop, country, or rock. (Moskow says if there's ever a big metal hit, he'd love to have it on Now.) That genre flexibility allows the compilation to cherry-pick the best songs from whatever trend happens to be hot in a given moment. Moskow cites Psy's "Gangnam Style" as the perfect example of a Now song: catchy, out of left field, and most important, enormously popular.
He won't even let his hatred for a song get in the way of Now inclusion. "The consumer has already voted with their ears," he says. "The consumer has already said this is a hit or this is researching well and getting played well. The consumer has already said if a song is a hit, and if it's a hit we want it on Now."
It's a rare thing in an era when anyone can make a playlist: curation without ego, taste without judgment. When he's off the clock, Moskow might prefer to relax with a Stevie Wonder record, an old Earth, Wind & Fire LP, or some Philly soul, but his job is to serve up what's most popular to the masses. Lucky for him, he has eclectic taste, but he's also a staunch defender of the songwriters, performers, and record-industry employees who create what some might dismiss as "pop crap."
"There are songwriters out here who are writing and crafting this music," he says. "It's being recorded by artists who generally believe in what they're doing and it's being marketed by record companies whose jobs are to market and to make hits, and it's being played on the radio and the consumer is engaging with it. And it's my job to compile it."
Sign up here for our daily Thrillist email, and get your fix of the best in food/drink/fun.
Dan Jackson is a staff writer at Thrillist Entertainment, and he looks forward to the metal song that finally breaks through to the
Now
audience. He's on Twitter @danielvjackson.