Watch Jerry Seinfeld Grill President Obama on 'Comedians in Cars'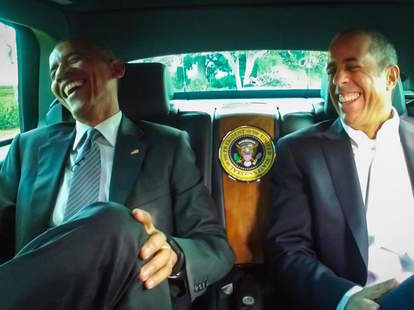 Can the President turn up the White House thermostat? How many different brands of underwear does he keep in his drawers? Which early 20th century Progressive Party member does Obama consider "a really cool character"? In the seventh-season premiere of Crackle's Comedians in the Cars Getting Coffee, host Jerry Seinfeld has a chance to ask the serious questions. Because our Commander-in-Chief isn't technically a "comedian," he plays along for entertainment's sake.
"Just Tell Him You're The President" is an atypical Getting Coffee episode. As quickly as Seinfeld and Obama hop into a silver blue 1963 Corvette Stingray, they're stopped by secret servicemen who inform the host there's no way in hell he's driving the President of the United States into the great Washington D.C. unknown. So they stick to interior settings, eventually grabbing a cup of joe in the White House break room. It's good fun. Watch a clip of the rendezvous below and check out the full episode on Crackle. 
Sign up here for our daily Thrillist email, and get your fix of the best in food/drink/fun.
Matt Patches is Thrillist's Entertainment Editor. He previously wrote for Grantland, Esquire.com, Vulture, The Hollywood Reporter, and The Guardian. Fears the banks. Find him on Twitter @misterpatches.