How the Celebrity Poker Scene in 'Ocean's Eleven' Set the Table for the Series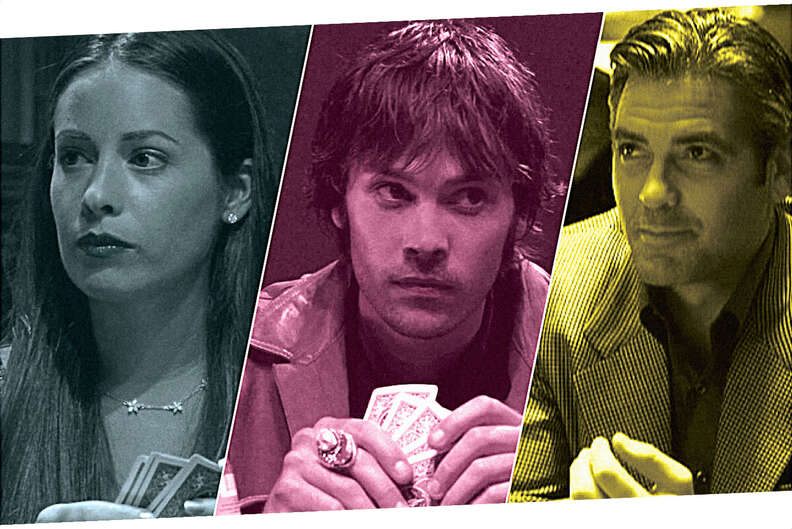 Thrillist
Thrillist
The Ocean's series, which kicked off with 2001's George Clooney-starring remake of the Rat Pack original from 1960 and continues with this week's Ocean's 8, makes you feel like you're part of the club. In his review of director Steven Soderbergh's first entry, Roger Ebert described it as "not a movie about suspense but about suavity." The scenes glide by on old-school, floppy-collar movie star charm -- the camaraderie between Clooney's ex-con Danny Ocean and Pitt's right-hand man Rusty Ryan is essential -- but they also understand how to poke fun at celebrity in a way that doesn't come off as self-congratulatory. The movie never breaks a sweat.
This week's spin-off Ocean's 8, which stars Sandra Bullock as Danny Ocean's sister and introduces an all-women team of thieves attempting to steal diamonds during the Met Ball, continues the first trilogy's knack for inter-weaving playful, slightly meta cameos into a heist movie narrative. (Also, keep your eyes peeled for a few familiar faces from the 2001 movie.) It's a delicate formula that director Gary Ross and his collaborators attempt to replicate with care.
But how was that balance between sly mockery and wink-ey nonchalance first achieved? Going back and re-watching Ocean's Eleven, which was Soderbergh's follow-up to 2000's double-Oscar nominated one-two punch of Erin Brockovich and Traffic, you'll notice a scene early in the movie that establishes the knowing, arch tone. The "poker scene" isn't exactly the funniest scene in the movie -- Bernie Mac's "they might as well call it white-jack" faux-confrontation with Matt Damon is arguably the comic high point -- but it might be the most important scene in establishing the vibe. And, as far as crime movies go, Ocean's Eleven is all vibe.
Just watch it:
The scene arrives early in the film. After we meet Danny Ocean (Clooney) as he gets released from prison for a heist involving "Incan matrimonial head masks," he meets up with card dealer Frank Catton (Mac), who tells him he can find Rusty (Pitt) teaching movie stars how to play cards. We then get a scene of Rusty, always shown chomping on greasy food, chatting with Topher Grace, sporting a goatee and delivering a smarmy take on his fast-talking public persona. It's clear from their first interaction that Grace wants nothing more than for Rusty to think he's cool. "Let me ask you a question, man," he pleads. "Are you incorporated?" He wants Rusty to take checks; Rusty doesn't even dignify the request with a verbal response.
Then we enter the club and meet the teen heartthrob poker students. It's worth pausing for a second and introducing each of the players in this scene because they're essential to why it works so well. It's a dream team of teen heartthrobs.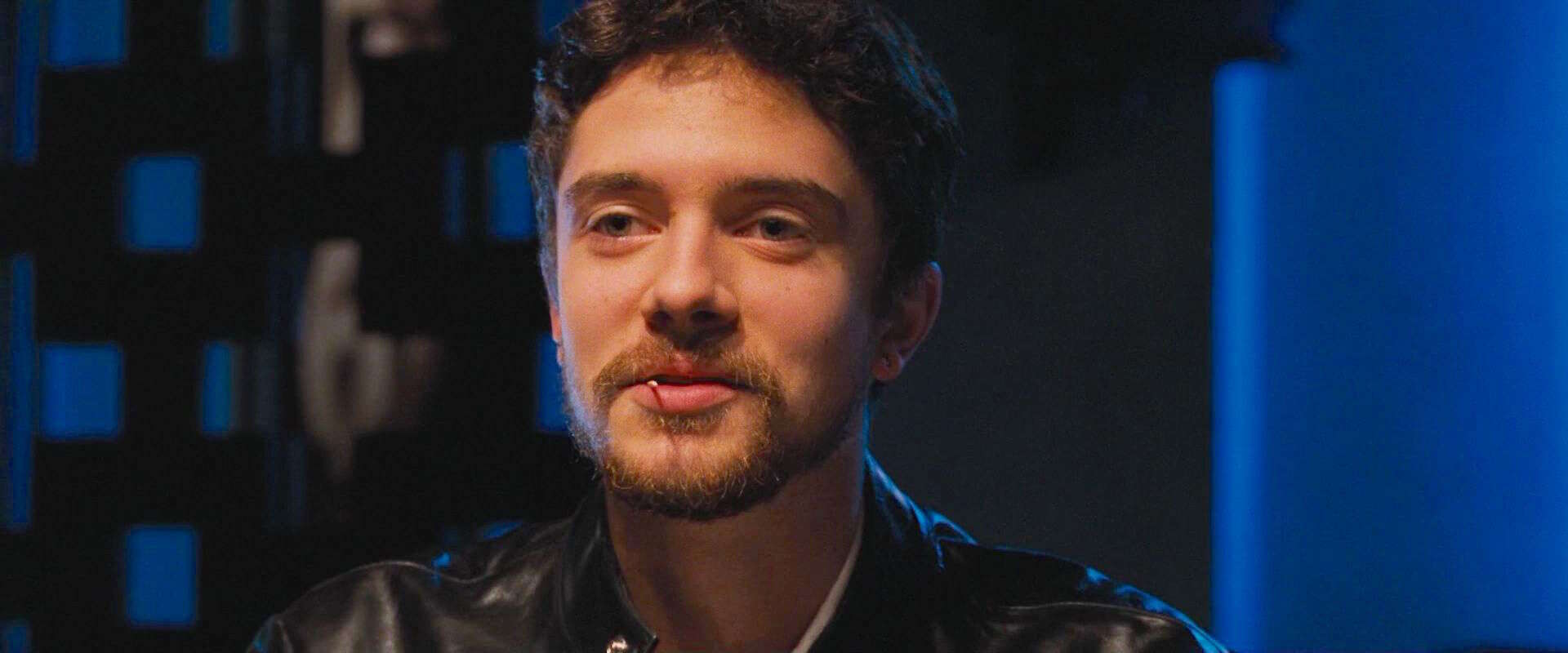 Topher Grace
In 2001, Topher Grace was a sitcom star known to viewers as the put-upon teenager Eric Forman on FOX's That '70s Show, but he only had one film role at that point. The year before he played a stuck-up preschool classmate of Michael Douglas' drug-addicted daughter in Traffic, which was also directed by Soderbergh. He gets a big monologue in that one, where he smugly explains to Douglas how drug economies function and why America's drug-enforcement policies are racist. Given the pre-existing relationship with Soderbergh, it makes sense for Grace to pop up again here, playing another version of a chatty dip-shit. (Grace also appeared in Ocean's Twelve, delivering an even more obnoxious take on narcissistic celebrity bad behavior; sadly, he didn't get to complete his arc in Ocean's Thirteen because of his role in Spider-Man 3.)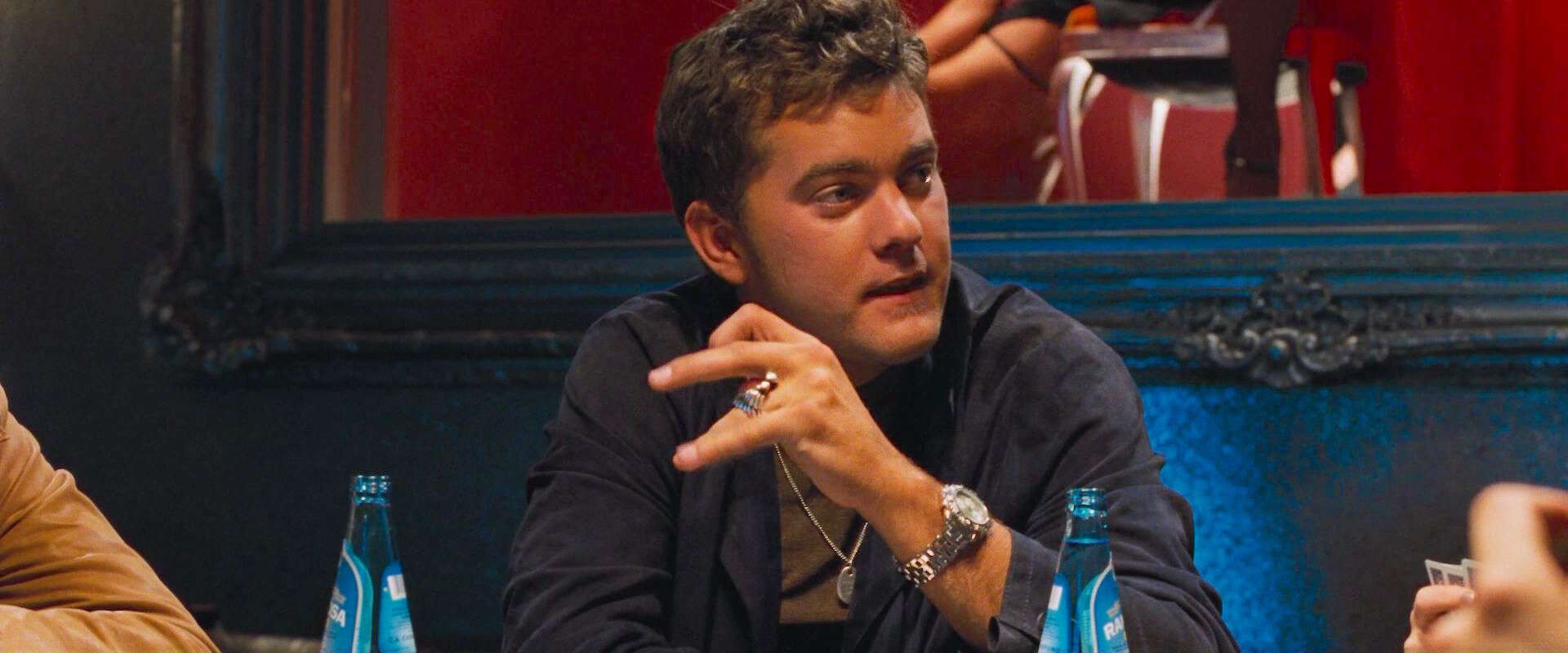 Joshua Jackson
Of the young actors at the table, Joshua Jackson was probably the one with the most swagger at the moment. (Look at the jewelry in the picture!) Not only was he the star of Dawson's Creek, which was still airing on the WB, but he had finished off the Mighty Ducks trilogy, shedding the kiddie sports image, and was coming into his own as a young adult movie star. After small roles in Urban Legend and Cruel Intentions, he got his own big screen vehicle in 2000 with The Skulls, an enormously entertaining (and ridiculous) thriller inspired by Yale's Skull and Bones society. Clearly, this is a man with post-Skulls bluster. It also starred Paul Walker and was directed by Rob Cohen, who would go on to cast Walker in a little movie called The Fast and The Furious. So, in a cosmic way, Joshua Jackson is responsible for the Fast and Furious movies. Thank him.
Shane West
Shane West's big screen break-out came the year after Ocean's Eleven with 2002's A Walk to Remember, the Nicholas Sparks romantic weepie starring Mandy Moore. (He did attend the Ocean's Elevenpremiere with Moore.) But at the time he was probably best known for his role on the ABC family drama Once and Again, where he played Billy Campbell's son Eli. Of the guys in the scene, he probably gets the least amount of lines -- he's actually not listed in the production draft of the script you can find online -- but it's important that he's there. I would watch a whole movie where 2001 Shane West gets into trouble while learning how to play poker. Look at the jacket. The necklace. The facial hair. He had the look.
Holly Marie Combs
Like West, Holly Marie Combs is not listed in screenwriter Ted Griffin's production draft, which is dated May 31, 2001. Instead, it's noted that "one star, indeed, has brought his girlfriend, Katie, also a known actress, to observe." Could this role have been originally flagged for Jackson's Dawson's Creek co-star Katie Holmes? It's hard to say, since Combs, then the star of the WB's Charmed, doesn't get much banter in the scene. With the obvious exception of Julia Roberts, Ocean's Eleven was very much a boys' club.
Barry Watson
In this period, Barry Watson was a god. More specifically, he was on 7th Heaven, the spiritual family drama that aired on the WB and ran for 243 episodes. Watson played Matt Camden, the hunky teenage son of a pastor. (Maybe you're noticing a trend.) In 1999, he starred in Teaching Mrs. Tingle, the Kevin Williamson thriller where a bunch of high school students hatch a plan to kill Helen Mirren's domineering teacher. Who also starred in that movie? Katie Holmes! Clearly, it all comes back to Katie Holmes.
Before we go on, it's also worth noting who is not in the scene. Here's how Griffin's script describes the poker table: "A glance at the table reveals: the three waiting players are all young TV stars (Josh Jackson, Seth Green, Barry Watson) here for a group poker lesson with Rusty." Green was likely unavailable because he had just stolen more scenes as Scott Evil in Austin Powers: The Spy Who Shagged Me in 1999 and was filming a bunch of other parts at the time. Honestly, he might've been too famous for this table and thrown off the delicate fame calculus going on here.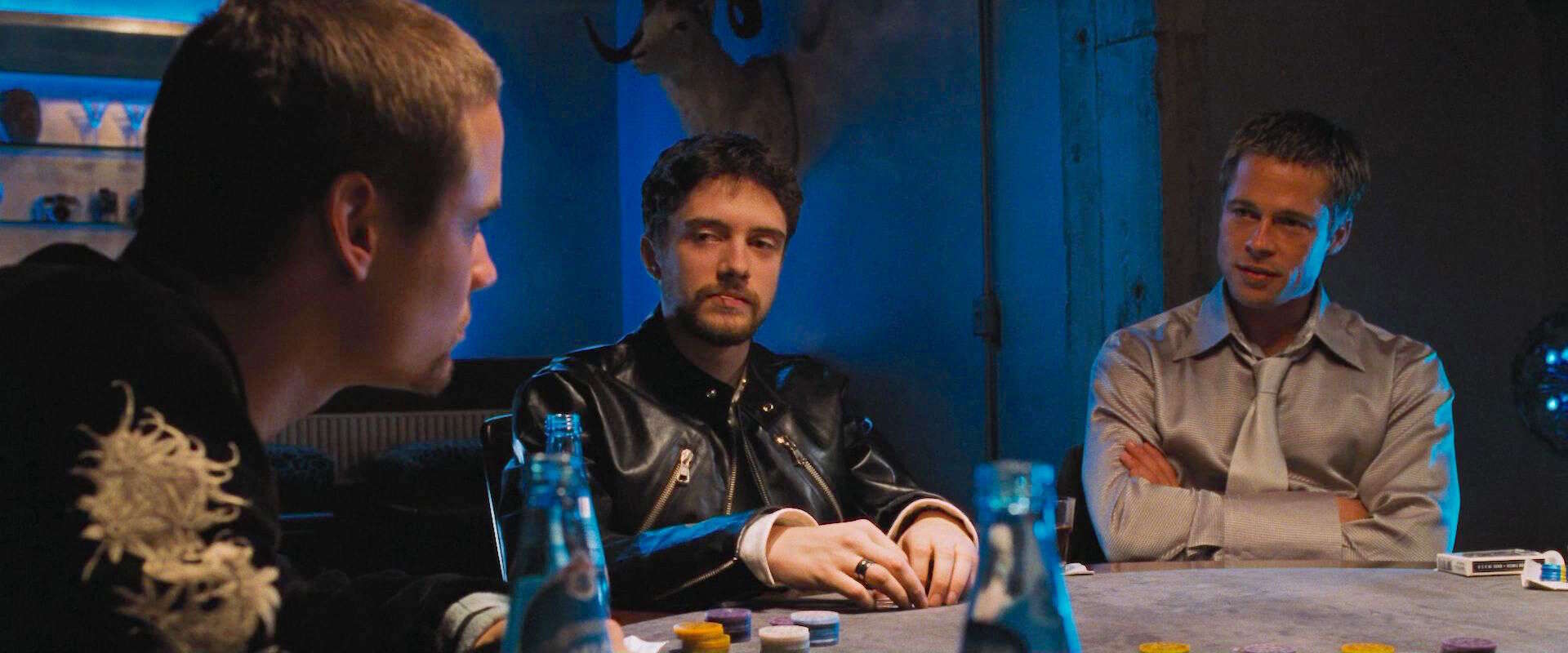 The relative level of fame of the other actors at the table is essential. Pitt has always been an actor unafraid to make fun of his own vanity for the sake of a role, like as the doofus fitness enthusiast in Burn After Reading, or ugly himself up for a part, like the prophetic mental patient in 12 Monkeys. Here, Soderbergh and Griffin introduce him, still looking boyish and improbably handsome in his late 30s, amidst a rag-tag group of teen actor pin-ups. Basically, it's the next generation of potential Brad Pitts. He's not as young as he used to be. Later in the film, Danny Ocean says to him, "You're cold-decking Teen Beat cover boys," as a way to convince him to do the big casino heist. Rusty is desperate.
What I'm calling the poker scene is actually two separate scenes: In the first, Rusty attempts to teach the actors to play poker but keeps getting derailed by their buffoonery; in the second, Danny appears and the two run a minor con on the teen idols. The first half, which ends with Grace laying out his cards and saying "fellas, all reds," was largely improvised, according to the DVD commentary track with Soderbergh and screenwriter Ted Griffin. Griffin was reportedly cursing Soderbergh's name for "ruining the scene" during filming, but he now thinks it's "one of the best scenes in the movie." Looking back, it's hard to disagree.
What makes it so good? The success of the scene lies in what gets acknowledged and what slides by. The young actors, who now feel like a peculiar time capsule of early '00s white dude stardom, aren't referencing their own roles or getting super inside-baseball. The closest thing the scene has to nudge-nudge Hollywood humor is in the first bit of dialogue we overhear when Rusty returns to the game after getting a drink and overhears Danny talking to the group. "That's hard to do, isn't it?" Danny asks. "Crossing over from television to film?" With a laugh, Grace says, "Not for me, dude." It's the type of off-the-cuff exchange that anyone watching at home or in a theater can get -- obviously, Clooney had recently transitioned from ER star to movie star -- but the delivery is muffled. It's not begging for a laugh.
The larger dramatic purpose of the scene is to establish the tricky, brotherly dynamic between Rusty and Danny, two veteran criminals with a long history of schemes. But on a another level, it's easing you into a fun-house world where Pitt and Clooney are half-acknowledging the ridiculousness of the whole set up. Like the Teen Beat idols in the scene, they're just playing pretend. ("I did a movie with Edward Norton called Rounders and we actually had this kind of training," observes Matt Damon on the actor audio commentary for the DVD. "So looking at this scene hits a little close to home for me.") The larger point is driven home with a sight gag where Grace exists the flashy LA nightclub and the paparazzi beg for his attention while Clooney and Pitt, unquestionably the bigger stars at the time, stroll right by. This is a droll, slightly askew fantasy.
There's a telling exchange between Soderbergh and Griffin on the DVD commentary where the two ponder whether or not the scene has a hint of cruelty. It's possible to view the brief scene as a dick-ish way of making the movie stars look "cool" by contrasting them with the buffoonish, less hip TV actors. "Do we seem mean?" asks Soderbergh. Griffin repeats the question back to him; Soderbergh asked if he was worried about it. "Not too much," says Griffin.
Ocean's Eleven is a movie free of such anxieties, but it's also never trying to sell you on the idea that its characters are gritty, hard-bitten crooks. These aren't gangsters in a Martin Scorsese movie: They don't fire guns, make violent threats, or even curse very much. Instead, they're more like magicians, engaging in sleight-of-hand, distracting their enemies with subtle visual tricks, and wearing the occasional goofy disguise like Pitt's garish Austin Powers wig later in the film. They're running small-time grifts on the guy from That '70s Show and the dude from 7th Heaven. They're all in on the fun -- and so are you.
Sign up here for our daily Thrillist email and subscribe here for our YouTube channel to get your fix of the best in food/drink/fun.