O.J. Simpson Apparently Watches 'Keeping Up With the Kardashians' in Prison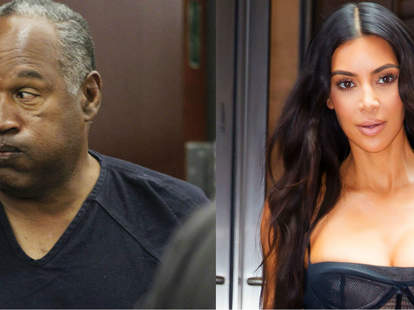 The draw of the Kardashian empire is inescapable -- even if you're in prison. According to Inside Edition, O.J. Simpson, who's currently serving a 33-year prison sentence related to a memorabilia robbery, has been passing the time in his cell by watching America's favorite reality TV family.
Yep, O.J. watches Keeping Up with the Kardashians in jail. Disgraced stars, they're just like us!
"He likes Keeping Up With the Kardashians," says former prison guard Jeffrey Felix in the story. "He likes to keep up with all the gossip with them." The story also notes that Simpson, who will be up for parole this October, watches the show on a flat screen TV in his cell at the Lovelock Correctional Facility in Nevada, where he also coaches the prison softball team.  
Of course, Simpson's connection to the long-running E! Network series doesn't just come from a natural curiosity about the Calabasas Clan or a love for Scott Disick's latest antics. The family's rise to fame will always be linked to Simpson's name and the controversy surrounding his 1995 trial for the murder of his wife Nicole Brown Simpson.
As any fan of last year's acclaimed American Crime Story: The People Vs. O.J. Simpson knows, the former football star was close friends with Robert Kardashian -- the father of Kim, Kourtney, Khloé, and Rob -- and recruited him as part of his legal defense team. In the series, he was played in all his "Juice!" glory by Friends star David Schwimmer. 
The Emmy-winning show -- which came out the same year as Ezra Edelman's Oscar-winning documentary, O.J.: Made in America -- explored the relationship between Simpson and the Kardashian family. Kris Jenner, who was friends with the murdered Nicole Brown Simpson, was portrayed by Selma Blair. (The article notes that Simpson couldn't watch People Vs. O.J. because the prison didn't get FX.)
Another odd detail from the Inside Edition story: Apparently the guards at the prison have taken to calling Simpson "Nordberg," a reference to the character he played in the Naked Gun series. The Simpson saga will probably never stop being stranger than fiction. 
Sign up here for our daily Thrillist email and subscribe here for our YouTube channel to get your fix of the best in food/drink/fun.