Netflix's 'On My Block' Creators Weigh in on Shocking Season Cliffhanger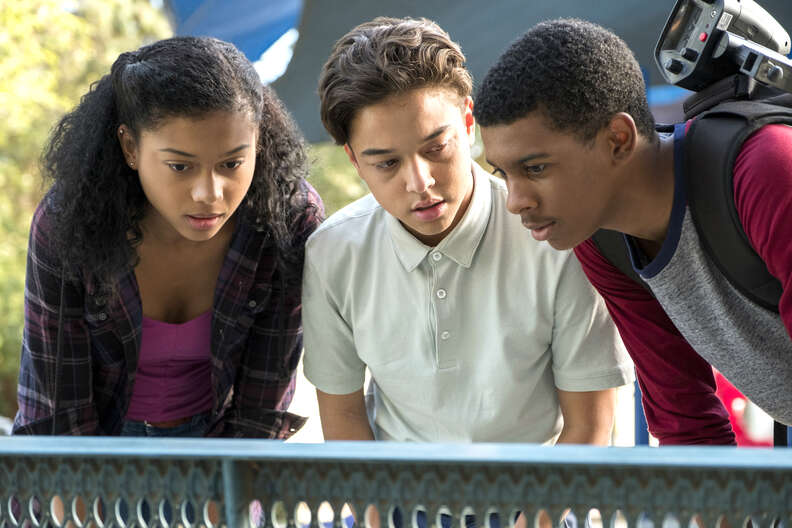 Netflix
Netflix
This post contains major spoilers from On My Block.
Tragedy seems inevitable from the very beginning of Netflix's On My Block. The pilot begins with our heroes -- Monse (Sierra Capri), Ruby (Jason Genao), Jamal (Brett Gray), and Cesar (Diego Tinoco) -- watching from afar as older teens party in a backyard. That'll be them next fall: high schoolers. But before the group can pretend-enjoy the cans of Olde British "600" they pilfered, gunfire erupts. "That was a .38," Monse says, fleeing and starting a quick game of Guess the Caliber. "No, it was a .45," says Jamal. "It sounded like a .44," says Ruby. ".357," they shout in unison, grinning as if finally recognizing an old song without the help of Shazam.
The Gen-Z dramedy -- which comes from Awkward. creator Lauren Iungerich and All Eyez On Me writers Eddie Gonzalez and Jeremy Haft -- triumphantly turns the teen sub-genre on its head by blending John Hughes sensibilities with Gonzalez's experiences growing up in Compton and Lynwood. The result is a South Central-set show that pinballs between the zaniness of The Goonies and the heartbreak of Hardball. "The stakes to our kids' mistakes are that much greater," Gonzalez tells Thrillist. "If you're growing up in a John Hughes neighborhood and you piss off somebody, they may slash your bike tires. That doesn't happen in these neighborhoods."
That's why, later in the season, when Cesar shows a rival gang member mercy, he puts not just himself in danger, but also his friends. Fast-forward nine episodes, and, indeed, our heroes have gone on to high school and become the center of the party. But they've also become the revelers caught in the crossfire. Tragedy strikes in the finale, with what will surely be one of the most brutal cliffhangers of the year -- the teen equivalent of a Red Wedding.
At a quinceañera for their friend Olivia (Ronni Hawk), a hooded figure weaves his way toward the dancefloor, where Monse hugs Cesar -- the latter now a quickly rising member in his family's gang, the Santos. Cesar's the intended target of a retaliation hit, but he doesn't take the bullet. Neither does Monse. In slow-mo, Ruby spins in front of the gun, trying to protect his friends and his crush, Olivia.
He's only partially successful. The bullet exits Ruby's chest, and it pierces Olivia's, sending them both to the floor, bleeding out in the arms of their family members. Their fates are left up in the air, as ambulances rush them off-screen before cutting to black and leaving us with the echoes of Ruby's death rattles. While the finale wasn't based on a specific event, it was carefully concocted. It's made to be a particularly crushing event to watch because of Ruby's primary arc, which had him humorously chasing Olivia all season long. When he finally wins her over, his happiness lasts mere seconds.
"We wanted to make [Ruby] a hero, but we also wanted to upend that trope," Haft says, noting that in these neighborhoods, anything can happen at any moment, oftentimes to innocent bystanders. "In a John Hughes movie, you get the girl," he says. "In this reality, it's not always that easy." Adds Gonzalez: "This [kind of tragedy] happens every day. We were just depicting real life."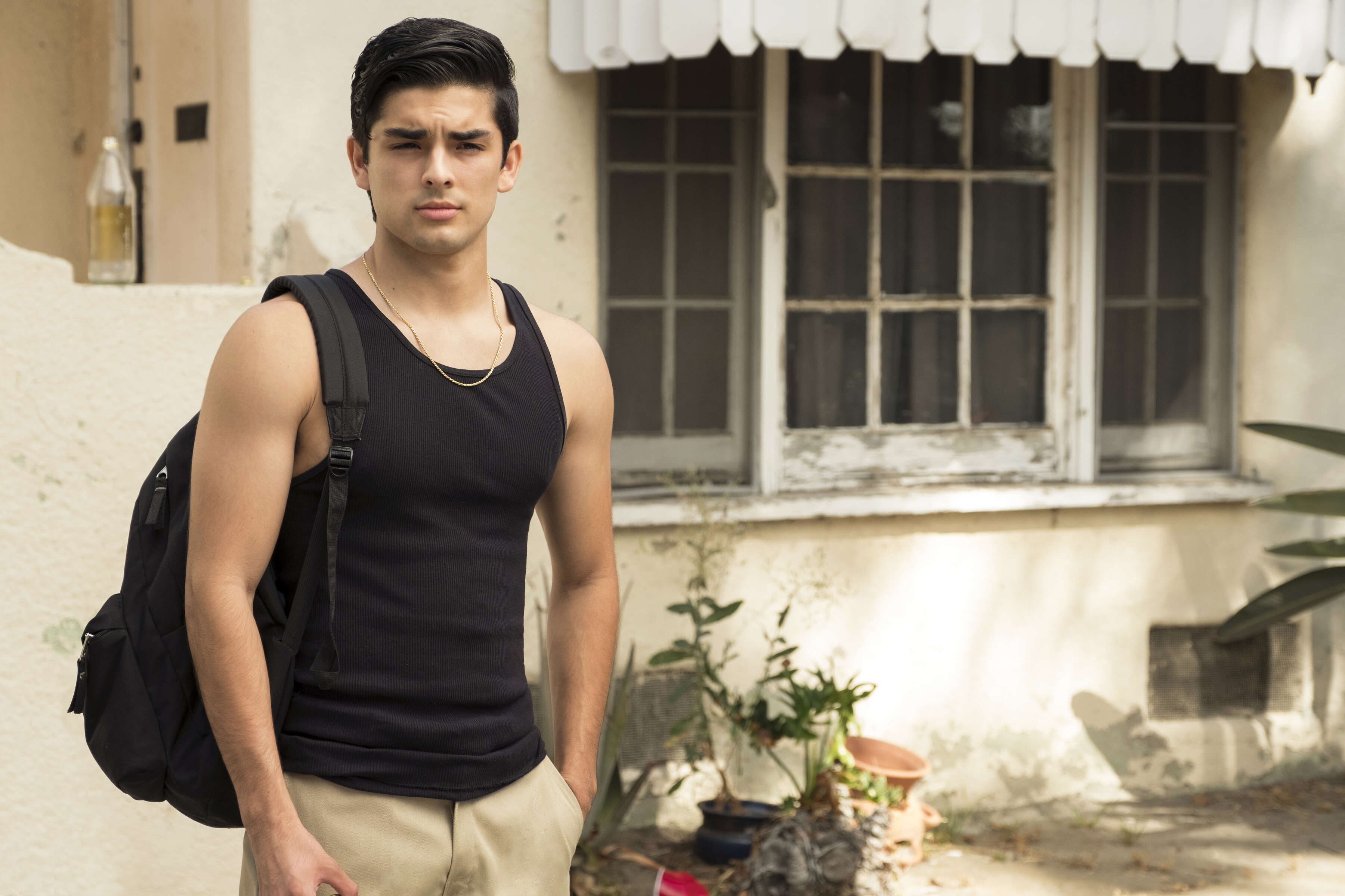 As heartbreaking as the finale is, it represents the show at its best: tragicomedy that ditches the mostly white, well-off lens through which most teen TV shows have existed to present something at once new and universal. It's an impressive balancing act, one that's not always accomplished in the show's early entries, which sometimes feel so stuffed with different subplots and comedic tones you get the impression you're watching three different shows beamed in from three different networks at the same time (Cesar and Monse operating almost on the purely dramatic side of things, Ruby and Olivia often feeling like characters from your favorite rom-com you haven't seen yet, and Jamal playing in a wacky, almost Nickelodeon-like league of his own).
Though On My Block occasionally stumbles -- and could stand to lose some of its more cartoonish tendencies -- its inconsistencies never outweigh its achievements. With its cast, it's found a strong roster of up-and-coming talents, including the hilarious Jessica Marie Garcia. Its characters, and the trials they go through, feel authentic. And if you stuck through the first couple episodes, you probably saw that you were in for a ride that was well worth it, one that confidently set up a second season.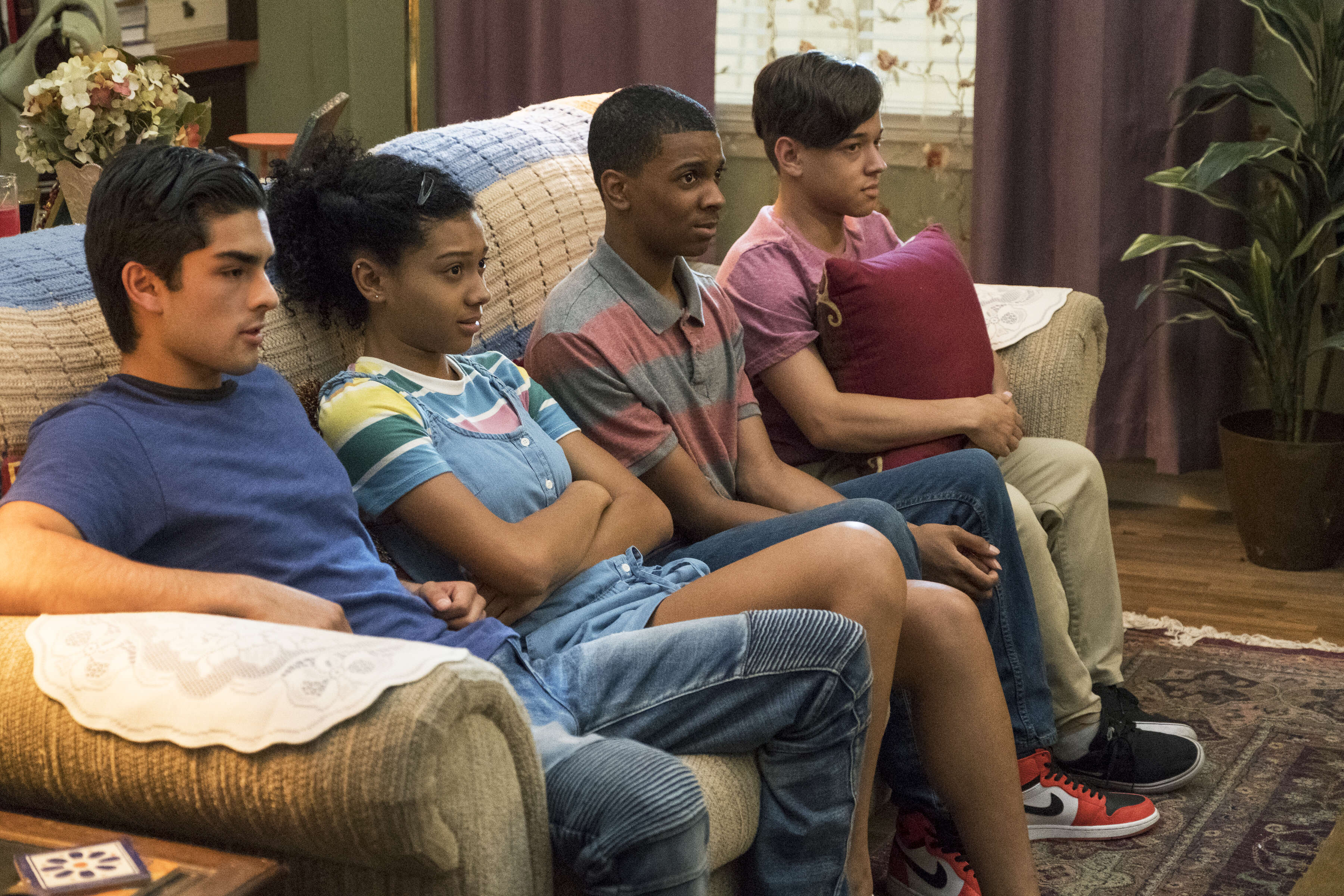 It wouldn't be surprising to see that happen. On My Block comes at a time when Netflix has begun stocking its shelves with teen content (see: Alexa & Katie, The End of the F***ing World, Everything Sucks). One of its biggest successes of the last year was 13 Reasons Why, a YA conversation-starter that quickly earned a second season after its fan base exploded. If the chorus championing On My Block becomes loud enough, it could stick around for some time.
While Gonzalez and Haft remain tight-lipped about Ruby and Olivia's fate, they've pinpointed the territory they want to explore next. "Whether or not anyone survives, there's going to be a ton of stress," Haft says. "What we've noticed with a lot of Eddie's stories and a lot of people we've met who've lived in the inner cities, is there's some PTSD and stress from having friends or relatives who have been shot."
This spells survivor's remorse for Cesar, and to a lesser degree Monse. Beyond that, Gonzalez and Haft tease the several other narrative threads left open: Cesar and the consequences of lying to his brother and the Santos; Monse and her relationship with her estranged mother; Jamal and the neighborhood's newly recovered heist money. At the beginning of the show, these kids were told that if they were to survive high school, they'd have to stick together. They've been run through an absolutely gripping story about confronting great change, struggling with identity, and getting knocked down. Simply put, we want more of it.
Sign up here for our daily Thrillist email and subscribe here for our YouTube channel to get your fix of the best in food/drink/fun.

Sean Fitz-Gerald is a staff writer at Thrillist Entertainment. Find him on Twitter: @srkfitzgerald.