In 2018, Netflix dropped one of its best original series, the breakout teen dramedy hit On My Block -- which ended up being more of a high-speed chase of a show than a typical easy-breezy teen series. The humorous tone cut through the challenges of growing up in South Central Los Angeles, taking on a variety of issues along the way. In just 10 brief episodes, the show covered everything from young love to heists and gang violence, and ended with a gripping cliffhanger that left fans hungry for more. 
Well, the wait for Season 2 is finally over, as Netflix recently announced the show will return on March 29, sharing a wild trailer to accompany the news. The highly anticipated second installment from Awkward. creator Lauren Iungerich and writers Eddie Gonzalez and Jeremy Haft continues to follow best friends Cesar (Diego Tinoco), Jamal (Brett Gray), Monse (Sierra Capri), and Ruby (Jason Genao) -- the latter of whom appears to be alive and well in the clip, despite that shocking season finale -- as they continue their adolescent development tackling everything from young love to underground criminal activity.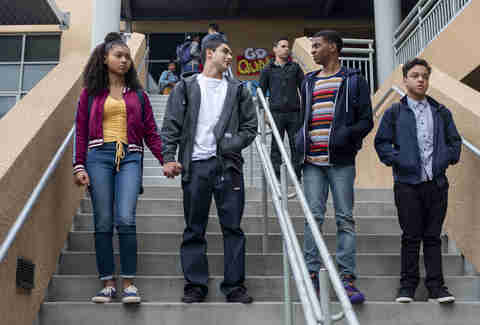 You may remember that while most characters spent Season 1 vying over crushes and family drama, Jamal was obsessed with discovering the rumored sum of money once robbed from RollerWorld in the '80s and later hidden. The short, high-energy trailer begins with Jamal basically losing his mind, yelling at his friends, "I'm literally trying to tell you guys something that will positively change your lives," later revealing he found the mythical heist money (a cash total of $200,000, no less). You can bet that protecting and/or getting rid of it will be a large focus of Season 2.