How 'Once Upon A Time... in Hollywood' Wrestles with Sharon Tate's Legacy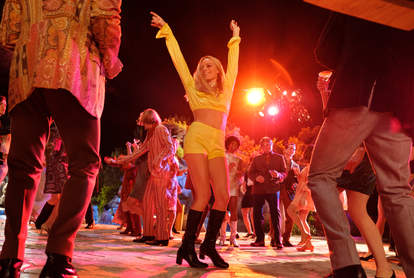 This post contains spoilers for Once Upon a Time... in Hollywood. 
Though Sharon Tate acted in films from the '60s like Valley of the Dolls and The Wrecking Crew, she's still best known as the beautiful, pregnant wife of director Roman Polanski who was brutally killed by members of the Manson family on the night of August 8, 1969. Quentin Tarantino's Once Upon A Time… in Hollywood nixes this final tragedy from her life, quite literally. In his alt-history film, the hippies attack Tate's fictitious neighbors: the boozing, over-the-hill duo of TV star Rick Dalton (Leonardo DiCaprio) and his stuntman Cliff Booth (Brad Pitt). But the audience's assumption that Tate, as played by Margot Robbie, is doomed shapes the tension of the film, and how Tarantino fits her into his fable about Los Angeles is primed to divide viewers. But who exactly was this rising star, and does Once Upon a Time do justice to her life?
Just who was Sharon Tate? 
It's hard to distill a life into a blurb, and even a biographer like Ed Sanders has had trouble capturing her essence. What we do know, in an abbreviated fashion, is that the Texas-born Tate grew up an army brat who bounced around from city to city in her youth before being stationed with her family in Italy, where she had her first brush with fame working as an extra on film shoots. On one, she met the actor Richard Beymer (of West Side Story and later Twin Peaks fame) and began a relationship with him that would continue when she moved to Los Angeles in 1962. A New York Post column that Sanders cites in his book describes how her father gave her $42 for two weeks' rent and the fare from Italy to the States to start her career. Four weeks in, she was succeeding by the measure of the times. Parts in TV series like Mister Ed and The Beverly Hillbillies eventually segued into film roles, among them The Fearless Vampire Killers, on which she met Polanski, who both directed and starred in the film alongside her.
To read about Tate is to read about the men in her life. In Once Upon a Time… in Hollywood, Tarantino offers explanation by way of her friend Steve McQueen (Damian Lewis) at a party at the Playboy Mansion. She was in a relationship with the hairdresser Jay Sebring, who would eventually be murdered alongside her in real life, when she met Polanski and they all ended up becoming friends. A passage in Restless Souls: The Sharon Tate Family's Account of Stardom, the Manson Murders, and a Crusade for Justice, co-written by a family friend of the Tates and one of Sharon's relatives, explains: "Admittedly, Sharon had always lived in a fairy-tale world, observing everything through a rose-tinted veil, trusting everyone and being a bit naive about life. At twenty-two when she left for England to film 13, she was searching for a child's never-never land blooming with the answers to all of life's questions. Along the way, she'd found Roman, who seemed to have those answers." 
Tate's family describes her as someone who was constantly working to combat her "shyness." Tate, on screen and in the public eye, was largely defined by her looks. Even upon her murder, the New York Daily News called her a "sexpot." In an interview she gave during press for Valley of the Dolls, Tate wrestled with the idea of herself as a sex object: "When I was put under contract, I thought, 'Oh, how nice,' but... I was just a piece of merchandise. No one cared about me, Sharon. People expect so much of an attractive person. I mean, people are very critical on me. It makes me tense. Even when I lay down, I'm tense. I've got an enormous imagination. I imagine all kinds of things. Like that I'm washed up. I'm finished. I think sometimes people don't want me around. I don't like to be alone, though. When I'm alone, my imagination gets all creepy." 
How did she die? 
Tate's death has been retold so many times over, and it's purposely not the point of Once Upon a Time. At 10500 Cielo Drive -- the house that Polanski and Tate rented -- Tate was stabbed multiple times and hanged, just a few weeks shy of giving birth. She was found dead by a maid the morning of August 9, 1969, along with three other victims: Sebring, Polish director Wojciech Frykowski, and heiress Abigail Folger. A fourth victim, a teenager, was shot in his car. (Polanski was out of the country shooting a film at the time.) The killings were carried out by Charles "Tex" Watson, Patricia Krenwinkel, and Susan Atkins, three members of the Manson Family, at the behest of Charles Manson.
What happens to her in Once Upon a Time… in Hollywood? 
Robbie's Tate operates in parallel to the (mis)adventures of Cliff Booth and Rick Dalton, two Golden Age movie stars whose careers are waning in February 1969 when the film opens. In contrast, Tate's star is bright, and we see her in almost mundane situations. In the loveliest sequence of the whole film, Tate simply goes about her day. She picks up a hitchhiker, who she warmly says farewell to before heading off to buy a rare copy of Tess of the D'Urbervilles as a present for Polanski, who would later make a movie based on the book. On the way back to her car, she's drawn to a Westwood cinema playing her film with Dean Martin, The Wrecking Crew. After convincing the skeptical box office attendant that she's really in the movie, she's offered a free ticket. You can see her spirit lift as she watches the audience laugh at her bits and cheer when she kicks ass. (Tate reportedly did her own stunts at times, which must have tickled stunt aficionado Tarantino.) It's a tender portrait of someone becoming aware of her own talent and fame, framed in opposition to Rick, who is grasping at relevancy.
Tarantino doesn't have Robbie recreate Tate's scenes in the film, where she's both comic relief and straight man to Dean Martin's 007-type spoof Matt Helm. Instead, there's a beautiful interplay of acting. The Wrecking Crew itself is goofy and dated, but Tate's performance was lauded at the time and still deserves the same praise today. In a review, the New York Times wrote: "The only nice thing is Sharon Tate, a tall, really great-looking girl who, for most of the movie, wanders around wearing glasses, which, of course, means that no one, including Martin, who is supposedly in a state of constant excitement, notices that she is beautiful." When Once Upon a Time picks back up in August 1969, the day of the would-be murder, we find an uncomfortably pregnant Tate. 
The quotidian quality of Tarantino's portrait of Tate is his intention. "I thought there was something kind of wonderful about this person who lived, who has been defined by the tragedy of her death," he said in an interview with Time. "Just the idea that she's driving around and doing errands, doing the kinds of things someone might do in Los Angeles. She's living her life, which is what, in reality, she didn't get a chance to do."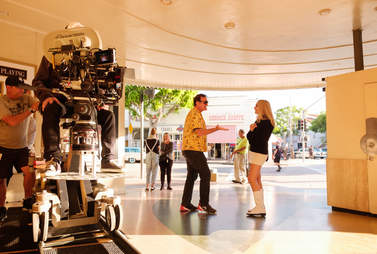 Tarantino and Robbie on set.

| Sony Pictures Entertainment
Is it an accurate portrayal of Tate at the time? 
It's hard to say it's not, and Tate's sister Debra, who has been very critical of depictions in the past, told TMZ she wasn't "disappointed," adding, "It's the first time ever that I haven't been lied to or tricked or not given any consideration whatsoever." In an interview with Vanity Fair she said that Robbie did a "beautiful job" capturing how Tate was "so sweet and so kind, intelligent, and lighter than the air in every way." As for the period of her life the movie depicts, Restless Souls frames February and March 1969 in a dream-like manner: "They enjoyed their time together, with lazy days by the pool and evenings filled with small gatherings at the house." But soon after, cracks formed in that facade. Tate and Polanski went their separate ways for work, and Polanski had affairs. (Restless Souls actually mentions Tate reading Tess of the D'Urbervilles in a melancholy period when she realizes she will have to return to America separately from Polanski. She wrote him a note, saying: "This would make a marvelous script.")
That romanticism is also at odds with other accounts of the period, though the timeline is tough to unpack. (And, of course, any notion of the idyllic is inherently cut down by the presence of Polanski, who would be later convicted of raping a 13-year-old and been accused of other sexual assaults.) Sanders argues that Polanski wanted Tate to have an abortion. In biographer Greg King's book, Sharon Tate and the Manson Murders, he explains that Tate tried to hide her pregnancy from Polanski for as long as she could, and therefore "their physical intimacy must have been infrequent after February 1969." A friend told King that their circle assumed the marriage was coming to an end. 
What is likely true is that Manson did visit the house, as he does in the film -- only it was photographer Shahrokh Hatami who spoke to him, not Jay Sebring.
What's the controversy here? 
Robbie's Tate doesn't speak much on screen, which became an issue almost immediately after the film premiered in Cannes when a journalist for the New York Times asked the director a question about her lack of dialogue. Tarantino said he rejected the "hypothesis" -- a defensive answer that one can argue undermines his own work. Because, even while Robbie doesn't have much dialogue in the film, her version of Sharon is its most spiritual presence, someone soaking in Hollywood before it could potentially cut her down. Perhaps one day there will be a great biopic of Tate; Once Upon a Time... in Hollywood is not that, but it allows her to live free from the terror that plagues her end-of-life narrative, and that in itself is a gift.
Sign up here for our daily Thrillist email and subscribe here for our YouTube channel to get your fix of the best in food/drink/fun.