Everything We Know About Netflix's Live-Action 'One Piece'
The legendarily long pirate anime is getting the live-action treatment.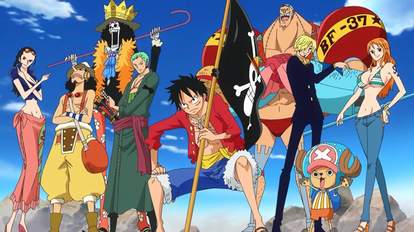 Amidst all the beachy teen dramas, high school teen dramas, and nostalgic Amblin-inspired monster series, Netflix has been hard at work adapting and planning to adapt beloved, classic anime series into live action. Their initiative got a universally bad start with the ill-conceived Death Note movie, but moderately redeemed themselves with an OK Fullmetal Alchemist movie and a pretty decent Bleach movie. So we remain hopeful for their adaptations of Cowboy Bebop and Nickelodeon's Western animation-anime hybrid Avatar: The Last Airbender.
In what seems like an insane undertaking, though, Netflix is also planning to adapt One Piece -- an anime whose manga source material's creator Eiichiro Oda holds the Guinness World Record for most copies published for the same comic book series by a single author. The pirate-themed serial published by Weekly Shōnen Jump, which, according to Oda, is somewhere between 65-80% finished, has been adapted into an anime that spans more than 900 episodes (and counting), has been broadcast since 1999, and has an enormous fanbase. Netflix really has their work cut out for them.
Does One Piece have a release date?
As of now, not yet. Filming was supposed to get underway in summer 2020 in Cape Town, South Africa, but obviously that, like pretty much every other production worldwide, has been delayed due to the pandemic. Still, they have a whole first season written, according to producer
Marty Adelstein
, and will probably jump back into it once restrictions are lifted. We may see it as soon as late 2021, if all goes well.
What is One Piece about?
One Piece is set in an alternate universe where rough-and-tumble pirates rule the world's oceans, and tells the story of young pirate lad Monkey D. Luffy, who, with his ragtag crew of Straw Hat Pirates, has made it his mission to search the world for the missing "One Piece" of treasure left behind by legendary pirate king Gol D. Roger, and with it become the most powerful pirate king ever. Also, when he was young, he ate a devil fruit which gave him the power to turn his limbs to rubber like Mr. Fantastic, a superpower which gives him a level up on the many ruthless pirates (usually also devil fruit eaters) his crew encounters.
Is One Piece filming yet?
The show was supposed to get underway in fall 2020, which obviously did not happen, but after being pushed back a few months due to pandemic concerns, it looks like the show is off and running on location in Cape Town, South Africa. Originally set to wrap by the beginning of February, production is taking longer than originally thought because of all the delays, and still seems to be ongoing.
Who is working on it?
Adelstein and his company, Tomorrow Studios (the same studio that's producing the Cowboy Bebop adaptation, and the studio behind TNT's Snowpiercer), are producing the show. Original manga creator Eiichiro Oda is also executive producing the show, which is a good sign for all the fans out there. Showrunner Steve Maeda has been posting regular updates on his Instagram account.
How many seasons will there be?
Considering how long the manga is, One Piece could theoretically go on forever—but that probably won't happen. Obviously Netflix hasn't had a minute to consider renewing the show yet, but each season could retell the events of one "saga" of the story: the first season, for example, could focus on Luffy recruiting his crewmates and culminate in his fight against the fish-man pirate Arlong.