Our Writer's Favorite Mystery Movies That You Can Watch on Netflix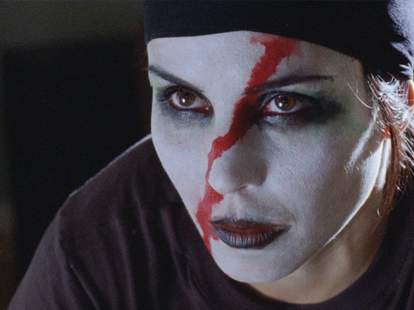 A note to all the movie mysteries out there: If we can guess the ending before the first five minutes are up (looking at you, The Village), it's too predictable. Netflix has plenty of those, but dig a little deeper and you'll find a decent selection of domestic and foreign thrillers to deliver the confusion and suspense you crave. Whether it's a locked-room puzzle, a long con by a skilled flimflammer, or a twisted revenge tale, there's something for every kind of clue-seeker on this list.
These 10 movies are guaranteed to keep you guessing until the bitter end. Heinous crimes, stolen identities, police investigations -- they've got it all, and none ends like you would expect. Settle in for a long night of being proved wrong, over and over again.
Following (1998)
This first film from Christopher Nolan (Memento, Inception) has all the hallmarks of his later career -- suspenseful, noir-ish action and unforeseen twists -- on less than half the budget. It focuses tightly on an aimless young Londoner who follows people around for sport; when he inevitably chooses the wrong man to follow, he gets seduced into a world of robbery, blackmail, double-crosses, and people who are never quite what they seem. Even if you don't care for black-and-white movies, Nolan's slick plotting and claustrophobic visuals will keep you guessing and cringing until the final frames.
Exam (2009)
A locked-room mystery with a deadly twist, this British film throws a group of job candidates together and gives them an impossible test. There are three rules (don't talk to the test invigilator or the armed guard, don't leave the room, and don't spoil the test paper) and only one question to answer, but when the candidates realize the paper is blank, they must work together to find the question and pass the test. The 80-minute exam passes almost in real time as the group races from theory to theory, manipulating each other, infighting, and backstabbing to prove themselves worthy and snag their dream job.
The Interview (1998)
This Usual Suspects-esque Australian thriller follows the tale of Eddie Fleming (Hugo Weaving), a man interrogated by the police for a crime he may or may not have committed. Staged almost entirely within that interrogation room, the interplay between Fleming and the cops is tense as hell while the balance of power and sympathies continually shifts. Who is really on trial, and for what, are questions that get asked and answered in a series of twists that still have the power to shock almost 20 years later.
Lucky Number Slevin (2006)
A mafia crime farce with plenty of laughs and even more guns, this twisty tale of mistaken identities brings together an A-list cast for a fast-paced mystery that has so many twists, characters are constantly revealing their true identities, switching allegiances, and hatching elaborate revenge plans, leaving a trail of bodies in their wake. Josh Hartnett stars as the unfortunately named Slevin Kelevra, drawn into a mob war in New York City after a mistaken kidnapping. The movie delivers big with one of the best long cons since Ocean's 11.  
Oldboy (2003)
Park Chan-wook's 2003 weirdo masterpiece was such a cult hit, they made a not-so-great American version in 2013 with Josh Brolin. The original is still on Netflix, though, and definitely worth a watch. Korean star Choi Min-sik plays a husband, father, and alcoholic who gets kidnapped on his daughter's 4th birthday. He spends the next 15 years locked in a small room, teaching himself to fight and counting the years with hatch-mark tattoos. His release sets him on a path to revenge, but first he must discover who locked him up and why, and when he finally unlocks the mystery the secret is even grosser than the scene where he eats a live octopus.
Dragon Tattoo Trilogy (2010)
This Swedish book series was a worldwide phenomenon, and Netflix has all three of its original film adaptations available as an easily bingeable extended-edition miniseries. Broken down into six 90-minute episodes, the saga of hacker Lisbeth Salander (Noomi Rapace) and journalist Mikael Blomkvist unfolds with enough murder, sexual violence, concealed identities, and techno-stalking to keep even the most hardened of mystery buffs enthralled.
The Wailing (2016)
Hollywood horror movies rarely shoot for "epic," content with scaring up a storm with micro-budgets and single locations. South Korean director Na Hong-jin does not suffer from the same apprehension. The Wailing is a masterpiece of mood, 156 minutes of every horror trope imaginable, drenched in mythology we foreigners may not entirely understand. That's fine: The movie's plot, a streak of murderers that may or may not have been perpetrated by demons, tows the viewer through the foggiest moments with one visceral pleasure after another.
Sign up here for our daily Thrillist email and subscribe here for our YouTube channel to get your fix of the best in food/drink/fun.

Molly Lynch is an editorial production assistant at Thrillist who will leave the room if you talk about spoilers. Follow her on Twitter and Instagram.