Major spoilers for Orange Is the New Black follow.
What a cliffhanger! The fifth season of Jenji Kohan's Orange Is the New Black followed Poussey's tragic death with a fast-crescendoing riot and ended in separation: some inmates boarded buses, some stood tall in their makeshift bunker. Where are those buses going? What's next for those left behind? What TV show is Pennsatucky going to binge first?! Here's everything we know about Orange Is the New Black Season 6, a compendium we'll update as more info becomes available.
Recommended Video
There's a Stock Market-Themed Cocktail Bar in Hong Kong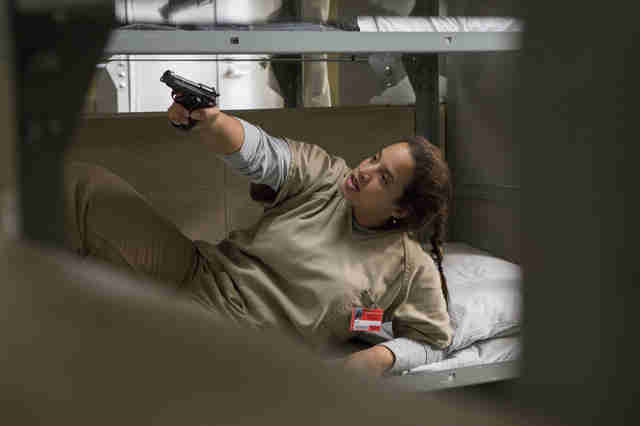 When is Orange Is the New Black Season 6 coming to Netflix?
Stars Laura Prepon and Danielle Brooks teased that production on the new season wrapped in early February, and according to a recent tweet posted by Netflix's See What's Next Twitter, fans will be able to stream all new episodes on July 27.
Who's in the Orange cast this season?
Let's break it down into "extremely likely" and "less likely." You can expect the core group of inmates left in the bunker -- Piper (Taylor Schilling), Alex (Laura Prepon), Taystee (Danielle Brooks), Red (Kate Mulgrew), Nicky (Natasha Lyonne), Frieda (Dale Soules), Suzanne (Uzo Aduba), Cindy (Adrienne C. Moore), Gloria (Selenis Leyva), and Blanca (Laura Gomez) -- to return. (Safe bet, as many of them have posted set pics.) You can also permanently forget about the dead idiots known as Piscatella (Brad William Henke) and Humphrey (Michael Torpey). They're out.
The others? Less obvious. 
OITNB's Season 5 finale was set so the show could be revamped however needed. This means, given the bus cliffhanger and some of the other loose ends, you might not see the more fringe characters as much, or at all. Daya, for example, "just committed a crime (and) obviously that will be punished," Dascha Polanco, who plays Daya, told USA Today. "You might not see her ever again." Caputo (Nick Sandow), who, you know, ran a prison that got overtaken by inmates, also seems like he could be out of a job. Then there's Pennsatucky (Taryn Manning) and Mei Chang (Lori Tan Chinn), two faves whose futures are up in the air given their escapes.
But yes, Taystee is definitely back
Despite stories speculating about a potential exit for Brooks, she's sticking around for the long haul. As noted above, she's already finished shooting her scenes for Season 6. "I think now with social media, I think things can get misconstrued," Brooks told Variety. "What we do know is that the show has seven seasons, and I was just saying I'm totally excited to finish those seasons out, but where I will end up after that, I have no idea."
The writing will be different
Season 5, and the shape of its three-day riot, wasn't exactly a slam dunk -- especially compared to prior runs. "We had lost a bunch of the original writers," co-producer Tara Herrmann told The New Yorker last year. "It wasn't anyone's fault. It was just a new dynamic -- people were attached to the characters as viewers, not as creators." Kohan even conceded that some of the plots felt like "fan fiction." So only two writers from Season 5 returned -- a move that many hope will play out as a sort of spiritual reset for Season 6 and onward.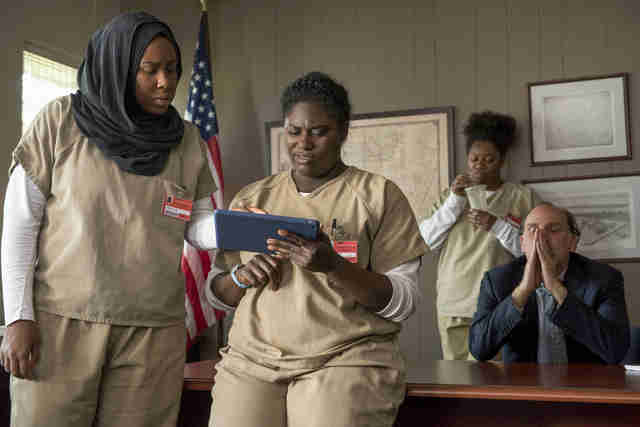 What's going to happen?
You mean after that Butch Cassidy-esque ending? The most telling clue about the general shape of the show comes from Moore, who's called Season 6 "an amazing facelift." Though plot details remain under wraps, there are a couple leading theories supported by Moore's comment. One, proposed by THR, wonders if the buses and the talk of "new prisons" mean OITNB will refocus around the core group of stars, with members of the supporting cast either exiting the series or taking on smaller roles. Another, which sprang from a Kohan tease, points to the use of a time jump, which would allow for a plot reset and would find the characters in the present day (i.e., the Trump era).
What would a time jump mean?
The biggest appeal of a jump forward is it would allow the writers to more consistently tackle timely material. Currently, the show's timeline is slower than the timeline of life. "It was frustrating because, during the election, we were already in [production], and we were stuck," Kohan explained to THR, referring to fall 2016. "We want to address current events and feelings, so we may abandon the timeline," she told The New York Times. "Piper will still have served the same amount of time, but we will be in the present day."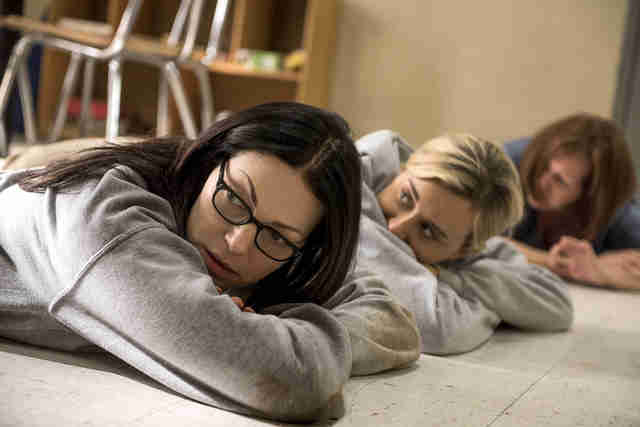 Regardless, there will be consequences for everyone
"It went from a riot asking for justice to falling apart. There's casualties, and now they'll pay the price," Leyva told USA Today. Whether we see that unfold in the past or the present, it doesn't look good. "There's nowhere you can go that's a positive. So you're definitely going to see all of the girls trying to figure out how to get out of this rabbit hole they've created," Brooks told Variety. "Who is loyal to whom? Who is standing alone? Who is motivated by their own personal will to get out of prison? Who lies and who tells the truth? All of that stuff will come out this season."
Season 6 might set up a series finale
In 2016, Netflix gave OITNB a whopping three-season renewal, which guaranteed at least a seventh installment. "Not quite a political term, but still plenty of time to do some interesting things," Kohan said. That time might be coming to an end, though. "I haven't made a final decision yet, but I'm leaning toward ending it after seven," Kohan told The New York Times last summer, "although the nature of the show is one that can go on and on because you can bring in new people."
Sign up here for our daily Thrillist email and subscribe here for our YouTube channel to get your fix of the best in food/drink/fun.