How 'Orange Is the New Black' Wrapped Up Its Final Season
This post contains spoilers for Season 7 of Orange Is the New Black, obviously.
You've got time -- until you don't. The seventh and final season of Netflix's Orange Is the New Black drove this point home hard for some of the Litchfield Max crew. A few of the inmates' stories ended in tragedy -- Pennsatucky Doggett, for instance; and injustice -- everyone shipped off to the immigration detention center; and freedom -- Piper!; and some of the guards finally had some of their shady misdeeds catch up with them. After the last 13 episodes of the long-running women's prison series, here's where the large ensemble cast ended up.
What happened at the new Immigration Detention Center?
Blanca (Laura Gomez) and Maritza (Diane Guerrero) were imprisoned here by the U.S. Immigration and Customs Enforcement agency, plus we met a handful of new characters among the 75 housed in a holding pen, including Karla Cordova (Karina Arroyave), a detainee from El Salvador who befriends Blanca, and Shani Abboud (Marie Lou-Nahhas), a detainee from Egypt who falls for Nicky (who works in the ICE kitchen, along with Gloria, Red, Lorna, and Flaca). Karla, who is separated from her kids, at least has some legal know-how, which Blanca also benefits from, but that's not much of a leg up -- and Orange shows how the dire the system is.
It's nearly impossible to navigate a legal system in which you're not given advance notice about scheduled hearings; phone and computer access is extremely limited and expensive; the kiosk to buy stamps and phone cards is broken; and translators aren't always provided. Anyone trying to visit or help the detainees is also put at risk of removal -- when Diablo shows up to visit Blanca, his legal status is questioned and he's detained as well. The ICE kitchen workers try to help out -- Gloria and Flaca find the detainees a source of legal aid and make phone calls on their behalf, and smuggle in a phone for Karla to say a heartbreaking goodbye to her kids when her request for asylum under the Convention Against Torture is denied. A surprise form of help for one detainee comes from -- surprise! -- Natalie Figueroa (Alysia Reiner), who is disgusted by ICE's indifference when a pregnant detainee (who was raped upon entry to the U.S.) is refused an abortion, and procures her the appropriate medication.
Back up, you might say -- what is Maritza doing there? Isn't she a U.S. citizen? Yeah, that's what she thought, too. But after being released from prison, she's caught in a raid. She assumes that if she can just get her mom to send over her birth certificate, she can prove her citizenship and she'll be released. But it turns out her mom had lied to Maritza and she wasn't born in the States after all. (You'd think information like this would have come up during her original arrest and incarceration, but no.) In a chilling scene, Maritza is sent back to Colombia. We see her on a plane full of deported detainees, who disappear one by one until Maritza fades into nothing, the fate of most of these women. Shani is sent back to Egypt, where her family rejects her for being a lesbian. Karla is sent back to El Salvador without her kids, but tries to cross the border into the U.S. again, only to be sidelined with an injury and left in the desert to die. We don't see what happens to Mei Chang (Lori Tan Chinn), a late ICE arrival, but it's probably not good.
Only Blanca -- who was at risk of being deported to the Dominican Republic -- gets lucky. She manages to mount a strong legal argument -- to reopen her criminal case and overturn her conviction regarding the riot charges, and wins back her freedom and her green card. So what does she do with that? Leaves to be reunited with her deported Diablo in Honduras. Her fight wasn't about staying in the U.S., but about being free to choose to stay or leave.
What's the deal with all the dealing and smuggling? Don't any of the guards ever get caught?
Nearly everyone at Litchfield is involved in one scheme or another. Hellman uses Alex (Laura Prepon) to hide a condom full of drugs, while another guard, McCullough, tries to force Alex into smuggling drugs until Alex suggests something better and safer: phone chargers. After all, Luschek's sideline bringing in smartphones has created a new black market. (Alex also disposes of Badison, planting a phone in her cell, leading to her transfer to a facility in Missouri.) But when Gloria (Selenis Leyva) gets caught with a phone at the ICE facility, Luschek finally develops a conscience. His guilt prompts him to confess that he was responsible for the phone to clear her. (He gets fired, naturally.)
Daddy was poised to fill the power vacuum in D-Block (following Barbara's death in Season 6), but when Daya (Dascha Polanco) catches Daddy cheating on her, she orchestrates her death by drug overdose -- and then promptly becomes the new drug kingpin of D-Block (and the enemy of Daddy's closest friends). Her muscle? The formerly quirky Adeola (Sipiew Myo). Meanwhile, Daya's paroled mom, Aleida (Elizabeth Rodriguez), funnels drugs in via Hopper. But Aleida sours on this -- she's seeing Cesar on the side, Daya's a bad influence, and 13-year-old Eva is following in their path, dating a 27-year-old drug dealer and helping connect Daya with a fentanyl supply. (Luschek helps bring it in, outright volunteering his anal cavity. Gross.)
Aleida goes on the warpath to protect Eva and lands back in prison, where she finds it's too late to protect a hardened Daya from herself. ("Who is this evil junkie? I don't even recognize you.") Her first attempt is to push Daya out of the drug trade (and maybe even get her to go clean), going after her crew and trying to cut off her supply. Daya, however, retaliates. Head guard Hopper is put in a tough spot when Aleida lands back in prison -- she wants to continue their arrangment because of the drug smuggling business and because he's taking care of her kids -- but guard/inmate relationships are illegal. He could end up in federal prison, too! But just like Daya, he can't stop cold turkey. (And he uses Aleida's tips to instigate drug searches and confiscate Daya's stash.) So Daya sets up her mom and Hopper to be discovered in flagrante, similar to how they set up Pornstache in Season 1, and gets Hopper fired. Daya recovers her drugs from the contraband closet just in time for Tiffany Doggett (Taryn Manning) to relapse and die, prompting another drug sweep. (If the guards had been paying close attention, they would have noticed that a certain purple dildo keeps showing up in the sweeps -- meaning, anything confiscated is easily put back in circulation.)
Aleida and Daya's Orange saga starts with the mother slapping her daughter upon her arrival to Litchfield in Season 1, and it ends with Aleida trying to choke Daya to death in Season 7. Not before Daya gives her stash to Hellman to hide; he places it in the chickens, one of which lays its pill bottle "egg" at the feet of PolyCon's Linda Ferguson (Beth Dover) and Warden Tamika Ward (Susan Heyward). Make that ex-warden -- she's fired, too.
All of this drama means Hellman, of all people, becomes warden. Gotta be a statement about life being hell for the inmates, right?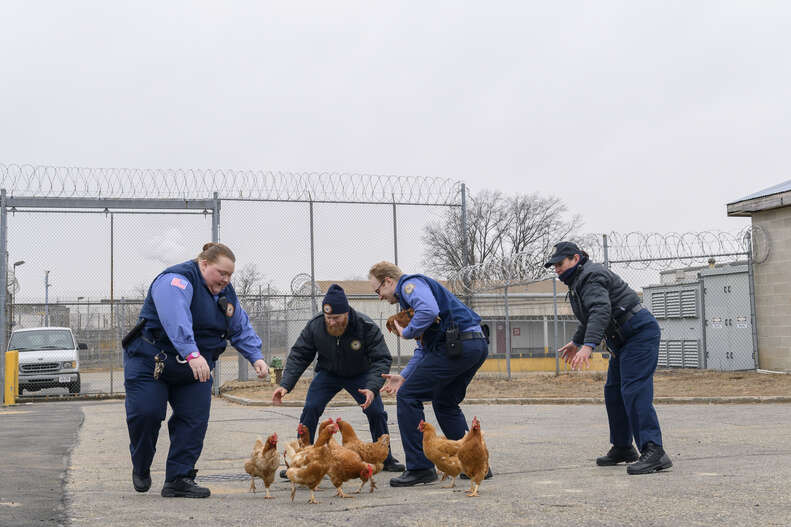 Is there anything nice the staff actually does for the inmates?
Thanks to the hiring of Taystee's friend Tamika Ward as warden (largely due to Linda Ferguson's desire to land a diversity grant, keep a low price-point, and sometimes touch Tamika's hair), yes, there is an effort made to improve Litchfield. Tamika takes a prison reform class taught by Joe Caputo (Nick Sandow) and reinstates the GED program that was canceled in Season 1, and adds a few new ones, such as a restorative justice group and farm therapy (meant to offset closing the psych ward, but really just providing a lot of chicken jokes).
The restorative justice group is incredibly necessary, providing a way for inmates and prison staff both to confront those who've hurt them (say, during the riots) and apologize to those they've damaged in turn. But it becomes somewhat ironic that it is Caputo leading it when he becomes embroiled in a #MeToo case -- former guard Susan Fischer (Lauren Lapkus) comes forward about his sexual harassment of her during her employment at Litchfield. He awkwardly handles the accusation at first -- even going so far to confront her at her home, prompting a restraining order -- but then he learns to listen to what she has to say and resigns from his teaching position.
The GED class attracts eager students (such as Pennsatucky and Zirconia), but also a few disruptive drug dealers (Daya and her crew), who try to get the teacher to smuggle in drugs for them. The qualified teacher, who had been making progress with the inmates by identifying Pennsatucky's dyslexia, is intimidated and quits, leading to a tragic series of events: the request to accommodate Pennsatucky's learning disability with extra time on the GED test is mishandled, she believes she failed the test and seeks out the drug dealers afterwards, and takes a fatal dose of heroin. The kicker is that it turns out she passed, probably because Taystee helped tutor her.
Taystee's efforts to help others come only after she tries to hang herself, and then considers taking the same way out that Pennsatucky did. Faced with a life sentence for a murder she didn't commit, Taystee struggles to find a reason to keep on living. During her despair, she starts working as the warden's assistant again, helping out her old friend, but with the goal to get the key to the contraband closet to trade for drugs. For a brief window, she hopes that she might be able to overturn her sentence -- Suzanne (Uzo Aduba) gets some clarity about what she witnessed with Piscatella and writes it all down. They just need a released Cindy (Adrienne C. Moore) to corroborate it, but Taystee accidentally ruins that opportunity. Remember how Cindy's "sister" was actually her daughter? In a moment of bitter retaliation, Taystee reveals that family secret to her, and that letter causes a lot of family turmoil -- so much that Cindy moves out, so Cindy's family and Taystee's lawyer can't locate her when they realize they need her to recant. (Cindy, her mother, and her daughter later reunite.)
Taystee has to learn to accept that she can't change her circumstances, but she can find a new purpose in life. In Poussey's honor, and with the help of former celeb inmate and bestselling tell-all author Judy King (Blair Brown), Taystee starts a fund to give micro-loans to ex-felons to prepare them for life on the outside, and begins teaching financial literacy, with Suzanne acting as her teacher's aide. (In real life -- because yes, the fund actually exists -- it supports prison reform.)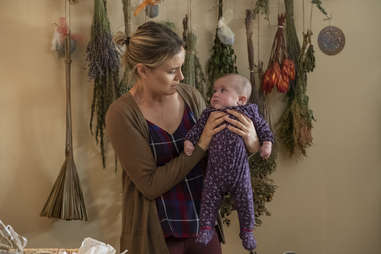 How difficult is it to adjust to life on the outside?
Very. We've seen examples before with characters who get released, only to end up returning to a life of crime or committing an infraction that lands them back in prison. This time, we follow one of the most privileged people we've seen at Litchfield, Piper Chapman (Taylor Schilling), to the outside and see how hard it is, even when you come from money or have familial support. Granted, she's not sleeping in the corner on a mattress (as Taystee was), but Piper does not have it easy, and her probation officer, Wyndolyn Capers (Alysia Joy Powell), isn't going to give her special treatment. Piper crashes with her brother Cal (Michael Chernus), his wife Neri (Tracee Chimo), and their infant, and she lands a job working for her dad (Bill Hoag), but still, she struggles. She has to pay exorbitant fees for her own mandatory drug tests and other probation costs and can't really afford the bus fare to visit Alex at Litchfield. Even with the bonus of extra phone time (those smuggled phones!), the recently betrothed start to grow apart. Piper becomes close to a wealthy woman (Alicia Witt) who offers her a more beautiful life, and Alex gets sexually entangled with McCullough. But McCullough does not take it well when Alex ends it and arranges for Alex to be transferred. Ultimately, though, Piper relocates for Alex and visits her at an Ohio facility (where Alex is incarcerated with Big Boo, Anita DeMarco, Yoga Jones, Norma Romano, Gina Murphy, Brook Soso, Janae Watson, Alison Abdullah, Angie Rice, Leanne Taylor, and Kasey Sankey).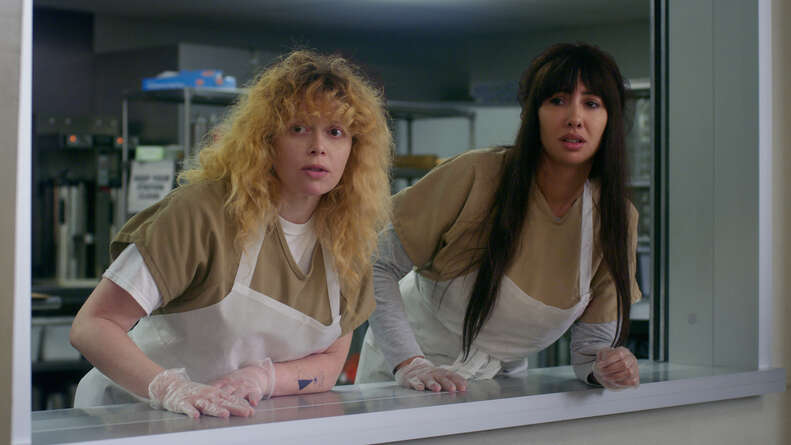 What about everyone else?
Red (Kate Mulgrew) did not handle the isolation of SHU well; when she finally emerges, she's lost her vitality and some of her memory. She's diagnosed with early onset dementia, and transferred to B-Block, Florida.
Lorna (Yael Stone), who has always been a bit delusional, also loses her mind. When her baby Sterling dies in early infancy, she can't accept the loss and constructs a new reality where he's still alive, much to the dismay of her husband Vinnie (John Magaro). She's also transferred to B-Block, and Red looks after her.
Nicky (Natasha Lyonne), who spent much of this season taking care of both Red and Lorna, ends up taking charge of the kitchen and becomes the "new Red," the prison mom taking care of everyone else. She and Flaca continue the work of helping the ICE detainees.
Natalie Figuero and Joe Caputo -- who try to conceive via IVF, but sabotage the effort so Natalie can get an abortion pill for an ICE detainee -- decide to adopt. They want a little boy, until an adorable girl sings for them.
Sophia Burset (Laverne Cox) has a hair salon in New York City, Vanity Hair by Sophia. "I'm so glad that you're doing what you love!" Piper tells her. "We're not in prison anymore! We can do whatever we want, be whatever we want," Sophia tells her. "I did my time. I'm looking forward now."