Where Everything Stands in 'Orange is the New Black' Ahead of Season 7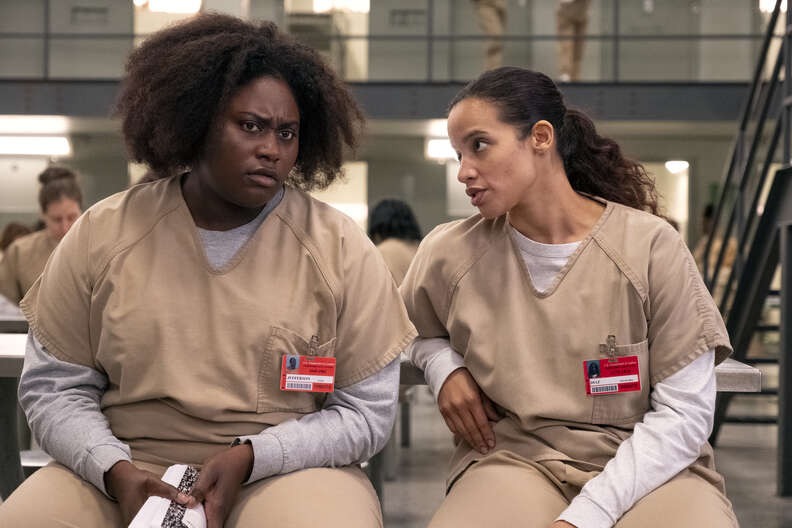 It's time to go back to prison. The seventh and final season of Orange Is the New Black hits Netflix on Friday, July 26, and if too many inmates and guards have gone in and out of Litchfield in the past six seasons to keep track of them all, here are the ones you need to remember -- and what they've been up to and where they stand -- before pressing play on brand-new OINTB for the last time.
Piper's on probation
Piper Chapman (Taylor Schilling) was our Trojan horse to enter Litchfield, but with her early release at the end of Season 6, we can expect to see a more detailed examination in Season 7 of how tough it can be to rebuild your life on the outside, even when buffered by privilege. Piper might not have the entire support system she had going in -- Larry Bloom's no longer her fiancé, Polly Harper's no longer her BFF business partner -- but she still has her upper-middle class family: mom Carol, dad Bill, younger brother Cal, and his hippie wife Neri, new parents both. (Cal, Neri, and Carol supported Piper the most during her prison sentence, even if Carol told her friends that Piper was doing volunteer work in Africa, but there's still time for Bill to step up.)
Remember, Piper's going to need a steady place to stay and to work in order to avoid violating the terms of her probation, requirements that tripped up other ex-cons. Piper's main source of support -- her prison wife Alex Vause (Laura Prepon) -- still has years left to serve; maintaining that marriage with one spouse on the inside, one on the outside won't be easy. Could it be time to try an open relationship? Would it be healthier if each of them moved on?
Taystee's (wrongly) extended prison stay
Tasha Jefferson (Danielle Brooks) was dealt a devastating blow in Season 6 when she was found guilty of a murder she didn't commit, and now she has to find a way to cope with the extra time added to her sentence -- and the fact that her friend Cindy (Adrienne C. Moore) testified against her. Cindy never took advantage of her public platforms as a host on a prison radio show or commentator during the kickball game to set the record straight, but she wasn't the only one to witness what really happened to Piscatella during the riot; Suzanne "Crazy Eyes" Warren (Uzo Aduba) also saw the guards dragging his body, but due to her medication mix-up, she didn't fully understand. If she can process and communicate the information coherently, could new testimony, if corroborated, help Taystee mount an appeal? Is that too much to hope for, and how dangerous is it to live on hope? Establishing new goals and finding a different purpose in life might just keep her going.
Daya's dealing drugs
When we first met Dayanara Diaz (Dascha Polanco) -- whose first day at Litchfield coincided with Piper's -- she was shy, quiet, and artistic, with gum being her main contraband of choice. Now she's almost unrecognizable from that Season 1 sweetheart; prison has hardened her. With no chance of getting out after pleading guilty to shooting a guard during the riot, she's become a drug addict and a drug dealer, using her lover Daddy and her mother Aleida (Elizabeth Rodriguez) -- and her prison guard-lover Hopper -- as a pipeline. The usually selfish Aleida, at least, has misgivings about this; she needs the money but hates seeing what Daya has become. Is it too late for Aleida to become the parent that Daya (or her other children, including barely teenage Eva) desperately need? Or are they all doomed to follow Aleida's bad examples?
Nicky is making nice
After getting caught up with the gang war between C- and D-blocks, Nicky Nichols (Natasha Lyonne) is ready for a little family reunion. Her "mom" Red (Kate Mulgrew), after an extended stay in solitary confinement, needs her more than ever, and her friend/former lover Lorna (Yael Stone) requires some caretaking as well. When we last left Lorna, she was going into early labor, the fate of her child in limbo. Lorna's never been big on embracing reality (remember her delusions that she was engaged to Christopher, or her paranoia that Vinnie was cheating on her?) and anything that might topple her neatly constructed view of the world or her place within it could devastate her. But as Nicky realizes this season, she's always been more comfortable being a giver or a caretaker, and a new love interest helps her understand why -- and embrace change.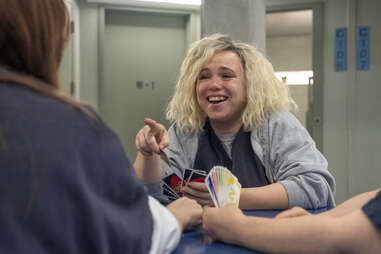 Squashing the bad blood between C-block and D-block
The gang war is over, although there is some residual nastiness from the likes of Badison and others who see the power vacuum as a chance to step up and bully others into submission -- and earn a rep as the new badass on the block. Can quirky Adeola (Sipiwe Moyo), previously seen as hilarious but mostly harmless, make good on her threat to "fuck up a bitch when necessary"?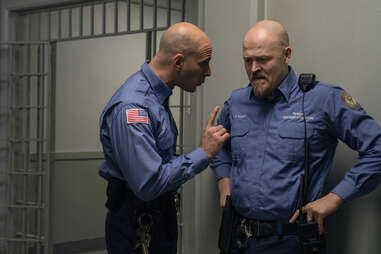 The guards are in trouble
The guards in max might not play Fantasy Inmate anymore, but they still have their games, and drug-dealing Hellman is still the worst of them. More guards are interested in increasing their income via smuggling contraband, be it phone chargers or drugs, or otherwise moving up the ranks. Other guards are still healing from being held prisoner during the riot, and struggle to find closure with the inmates who hurt or tortured them. (A restorative justice class aids with that.) Meanwhile, Fischer, a female guard from earlier seasons, finally comes forward to make a belated #MeToo statement -- and a since-reformed Caputo (Nick Sandow) has to deal with how he hit on her when he was her boss.
ICE's major presence
This aspect of the show, with the oppressive U.S. Immigration and Customs Enforcement agency, was teased in the Season 6 finale, when female immigrants, including Blanca Flores (Laura Gomez), were routed to a new detention center, and this form of prison is the worst out of all the ones depicted on OITNB. Anything that seemed mildly or moderately difficult to do in minimum or maximum-security is even more so here -- such as simply making a phone call to get basic legal help. It's the most timely, relevant part of the whole show, one that Gomez has said "felt almost dangerous" to include as a central plot point in the final season.
Jennifer Vineyard is a contributor to Thrillist.