This story contains spoilers for the first six seasons of Orange Is the New Black.
It's been five years since Orange Is the New Black took Netflix by storm. The series is one of the streaming platform's most popular original programs, is an awards-show juggernaut, and has been a pop culture force since its debut in 2013. And now we know that it's coming to an end: Season 7 will be the show's last.
Based on Piper Kerman's memoir of the same name, the series has followed Piper Chapman, a well-to-do woman who is sent to prison for a 10-years-prior drug trafficking crime, as she navigates the criminal justice system. Her upper-class, WASP lifestyle is challenged by the women around around her, who expose her to worldviews far beyond her own.
For six seasons, Piper and her fellow Litchfield Penitentiary inmates have gone through the rigamarole of prison life, from abusive situations with guards to romantic personal relationships to pregnancies to addiction to police brutality. All of Season 5 was dedicated to a police riot at Litchfield after Poussey was murdered by a guard, with Season 6 a return to the show's normal structural form, though focused on the fallout of the riot.
Given the circumstances of the Season 6 finale (more on that in a minute), it looks like Season 7 will follow in Season 5's footsteps and experiment with form, now with an eye on offering resolution to the characters' story arcs. Here's everyone we know about Orange Is the New Black Season 7, and though we might not know how it ends, rest assured that creator Jenji Kohan has already conceived of an ending. 
Recommended Video
The Biggest Moments of the 'Game of Thrones' Season 8 Premiere
Season 7 of Orange Is the New Black will be the end of the series
Sad news for long-time fans of the series, but the seventh season will be the show's last. The news was confirmed by Netflix in October, after rumors start trickling in that series creator Jenji Kohan and star Taylor Schilling were getting ready to say goodbye to the series.
"After seven seasons, it's time to be released from prison," Kohan said in a statement after the announcement. "I will miss all the badass ladies of Litchfield and the incredible crew we've worked with. My heart is orange but fade to black."
Before news was official, Schilling hinted that she would be done after Season 7, telling THR, "It's as surreal as it was when the thing came out of the gate and was so powerful those first few seasons. It's equally as surreal now to be ending it all."
The show may be winding down, but it's still got a lot of story to get through before it arrives at the finish line, and a lot of loose threads to weave together.
When will Orange Is the New Black Season 7 be released?
No word yet, but the show typically airs in June or July, so we can probably expect a summer 2019 premiere.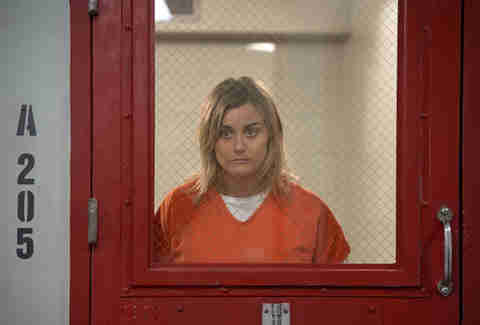 Piper will come back
Piper Chapman (Taylor Schilling) was finally released from prison in the Season 6 finale. Orange Is the New Black is prominently focused on Piper, which may lead you to wonder what the show might look like without her. But worry not, because Piper will be back, and her release is an opportunity for the series to expand.
"[Showrunner Jenji Kohan] wanted to be able to tell stories about post-prison," writer Brian Chamberlayne told The Hollywood Reporter about the Piper twist. "It wasn't just a season-six end, it was partially about getting into the arc of where Piper goes. It's about what is significant about the criminal justice system and what is significant about Piper's story and journey, so there's plenty to be told."
"In my mind, it feels like our Piper has sort of been an Alice in Wonderland, and now she's somersaulting out of that world," said executive producer Tara Herrmann.
Though she'll return for Season 7, that might be the last time we see Piper, since Taylor Schilling has hinted she's "getting ready to say goodbye" to the character. "It's a very kind of surreal time," Schilling told THR. "It's as surreal as it was when the thing came out of the gate and was so powerful those first few seasons. It's equally as surreal now to be ending it all."
Piper and Alex's relationship will be tested
Piper and Alex (Laura Prepon) have had a wild romance; Alex is the reason Piper was ever incarcerated to begin with, and their reunion in prison has had its ups and downs. But after Piper finally ditched her at-home fiancé Larry (Jason Biggs), and things with Alex heated up, the two settled into a healthy domestic partnership. That culminated in a prison marriage before Piper's release, with Nicky (Natasha Lyonne) officiating.
But now that they're married and physically separated, what will become of their relationship? Alex was getting back into her old drug hustling ways in Season 6, which might be how she survives the rest of her four-year sentence without Piper around. That certainly doesn't bode well for the marriage.
Season 7 will deal with Blanca's immigration status
Piper wasn't the only inmate to get an early release in the Season 6 finale. Sophia (Laverne Cox) and Blanca (Laura Gómez) were also set free. Sort of… while Piper and Sophia were seen reuniting with their families, Blanca was handed over to ICE and sent to immigration detention.
According to The Hollywood Reporter, Gómez -- who is an immigrant from the Dominican Republic herself -- is working with the Season 7 writers to develop Blanca's story. "The fact that we are dealing with a situation so intense in our current political climate -- it felt almost dangerous to me," Gómez said. "So I decided I was going to embrace that and use it for this character."
Suzanne could determine Taystee and Daya's futures
Most of the Litchfield women had heavy storylines in Season 6. Taystee was (wrongfully) convicted of second-degree murder for killing a corrections officer in the riot and sentenced to life in prison; Daya developed an addiction to heroin; and Suzanne came off medication for her psychosis. It's unclear what will become of any of these storylines, but we can't imagine Season 7 just hanging them out to dry. Suzanne should play an especially important role since, in addition to her deteriorating mental health, she's also the only one who knows Taystee and Daya have been wrongfully accused of murder.
"I hope to God somebody will tell the truth," said Taystee actress Danielle Brooks of her character's fate. "Maybe that will be the hope. Maybe somebody will come out in Season 7 and say, 'Hey, this is actually what happened.'"
Sign up here for our daily Thrillist email and subscribe here for our YouTube channel to get your fix of the best in food/drink/fun.