Netflix's New Sci-Fi Thriller 'Orbiter 9' Is a Space Romance With a Big Twist
In the near future, therapists will be replaced with soothing, perplexed images of digital wolves that nod along as you describe your problems. At least, that's one of the more outlandish ideas raised by Orbiter 9, Netflix's latest sci-fi original movie to arrive on the platform with all the promotional fanfare typically reserved for secret corporate experiments or well-executed government cover-ups. Unless you keep a watchful eye on your Netflix home page, you may have missed this Spanish space station drama, which plays in the same thematic solar system as 2016's interstellar romance Passengers. Only, in this case, with a wolf therapist.
Putting the furry analysts aside for a second, writer and director Hatem Khraiche, making his feature debut, has created a movie that often plays like a more grounded, less sinister tale of survival than the aforementioned Chris Pratt and Jennifer Lawrence blockbuster, which faced warranted criticism for its often mangled handling of a creepy premise. Orbiter 9 is a bit more upfront about the deception at the root of its story and it also delivers its twists with a touch of naturalistic restraint. It may not shock you, but it isn't going to actively irritate you either -- and that's an improvement over several recent Netflix sci-fi misfires like The Titan or The Cloverfield Paradox.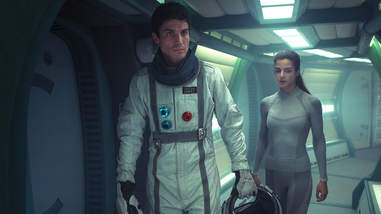 Netflix
The movie opens with Helena, an astronaut played by Clara Lago, strenuously working out and closely monitoring her health aboard the Orbiter 9, a spacecraft on its way to a distant planet called Celeste. Escaping a hellacious home planet to colonize a new world by herself, Helena is lonely, isolated, and fills her day with more cardio than a Soul Cycle disciple. She's lived on the ship her whole life, and her parents were once aboard as well but were forced to sacrifice themselves to preserve oxygen on the vessel and get Helena to the promised land. (We learn this exposition in one of the movie's many inelegant info-dumps.) Clearly, dating isn't exactly at the front of her mind.
Enter Alex, a hunky space-repairman brought to muscle-bound life by Álex González of X-Men: First Class. He arrives in his own little space-pod, which attaches to Helena's and causes her ship's AI to call out "coupling initiated," a phrase that calls to mind the sexualized rocket-ship ballet of 2001: A Space Odyssey. Alex shows up with a little robotic partner, a bag of tools, and smoldering eyes. He fixes a malfunction on the ship and Helena invites him to dinner; he turns her down; she's basically like, I've been in space by myself for my whole life and have only ever hung out with my parents, please eat dinner with me, dude. In space, no one can hear you thirst.  
Alex skips the dinner, like a jerk. Possibly aware that it could be decades before a repairman this attractive ever drops by her ship again, Helena climbs on top of him while he sleeps. When he asks what she's doing, she responds with "Looking at you." Soon, she's telling him she's never kissed anyone. The two kiss and things quickly escalate from there. (Orbiter 9 wisely skips the clichéd zero-gravity sex scene.) In the morning, he wakes up and finishes his work before readying to leave. "I'm sorry about what happened last night," he cruelly tells Helena, and then he leaves in his space-pod. Again: Like a jerk.
Netflix
An explanation for Alex's behavior arrives about 20 minutes into the movie, but it's enough of a fun surprise -- and it's handled in a clever way -- that you might want to go in cold to the movie. (Warning: Mild spoilers follow.) Khraiche's camera follows Alex on his way out of Orbiter 9 and he's shown walking through a dark passageway, into an elevator, and finally out into the middle of a forest. He's on Earth -- and so is Helena. Instead of boldly going where no one has gone before, Helena is little more than a lab rat running in a wheel, submitting to tests and analysis from an all-seeing eye. She's living out her own low-stakes version of The Truman Show.
The explanation for why these tests must be carried out on individuals who aren't clued in to the fact that they're in a simulation isn't exactly nuanced -- I think it gives the government overlords better test results -- but it doesn't really matter. The script is packed with references to ongoing environmental disasters like "acid tides" that have made Earth almost uninhabitable. What does matter? Alex's newfound devotion to Helena, whom he can't stop thinking about. He goes home to his cluttered apartment and obsesses over her. Eventually he describes her situation, the way the Orbiter test subjects are treated like "human guinea pigs," to his wolf therapist, who is actually controlled by a non-wolf woman played by Belén Rueda. She more or less tells him to follow his heart.
Soon, Alex returns to Orbiter 9, frees Helena, who is scared but oddly not that mad that Alex was once her captor, and takes her on the run with him. He removes her "biowitness" tracking implant, exposes the cameras on the ship, and manages to keeps his sinister boss off his tale. That gives Alex and Helena plenty of time to kiss in the rain, visit an an aquarium, and tour his favorite local junk shop together. He even shows her how to eat with chopsticks and introduces her to the joys of Coca-Cola. (What a cute couple!) Unfortunately, the twists don't exactly keep coming.
The movie becomes more and more conventional as it reaches the end of its brisk 94-minute runtime, devolving into a series of shootouts, chase scenes, and gruff meetings between authority figures. As the finale nears, you'll likely find yourself nodding off and dreaming about glossier Hollywood products like Gravity, Interstellar, and The Martian, which explore similar concepts with bigger stars and budgets. As the actual Earth becomes less livable, our space movies feel like they're becoming less imaginative and more practical. These stories skimp on breathless adventure and cosmic detours; instead, they're all about surviving. Orbiter 9 suggests if you have to rough it out in space, do it with someone you love.
Sign up here for our daily Thrillist email and subscribe here for our YouTube channel to get your fix of the best in food/drink/fun.