That is correct: 22 Academy Award-caliber actors who starred with Patrick Swayze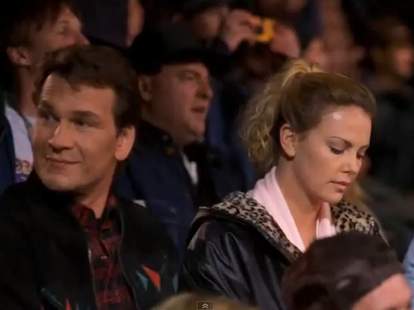 Most people consider an Oscar the greatest honor an actor can receive. But as the following thespians know, there's a much more esteemed achievement: the Patrick Swayze. Every single one of these Academy Award nominees and winners costarred with Swayze -- compared to that, an 8 1/2-pound statuette is no big Whoopi.
Liam NeesonOscar Nod: Schindler's ListSwayze Movie: Next of KinStarring in a Steven Spielberg Holocaust movie might bring prestige, but playing Patrick Swayze's brother who insists on "seeking justice, country style" for their other murdered brother? Now that's the stuff you want streaming during your eulogy
Helen HuntOscar: As Good as It GetsSwayze Movie: Also Next of Kin"Oh, it has Helen Hunt from the film Next of Kin in it? Sure, I'll go," said everyone who ever saw Pay It Forward
Gene HackmanOscars: The French Connection, UnforgivenSwayze Movie: Uncommon ValorHackman actually served in the Marines before acting in classics like Bonnie & Clyde, but his proudest service was lending star power to one of Swayze's first movie roles. Probably not by coincidence, Hackman confirmed his retirement the year Swayze was diagnosed
Melanie GriffithOscar Nod: Working GirlSwayze Movie: Forever LuluThings have been awkward in the Banderas-Griffith household ever since 2000, when Melanie traced over her "Always Antonio" tattoo with "Forever Swayze"
Piper LaurieOscar Nods: The Hustler, Carrie, Children of a Lesser GodSwayze Movie: Tiger WarsawPiper Laurie was nominated for Best Supporting Actress in Carrie. Technically Sissy Spacek's Leading Role nomination for the same film was more impressive, but that didn't stop Laurie from calling Spacek once a week to ask her how many Swayze movies she'd been in. (Answer? None. Eat it, coal miner's daughter.
Mary McDonnellOscar Nods: Dances with Wolves, Passion FishSwayze Movies: Tiger Warsaw, Donnie DarkoAfter working with actual wolves, Mary McDonnell was probably pissed when she showed up to the Tiger Warsaw set and found zero live tigers, but the moment she saw Patrick Swayze she said "He's greeeeeat!" And then everybody was like "We have Frosted Flakes?" and she was like "Shut up, you people are idiots"
Halle BerryOscar: Monster's BallSwayze Movie: Father HoodHelping Swayze keep his kids is the closest you can come to helping Gandhi keep his kids. You can barely make Berry out in the corner of this frame, but like the Swayz' in Ghost, she's there in spirit
Mary Elizabeth MastrantonioOscar Nod: The Color of MoneySwayze Movie: Three WishesPaul Newman was an insanely cool guy who gave us some great lemonade and marinades, and it had to be awesome playing the unscrupulous, slutty young chick opposite his cagey old man. But let's be honest: Anyone presented with three wishes would blow them all on more Swayze screentime
Michael O'KeefeOscar Nod: The Great SantiniSwayze Movie: Three WishesOnce the Swayze has told you that all he wants is for you to be happy, you are the Great Santini, and not Robert Duvall, who actually played "the Great Santini"
Whoopi GoldbergOscar: GhostSwayze Movie: Also GhostWhoopi not only had the privilege of channeling Swayze's otherworldly wishes in Ghost, she also won an Oscar for it. She later went on to EGOT, but unfortunately her G didn't come from doing a song with Patrick Swayze
Matt DillonOscar Nod: CrashSwayze Movie: The OutsidersHopefully one day, every copy of Crash will be wiped off the face of the earth. Until then, Matt Dillon can at least say: "Yes, but I also stood strong with Darry Curtis. That has to count for something." And it does
Tom CruiseOscar Nods: Born on the Fourth of July, Jerry Maguire, MagnoliaSwayze Movie: The OutsidersYou don't find out until you've reached the Seventh Level, but Scientology is just a really intense Patrick Swayze appreciation club. Next week's discussion is Red Dawn. Just kidding, it's Steel Dawn
Charlize TheronOscar: MonsterSwayze Movie: Waking Up in RenoIf you listen closely to the commentary on Prometheus, you'll catch Charlize revealing that every movie she's made since 2002 has been a "hollow attempt at recreating the magic"
Billy Bob ThorntonOscar Nods: Sling Blade, A Simple PlanSwayze Movie: Waking Up in RenoAnother Waking Up in Reno vet is the former Mr. Jolie, who, in addition to his acting nods, won an Oscar for co-writing Sling Blade. Considering that this movie let him hillbilly bro out with Swayze and act like he could plausibly be married to Natasha Richardson, it's shocking he talks about any other subject, ever.
Penelope CruzOscar: Vicky Cristina BarcelonaSwayze Movie: Waking Up in RenoClearly, if you're going to make a trashy Vegas movie, it's go Swayze or go home.
The Gyllenhaal SiblingsOscar Nod, Jake: Brokeback MountainOscar Nod, Maggie: Crazy HeartSwayze Movie: Donnie DarkoAfter saddling them with a last name as obnoxious as Kaitlin, the universe made it up to the Gyllenhaals by granting both Jake and Maggie a Swayze audience. The fates continued to smile on Maggie as she got a movie with The Dude. The fates were a-holes to Jake, who got stuck with Tobey Maguire
Forest WhitakerOscar: The Last King of ScotlandSwayze Movies: Green Dragon, Powder BlueForest Whitaker knows better than anyone that you don't need "Academy Award winner" when you've got "two-time screen-sharer with a man who played a man who studied philosophy at NYU and was nice until it was time not to be nice"
Hilary SwankOscars: Boys Don't Cry, Million Dollar BabySwayze Movie: 11:14After wrapping on this movie, Hilary Swank no doubt threw all her awards in the trash and set her clocks to always read 11:14. It's no coincidence that the corresponding Proverbs chapter reads: "For lack of guidance a nation falls, but victory is won through many advisers." Okay maybe that's a coincidence
Barbara Hershey Oscar Nod: The Portrait of a LadySwayze Movie: 11:14If Barbara Hershey can actually say she enjoyed acting in a movie version of a Henry James book you SparkNoted in college more than playing Swayze's wife in a bananas ensemble drama, she is a better actress than Meryl Streep and deserves 15 Oscars
Michael Clarke DuncanOscar Nod: The Green MileSwayze Movie: George and the DragonMichael Clarke Duncan didn't just get a Swayze movie; he got a Swayze movie with dragons. Dragons and another Piper who's certain to win an Oscar soon -- Perabo
Maggie SmithOscars: The Prime of Miss Jean Brodie, California SuiteSwayze Movie: Keeping MumThe real reason Dame Maggie Smith doesn't bother showing up for awards shows anymore? It's because she got her movie with Swayze in 2005, and has given not one single sh*t about anything since
BONUS NON-ACTORKathryn BigelowOscar: The Hurt LockerSwayze Movie: Point BreakIt felt wrong to leave Point Break off the list, and since Keanu has eluded Oscar glory thus far (seriously, Academy, have you even seen Little Buddha?), let's turn our attention to the lady behind the camera. Kathryn Bigelow may be the first woman to ever win Best Director, but her crowning achievement remains the movie that should have just been called "Bodhi". Congress remains silent on why it isn't the only movie allowed on bar TVs.