The 2016 Best Picture Oscar Nominees, Ranked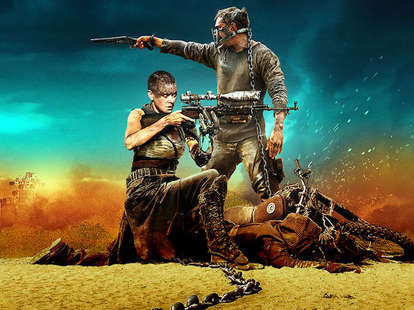 Warner Bros. Pictures
Warner Bros. Pictures
Last year did not end on January 1st. Early Thursday morning, this year's Academy Award nominees were revealed, with much-lauded films squeezing their way into a fight for Best Picture. Whether you're unfamiliar with the eight nominees, wondering which pictures are really "the Best," or want to know which movie to bet on in the annual office Oscar pool, we've broken down and ranked the contenders. As you do.
8. The Revenant
Cast: Tom Hardy, Domhnall Gleeson, and Best Actor favorite, Leonardo DiCaprio
Director: Alejandro Iñárritu
Our take: The frontier-set revenge tale beats the living shit out of DiCaprio until he bleeds profundity. Between bone-cracking set pieces, cinematographer Emmanuel Lubezki floats through majestic scenery. It's a weird movie. More on that in my review.
Will it win?The Revenant took home the Golden Globe for Best Drama, but with a broader, all-American voting base, don't expect it to replicate the success. This is DiCaprio's movie and DiCaprio's win.
7. The Martian
Cast: Matt Damon, Jessica Chastain, Chiwetel Ejiofor
Director: Ridley Scott
Our take: This all-American blockbuster with zero stakes -- c'mon, we knew he'd make it off Mars! -- and thrilling MacGyverisms scienced the shit out of Matt Damon's charisma. The actor's never been better, even while spending most of the movie addressing the camera, as NASA admins flail around back home on Earth.
Will it win? Thanks to the Golden Globes' drama-comedy split, The Martian also nabbed a Best Picture trophy. But the Oscars aren't comedy friendly and this win, whether it's a misidentification or not, hurts its chances.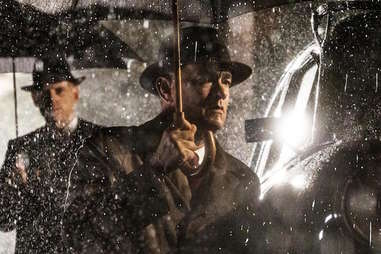 6. Bridge of Spies
Cast: Tom Hanks, Mark Rylance
Director: Steven Spielberg
Our take: In Bridge of Spies, Spielberg throws back to Frank Capra's Mr. Smith Goes to Washington and an era of feel-good patriotism The American People could get behind. For a movie nerd, he has quite the arm; he throws so hard that the hostage negotiation drama comes off a bit stuffy. But Hanks' valiance, combined with Spielberg's usual precision direction, is really enough to suck you into this tense, true story.
Will it win? If it were up to the Academy's early bird special crowd, the classically tailored talkie would be a shoe-in. But not even Spielberg's dynamite Lincoln could win Best Picture.
5. Room
Cast: Brie Larson, Jacob Tremblay, Joan Allen
Director: Lenny Abrahamson
Our take: Room is a tough watch. Adapted from Emma Donoghue's acclaimed novel, the first half of the film takes place primarily in a suffocating shed, where a woman and her son, the result of a sexual violence, live in captivity. Yes, you should subject yourself to its intense situations; Larson's delicate character, forced into her future as a mother, and Tremblay, as a son who doesn't know much beyond the television, is a fascinating, psychological study.
Will it win? The reasons one might hesitate to see Room are the same barriers that will keep Oscar voters for naming this one Best Picture. Yes, a movie can be too powerful when it comes to awards.
4. Brooklyn
Cast: Saoirse Ronan, Emory Cohen, Domhnall Gleeson
Director: John Crowley
Our take: The one point missing in our current immigration debates: love! And how it screws with you. Brooklyn is a lovely romantic drama about what happens when you move from one country to another, and open your heart in both. Yeah, I swooned. Believe it. Brooklyn made our Best Movies of the Year list.
Will it win?Brooklyn has Saoirse Ronan's delightful performance to thank for its snowballed place on at the Best Picture table. Vital, to keep the proceedings eclectic, but not punchy enough to go all the way.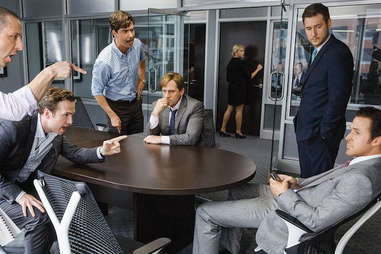 3. The Big Short
Cast: Christian Bale, Steve Carell, Ryan Gosling, Brad Pitt
Director: Adam McKay
Our take: McKay takes his investigation of the 2008 financial crisis a step beyond an econ lesson. The Big Short damns the bankers, damns their critics, damns the government, and damns us for being lost-in-the-dark fools who still don't know a thing about credit default swaps. A whirlwind of number-crunching and epiphany, McKay offsets his movie's rage with belly laughs. Read about how it all comes together in my review.
Will it win? With an Oscar-caliber cast, an urgent subject matter, and an underdog narrative -- McKay, best known for comedies like Anchorman and Step Brothers, takes a leap into "prestige" film -- it's got a helluva chance. If I were Bale's genius hedge fund, we'd have statistical evidence to back up my claim, but I'm not, so just trust me.
2. Spotlight
Cast: Mark Ruffalo, Michael Keaton, Rachel McAdams, Liev Schrieber
Director: Tom McCarthy
Our take: The best episode of The Wire that wasn't actually an episode of The Wire. McCarthy stretches the drama taut as he renders Boston Globe's 2000 Catholic Church sex scandal investigation into a Hollywood vehicle. McCarthy's notable cast members crank like gears as they uncover evidence and reflect on a horrifying discovery of which they shoulder partial blame. Spotlight is the cardigan of this year's nominees, but even cardigans look sharp when Mark Ruffalo is involved. Another winner from our Best Films of the Year list.
Will it win? Since premiering at the Toronto Film Festival in September, Oscar know-it-alls swore Spotlight would go all the way. With The Big Short picking up steam, and The Revenant touting a Golden Globe, sure-thing claims have cooled. Still, your safest bet.
1. Mad Max: Fury Road
Cast: Charlize Theron, Tom Hardy, Nicholas Hoult
Director: George Miller
Our take: When the dust clears and 2015 is a distant memory, only a few movies will remain in memory's eye. Mad Max: Fury Road, with visual gusto and a brain on its head, is one of them. Here's why we named it the Best Movie of the Year.
Will it win? Miller's post-apocalyptic vision is picking up wins from critics and artist groups alike. There's a lot of love for a free-wheeling blockbuster. But is it Oscar material? The idea's been drilled so hard into Hollywood, voters could feel compelled to vote for something more inherently "prestigious." If so, Fury Road will ride on to Valhalla.
Sign up here for our daily Thrillist email, and get your fix of the best in food/drink/fun.
Matt Patches is Thrillist's Entertainment Editor. He previously wrote for Grantland, Esquire.com, Vulture, The Hollywood Reporter, and The Guardian. His favorite movie is Groundhog Day. Find him on Twitter @misterpatches.