Everything We Know About This Year's Oscars Race for Best Picture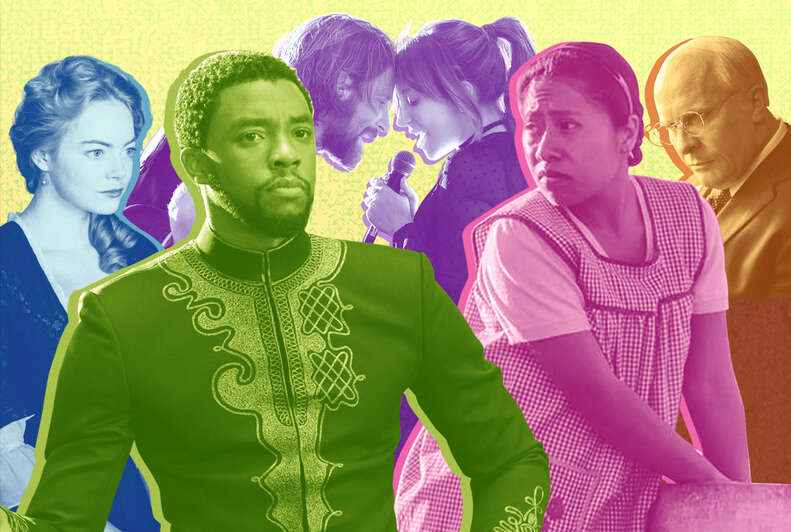 Jason Hoffman
Jason Hoffman
At last, the Oscars are here, bringing to a close one of the more bizarre awards seasons in recent memory, what with all the controversy about a few of the nominated movies and a seemingly endless stream of very bad decisions around this Sunday's telecast. But hooray, the Oscars are here. Which movie will be the big winner when the statuettes are handed out this Sunday, February 24, 2019, starting at 8pm EST? We've been here since last fall helping you keep track of the Oscars jockeying with this handy guide focusing on the nominees for Best Picture. Read on to see what our predictions are, how the Oscar votes are tallied, and more. We kept track of the winners all throughout the big night.
Before the big (host-less) night, you should also bone up on the best movies of 2018 and the most overlooked movies of the year, as well as the movie awards we handed out, aka the Thrillies. And for more in-depth analysis of the acting races, click here.
Here are the 2019 Best Picture nominees
Best Picture
A Star Is Born
Black Panther
BlacKkKlansman
Bohemian Rhapsody
The Favourite
Green Book
Roma
Vice
And your winner is...Green Book
Which movie will win Best Picture?
I wish -- so wholeheartedly -- that I could give you a confident prediction, one that will make you look good at your Oscar party. But, alas, this is not that year. In fact, this is one of the messiest Oscars seasons in a while -- there's legitimately no clear picture of what movie is going to win Best Picture.
Each of the major guilds -- the voting bodies that most directly reflect Academy membership -- chose a different movie for its top prize. If you go by numbers alone (as the Oscar prognosticator Ben Zauzmer does), Roma is your safest bet, considering it took the top honor at both the Directors Guild of America and the BAFTAs. Still, the Netflix movie's victory is not assured. To understand why, it's important to take into account just how Oscar voters actually, well, vote.
How Best Picture votes are tallied
The system is called "ranked choice," and it's described pretty simply by the New York Times: "If no candidate wins a majority of first-choice votes, the candidate with the fewest is eliminated, and the ballots cast for that person are redistributed to the other candidates based on those voters' second choices. The process repeats until someone wins a majority." In the Oscars' case, that means it's worth guessing which of the eight Best Picture nominees will rank in the second or third slots. I would surmise that that's where movies like Green Book and Bohemian Rhapsody will falter. While they certainly have their fans, they are also the most controversial movies of the season, for reasons that would put them at the bottom of many ballots. (More on those specific controversies if you scroll down.)
Given that we can only assume the number one slots will be spread about across nominees, it's helpful to look at all the films that people seem to like a lot. There's Roma, of course, but I'd also direct your attention to Black Panther and BlacKkKlansman. These are both widely loved films. A BlacKkKlansman win would be seen as a career achievement honor for Spike Lee, while a Black Panther victory would be seen as recognition of the only movie this year that felt like a groundbreaking moment in culture at large. The reason I'd give a slight edge to BlacKkKlansman is that it has a nomination for best editing, which has been historically seen as a bellwether for Best Picture. But historical precedent can be fickle wen it comes to the Oscars.
So, seriously, which movie's going to win?
This is all to say I'm torn between predicting Roma and BlacKkKlansman. The former has more of the awards season accolades that make it a safe choice, but the latter seems primed to surprise in a year where just about everything has been unexpected. I'm going to go with Roma (but I also demand partial credit if BlacKkKlansman wins).
Now let's break all the nominees down individually and dissect how likely each one is to win Best Picture.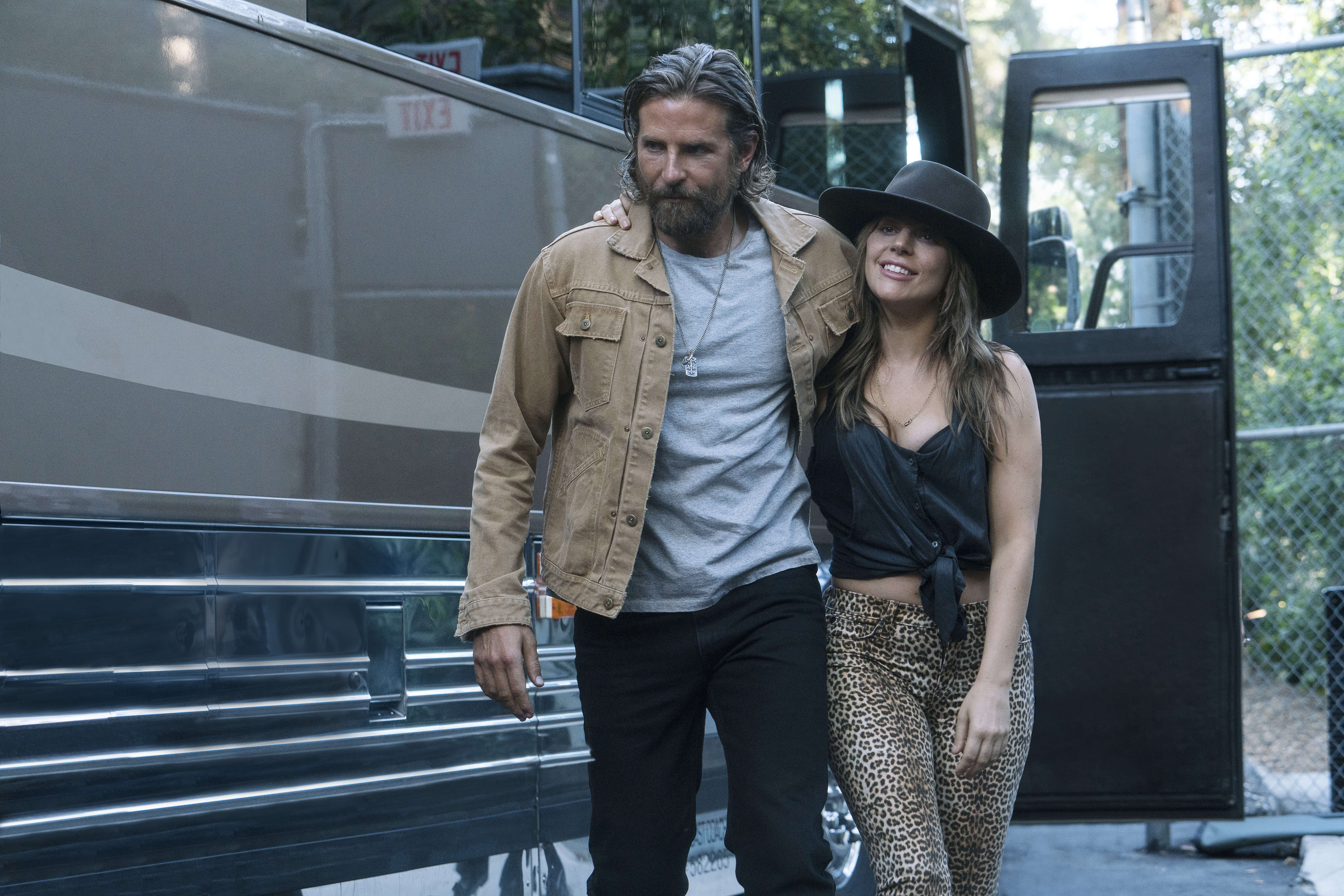 Director: Bradley Cooper
Stars: Lady Gaga, Bradley Cooper, Sam Elliott
What it's about: The tragic love story of songwriters Jackson Maine (Bradley Cooper) and Ally (Lady Gaga). The former is a weathered hat of a man tied to his old ways; the latter is a vibrant talent who can make a song about ass sound great.
What's the buzz? Critics (and meme-makers) largely love A Star Is Born, and audiences seem to as well, as it's been collecting cash.
What's the backlash? The loudest complaints have been about, fittingly, the film's perspective on music and where A Star Is Born's sympathies might lie. Some have argued that the movie condones Jackson Maine's controversial opinion that rock music is more authentic than pop music and therefore more noble and artistically valid. That has frustrated so-called "poptimists" and some critics who think that Ally loses agency over the course of the narrative.
What has it won so far? My heart? Just kidding. It's gotten a ton of nominations but hasn't won a whole lot. It was nominated for just about everything it could be -- except for screenplay and supporting actor -- at the Globes and cleaned up at the SAG Award nominations as well. Cooper was named Best Director by the National Board of Review, while Gaga and Elliott amassed acting trophies from that body. It's an AFI movie of the year, a Producers Guild nominee, and a Writers Guild Adapted Screenplay nominee. Meanwhile, Cooper was in the running for the Directors Guild award. Globes night ended up being surprisingly disappointing for ASIB with Bohemian Rhapsody and Rami Malek edging out the movie and Bradley Cooper in Picture and Actor. At least "Shallow" won. Cooper made BAFTA nominations history, but that too was a disappointment. The BAFTAs happened to the fall on the same night as the Grammys and Cooper and Gaga split up duties, the former heading to England while the latter performed in Los Angeles. While Cooper and Gaga did share the Original Music trophy at the BAFTAs, Grammy night was more of a success. "Shallow" won both Song Written for Visual Media and Best Pop Duo/Group Performance.
Could it actually win? Yes, but the Academy doesn't seem as wholly enthused as we once thought it would be. In addition to Best Picture, it received nominations for a number of top categories including Actor, Actress, Supporting Actor, and Adapted Screenplay. However, Cooper's directing was notably snubbed, as was the editing, often seen as a Best Picture predictor. At least it's a shoo-in for Best Original Song, thanks to the catchy "Shallow."
Where you can watch it: Buy on iTunes, YouTube, Google Play
Director: Ryan Coogler
Stars: Chadwick Boseman, Michael B. Jordan, Danai Gurira, Lupita Nyong'o
What it's about: At this point, you probably know what Black Panther is about. After T'Challa (Boseman) assumes the throne of Wakanda -- and the mantle of Black Panther -- a challenger arrives in the form of Erik Killmonger (Jordan), who wants both the crown and to end Wakanda's isolationism.
What's the buzz? Not only is Black Panther one of the most raved-about movies of the year, but it's flat out the most successful movie of the year domestically.
What's the backlash? For a movie as popular as Black Panther, there's been surprisingly little. Oscar voters, however, tend to be averse to rewarding massive box-office successes with the night's biggest prize, and a blockbuster about a superhero would have an even more difficult time. Its mere existence may have provoked the Academy's announcement of a "popular film" award (on which it subsequently backtracked).
What has it won so far? It was up for Best Picture, Drama at the Golden Globes, and has been named one of AFI's movies of the year. It also scored 12 Critics' Choice Awards nominations, the second most of any movie there, a nomination from the Producers Guild, and an Adapted Screenplay nod from the WGA. It ended up getting a big boost from the SAGs, collecting the ensemble award, the actors' equivalent of best picture.
Could it actually win? Even with its Best Picture nod and six other nominations, Black Panther still has a hurdle to overcome: The Academy doesn't often give its top award to genre films (other than the likes of Return of the King in 2003). Here's hoping that at least Ruth E. Carter's amazing costumes can get their due. Meanwhile, Hannah Beachler became the first-ever African American nominated for production design, so perhaps she'll be the first-ever African American winner in that category.
Where you can watch it: Stream Netflix, or rent via Amazon, iTunes, YouTube, or Google Play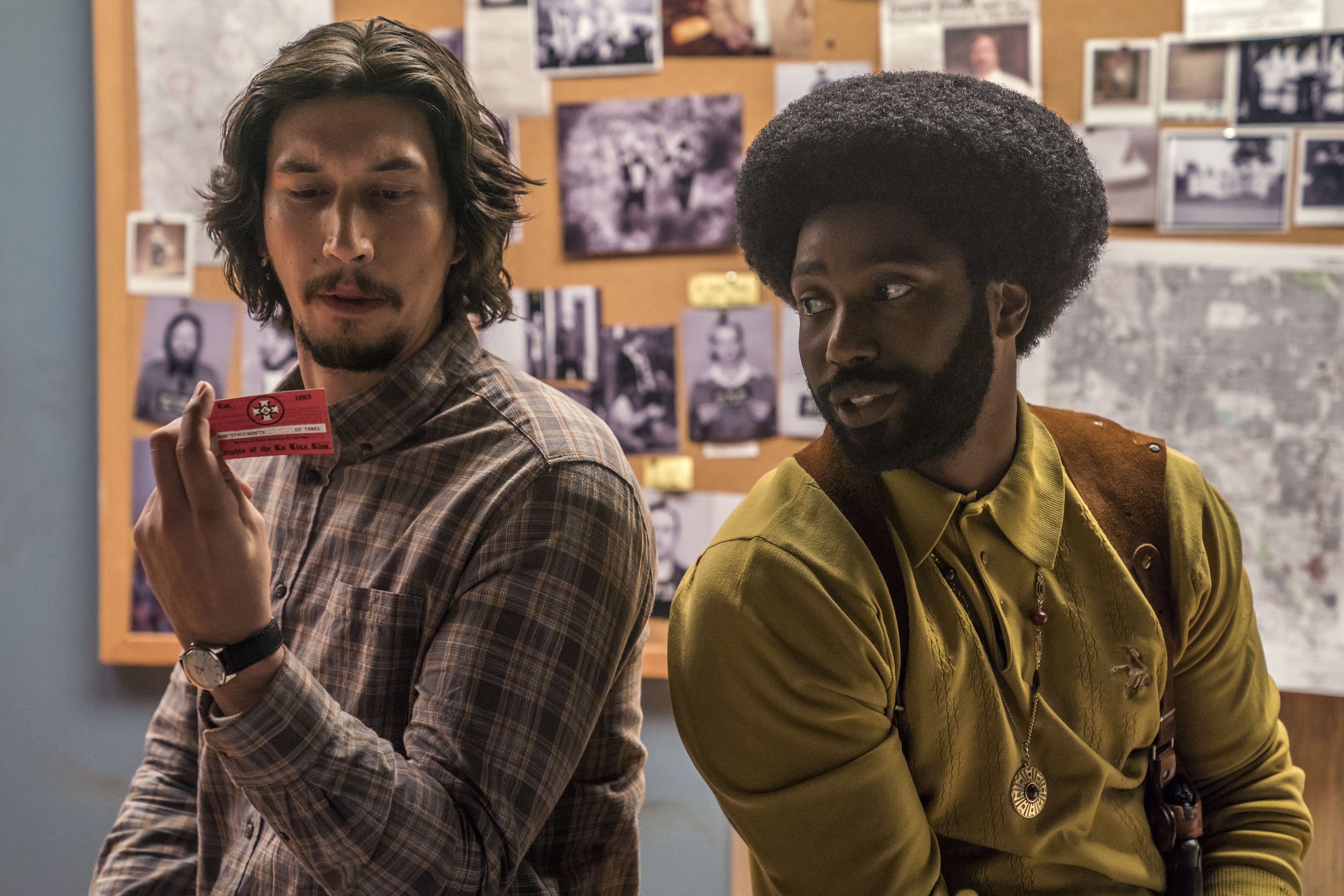 Director: Spike Lee
Stars:John David Washington, Adam Driver, Topher Grace
What it's about: The true story of Ron Stallworth (Washington), a black detective who became chummy with David Duke (Grace) and infiltrated the KKK -- all through a Spike Lee filter.
What's the buzz? BlacKkKlansman made a splash at Cannes and won over audiences when it came out over the summer.
What's the backlash? The most vocal argument against the film came from Sorry to Bother You director Boots Riley, who posted an essay he wrote to Twitter calling it an "ad campaign" for cops.
What has it won so far? It was in the running for a bunch of Globes, including Picture, Director, Actor for Washington, and Supporting Actor for Driver. The SAGs also showered love on Washington, Driver, and the rest of the cast, while the PGA awarded Lee, producer Jordan Peele, and the other producers with a nomination. Lee took the Grand Jury Prize at Cannes, while Driver has been nominated for both a Gotham Award and an Independent Spirit Award for his role as the white Jewish man who serves as the physical face of the investigation. He lost the Spirit Award to Richard E. Grant of Can You Ever Forgive Me? It's also an AFI movie of the year, was up for Adapted Screenplay at the WGAs, and Lee was a nominee in the DGA race. Lee won Adapted Screenplay at the BAFTAs.
Could it win? It's looking more and more likely. BlacKkKlansman received crucial nods in directing and editing, which both make the case for a Best Picture win. By the way, this is the first time Spike Lee has ever received a nomination for Best Director, which is truly insane.
Where can you watch it: Rent on Amazon, iTunes, YouTube, and Google Play
Director: Bryan Singer
Stars: Rami Malek, Lucy Boynton, Aiden Gillen, Allen Leech
What it's about: A biopic of Queen frontman Freddie Mercury that plays fast and loose with the facts of his life.
What's the buzz? There have been some loud critical cries deeming this one a stinker, but the box office has been favorable. However, the film opened with a heap of baggage surrounding its director Bryan Singer, who was fired from the production amid reports that he fought with Malek and would either be late or not show up to set. Singer has also been the subject of sexual assault allegations over the years. On January 23, the day after nominations were announced, The Atlantic published a report that details new allegations against Singer from four men who say they were victims of the director's sexual misconduct that largely targeted underage boys.
What's the backlash? Aside from frustration over Singer's role in the project and tepid reviews, Bohemian Rhapsody's treatment of Mercury's sexuality has also been a source of criticism. At the publication them., Naveen Kumar wrote, "Singer casts Mercury's psychosexual imagination as a tug-of-war between convention and perversion, love and lust, security and dissolution. Such representation isn't just cliche and dangerously reductive in its vilification of homosexual desire and implicit invalidation of bisexual identity. It also renders a flesh-and-blood pioneer of genderqueer glam rock with a richly erotic psyche as a hollow and false totem of the perils of fame."
What has it won so far? Malek's performance was expected to get plaudits, and it has, but more surprisingly the film overall has collected a host of important nominations, including ones for Best Picture at the Globes, the SAG ensemble prize, and the Producers Guild's top award. It got a huge boost at the Globes, Malek won Best Actor in a drama and the film took home Best Picture, Drama, beating out A Star Is Born. He also beat out Christian Bale at the SAGs and the BAFTAs in the race for top male performance.
Could it win? The editing nod gives it hope in Best Picture, but its best chances are still probably a statue for Malek's acting. Given the new allegations against Singer it seems unlikely that the Academy would want to award a film that he is attached to in any way.
Where you can watch it: Buy on Amazon, iTunes, YouTube, and Google Play
Director: Yorgos Lanthimos
Stars: Emma Stone, Rachel Weisz, Olivia Colman
What it's about? Intrigue and sex in the court of Queen Anne (Colman). Lady Sarah (Weisz) has always been at the unstable royal's right hand -- and in her bed. That changes when the once-noble Abigail (Stone) arrives to claim what's hers. Also: Ducks are raced.
What's the buzz? The Favourite is more of a crowd-pleaser than some of Lanthimos' previous movies (such as The Killing of a Sacred Deer, which opens with a close-up of an exposed heart). But that isn't to say the drama isn't without any strangeness.
What's the backlash? None, so far.
What has it won so far? The Globes loved this one in the comedy category nominations-wise -- with Colman winning Best Actress in a comedy -- and the SAGs honored all three women separately. As for the smaller fry, it scored Gotham Awards nominations in the screenplay and feature categories, losing both, but the three actresses did take home the Ensemble Performance Award (although Weisz was the only one at the ceremony to accept the prize). It's an AFI movie of the year and a PGA nominee. Meanwhile, the Critics' Choice Awards showered nominations on every movie on this list, but The Favourite came away with more than any other contender -- 14 in total. It also led the BAFTAs with 12 nods, and had a great night in the U.K. It came away with Outstanding British Film, while both Colman and Weisz won trophies in front of actual royalty.
Could it win? As expected, all three of its actresses are in contention for Oscars, but the surprise here is that Lanthimos is up for Director. A Best Picture win is still far off, but the Academy loves this one as a whole, granting it 10 nods overall, tying with Roma for most.
Where you can watch it: In theaters
Green Book
Director: Peter Farrelly
Stars: Viggo Mortensen, Mahershala Ali, Linda Cardellini
What it's about: Co-writer Nick Vallelonga has translated the true story of his father's (Mortensen) friendship with African-American pianist Don Shirley (Ali) to the screen. Tony Lip (as he's called) was a bouncer at the Copacabana in need of cash when he took a job chauffeuring Don around the Jim Crow South.
What's the buzz? Initial critical reactions to the movie were warm -- perhaps out of surprise that this is from the gross-out master Peter Farrelly -- but wary. After all, this is a simplified take on race relations.
What's the backlash? Get ready for a lot of it with this one. First up: Viggo Mortensen used the n-word in full when discussing the movie at a recent Q&A. While the point he was trying to make was about how the word was casually used in the time period in which the movie takes place, he faced immediate blowback for having uttered the word himself and has since apologized. Negativetakes, arguing that the story is centered around the racist white man at the expense of a nuanced approach to African-American history, have also intensified since Green Book's release. Maurice Shirley, Don Shirley's brother, has also condemned the film for factual inaccuracies, as have other members of the Shirley family. His great-niece Yvonne Shirley told The Hollywood Reporter, "They decided to create a story of a white man's redemption and self-realization using an extraordinary black life and a history of black oppression in this country as their backdrop. Many viewers are simply tired of that devaluing narrative."
Controversies have only continued to crop up after Green Book won the Golden Globe for Best Picture, Musical or Comedy. The Cut uncovered stories of Farrelly flashing his penis to his colleagues, including Cameron Diaz. The director responded in a statement: "I did this decades ago and I thought I was being funny and the truth is I'm embarrassed and it makes me cringe now. I'm deeply sorry." The same day, an old tweet of co-writer Nick Vallelonga's began circulating in which he supported Donald Trump's false claim that "Muslims in Jersey City [were] cheering when the towers went down" on September 11, 2001. Vallelonga's Twitter account has since been deleted. He later apologized in a statement in which he said: "I especially, deeply apologize to the brilliant and kind Mahershala Ali, and all member[s] of the Muslim faith, for the hurt I have caused. I am also sorry to my late father who changed so much from Dr. Shirley's friendship, and I promise this lesson is not lost on me." Production Company Participant Media called his tweet "offensive, dangerous, and antithetical to Participant Media's values."
What has it won so far? Green Book won the Grolsch People's Choice Award at the Toronto International Film Festival, usually a bellwether that a film will at least get nominated for Best Picture. It also was named Best Film by the National Board of Review -- known for its sometimes wild card picks -- while Mortensen got Best Actor, and was honored by AFI as a movie of the year. And the Golden Globes loved it, showering it with comedy nominations for Mortensen, Ali, Farrelly, and the film at large. It ended up winning Best Picture, Musical or Comedy; Best Supporting Actor for Ali; and Best Screenplay. Mortensen and Ali also got SAG nominations -- with Ali winning -- while the producers scored with the PGA, the writers with the WGA, and Farrelly with the DGA. It ended up winning the PGA prize, often a bellwether of a Best Picture winner. In its 30-year history, 20 of the PGA winners have ended up going on to claim the top Oscar.
Could it actually win? The Oscar nominations didn't do anything to halt the run of this year's most controversial nominee. The only category where a predicted nod did not manifest was Best Director, which is perhaps a sign that this one won't go all the way.
Where you can see it: In theaters
Director: Alfonso Cuarón
Stars:Yalitza Aparicio, Marina de Tavira, Nancy García García
What it's about: An elegiac story about a domestic worker, Cleo (Aparicio), in an upper-middle-class Mexico City home, ripped from director Alfonso Cuarón's own memories, and against the backdrop of unrest in 1971.
What's the buzz? The word "masterpiece" has been thrown around a lot.
What's the backlash? The industry has been resistant to Netflix's entry into serious film production, but the company seems to be making amends. So, instead of releasing Roma both online and in theaters at the same time, as it has with its originals in the past, the movie received a short theatrical window ahead of its mid-December debut on Netflix. Elsewhere, viewers have critiqued Cuarón's privileged perspective in telling a fictionalized story about the woman who worked for his family. The Economist writes that he "is so determined to view Cleo as an angel that he doesn't always view her as a human being."
What has it won so far? Cuarón received Director and Screenplay nominations from the Globes, and ended up winning Director, while the film also took home the Foreign Language prize. It's important to note, however, because it's not in English, it was not eligible for Best Picture from the HFPA, a prize it did win a week later when the Critics' Choice Awards rolled around. (Cuarón was also the critics' pick for director.) Aparicio was nominated with Breakthrough Actor prize at the Gothams. Its first big accolades came from the New York Film Critics Circle where it won Best Film, Best Director, and Best Cinematography. AFI gave it a special award -- since, as a Mexican film, it doesn't qualify for their movies of the year list -- and it is up for a PGA and an Original Screenplay WGA. Cuarón triumphed as well with the DGA, winning that trophy, while the BAFTAs gave it even more momentum. It won Best Film, Best Director, and Best Film Not In The English Language.
Could it win? It very well could! Roma tied with The Favourite for most nominations, and became Netflix's first ever Best Picture nominee. The lack of an editing nod may spell trouble for an ultimate triumph, but clearly the Academy loves this film.
Where you can watch it: Stream on Netflix
Director: Adam McKay
Stars: Christian Bale, Amy Adams, Steve Carell, Sam Rockwell
What it's about: For this biopic, the great satirist McKay turns his eye on Dick Cheney's ruthlessness, which features explanatory riffs a la The Big Short.
What's the buzz? Critical reception has been mixed. There's been praise, but it's also been deemed a "mess."
What's the backlash? Mostly just critical fighting over its merits.
What has it won so far? It has major fans in the Hollywood Foreign Press, which gave it the most nominations of any movie at the Globes, awarding Bale Best Actor in a comedy. Bale and Adams cracked the SAG nods as well, while its producers got in on the PGAs and McKay was honored by his fellow writers and fellow directors with nominations from those guilds.
Could it win? Along with BlacKkKlansman and Roma it's looking like one of the strongest contenders thanks to nominations for editing and McKay's directing. Bale is probably your Best Actor winner.
Where you can see it: In theaters
Notable Best Picture snubs
Before the nominations were announced, we speculated about the following movies' chances to crack the final slate of Best Picture nominees. Here's how they fared, and what else they may still be in the running for:
A Quiet Place
Director: John Krasinski
Stars: John Krasinski, Emily Blunt
What it's about: Shhhhhh! Or the monsters will get you!
What's the buzz? Jim from The Office's turn as horror director was a surprise hit.
What's the backlash? Some, like the New Yorker's Richard Brody and The New York Times' Jenna Wortham and Wesley Morris, have read some unsettling metaphors into the plot. (Brody called it a "fantasy of survivalism" and "conspicuously regressive.")
What has it won so far? It's on the list of AFI movies of the year. It was largely shut out of the Golden Globes, except for its score. The first major accolade came in the form of a supporting actress SAG nomination for Blunt, who was also nominated for Mary Poppins Returns. She ended up winning in a shocking turn. It's up for the Producer Guild's Darryl F. Zanuck Award for Outstanding Producer of Theatrical Motion Pictures, essentially the union's best picture equivalent, and an Original Screenplay award from the Writers Guild.
Did it get nominated for anything at the Oscars? Just sound editing. The monsters got this one.
Crazy Rich Asians
Director: Jon M. Chu
Stars: Constance Wu, Henry Golding, Michelle Yeoh, Awkwafina
What it's about: The delightful rom-com about an Asian American woman who meets her boyfriend's really, really, really wealthy family in Singapore.
What's the buzz? It's an adored summer hit that's a landmark for representation in film.
What's the backlash? None, really.
What has it won so far? It was in the race for Best Picture, Musical or Comedy at the Globes, where Wu was also nominated for comedic actress. Additionally, the whole cast has been given a nomination at the SAGs, and it's contending for the Producers Guild Prize. It's also raked in some Critics' Choice nominations.
Did it get nominated for anything at the Oscars? Cruelly, no!
First Man
Director: Damien Chazelle
Stars: Ryan Gosling, Claire Foy, Kyle Chandler
What it's about: Neil Armstrong's trip to the moon and his emotional repression.
What's the buzz? While First Man underperformed at the box office, there's been much acclaim for Chazelle's visually impressive and subversively incisive take on the famous astronaut.
What's the backlash? There were some uninformed initial complaints from right-wingers after a report went around that the movie did not depict Armstrong (Gosling) and Buzz Aldrin (Corey Stoll) planting the American flag on the moon. While you don't actually see that moment take place, you do see a flag on the moon's surface.
What has it won so far?First Man is having a rough go of it. It was mostly ignored by the Golden Globes, save for nods for Claire Foy and composer Justin Hurwitz, but it finally got some significant love from the Critics' Choice Awards, which gave it nine nominations, including one for Best Picture.
Did it get nominated for anything at the Oscars? First Man made a solid showing in the below-the-line categories, including production design, visual effects, and both sound categories.
If Beale Street Could Talk
Director: Barry Jenkins
Stars: Stephan James, KiKi Layne, Regina King
What it's about: A sumptuous and heartbreaking adaptation of James Baldwin's novel about a young black couple separated when the man, Fonny (James), is falsely accused of rape.
What's the buzz? Perhaps the movie doesn't reach the extreme heights of Jenkins' stunning Oscar-winner Moonlight, but the lyrical, tragic film is still a significant achievement.
What's the backlash? Zero.
What has it won so far? The Golden Globes gave it nominations in the Picture, Screenplay, and Supporting Actress categories. It was up for Best Feature at the Gotham Awards, and Layne was competing in the breakthrough category, ultimately losing to Eighth Grade star, Elsie Fisher. Meanwhile, Beale Street received multiple nominations for Independent Spirit Awards and competed in the Feature, Director, and Supporting Female categories, winning them all. Jenkins has won Best Adapted Screenplay from the National Board of Review, while Regina King won Supporting Actress from New York Film Critics Circle and the Golden Globe. Meanwhile, the film was an AFI movie of the year and a WGA Adapted Screenplay nominee. It was shut out of the SAGs, a small road bump in King's road to an Oscar.
Did it get nominated for anything at the Oscars? Regina King is still the likely winner for Supporting Actress, while Jenkins was nominated for Adapted Screenplay and Nicholas Britell is up for his gorgeous Original Score.
Mary Poppins Returns
Director: Rob Marshall
Stars: Emily Blunt, Lin-Manuel Miranda, Ben Whishaw
What it's about: A sequel to the supercalifragilisticexpialidocious Disney classic, subbing in Emily Blunt for Julie Andrews.
What's the buzz? Fans are saying that it adds a much needed dollop of sugar into the race. Those that need some scolding from Mary herself argue that it doesn't match the original.
What's the backlash? "Backlash" is probably too strong a word for some mixed reviews.
What has it won so far? Poppins received a host Globe nominations, a spot on AFI's movies of the year list, and a SAG nomination for Blunt.
Did it get nominated for anything at the Oscars?The song "The Place Where Lost Things Go" will lose to"Shallow." It's also in the running for Production and Costume design.
Notable snubs in other categories
The Best Director category threw a lot of people for a loop, leaving out filmmakers whose movies are in contention for Best Picture like A Star Is Born's Bradley Cooper, Green Book's Peter Farrelly, and Black Panther's Ryan Coogler. Instead -- in a pleasant surprise -- one of the slots went to Polish auteur Pawel Pawlikowski, whose film Cold War is up for Foreign Language Film and Cinematography. Unfortunately, once again, female directors were completely left out. Both of the principal actors in Marielle Heller's Can You Ever Forgive Me? were honored, but she wasn't. What gives? Oh, right: sexism. Heller's film was nominated for Adapted Screenplay at the Oscars, and ended up winning the equivalent of that prize at the WGA Awards. Eighth Grade -- which was completely shut out by the Academy -- won the Original Screenplay WGA.
In acting, the likes of Beautiful Boy's Timothée Chalamet and First Man's Claire Foy didn't make the final cut while Vice's Sam Rockwell and Roma's Marina De Tavira did. And, funnily enough, the documentary contenders also proved shocking when the the beloved Mister Rogers doc Won't You Be My Neighbor? was left off the list.
The full list of 2019 Oscar nominations (winners in bold)
Best Picture
Black Panther
BlacKkKlansman
Bohemian Rhapsody
The Favourite
Green Book
Roma
A Star Is Born
Vice
Best Director
Spike Lee, BlacKkKlansman
Pawel Pawlikowski, Cold War
Yorgos Lanthimos, The Favourite
Alfonso Cuarón, Roma
Adam McKay, Vice
Best Actor
Christian Bale, Vice
Bradley Cooper, A Star Is Born
Willem Dafoe, At Eternity's Gate
Rami Malek, Bohemian Rhapsody
Viggo Mortensen, Green Book
Best Actress
Yalitza Aparicio, Roma
Glenn Close, The Wife
Olivia Colman, The Favourite
Lady Gaga, A Star Is Born
Melissa McCarthy, Can You Ever Forgive Me?
Best Supporting Actor
Mahershala Ali, Green Book
Adam Driver, BlacKkKlansman
Sam Elliott, A Star Is Born
Richard E. Grant, Can You Ever Forgive Me?
Sam Rockwell, Vice
Best Supporting Actress
Amy Adams, Vice
Marina De Tavira, Roma
Regina King, If Beale Street Could Talk
Emma Stone, The Favourite
Rachel Weisz, The Favourite
Best Adapted Screenplay
The Ballad of Buster Scruggs
BlacKkKlansman
Can You Ever Forgive Me?
If Beale Street Could Talk
A Star Is Born
Best Original Screenplay
The Favourite
First Reformed
Green Book
Roma
Vice
Best Foreign Language Film
Capernaum
Cold War
Never Look Away
Roma
Shoplifters
Best Documentary Feature
Free Solo
Hale County This Morning, This Evening
Minding the Gap
Of Fathers and Sons
RBG
Best Animated Feature
Incredibles 2
Isle of Dogs
Mirai
Ralph Breaks the Internet
Spider-Man: Into the Spider-Verse
Best Documentary Short Subject
Black Sheep
End Game
Lifeboat
A Night at the Garden
Period. End of Sentence.
Best Original Song
"All The Stars," Black Panther
"I'll Fight," RBG
"The Place Where Lost Things Go," Mary Poppins Returns
"Shallow," A Star Is Born
"When a Cowboy Trades His Spurs for Wings," The Ballad of Buster Scruggs
Best Production Design
Black Panther
The Favourite
First Man
Mary Poppins Returns
Roma
Best Cinematography
Cold War
The Favourite
Never Look Away
Roma
A Star Is Born
Best Costume Design
The Ballad of Buster Scruggs
Black Panther
The Favourite
Mary Poppins Returns
Mary Queen of Scots
Best Sound Editing
Black Panther
Bohemian Rhapsody
First Man
A Quiet Place
Roma
Best Sound Mixing
Black Panther
Bohemian Rhapsody
First Man
Roma
A Star Is Born
Best Animated Short Film
Animal Behaviour
Bao
Late Afternoon
One Small Step
Weekends
Best Live Action Short Film
Detainment
Fauve
Marguerite
Mother
Skin
Best Original Score
Black Panther
BlacKkKlansman
If Beale Street Could Talk
Isle of Dogs
Mary Poppins Returns
Best Visual Effects
Avengers: Infinity War
Christopher Robin
First Man
Ready Player One
Solo: A Star Wars Story
Best Film Editing
BlacKkKlansman
Bohemian Rhapsody
The Favourite
Green Book
Vice
Best Makeup and Hairstyling
Border
Mary Queen of Scots
Vice

And here are your Golden Globes winners...
While there are a number of awards that can be deemed precursors to the Oscars, the most visible are the Golden Globes, the nominations for which were announced the morning of December 6. The Hollywood Foreign Press Association hosts a hell of a party, but is also known for making some curious picks -- which figures since it's such a small voting body. Here's what movies are in the running, with winners in bold. To look at the TV nominations, pop over here.
Best Motion Picture, Drama
Black Panther
BlacKkKlansman
Bohemian Rhapsody
If Beale Street Could Talk
A Star Is Born
Best Motion Picture, Musical or Comedy
Crazy Rich Asians
The Favourite
Green Book
Mary Poppins Returns
Vice
Best Performance by an Actress in a Motion Picture, Drama
Glenn Close, The Wife
Lady Gaga, A Star Is Born
Nicole Kidman, Destroyer
Melissa McCarthy, Can You Ever Forgive Me?
Rosamund Pike, A Private War
Best Performance by an Actress in a Motion Picture, Musical or Comedy
Emily Blunt, Mary Poppins Returns
Olivia Colman, The Favourite
Elsie Fisher, Eighth Grade
Charlize Theron, Tully
Constance Wu, Crazy Rich Asians

Best Performance by an Actress in a Supporting Role in Any Motion Picture
Amy Adams, Vice
Claire Foy, First Man
Regina King, If Beale Street Could Talk
Emma Stone, The Favourite
Rachel Weisz, The Favourite
Best Performance by an Actor in a Motion Picture, Drama
Bradley Cooper, A Star Is Born
Willem Dafoe, At Eternity's Gate
Lucas Hedges, Boy Erased
Rami Malek, Bohemian Rhapsody
John David Washington, BlacKkKlansman
Best Performance by an Actor in a Motion Picture, Musical or Comedy
Christian Bale, Vice
Lin-Manuel Miranda, Mary Poppins Returns
Viggo Mortensen, Green Book
Robert Redford, The Old Man & The Gun
John C. Reilly, Stan & Ollie
Best Performance by an Actor in a Supporting Role in Any Motion Picture
Mahershala Ali, Green Book
Timothée Chalamet, Beautiful Boy
Adam Driver, BlacKkKlansman
Richard E. Grant, Can You Ever Forgive Me?
Sam Rockwell, Vice
Best Director, Motion Picture
Bradley Cooper, A Star Is Born
Alfonso Cuarón, Roma
Peter Farrelly, Green Book
Spike Lee, BlacKkKlansman
Adam McKay, Vice

Best Screenplay, Motion Picture
Alfonso Cuarón, Roma
Deborah Davis and Tony McNamara, The Favourite
Barry Jenkins, If Beale Street Could Talk
Adam McKay, Vice
Nick Vallelonga, Brian Hayes Currie, and Peter Farrelly, Green Book
Best Motion Picture, Animated
Incredibles 2
Isle of Dogs
Mirai
Ralph Breaks the Internet
Spider-Man: Into the Spider-Verse
Best Motion Picture, Foreign Language
Capernaum
Girl
Never Look Away
Roma
Shoplifters

Best Original Score, Motion Picture
Marco Beltrami, A Quiet Place
Alexandre Desplat, Isle of Dogs
Ludwig Göransson, Black Panther
Justin Hurwitz, First Man
Marc Shaiman, Mary Poppins Returns
Best Original Song, Motion Picture
"All The Stars," Black Panther
"Girl in the Movies," Dumplin'
"Requiem for A Private War," A Private War
"Revelation," Boy Erased
"Shallow," A Star Is Born