Do you hear the rumble of publicists? The murmuring of critics? The bustling of stylists? Those sounds can only mean one thing: Oscar season is fully underway. Yes, the hype for Hollywood's biggest annual event begins building in September when the fall film festivals trot out contenders, but it has now kicked into high gear and will be a daily presence in our lives through February 24, 2019, when the gold statuettes will be handed out.
Over the coming months, as new favorites emerge and campaigns ramp up, the balances of power will shift, and we'll be here to help you keep track of it all with this handy guide to the many movies still in contention for Best Picture. We'll be updating it as accolades accrue and conflict arises, so check back frequently. Between visits, you might as well bone up on the best movies of 2018 and the most overlooked movies of the year.
Recommended Video
This Looks Like The Scariest Movie In Years
Director: John Krasinski
Stars: John Krasinski, Emily Blunt
What it's about: Shhhhhh! Or the monsters will get you!
What's the buzz? Jim from The Office's turn as horror director was a surprise hit.
What's the backlash? Some, like the New Yorker's Richard Brody and the New York Times' Jenna Wortham and Wesley Morris, have read some unsettling metaphors into the plot. (Brody called it a "fantasy of survivalism" and "conspicuously regressive.")
What has it won so far? It's on the list of AFI movies of the year. It was largely shut out of the Golden Globes, except for its score. 
Does it actually have a chance? Even though it's a major longshot to win Best Picture, the star power of Krasinski and Blunt -- who's vying for a nomination for Mary Poppins Returns -- is making this a viable option to get a nod in the category. It'll certainly crop up in the confusing sound categories.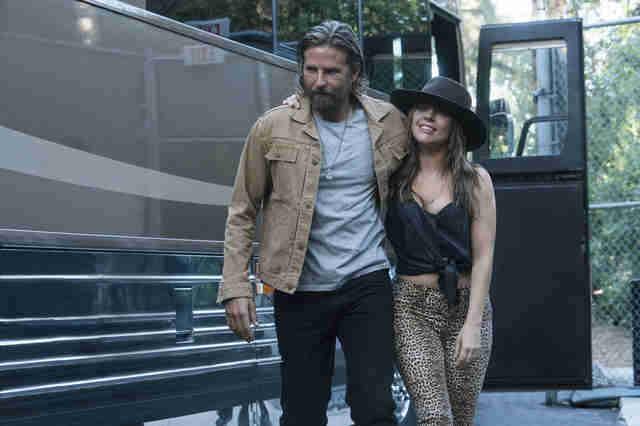 Director: Bradley Cooper
Stars: Lady Gaga, Bradley Cooper, Sam Elliott
What it's about: The tragic love story of songwriters Jackson Maine (Bradley Cooper) and Ally (Lady Gaga). The former is a weathered hat of a man tied to his old ways; the latter is a vibrant talent who can make a song about ass sound great.
What's the buzz? Critics (and meme-makers) largely love A Star Is Born, and audiences seem to as well, as it's been collecting cash.
What's the backlash? The loudest complaints have been about, fittingly, the film's perspective on music and where A Star Is Born's sympathies might lie accordingly. Some have argued that the movie condones Jackson Maine's controversial opinion that rock music is more authentic than pop music and therefore more noble and artistically valid. That has frustrated so-called "poptimists" and some critics who think that Ally loses agency over the course of the narrative.
What has it won so far? My heart? Just kidding. It was nominated for just about everything it could be -- except for screenplay and supporting actor -- at the Globes. Cooper was named Best Director by the National Board of Review, while Gaga and Elliott amassed acting trophies from that body. Like, A Quiet Place, it's an AFI movie of the year.
Does it actually have a chance? Yes, and not just for Best Picture. It's in the running for nominations in the top five categories: Picture, Director, Actor, Actress, and Adapted Screenplay. Plus, it seems like a shoe-in for Best Original Song, thanks to the catchy "Shallow," and Sam Elliott is fearsome contender for Supporting Actor.
Director: Ryan Coogler
Stars: Chadwick Boseman, Michael B. Jordan, Danai Gurira, Lupita Nyong'o
What it's about: At this point, you probably know what Black Panther is about. After T'Challa (Boseman) assumes the throne of Wakanda -- and the mantle of Black Panther -- a challenger arrives in the form of Erik Killmonger (Jordan), who wants both the crown and to end Wakanda's isolationism.
What's the buzz? Not only is Black Panther one of the most raved about movies of the year, but it's flat out the most successful movie of the year domestically.
What's the backlash? For a movie as popular as Black Panther, there's been surprisingly little. Oscar voters, however, tend to be averse to rewarding massive box-office successes with the night's biggest prize, and a blockbuster about a superhero would have an even more difficult time. Its mere existence may have provoked the Academy's announcement about -- and backtrack on -- a "popular film" award.
What has it won so far? It's up for Best Picture, Drama at the Golden Globes, and has been named one of AFI's movies of the year. 
Does it actually have a chance? If Oscar history is any indication, its chances to win Best Picture are slim, but massively successful genre movies have won in the past... once (2003's Return of the King). But a nomination seems like a lock, and watch out for Michael B. Jordan in Best Supporting Actor. And if Ruth E. Carter's costumes don't get nominated, consider it an outrage.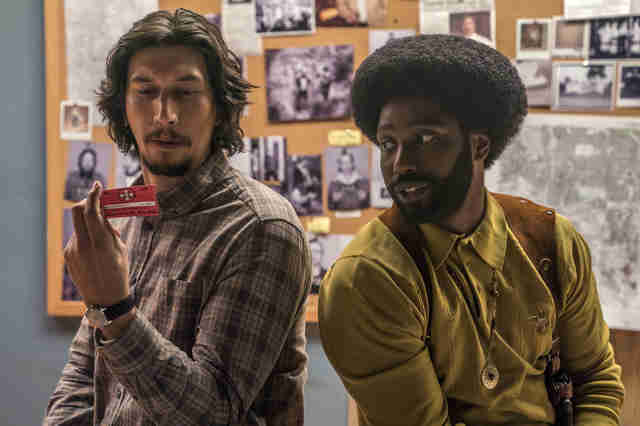 Director: Spike Lee
Stars: John David Washington, Adam Driver, Topher Grace
What it's about: The true story of Ron Stallworth (Washington), a black detective who became chummy with David Duke (Grace) and infiltrated the KKK -- all through a Spike Lee filter.
What's the buzz? BlacKkKlansman made a splash at Cannes and won over audiences when it came out over the summer.
What's the backlash? The most vocal argument against the film came from Sorry to Bother You director Boots Riley, who wrote an essay posted to Twitter calling it an "ad campaign" for cops.
What has it won so far? It's in the running for a bunch of Globes, including Picture, Director, Actor for Washington, and Supporting Actor for Driver. Lee took the Grand Jury Prize at Cannes, while Driver has been nominated for both a Gotham Award and an Independent Spirit Award for his role as the white Jewish man who serves as the physical face of the investigation. It's also an AFI movie of the year. 
Does it actually have a chance? It's a longshot to win Best Picture, but it might fare better in other categories. Strange but true: Spike Lee has never been nominated for Best Director. This could be the year that finally happens.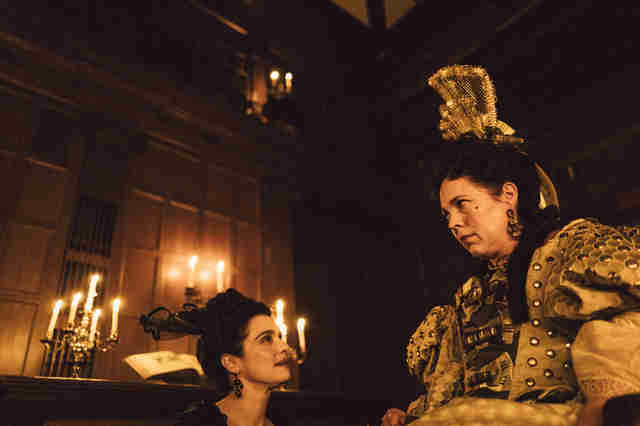 Director: Yorgos Lanthimos
Stars: Emma Stone, Rachel Weisz, Olivia Colman
What it's about? Intrigue and sex in the court of Queen Anne (Colman). Lady Sarah (Weisz) has always been at the unstable royal's right hand -- and in her bed. That changes when the once-noble Abigail (Stone) arrives to claim what's hers. Also: Ducks are raced.
What's the buzz? The Favourite is more of a crowd-pleaser than some of Lanthimos' previous movies (such as The Killing of a Sacred Deer, which opens with a close-up of an exposed heart). But that isn't to say the drama isn't without any strangeness.
What's the backlash? None so far.
What has it won so far? The Globes love this one in the comedy category. As for the smaller fry, it scored Gotham Awards nominations in the screenplay and feature categories, losing both, but the three actresses did take home the Ensemble Performance Award (although Weisz was the only one on hand at the ceremony to pick up the prize). Deemed an AFI movie of the year.
Does it actually have a chance? The Favourite has a Best Actress conundrum, given that it features three strong performances that essentially all lead the movie. It's been reported that Colman, who does the showiest work, is being submitted as the lead and that Stone and Weisz will run as supporting players. Meanwhile, Lanthimos, who has been nominated for screenwriting before, could finally crack the Best Director lineup.
Director: Damien Chazelle
Stars: Ryan Gosling, Claire Foy, Kyle Chandler
What it's about: Neil Armstrong's trip to the Moon and his emotional repression.
What's the buzz? While First Man has underperformed at the box office, there's been much acclaim for Chazelle's visually impressive and subversively incisive take on the astronaut.
What's the backlash? There were some uninformed initial complaints from right-wingers after a report went around that the movie did not depict Armstrong (Gosling) and Buzz Aldrin (Corey Stoll) planting the American flag on the Moon. While you don't actually see that moment take place, you do see a flag on the Moon's surface.
What has it won so far? First Man is having a rough go of it so far. It was mostly ignored by the Golden Globes save for nods for Claire Foy and composer Justin Hurwitz. 
Does it actually have a chance? Despite the mild enthusiasm surrounding it, First Man, with its traditional subject of American heroism told in an untraditional manner, is tailor-made for the Best Picture race. Gosling and Foy will be in the running for Best Actor and Best Supporting Actress. Damien Chazelle was the youngest Best Director winner ever for La La Land, and should score his second nomination in the category. Hurwitz could also look to repeat in Best Score.
Green Book
Director: Peter Farrelly
Stars: Viggo Mortensen, Mahershala Ali, Linda Cardellini
What it's about: Co-writer Nick Vallelonga has translated the true story of his father's (Mortensen) friendship with African-American pianist Don Shirley (Ali) to the screen. Tony Lip (as he's called) was a bouncer at the Copacabana in need of cash when he took a job chauffeuring Don around the Jim Crow South.
What's the buzz? Initial critical reactions to the movie were warm -- perhaps out of surprise that this is from the gross-out master Peter Farrelly -- but wary. After all, this is a simplified take on race relations.
What's the backlash? Get ready for a lot of it with this one. First up: Viggo Mortensen used the n-word in full when discussing the movie at a recent Q&A. While the point he was trying to make was about how the word was casually used in the time period in which the movie takes place, he faced immediate blowback for having uttered the word himself and has since apologized. Negative takes, arguing that the story is centered around the racist white man at the expense of a nuanced approach to African-American history, have also intensified since Green Book's release.
What has it won so far? Green Book won the Grolsch People's Choice Award at the Toronto International Film Festival, usually a bellwether that a film will at least get nominated for Best Picture. It also was named Best Film by the National Board of Review -- known for its sometimes wild card picks -- while Mortensen got Best Actor, and was honored by AFI as a movie of the year. And the Golden Globes loved it, showering it with comedy nominations for Mortensen, Ali, Farrelly, and the film at large. 
Does it actually have a chance? The Grolsch implies a Best Picture nod is on the horizon, and the movie would be nothing without its two performances. Both are leads, but it seems like Ali is running for Best Supporting Actor, and he has a solid chance to claim his second trophy (following his win for Moonlight). The fact that its box office leaves something to be desired may curb its chances.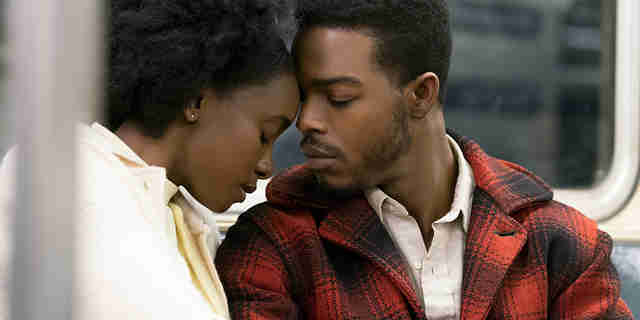 If Beale Street Could Talk
Director: Barry Jenkins
Stars: Stephan James, KiKi Layne, Regina King
What it's about: A sumptuous and heartbreaking adaptation of James Baldwin's novel about a young black couple separated when the man, Fonny (James), is falsely accused of rape.
What's the buzz? Perhaps the movie doesn't reach the extreme heights of Jenkins' stunning Oscar-winner Moonlight, but the lyrical, tragic film is still a significant achievement.
What's the backlash? Zero.
What has it won so far? The Golden Globes gave it nominations in the Picture, Screenplay, and Supporting Actress categories.  It was up for Best Feature at the Gotham Awards, and Layne was competing in the breakthrough category, ultimately losing to Eighth Grade star Elsie Fisher. Meanwhile, Beale Street received multiple nominations for Independent Spirit Awards and will compete in the Feature, Director, and Supporting Female categories. Jenkins has won adapted screenplay from the National Board of Review, while Regina King won Supporting Actress from New York Film Critics Circle, and the film was an AFI movie of the year.
Does it actually have a chance? Beale Street's best shot at victory lies in the Best Supporting Actress category, as Regina King is remarkable as Fonny's mother. I'm particularly stumping for Nicholas Britell's score.
Mary Poppins Returns
Director: Rob Marshall
Stars: Emily Blunt, Lin-Manuel Miranda, Ben Whishaw
What it's about:A sequel to the supercalifragilisticexpialidocious Disney classic, subbing in Emily Blunt for Julie Andrews.
What's the buzz? Fans are saying that it adds a much needed dollop of sugar into the race; Those that need some scolding from Mary herself argue that it doesn't match the original.
What's the backlash? Backlash is probably too strong a word for some mixed reviews. 
What has it won so far? Poppins is starting to pop with a series of Globe nominations, and a spot on AFI's movies of the year list.
Does it actually have a chance? Blunt could definitely crack best actress, and it might lose original song to "Shallow" from A Star Is Born. 
Roma
Director: Alfonso Cuarón
Stars: Yalitza Aparicio, Marina de Tavira, Nancy García García
What it's about: An elegiac story about a domestic worker, Cleo (Aparicio), in a middle class Mexico City home, ripped from director Alfonso Cuarón's own memories and against the backdrop of unrest in 1971.
What's the buzz? The word "masterpiece" has been thrown around a lot.
What's the backlash? The industry has been resistant to the mammoth Netflix's entry into serious film production, but the company seems to be making amends. So, instead of releasing Roma both online and in theaters at the same time as it has with its originals in the past, the movie will receive a short theatrical window ahead of its debut on Netflix. 
What has it won so far? Cuarón received Director and Screenplay nominations from the Globes, but it's important to note that, because it's a foreign language film, it's not eligible for Best Picture from that body. Aparicio was been nominated with Breakthrough Actor prize at the Gothams. Its first big accolades came from the New York Film Critics Circle where it won Best Film, Best Director, and Best Cinematography. AFI gave it a special award -- since, as a Mexican film, it doesn't qualify for their movies of the year list. 
Does it actually have a chance? Best Picture and Director seem a lock for nominations, and it'd be hard for it to lose Foreign Language Film. Cuarón, acting as his own director of photography, is in the mix for Best Cinematographer. Yalitza Aparicio, in her first time acting, could also turn up in the Best Actress race.  
Vice
Director: Adam McKay
Stars: Christian Bale, Amy Adams, Steve Carell, Sam Rockwell
What it's about: The great satirist McKay turns his eye on Dick Cheney's ruthlessness for this biopic, which features explanatory riffs a la The Big Short.
What's the buzz? Initial critical reception on social media has been mixed. There's been some praise, but some have also deemed it a "mess."
What's the backlash? No one knows yet, but surely it will anger some conservative politicians.
What has it won so far? It has major fans in the Hollywood Foreign Press, which gave it the most nominations of any movie. 
Does it actually have a chance? Bale, by once again warping his body, seems like a shoo-in for a Best Actor nod regardless of how the rest of the movie fares, while this could finally be the year that Adams, for her take on Lynne Cheney, gets her Oscar.
Director: Steve McQueen
Stars: Viola Davis, Elizabeth Debicki, Michelle Rodriguez
What it's about: This sly adaptation of a British television series from the early 1980s is essentially a heist tale about a group of women who plot a robbery when their thieving husbands die. But McQueen is a director who never opts for a simplistic take on his subject matter, and Widows is about race and power as much as it is about action.
What's the buzz? Widows has received pretty much universal acclaim, though there are some rumblings that it's too much of a genre flick to win the big one.
What's the backlash? None so far.
What has it won so far? Nothing yet. The Globes completely snubbed this one, severely putting a dent in its Oscar chances. 
Does it actually have a chance? Probably not to win anything major, but never rule out Davis, who took home Best Supporting Actress in 2017 for Fences, or McQueen, whose 12 Years a Slave won Best Picture.
Other contenders to watch
Outside of Best Picture, there are certain players you might hear a lot about in the coming months. One big name is Glenn Close, who is trying to sneak away with Best Actress for her performance in The Wife. What is The Wife, you ask? Fair question. The indie movie based on a Meg Wolitzer book came and went, but the six-time-nominee Close has never won an Oscar and that could sway some voters. She might find herself going up against Melissa McCarthy, who is wonderful as a forger in Can You Ever Forgive Me?. McCarthy's co-star Richard E. Grant is a good bet in Best Supporting Actor as well -- he won the New York Film Critics Circle prize in that category. Also look out for Timothée Chalamet for his addiction drama Beautiful Boy. Speaking of addiction dramas, Julia Roberts is a candidate to score her first Best Actress nomination since 2000 for Ben Is Back, in which she plays the mother of an addict played by Lucas Hedges. Hedges is also in Boy Erased where Nicole Kidman could be another performer lauded for playing his mother. Keep your fingers crossed for summer favorites like Eighth Grade and Sorry to Bother You in the Best Screenplay (Original) race as well, and for a Best Supporting Actress campaign for Michelle Yeoh in Crazy Rich Asians. Eighth Grade director Bo Burnham has been collecting nominations and awards, and won breakthrough director at the Gothams and best first film at New York Film Critics Circle; Star Elsie Fisher is a delightful Golden Globes surprise nominee for Best Actress. Also, don't discount Clint Eastwood's chances to earn yet another nomination as Best Director or Best Actor for The Mule, in which the 88-year-old plays a prolific cartel drug mule. Another Best Actor dark horse is Ethan Hawke, after his performance as a troubled priest in Paul Schrader's indie darling First Reformed netted him a Gotham Award. The film was also honored for its screenplay. It got both those prizes from the New York Film Critics Circle too so consider it officially a dark horse contender. Speaking of horses, Chloe Zhao's docu-drama about a bronco rider The Rider took home the top Gotham. 
And who got Golden Globe nominations?
While there are a number of awards that can be deemed precursors to the Oscars, the most visible are the Golden Globes, the nominations for which were announced the morning of December 6. The Hollywood Foreign Press Association hosts a hell of a party, but is also known for making some curious picks -- figures since it's such a small voting body. Here's what movies are in the running. To look at the TV nominations, pop over here.
Best Motion Picture, Drama
Black Panther
BlacKkKlansman
Bohemian Rhapsody 
If Beale Street Could Talk 
A Star Is Born 
Best Motion Picture, Musical or Comedy
Crazy Rich Asians
The Favourite 
Green Book
Mary Poppins Returns
Vice 
Best Performance by an Actress in a Motion Picture, Drama
Glenn Close, The Wife
Lady Gaga, A Star Is Born
Nicole Kidman, Destroyer
Melissa McCarthy, Can You Ever Forgive Me? 
Rosamund Pike, A Private War
Best Performance by an Actress in a Motion Picture, Musical or Comedy
Emily Blunt, Mary Poppins Returns 
Olivia Colman, The Favourite
Elsie Fisher, Eighth Grade
Charlize Theron, Tully
Constance Wu, Crazy Rich Asians
 
Best Performance by an Actress in a Supporting Role in Any Motion Picture
Amy Adams, Vice
Claire Foy, First Man
Regina King, If Beale Street Could Talk
Emma Stone, The Favourite
Rachel Weisz, The Favourite
Best Performance by an Actor in a Motion Picture, Drama
Bradley Cooper, A Star Is Born
Willem Dafoe, At Eternity's Gate
Lucas Hedges, Boy Erased
Rami Malek, Bohemian Rhapsody
John David Washington, BlacKkKlansman
Best Performance by an Actor in a Motion Picture, Musical or Comedy
Christian Bale, Vice
Lin-Manuel Miranda, Mary Poppins Returns
Viggo Mortensen, Green Book
Robert Redford, The Old Man & The Gun
John C. Reilly, Stan & Ollie
Best Performance by an Actor in a Supporting Role in Any Motion Picture
Mahershala Ali, Green Book
Timothée Chalamet, Beautiful Boy
Adam Driver, BlacKkKlansman
Richard E. Grant, Can You Ever Forgive Me? 
Sam Rockwell, Vice
Best Director, Motion Picture
Bradley Cooper, A Star Is Born
Alfonso Cuarón, Roma
Peter Farrelly, Green Book
Spike Lee, BlacKkKlansman
Adam McKay, Vice
 
Best Screenplay, Motion Picture
Alfonso Cuarón, Roma
Deborah Davis and Tony McNamara, The Favourite
Barry Jenkins, If Beale Street Could Talk
Adam McKay, Vice
Nick Vallelonga, Brian Hayes, and Currie Peter Farrelly, Green Book 
 
Best Motion Picture, Animated
Incredibles 2
Isle of Dogs 
Mirai
Ralph Breaks the Internet
Spider-Man: Into the Spider-Verse 
Best Motion Picture, Foreign Language
Capernaum
Girl
Never Look Away
Roma
Shoplifters
 
Best Original Score, Motion Picture
Marco Beltrami, A Quiet Place
Alexandre Desplat, Isle of Dogs
Ludwig Göransson, Black Panther
Justin Hurwitz, First Man 
Marc Shaiman, Mary Poppins Returns
Best Original Song, Motion Picture
"All The Stars," Black Panther
"Girl in the Movies," Dumplin'
"Requiem for A Private War," A Private War
"Revelation," Boy Erased
"Shallow," A Star Is Born
 
Sign up here for our daily Thrillist email and subscribe here for our YouTube channel to get your fix of the best in food/drink/fun.