If you'd asked me at this time last year whether Green Book would win Best Picture, I would have first said, "What's Green Book?" and then, "Probably not." Which is to say that predicting the Oscar race this far in advance is a fruitless, silly exercise. Which also makes it an immensely fun game to play, so bear with me. While there's a high likelihood a film that hasn't even been announced yet could swoop in and take home a bunch of gold statues, there are also a number of likely contenders we do know about.
The 2020 Oscar race has already generated controversy, with reports emerging that none other than Steven Spielberg wanted to introduce a rule that would put stricter limitations on films released by streaming services, primarily Netflix. (His brief campaign failed unceremoniously.) Meanwhile, Netflix is countering by gearing up to release the latest saga from Martin Scorsese. Here, we've listed some of the 2019 movies we suspect might be in the Oscars conversation. Just note that some of these films do not have release dates yet and could very well be pushed to next year. We'll be updating this article regularly throughout awards season until Oscars are handed out on February 23, 2020.
Recommended Video
Here's Your First Look at Disney's Star Wars Land
The major studio releases
Us
Release date: March 22
Cast: Lupita Nyong'o, Winston Duke, Elisabeth Moss
Director: Jordan Peele
Why it could be in contention: It would be thrilling to welcome 2018 winner Jordan Peele back to the Dolby stage for his Get Out follow-up. Us is just as brilliant, but in a different package, and the slasher framework in which it presents its themes might be a bit harder for Academy members to swallow. One thing everyone can agree on: Lupita Nyong'o's brilliant double turn as a mother protecting her family, and the eerie, "tethered" version of that woman. 
Avengers: Endgame
Release date: April 26
Cast: Robert Downey Jr., Chris Evans, Chris Hemsworth, Mark Ruffalo
Directors: Joe and Anthony Russo
Why it could be in contention: Weirder things have happened. (Hey, Green Book won. That's weird.) Marvel's superhero showdown will likely go on to be the biggest movie of the year, money-wise, and has also won praise from both fans and critics for the way it tackles the (sort of) end of an 11-year saga. If the Academy wanted to acknowledge this franchise's impact, it could hand Endgame a Best Picture nod. Also on the table is recognition for Robert Downey Jr.'s work as Tony Stark. 
Once Upon a Time in Hollywood
Release date: July 26
Cast: Brad Pitt, Leonardo DiCaprio, Margot Robbie
Director: Quentin Tarantino
Why it could be in contention: Quentin Tarantino does Charles Manson with Leo, Brad, and Margot Robbie as Sharon Tate. Potentially problematic! Probably headed for the Oscars! Tarantino's last, The Hateful Eight, didn't have much luck in the contest, but Hollywood loves a story about itself and it will probably be powerless to resist this one from one of its favorite auteurs.
The Goldfinch
Release date: October 11
Cast: Ansel Elgort, Nicole Kidman, Jeffrey Wright
Director: John Crowley
Why it could be in contention: One of the most highly anticipated literary adaptations in recent years comes from director John Crowley, who made Brooklyn, a movie that got a fair share of Oscar love. Donna Tartt's bildungsroman about a boy who steals a painting from the Met during a terrorist attack is a sprawling novel that'll be hard to pull off, but it could be a stunning work if executed well. Perhaps this is the one that vaults Ansel Elgort into superstardom. If nothing else, a Supporting Actor nod seems in the cards for Jeffrey Wright as his eventual caretaker Hobie.
A Beautiful Day in the Neighborhood
Release date: October 18
Cast: Tom Hanks, Matthew Rhys
Director: Marielle Heller
Why it could be in contention: Marielle Heller was rudely snubbed for Best Director this past year after directing Melissa McCarthy and Richard E. Grant to nominations for Can You Ever Forgive Me? Hopefully her work won't be ignored this year. Her next project, in a coup of casting, finds Tom Hanks playing Fred Rogers, spreading his message of kindness to a skeptical journalist (played by The Americans' Matthew Rhys). Beloved icon as beloved icon? Smells like Oscar.
Cats
Release date: December 20
Cast: Jennifer Hudson, Taylor Swift, Idris Elba, Judi Dench
Director: Tom Hooper
Why it could be in contention: In a word: Cats! The kitties in this movie adaptation of the thoroughly insane Andrew Lloyd Webber musical will be cat-sized! Sounds crazy! But the Academy loved Hooper's Les Misérables -- another bombastic '80s musical classic -- so who's to say it won't fall for Jennifer Hudson belting "Memory"?
Little Women
Release date: December 25
Cast: Saoirse Ronan, Emma Watson, Laura Dern, Timothée Chalamet, Meryl Streep
Director: Greta Gerwig
Why it could be in contention: Greta Gerwig turned to an old favorite for her first movie post-Lady Bird, a nominee for Best Picture, itself. She's back working with Saoirse Ronan, who has graduated from one ambitious adolescent to another, now playing Louisa May Alcott's heroine Jo. Erstwhile Hermoine Emma Watson is the less-bookish Meg, and the rest of the March sisters include rising stars Eliza Scanlen and Florence Pugh. Timmy Chalamet will be breaking hearts as Laurie.
Ad Astra
Release date: TBA
Cast: Brad Pitt, Ruth Negga, Tommy Lee Jones
Director: James Gray
Why it could be in contention: James Gray's last film -- The Lost City of Z -- was an under-appreciated masterpiece. It will be hard for his next one to fly below people's radars considering he's sending Brad Pitt into space, if the movie ever comes out.
The smaller stuff
Her Smell
Released: April 12
Cast: Elisabeth Moss, Agyness Deyn, Gayle Rankin, Cara Delevingne
Director: Alex Ross Perry
Why it could be in contention: Moss's performance as a fucked-up, almost washed-up rock star will undoubtedly be one of the best of the year. If she doesn't get a nomination -- which she might not, given the subject matter -- it will be an injustice.
The Souvenir
Release date: May 17
Cast: Honor Swinton-Byrne, Tom Burke, Tilda Swinton
Director: Joanna Hogg
Why it could be in contention: Though its story is simple on paper -- a budding filmmaker starts a new, destructive relationship -- Hogg's film might be a little isolating for Academy voters. (Even in my screening at Sundance, there were walkouts.) It's probably a longshot, but The Souvenir is going to get a lot of love from critics on the awards circuit, especially for Swinton-Byrne's mesmerizing performance.
The Farewell
Release date: July 12
Cast: Awkwafina, Tzi Ma, Diana Lin, Shuzhen Zhou
Director: Lulu Wang
Why it could be in contention: Usually a couple of films that premiere at Sundance in January make it all the way to the Oscars the following year. The Farewell -- a personal film from director Lulu Wang -- could make that journey, especially with its breakout dramatic performance from Awkwafina. If we had any say in it, Shuzhen Zhou, as the grandmother a Chinese family keeps in the dark about her cancer diagnosis, would be a lock for Supporting Actress.
Where'd You Go Bernadette
Release date: August 9
Cast: Cate Blanchett, Billy Crudup, Kristen Wiig, Laurence Fishburne
Director: Richard Linklater 
Why it could be in contention: Never bet against Cate Blanchett, who has acted her way to six Oscar nominations and two wins at this point. Pairing her with Richard Linklater -- adapting Maria Semple's satirical novel about overbearing parents -- seems like a genius idea. The trailer seemed a little too whimsical for some people, but if it's anything like the source material, it's got a nasty edge.
The Report
Release date: TBA
Cast: Adam Driver, Annette Bening, Jon Hamm
Director: Scott Z. Burns
Why it could be in contention: Another Sundance hit -- which sold to Amazon -- takes a straightforward (but often thrilling) approach to telling the story of the man behind the Senate Intelligence Committee's report that documented the CIA's methods of torture in the years following 9/11. Bening plays Senator Dianne Feinstein. Maybe this one will finally win her an overdue trophy.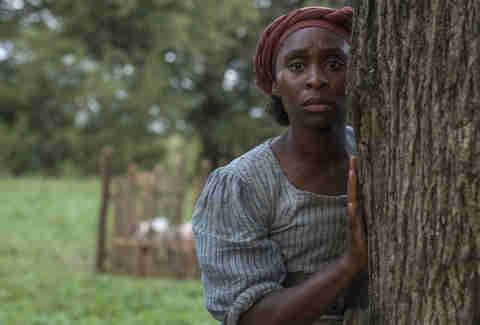 Lucy in the Sky
Release date: TBA
Cast: Natalie Portman, Zazie Beetz, Jon Hamm
Director: Noah Hawley
Why it could be in contention: Details are still sparse on this movie in which Natalie Portman plays an astronaut in turmoil after returning to Earth. But -- I'll repeat -- Natalie Portman plays an astronaut in turmoil after returning to Earth. Meanwhile, Noah Hawley's been a prince of the peak TV landscape thanks to his shows Fargo and Legion -- he could very well cross over.
Dry Run
Release date: TBA
Cast: Mark Ruffalo, Anne Hathaway, William Jackson Harper, Bill Pullman
Director: Todd Haynes
Why it could be in contention: Todd Haynes is a favorite of art house -- which sometimes crosses over into Academy territory. Here, he takes on a Big Topic, following the story of a lawyer who goes after the DuPont chemical company for pollution.
Harriet
Release date: TBA
Cast: Cynthia Erivo, Janelle Monáe, Leslie Odom Jr.
Director: Kasi Lemmons
Why it could be in contention: Cynthia Erivo stood on the cusp of breaking out in 2018, though her films Widows and Bad Times at the El Royale didn't really hit with audiences. But in 2019, the Tony winner will star as Harriet Tubman in a new biopic from Eve's Bayou director Kasi Lemmons.
The Netflix of it all
The Irishman
Release date: TBA
Cast: Robert De Niro, Al Pacino, Joe Pesci, Harvey Keitel
Director: Martin Scorsese
Why it could be in contention: During the 2019 Oscars -- as Roma was winning prizes -- Netflix aired a cryptic but powerful ad for its next major awards play. All it needed was a couple of names. Scorsese. De Niro. Pacino. Pesci. Yes, Scorsese's back reuniting with some of his old buddies for a mob tale about Jimmy Hoffa. It seems only fated that with those heavy hitters working together, that the Academy will have to respond -- no matter what Steven Spielberg has to say.
The King
Release date: TBA
Cast: Timothée Chalamet, Joel Edgerton, Robert Pattinson, Ben Mendelsohn
Director: David Michôd
Why it could be in contention: The other big Netflix feature emerging this year is classic Oscar fare, a meaty historical drama, this one riffing on the Henry plays of Shakespeare. Chalamet is your Prince Hal while co-writer Edgerton takes on Falstaff.
The Laundromat 
Release date: TBA
Cast: Meryl Streep, Gary Oldman, Jeffrey Wright
Director: Steven Soderbergh
Why it could be in contention: Steven Soderbergh's already had one Netflix film this year that's Oscar-worthy -- at least in our opinion. But there's another in the pipeline that might even be more intriguing to voters: A project about journalists working on the Panama Papers starring Oscar queen herself Meryl Streep. (Per The Hollywood Reporter, it might show up at Cannes.)