What Will Win Best Picture at the 2022 Oscars?
Let's break down all 10 nominees and their chances for taking home the Best Picture Oscar on Sunday.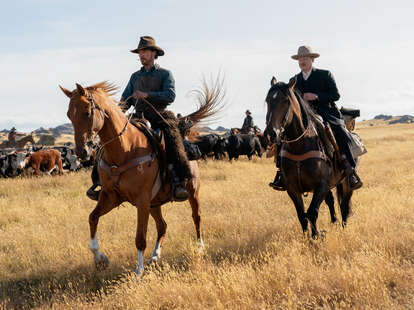 After a fairly awkward ceremony last year shaped by COVID, this year the Academy Awards promise to be back in full swing, despite that pesky pandemic still lingering around. And now, after an already long awards season, the nominations are out. The Power of the Dog was a clear favorite with 12 nominations, but final list of nominees is just about as thrilling as we had hoped, with a nod (like I predicted) for the Japanese film Drive My Car, as well as recognition for the Sundance favorite CODA, Paul Thomas Anderson's Licorice Pizza, and West Side Story. What got left out? Lin-Manuel Miranda's Tick, Tick...Boom!, Joel Coen's The Tragedy of Macbeth, and Maggie Gyllenhaal's The Lost Daughter.
With the March 27 ceremony right around the corner, here are the competitors for Best Picture at the 2022 Oscars.
Read our predictions for the Best Director, Best Actor, and Best Actress races, as well as where you can watch all of the Best International Feature and Best Documentary nominees.
The Best Picture Nominations
For the record, my predictions were correct.
Belfast
CODA
Don't Look Up
Drive My Car
Dune
King Richard
Licorice Pizza
The Power of the Dog
Nightmare Alley
West Side Story
Read up on the contenders below.
Final Prediction
This is tough. For a while there, it looked like The Power of the Dog might have had it locked up. But there have been some rumblings of disapproval for a while: Namely, the fact that some viewers have found it confusing (despite the ending being very clear if you just pay attention). Along those same lines, I'm tempted to think that, unfortunately, a number of Oscar voters share some of Sam Elliott's homophobic opinions about the movie as well. At the same time, Sundance favorite family drama CODA has emerged as a crowd-favorite dark horse. It won the SAG ensemble award and the Producers Guild top prize, the latter of which can be a good indication of Oscar success. Not that it doesn't have detractors as well, including those who find it a little too saccharine.
So who emerges victorious? I'm going to still go with The Power of the Dog. Jane Campion's film is a fascinating, challenging piece and in recent years The Academy has shown that they are willing to embrace fascinating and challenging films like Parasite and Nomadland. Even the presence of Drive My Car has shown that we're dealing with an organization that is now interested in movies that don't spell everything out for their audiences. Despite its somewhat elusive nature, The Power of the Dog has broken through the noise on Netflix and I think an Oscar is in its grasp.
Director: Kenneth Branagh
Cast: Jamie Dornan, Caitriona Balfe, Judi Dench
What's it about? Lauded actor and director Kenneth Branagh has made a bildungsroman about his own childhood in black and white. If that sounds a little bit like Oscar nominee Roma, well, yeah.
What's the buzz? Belfast's reviews out of the Telluride and Toronto film festivals weren't as unanimously euphoric as some of its counterparts, but it certainly has its supporters.
What has it won so far? The Toronto International Film Festival People's Choice Award, and it's landed on the National Board of Review and AFI lists of the top films of the year. Screenplay at the Golden Globes. A nomination from the Producers Guild.
What are its chances of winning? It's fallen far.
Where can I watch it? Belfast is available to buy or rent on Amazon Prime Video, Apple TV, Google Play and YouTube. (Watch the trailer.)
Director: Siân Heder
Cast: Emilia Jones, Troy Kotsur, Marlee Matlin
What's it about? The only hearing member of an entirely deaf family grapples with her coming of age as she pursues singing.
What's the buzz? If 2021's weird Sundance had a hit, it was this one, which sold for a large sum to Apple TV+.
What has it won so far? CODA has emerged as a late-in-the-game dark horse after taking the Producers Guild prize and the SAG ensemble award, though it's worth noting The Power of the Dog was not competing in that latter ace. At this point, Troy Kotsur is all but a sure thing for Best Supporting Actor for his performance as the heroine's loving dad having won the SAG, the Indie Spirit, the BAFTA and the Critics Choice Award.
What are its chances of winning? Honestly, looking pretty good right now.
Where can I watch it? CODA streams exclusively on Apple TV+. (Watch the trailer.)
Director: Adam McKay
Cast: Leonardo DiCaprio, Jennifer Lawrence, Rob Morgan, Jonah Hill
What's it about? A meteor is coming to Earth and no one seems to care in this incredibly star-studded comedy from The Big Short and Step Brothers director, Adam McKay.
What's the buzz? Like McKay's Vice before it, Don't Look Up received a decidedly mixed response from critics, some of whom thought the doomsday climate change parable fell flat. That said, it hasn't stopped it from looking like a very strong Oscar contender. Get enough stars on the screen and it's bound to ingratiate itself with the Academy.
What has it won so far? It's made it onto NBR and AFI's lists, and got a PGA nomination. It won the Writers Guild Award for original screenplay.
What are its chances of winning? Vulture's Alison Willmore is convinced it can win, and if the voters feel guilty enough about climate change, maybe it can.
Where can I watch it? Don't Look Up streams exclusively on Netflix. (Watch the trailer.)
Director: Ryusuke Hamaguchi
Cast: Hidetoshi Nishijima, Tôko Miura, Masaki Okada
What's it about? A theater director grieves the loss of his wife as he works on a multilingual production of Chekhov's Uncle Vanya.
What's the buzz? Critical appreciation for the film has been euphoric.
What has it won so far? Top prizes from the New York Film Critics Circle, the Los Angeles Film Critics Association, and the National Society of Film Critics. The last time any film won all tthree was The Social Network in 2010.
What are its chances of winning? I'm just so happy it's here. A nomination is the win.
Where can I watch it? Drive My Car is playing in theaters and is streaming on HBO Max. (Watch the trailer.)
Director: Denis Villeneuve
Cast: Timothée Chalamet, Zendaya, Rebecca Ferguson, Josh Brolin, Oscar Isaac
What's it about? A galactic war for control of spice.
What's the buzz? The initial trade reviews were down on Villeneuve's grand take on the sci-fi classic—which, by the way, only tells half the story of the first book in the series. Still, the more people saw it the more liked it, and it has become one of the box office successes of the pandemic age, as well as a meme-machine.
What has it won so far? NBR and AFI plaudits and the PGA.
What are its chances of winning? Sci-fi is a hard sell for the Academy.
Where can I watch it? Dune is available to stream on HBO Max and to buy or rent on Apple TV+ and YouTube. (Watch the trailer.)
Director: Reinaldo Marcus Green
Cast: Will Smith, Aunjanue Ellis, Jon Bernthal
What's it about? Serena and Venus Williams' ascension to tennis stardom through the prism of their demanding father, Richard.
What's the buzz: Much of the talk following King Richard's debut at Telluride was centered on Will Smith's performance, and while there was some controversy about centering a man in the story of two women's success, it has emerged as a strong Oscar contender.
What has it won so far? Mostly accolades for Smith. He has the National Board of Review, the SAG, the Critics Choice Award, and the BAFTA. It landed on the top films of the year list from that organization, as well as the one by AFI. It got that PGA nod.
What are its chances of winning? Seems like a shoo-in for Best Actor now, and that may be the prize.
Where can I watch it? King Richard is available to buy or rent on Amazon Prime Video, Apple TV, Google Play, and YouTube. (Watch the trailer.)
Director: Paul Thomas Anderson
Cast: Alana Haim, Cooper Hoffman, Bradley Cooper, Benny Safdie
What's it about? PTA heads back to his beloved San Fernando Valley with the story of two teenagers falling in love as the entertainment industry swirls around them.
What's the buzz? Reviews have been great, but there have been some questions about the age gap between the two lead characters and a recurring bit featuring a racist character.
What has it won so far? Best Picture, Best Director, and Breakthrough Performance at NBR; Best Screenplay at NYFCC; and an AFI citation and PGA nomination.
What are its chances of winning? Not likely.
Where can I watch it? Licorice Pizza is available to but or rent on Amazon Prime Video, Apple TV, Google Play, and YouTube. (Watch the trailer.)
Director: Guillermo Del Toro
Cast: Bradley Cooper, Cate Blanchett, Rooney Mara, Toni Collette
What's it about? It's a noir based on the 1946 novel (later turned into the 1947 film) about a mentalist who gets in over his head.
What's the buzz? Del Toro has wrangled a starry cast for his follow up to The Shape of Water, but critics have been divided.
What has it won so far? NBR and AFI citations.
What are its chances of winning? Well, The Shape of Water won Best Picture, but this is probably as far as Nightmare Alley will go.
Where can I watch it? Nightmare Alley is available to stream on HBO Max and Hulu. (Watch the trailer.)
Director: Jane Campion
Cast: Benedict Cumberbatch, Kirsten Dunst, Kodi Smit-McPhee, Jesse Plemons
What's it about? Toxic masculinity in 1920s Montana, perpetuated by a cowboy with secrets of his own.
What's the buzz? Euphoric. This was the No. 1 hit of the fall festival season.
What has it won so far? NBR and AFI citations, as well as Director, Actor, and Supporting Actor at NYFCC. If the Golden Globes matter, it won Best Picture — Drama there, and it got a PGA nomination. It also won the BAFTA and the Critics Choice. That said, it did not get a nomination for Best Cast at the SAG Awards, often a precursor.
What are its chances of winning? It's perhaps the favorite.
Where can I watch it? The Power of the Dog streams exclusively on Netflix. (Watch the trailer.)
Director: Steven Spielberg
Cast: Rachel Zegler, Ansel Elgort, Rita Moreno, Ariana DeBose
What's it about? It's, uh, West Side Story, but with a new book from Tony Kushner and new choreography from Justin Peck.
What's the buzz? Any nerves that this wouldn't stand up to the original were quelled when it premiered in late November. Reception was largely rapturous for the clever and moving reinvention of classic material. (It's worth noting, however, that star Ansel Elgort has had sexual assault allegations lodged against him.)
What has it won so far? NBR and AFI citations, and an NBR Best Actress trophy for newcomer Rachel Zegler as María. The Golden Globe for Musical or Comedy, and the PGA. Aside from Ariana DeBose's supporting turn as Anita, it was shut out of the SAG nominations. DeBose is looking like a sure thing with awards from SAG, BAFTA, and Critics Choice.
What are its chances of winning? It's got a good shot, but missing a nomination in editing makes it a stretch for Best Picture.
Where can I watch it? West Side Story is available to stream on Disney+ and HBO Max. (Watch the trailer.)