Expect These Movies and Actors to Win Big at the Oscars
The Academy Awards are over! Here's are the best moments from Oscars 2017. Find the winners (and our educated guesses leading up to Hollywood's biggest night) below.
January is a perfect time to watch Kate Beckinsale's Underworld vampire slay bad guys, Vin Diesel's superspy "XXX" clobber bad guys, and Milla Jovovich gun down bad guys with oversized Resident Evil guns, but it's also the perfect time to squeeze in the best movies of 2016 that you only heard were the best because you spent your holiday break watching Jyn Erso blast away bad guys in Rogue One. 
That's OK: You won't be alone. With the announcement of this year's Academy Awards nominations, moviegoers around the country will start cramming the potential winners in time for the official Oscar broadcast on ABC. Which ones do you need to see first? Here's a breakdown of each major category, predictions on whom we expect to win in the end, and the actual winners who went home with Oscar gold.
A24; CBS Films; The Weinstein Company; Amazon Studios; Paramount Pictures
Best Actor in a Supporting Role
Winner: Mahershala Ali (Moonlight)
Original Predictions:
1. Mahershala Ali (Moonlight)
The House of Cards and Luke Cage co-star will get his due this year when he wins for his role as the conflicted, drug-dealing father figure Juan in Moonlight. A scene where he unpacks the word "fag" for the young main character Chiron is the most awe-inspiring five minutes of acting I've seen in years. The Golden Globes went a different route, rewarding Aaron Taylor-Johnson for Tom Ford's Nocturnal Animals (a performance that didn't even garner a nomination), so I'm putting Ali at the top of the pack. 
2. Jeff Bridges (Hell or High Water)
A touch of introspection in Bridges' performance as a soon-to-retire sheriff turns a gruff, gritty thriller into meaningful drama. That, combined with the actor's veteran status, convinced the voters this is one to nominate. An outpour of love for Hell or High Water that's been steady since August could easily send Bridges to the podium on Oscar night. His 2010 Best Actor Oscar for Crazy Heart stands in the way of an actual win.
3. Dev Patel (Lion)
Patel made a splash in the Oscar-winning Slumdog Millionaire and took his time figuring out what to do next (luckily, you didn't see him in M. Night Shyamalan's The Last Airbender). After a biding-time stretch on HBO's The Newsroom, Patel returned in this meaty role as Saroo Brierley, who was separated from his family at the age of 5 and, 25 years later, uses Google Earth to track down his birth mother in India. Allowing the weight of the tragedy to sit on his shoulders, Patel is a welcome nominee with enough love to pull an upset.
4. Lucas Hedges (Manchester by the Sea)
After minor roles in Wes Anderson's Moonrise Kingdom and the let's-pretend-that-didn't-happen NBC miniseries The Slap, this 20-year-old actor held his own against major names as Manchester by the Sea's youthful component. His character Patrick is a playful, frustrated, hormonal high school wiseass. Basically, EVERY TEENAGER EVER. An Academy nomination is enough -- he'll have plenty more Oscar chances in the future.
5. Michael Shannon (Nocturnal Animals)
Besting his Golden Globe-winning co-star Aaron Taylor-Johnson, Shannon snuck into the top five for playing a determined cop sniffing out clues in Nocturnal Animals. Like everything in Tom Ford's movie, it's a baroque performance that capitalizes on the actor's eccentricities. It's a little too crazy to actually win the contest.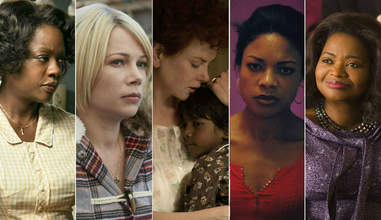 Paramount Pictures; Amazon Studios; The Weinstein Company; A24
Best Actress in a Supporting Role
Winner: Viola Davis (Fences)
Original Predictions:
1. Viola Davis (Fences)
One of the more robust categories of the year still has a clear winner. As Rose, a Pittsburgh housewife eroded by her husband's stubborn, ultimately deceitful behavior, Davis dominates Denzel Washington's adaptation of August Wilson's play. A monologue where the actress roars through tears (and snot) makes this win feel inevitable. After two nominations (2008's Doubt, 2011's The Help), I can't imagine anyone will hold Suicide Squad against her.
2. Michelle Williams (Manchester by the Sea)
Another performance that wrings every drop of observation from a few scenes, Williams plays Randi, who, unlike her ex-husband Lee (Casey Affleck), conquered a harrowing incident from their past. But dredging up the memories shatters Williams a second time in a scene that makes her a potential contender (her fourth nomination after 2005's Brokeback Mountain, 2010's Blue Valentine, and 2011's My Week with Marilyn). If only there were more snot...
3. Nicole Kidman (Lion)
Kidman is a three-time Oscar nominee with one win (Best Actress for 2002's The Hours) to her name. Lion casts her as the mother capsized by her adopted son's hunt for his birth parents. Fact: People who don't shed a few tears during her big breakdown moment have no soul. That said, people involved with Independence Day: Resurgence vote in this category, so.
4. Naomie Harris (Moonlight)
With a stacked cast, Harris stands out as the meth-addicted mother we never quite sympathize with. She booms compared to everyone else around, teetering on the edge of a performance you might find on an episode of Empire. The risky fire pays off in the last stretch of the race, when she professes her sins to her grown-up son. Her work was enough to earn the underrated actress her first nomination, but not the win.
5. Octavia Spencer (Hidden Figures)
Spencer, who won an Oscar for her work in 2011's The Help, didn't wow me like her co-star Janelle Monáe, who really broke out as Hidden Figures' fiery wunderkind. But Spencer spends the movie doling out wisdom with maximum charm as her character guides NASA's female, African-American population through computation assignments and management shuffles. It's a performance that Kevin Costner would give in the '90s (and you know it's good because Kevin Costner's in this movie doing that same shtick). A winner? Probably not. Affecting work? Absolutely.
Amazon Studios; Lionsgate; Bleecker Street; Warner Bros. Pictures
Best Actor in a Leading Role
Winner: Casey Affleck (Manchester by the Sea)
Original Predictions:
1. Casey Affleck (Manchester by the Sea)
Affleck is a front-runner for this year's leading-man Oscar for his slow-drop distillation of grief. He'll hit a few bumps before voters cast their final ballots -- a pair of sexual harassment lawsuits settled out of court in 2010 that have re-entered the celeb reporting fray -- but with a tradition of looking past real-world behavior (see: Mel Gibson's inclusion below), Affleck should still take this one home at the end of the day. Considering the performance alone, this is a solid win.
2. Ryan Gosling (La La Land)
Gosling learned to play piano and dance intricate choreography for this musical throwback, and his La La Land performance is the definition of "showing your work." With a Hollywood hook -- she's an actress, he's a struggling jazz purist -- the actor's first nomination in a decade (his first was 2007's Half Nelson) puts him in position to upset Affleck. Remember: Hollywood has La La Land fever. A Gosling win could be a symptom.
3. Denzel Washington (Fences)
Washington is a six-time Academy Award nominee, with a win for Supporting (1989's Glory) and Leading (2001's Training Day). His Fences nomination puts him in a league with Clint Eastwood, Kevin Costner, and Laurence Olivier, all actors who directed themselves into this category. He earned it; like Viola Davis, Washington spits fire as Troy, an ex-baseball player who opines on neighborhood politics and his son's future in the family. If you only saw The Magnificent Seven this year, please, for the love of God, see Washington in Fences.
4. Viggo Mortensen (Captain Fantastic)
Mortensen is a tough-guy favorite after owning in movies like Eastern Promises, A History of Violence, and The Lord of the Rings trilogy. Audiences saw his softer side in Captain Fantastic, playing a father who raises his kids in the woods to escape the poison of modern times. Seventy-five percent of this nomination is his earnest confusion over why this scenario would be a problem for anyone. Twenty-five percent is his beard.
5. Andrew Garfield (Hacksaw Ridge)
Oscar voters jumped to reward Mel Gibson's classically tailored (and emotionally brutal) Hacksaw Ridge. War movie, true story, Hollywood pedigree -- the movie checks all the boxes. While Garfield's work in Scorsese's Silence is more nuanced and profound, Hacksaw Ridge kept audiences awake with explosions. Consider this a consolation prize for the Social Network snub.
Lionsgate; Fox Searchlight; A24; Focus Features; Paramount Pictures
Best Actress in a Leading Role
Winner: Emma Stone (La La Land)
Original Predictions:
1. Emma Stone (La La Land)
If Ryan Gosling encapsulates the debonair charm of La La Land, Stone embodies the raw energy required to realize dreams. With a raspy voice and a knack for choreography, the actress' work on the musical arrives to voters coated with nostalgia, making her an easy and obvious pick. After a Golden Globe win, it's hard to imagine Stone will remain "someone in the crowd" after Oscar night. 
2. Natalie Portman (Jackie)
Portman taps the same mental anguish vein she did for Black Swan, the psychological drama that earned her an Oscar in this category in 2011, in her portrayal of Jackie Kennedy. The differences are in manner and circumstance -- it's one thing to watch a struggling ballerina break down, it's another to depict the downward spiral of an icon in the aftermath of a shocking 20th-century incident. Portman owns every second of Jackie, but the choleric tone of the whole package should, sadly, keep her from the top prize. 
3. Isabelle Huppert (Elle)
After earning the respect of Golden Globe voters for her work in Paul Verhoeven's Elle, about a woman plotting life after an intruder rapes her in her own home, the Academy had the courage to bring Huppert into the fold. The nomination is more than deserved; the French actress' IMDb is rife with classics. But I admit this prediction is 70% logical, 30% The Secret-style wishful thinking.
4. Ruth Negga (Loving)
In this cynical age, tender romance and commitment in the face of hate can be difficult for viewers to buy. In Loving, the story of Richard and Mildred Loving's Supreme Court fight for interracial marriage, Negga accomplishes both without dipping a single toe into schmaltzville. While the movie itself lacks momentum, the actress' onscreen relationship with co-star Joel Edgerton (who probably deserved that last Best Actor spot -- no offense, Viggo) feels like an endless well of passion and complication. Negga makes watching someone watch television a mesmerizing experience; as she tunes into civil rights marches on an old black & white, the entire world seems to reflect in her wide eyes. This nomination, her first, should bump the Preacher actress up to the big leagues, win or not.
5. Meryl Streep (Florence Foster Jenkins).
Poor Amy Adams. The Academy snubbed the five-time nominee for another stalwart. Not that Streep doesn't deserve her 20th nomination with this role. As the title character, an infamously horrible opera singer wannabe who paid her way into Carnegie Hall, the actress brings feverish lunacy to what otherwise might be a stuffy British biopic. I doubt she'll be on stage giving another anti-Trump speech on February 26, but she'll be there rooting for the actress who inevitably does.
http://Lionsgate; A24; Amazon Studios; The Weinstein Company; Paramount Pictures
Best Director
Winner: Damien Chazelle (La La Land)
Original Predictions:
1. Damien Chazelle (La La Land)
From the minute an irked set of drivers stormed out of their luxury vehicles to stage an impromptu dance number atop a traffic jam, LA-based Oscar voters (i.e., most of them) were hooked on what Chazelle was about to deal out. Stylish and kept on perfect tempo, La La Land is a pure vision that feels like it survived the current movie industry, full of half-baked sequels and halfhearted Oscar hopefuls. It's his to lose.
2. Barry Jenkins (Moonlight)
I thought Oscars 2017 could see Best Picture and Director split between La La Land and Moonlight. After a few Golden Globe snubs and a last-minute Drama win, the cynic in me thinks Jenkins' lush identity-drama triptych will have to settle for a nomination and a loss. The movie's arty and intelligent, and too much so for the broad Oscar-voting base. Whatever -- Jenkins deserves a spot on this list, and a surprise win will be a standing-ovation-worthy upset.
3. Kenneth Lonergan (Manchester by the Sea)
Lonergan is a seasoned playwright and an occasional filmmaker. The latter role has been a struggle; his last movie, the polarizing, three-hour character study Margaret, took nearly five years to complete and release. Lonergan returned with a tighter, trickier, truer story of grief, with the performance of the year backing his script. He earned this nomination for executing the entire piece to perfection (and delivering it in less than five years).
4. Mel Gibson (Hacksaw Ridge)
Despite a documented list of horrible offenses over the years, Gibson is still a Hollywood favorite who makes Hollywood movies for Hollywood-minded Hollywooders. Hacksaw Ridge is classically tailored, from the '50s-style romance that ignites the opening scenes to the courtroom drama that embroils Andrew Garfield's conscientious objector in moral argument to the large-scale war scenes, even more devastating in the hands of the gore-obsessed Gibson. The actor-turned-director's faith gives Hacksaw Ridge a righteous spine, and his lust for action makes the movie stand out from meeker competition like Martin Scorsese's Silence. But pull back the artistry to a real-life, macro level, and it's hard to imagine anyone really fighting for Gibson's comeback.
5. Denis Villeneuve (Arrival)
Denis Villeneuve is a prized possession of Hollywood when it comes to studio moviemaking (he turned Sicario into a box-office hit, he just wrapped Blade Runner 2049, and he's rumored to take on a Dune remake next). Arrival was contemplative without being didactic, tense without blubbering into $100 million blockbuster hysteria. Villeneuve made it work, and the Oscars could (and should) honor it.
Lionsgate; A24; Amazon Studios; Paramount Pictures; Warner Bros. Pictures; The Weinstein Company; Fox Searchlight
Best Picture
The acting and directing nominations paint a picture of the final tier of awards. With nine nominees, hustling crowd-pleasers like Lion and Hidden Figures join front-runners La La Land, Moonlight, and Manchester by the Sea at the dinner table, rounded out by hits from the past six months. Sorry, Deadpool fans! For a full breakdown of this category, read our complete ranking of the Best Picture nominees.
Winner: Moonlight
Original Predictions:
1. La La Land
2. Moonlight
3. Manchester by the Sea
4. Arrival
5. Hacksaw Ridge
6. Lion
7. Hidden Figures
8. Hell or High Water
9. Fences
Sign up here for our daily Thrillist email, and get your fix of the best in food/drink/fun.
Matt Patches is a senior editor at Thrillist. He previously wrote for Grantland, Esquire.com, and Vulture. Find him on Twitter @misterpatches.