What It's Like to Be Snubbed By the Oscars
On January 24, a day after the announcement of this year's Oscar nominations, one of Sean Baker's friends sent him a very particular list of movies. They were titles that were daring and fun and heralded -- The Big Lebowski, Groundhog Day, Harold and Maude to name a few -- and, perhaps most notably, shut out for Best Picture at the Academy Awards. The Florida Project, last year's story about budget motel residents surviving in the shadow of Disney World, faced a similar fate that week, earning Baker a spot in an elite club: The Snubbed.
Following the news, fans of The Florida Project were quick to express their disappointment. ("The film being passed over for everything else is the Academy's big misstep this year," said Esquire. "It's to be expected. And still worth our outrage," Mashable added.) Baker wouldn't have minded the honor either.
At a recent Rooftop Films gala in New York, the writer-director told Thrillist that a Best Picture nomination for The Florida Project would have helped get the word out about the issue of the hidden homeless living in Orlando, Kissimmee, and elsewhere across the nation. "That's the No. 1 thing," he said. "No. 2 would be my actors" -- newcomers Bria Vinaite and Brooklynn Prince -- "the recognition they would have gotten would have changed their lives."
A small silver lining came nomination day when Willem Dafoe earned the movie's only Oscar chance, a spot in the Supporting Actor category for his work as Bobby, The Florida Project's cranky, compassionate, almost saintly-to-a-fault motel manager. But even he was miffed, telling Entertainment Weekly he "was a little disappointed [Baker] didn't get some love." (Baker was snubbed in the Best Director category, too.) So far, The Florida Project seems poised to be the strangest casualty of this year's awards season.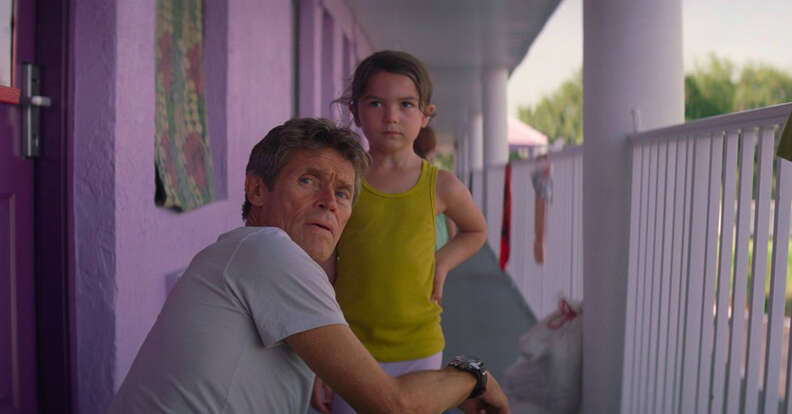 A24
How did the Academy overlook one of the year's most powerful movies? Especially at a time when many of the big contenders -- I, Tonya; Three Billboards Outside Ebbing, Missouri; Lady Bird -- also showcased working-class heroes. There was technically room to nominate a 10th Best Picture best picture. It didn't happen.
The snub might have something to do with the Academy's preferential ballot voting system, which involves a potential winner ranking and a complicated tallying system. Or the fact that The Florida Project never enjoyed the same commercial success as its competitors, earning only $5.5 million domestically (though that's pretty good for a tiny indie). Or the fact that, aside from Dafoe, it had zero big names.
But when the movie came out, it was called a must-see by many. A "near-perfect film" by Vulture. A re-examination of "modern America in the most electrifying way imaginable," per our own critic. Alas, as much as the awards season race has begun to change, it's still largely built up to the kind of finale where the nominated shoo-ins have been the flashy movies like Dunkirk, Darkest Hour, and The Post, with broader battle-against-good-and-evil drama, and the ones at risk of getting snubbed are the ones like Call Me by Your Name, Get Out, and The Florida Project, films that offer more nuance.
Like its spiritual comrades, The Florida Project's details are its greatest achievement. Baker and co-writer Chris Bergoch opted not to present heavy-handed melodrama, or to tell viewers how to feel. Instead, they painted a sensory ethnographic, almost documentary-like portrait of complicated characters struggling to scrape by in a very real time and a very real space. The result is something like a darker Little Rascals, a movie that can be as fun and humorous as it is thought-provoking, a movie that builds upon a certain theme that's been running through Baker's work as of late.
Magnolia Pictures
"LA is a beautifully wrapped lie." The line comes from Tangerine, Baker's iPhone-shot profile of SoCal transgender sex workers. Alla Tumanian, an Armenian megastar who plays the mother-in-law of one of the main characters, insisted the line be used in the movie because it encapsulates the Hollywood illusion, how LA lures people with glitz then sucker-punches them with something that's far from glam. The line could probably work in Baker's other recent indie features. Just swap "LA" with "the adult industry" in 2012's Starlet. Or "New York" in The Prince of Broadway. Or "Disney World" in The Florida Project.
Like David Lynch, who's been fascinated with the rot lingering beneath the facade of the American Dream, Baker has unconsciously, but continually, been drawn to peeling back the layers of superficial American experiences. Ones we all recognize and have seen, but maybe don't fully understand. The big difference, of course, is Lynch's stories are much more surreal. As Baker will tell you, he identifies as a dramatist, but he grounds his stories in a sense of realism.
It started in 2008 with The Prince of Broadway, which showed what it was really like to live as a hustler selling counterfeit goods in New York. Then there was Starlet, the story of a pornographic actress who lives a life that goes against the obvious expectations. Then Tangerine.
"I'm fascinated by people who have to resort to the underground economy because of the fact that they're not allowed to participate in what we consider legitimate capitalism," Baker said. "There are people who are left behind by these hubs of entertainment and leisure... and living in the shadow of it." Even The Florida Project. "The Magic Castle motel," he added, "it's glossing over what's actually decaying underneath."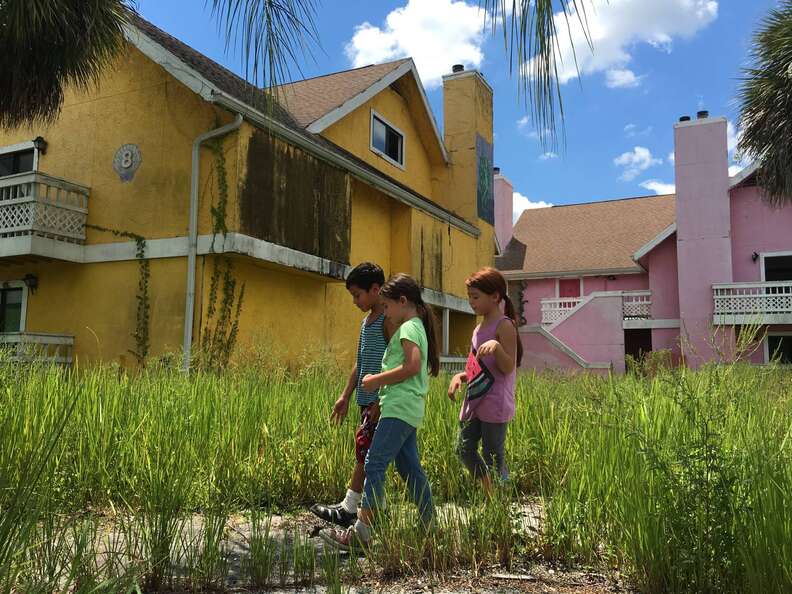 A24
Baker doesn't know what his follow-up to The Florida Project will be -- it could be a small character-driven story about someone traversing the US and working in the underground economy, he teases, or it could be something else entirely -- but he doesn't want people to expect him to choose another marginalized community. "That's not what I do, and if I did do that, what sort of person would I be?" he said. "That calculation is very condescending and is totally against the message of my movies."
What worries him is that predictability. He doesn't want to let people down. "People who are like, 'Well, I hope that in you're next film I'm going to be crying or learning,'" he explained. "That's what's been keeping me up at night, that I may not deliver to those people who have certain expectations."
So things are bittersweet going into the Oscars. Baker isn't the kind of filmmaker who craves awards. The trade-off, of course, is awards, especially Hollywood's biggest, come with a certain level of exposure. And when you're trying to promote a film that is, in a sense, a sort of awareness project, every chance to be a part of a national, or international, conversation helps. "Because of the light it would shine on the issue," Baker said, "and also because I love Willem and he deserves it, I'm praying for him to win."
As for Baker's own glory? "I hope to continue to get financing," he added, "but I don't need this boost from the Academy to continue."
Sign up here for our daily Thrillist email and subscribe here for our YouTube channel to get your fix of the best in food/drink/fun.
Sean Fitz-Gerald is a staff writer at Thrillist Entertainment. Find him on Twitter: @srkfitzgerald.